Description
Please note: If you were one of the initial 1,000 who ordered then your book will be with you before Christmas. If you order in the second phase then I can't 100% guarantee you will receive yours before Christmas. The reality is that the logistics and fulfilment of potentially thousands of orders is not something I'm set up for.  Whilst I promise to do everything I can, ultimately it will come down to how quickly the printers can print them (they've also promised to do their best), how quickly the first 1,000 can be processed and how many more orders are received.
A number of people have very kindly offered to help package orders for me so I am planning to sort an evening / day – likely at a pub – to do this. This will also provide the opportunity for people to come and collect their order if they wish to, which is one solution to the logistical issues mentioned above. Details to follow.
Please do read the product description as well so you're clear on the book details.
---
Freed From Desire is a photographic anthology of our magical promotion season in 2021/22 told through the photos (with some words) of Our Glorious Banners, who has been documenting Forest fans home and away for a number of years. The book tells the story of how the season unfolded in the stands, including images from every league match as well as special sections dedicated to the FA Cup run and the best Forza Garibaldi displays from a season we'll never forget.
All proceeds from the sale of the book will be split 50:50 between helping to fund future Forza Garibaldi displays at The City Ground and The Robin Hood Fund, which is raising money to aid charities and organisations in Nottingham. This winter the money raised by The Robin Hood Fund will go to Hope Nottingham – to distribute across the food bank network – the Citizen's Advice Bureau – to distribute via vouchers to people struggling with energy poverty – and NCVS – who will provide support to the smaller charities struggling with winter crisis. These charities and organisations are at the front line of the winter crisis and will be supporting thousands of people across Nottingham.
Disclaimer: If you are considering buying this for a young Red then please be aware the text does include some swearing.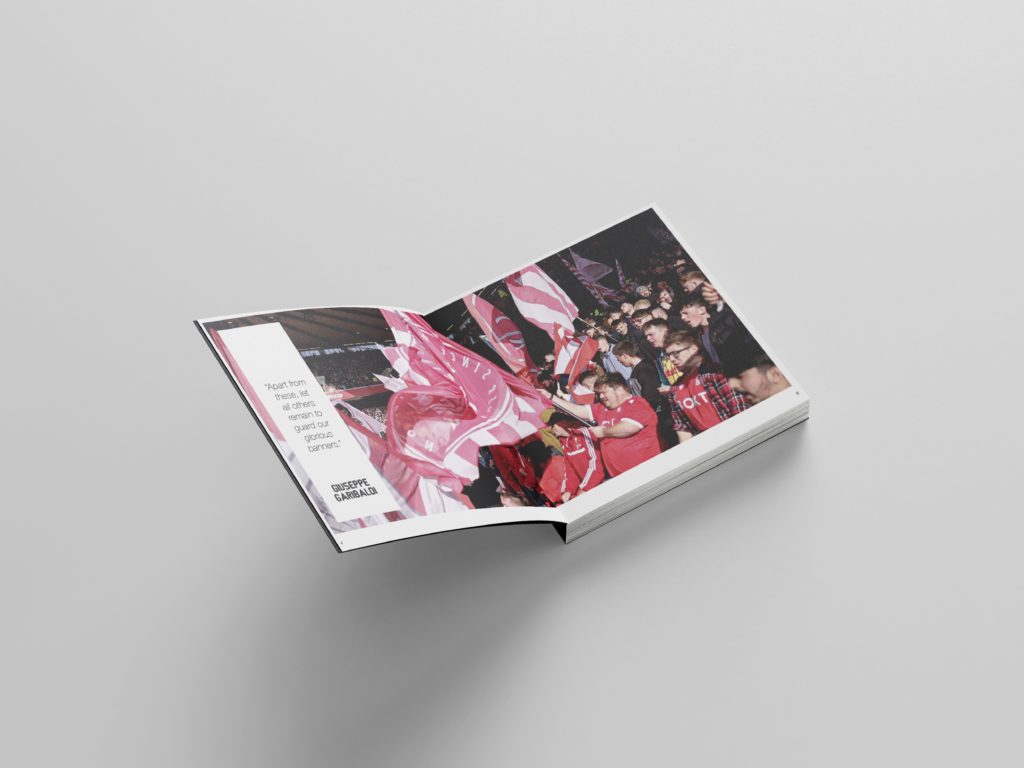 DETAIL
The book is 108 pages in total and 180mm x 180mm in size. Please note it is not a hard back book, the cover is 250gsm Silk and the inside pages are 150gsm Silk.
Price: £18.65 inc postage within the UK. For any orders outside the UK postage will be on a case-by-case basis.
It is expected that books will be printed 10-12 working days after the launch and orders placed before mid December will arrive in time for Christmas.
A special thank you to Matt Oldroyd, Dave Marples, Lisa Goddard and Ben Avery for their help with photos from the games I missed!