2022-23 Away Ticket Sales Review
As the Premier League season inches ever closer (how good does that sound?), it's been difficult to miss a considerable amount of internal warfare on and around ticketing release days. The situation is unfortunate and probably avoidable. We were first alerted to a change to the scheme in early July, receiving a draft copy of the proposed model from Forest. Our initial reaction was concern and this has clearly been shared by a great deal of our fellow supporters.
In response to two sales periods for Newcastle and Everton, plus some dialogue with the club directly and the recent release of a Q&A with the Supporters Trust we wanted to  explore why and how this new membership scheme has been developed and consider some key points that we feel worthy of raising. Much of this has been taken from fans who have raised concerns and issues with us directly.
In this piece we will aim to cover the following items:
– Highlighting and addressing a number of concerns raised across the fanbase
– Conducting extensive research of the existing ticket systems at other Premier League clubs
– Exploring possible alternatives and solutions
We'd like to add that our collective points carry no weight beyond any other Forest supporter. But given our platform and the extent of dismay that still exists we wanted to try and collate some thoughts together for consideration. These are often views we share but are sometimes viewpoints that we have been contacted about.
THE NEW SYSTEM
The NFFC method (for anyone that might be unfamiliar) was to award 400 members who attended 18+ away games last season with "Priority Plus" – thus guaranteeing a ticket for every game. A major shift was that the membership scheme has now been opened up to a total of 5,000 supporters. A secondary "Priority One" membership was made available to a further 4,600 supporters who could buy on a first come first served basis each game. The cost is £40 for renewals or £45 for new members, an increase of £10 from last season.
Forest first publicised this new membership scheme on the 5th July and acknowledged the potential upset that it would cause: "whilst we again understand that this is an emotive subject that not all fans agree with…" The initial response was not particularly good, many identifying a number of concerns. There can often be an over-reaction to such new initiatives and our view was that, while concerns existed, we should wait and see how the system works. 2 games into this new process, we are all a little better placed to understand how it works and whether early worries were well-founded.
THE KEY ISSUES
CLARITY – Fans deserve clarity on the numbers. The allocations do not always add up, there have been instances such as Sheffield United away where there were 3188 tickets available, and the 2500 away members had several days to purchase before season tickets with 19+ points. It never made it to Season ticket holders with no explanation provided. There may be completely legitimate reasons (hospitality, friends and families etc) plus allocations to the Supporters Club but greater transparency is needed, especially when the club are taking a significant sum for a Priority One membership which does not offer any guarantee of a ticket.
– The logic to the system was never initially provided. This created panic and even resentment as fans worried about whether they would qualify for away tickets. We will provide some good examples of fellow Premier League clubs who operate with welcome transparency below.
FANS CONSULTATION – The proposed scheme was shared with ourselves (and we gather the Trust aswell) at 9pm on 4th July, asking for any feedback as quickly as possible. Fan consultation has not really existed at Forest previously and they should certainly be applauded for taking this step but unfortunately it feels now like nothing more than a token gesture to a tick a box. We worked hard to respond as soon as possible and had a full comprehensive response back to Forest by early the following morning. We then received a response at 6.30pm the same day (5th July), thanking us for our comments and advising us the scheme would be launched at 7pm.
From what we can tell, none of our feedback was taken on board in terms of what ended up in the final scheme. It might be that our feedback was terrible, maybe so, but, as an example, we did specifically suggest Forest publicise the total number of fans who would be invited into the scheme (5,000). This didn't happen in the initial release and only came later after we reminded Forest on this. Hence we don't think our input was considered at all and the 'consultation' felt nothing more than a gesture to say that supporter feedback was obtained. Of course, we cannot speak here for any other fan feedback except our own.
There is another point here about inadequate fan representation and whether ourselves or the Trust do this. Neither of our respective groups claim to represent the wider fanbase which leaves a significant and inadequate hole in fan engagement at NFFC. This is an item that must be addressed.
 – Further dialogue between ourselves and Forest post 5th July documented some reasoning behind the new scheme. We asked at the time for permission to publicise this to our social media pages and help fans understand some of the decision making process but it was suggested we hold off until they could properly review. No response was ever received.
LOGIC & CALCULATIONS – The subsequent Q&A with the Supporters Trust, posted 4th August, does however shed some welcome light on this a little more. It is puzzling that, given the club's data showed that in 2021/22 '50% of away members attended 10 (games) or fewer.' If this is the case is does not seem logical that only 400 were allowed into the Priority Plus membership. Around 1,200 away members attended upwards of 50% of games last season. Why could this pool of fans not be permitted into the top tier? There would admittedly be some issues doing this for some of the smaller allocations such as Bournemouth but given an existing loyalty points system was historically in place, this could have quite easily allowed some degree of priority to apply.
The justification of the 400 is, according to comms issues to us from Forest to 'ensure that we can guarantee all Priority plus members are guaranteed a ticket for smaller allocations such as Bournemouth, Fulham and Brentford. For their most recent Premier League allocations, Bournemouth offer 1,318; Fulham 2,240; Brentford 1,725. The smallest discrepancy here is 918 tickets – it would be interesting to know does this mean approx 900 go to other sources, or is it the case that 4,600 away members will be left to scrap for 900, or less? Transparency is key.
We can understand and accept that some disappointment is always going to occur. Demand is comfortably outstripping supply now and it will mean fans miss out. This has put Forest in a difficult predicament but it is bewildering for many how attending as many as 17 games last season can now place them on an equal footing with someone who, in theory, did none. The 'best fan' debate is not the point of this, it is about the club recognising the outstanding support that many have shown both last season and historically. It is therefore easy to see why many feel like this loyalty has been forgotten, even readily dismissed by Forest this summer.
LOYALTY POINTS – At the time of the intial comms there was no reference to the removal of loyalty points. We are unsure why because it is a major change in policy. Supporters have built these up over many years and often in difficult periods. The instant scrapping of these has been deeply unpopular and, again, feels like a move to dismiss previous support. Would it not have been best to leave these in place, even just initially? Football fans thrive off loyalty and people had been attending for multiple years and now this was wiped off in an instant for nothing. The club state that "having two schemes running concurrently would cause unnecessary difficulties" – the evidence in other clubs approach which we explore below proves this is possible.
We have asked Forest whether a paid membership system is even needed. The club is in a much better financial state after promotion and perhaps loyalty could be rewarded with membership fees being removed or the membership being scrapped altogether. There would be a means of using loyalty points to establish priority while still offering fans with less or zero points with a means of accessing tickets In our communication with Forest we were told 'The Premier League is widely recognised as one of the leading sporting competitions in the world and the club has benchmarked prices against what other clubs do'. According to our research no other Premier League club offers anything like Forest's scheme and many have no sort of paid membership.
ETHICS – Football is hugely emotive and the life and breath of supporters lives. It has become abundantly clear that the new system has added a notable element of stress and anxiety for fans. Many have also raised the issue of the ticket sales time being difficult due to work and considering that buying ticket can now take a great amount of time to join queues etc. Have the club considered the pressure they are placing on supporters using this model of ticket sales?
TICKETMASTER – A common theme, particularly after the Everton Priority Plus sales period on 3rd August demonstrated widespread complaints with the system. There are countless stories of tickets disappearing from baskets; people being kicked back into the queue after choosing tickets; tickets not being able to be assigned after choosing them and being unable to acquire tickets together. Are too many fans being pushed into entering the site at once given the sales windows? This process is causing a mass of stress and anxiety with the burden of purchasing tickets becoming the chore of the individual. It leaves supporters desperately refreshing their screens and creates a horrible user experience. There have been further examples of tickets being released days before accidentally etc – it creates anxiety and panic.
A CLOSED SHOP – We have noted the insistence by the club and some fans that the new system avoids a closed shop of the same 2,500 away members attending away games. We disagree. The club's own data shows that less than 50% of the away members did not attend regularly and tickets would often reach the season card /general sales bands. We realise that demand will now have ramped up significantly but the decision to open up the membership scheme to 5,000 fans has actually now created a closed shop. Realistically, there is minimal chance of anyone outside this pool now obtaining a ticket. This new system, by definition, is the closed shop the club say they are trying to avoid. If genuine opportunity of new fans attending was considered, leaving a small portion of tickets for non-away members, perhaps via ballot would have enabled new spectators to have a chance. This is not now possible.
GUIDANCE – Concise information of how to use system and process – There have been varying stories of buying 1 seat more successful than 3, people turning up to pick tickets up and being all allocated together, Priority Plus putting tickets in basket pre 10am then allocating at 10am and getting success – it is exclusionary to people without access to social networks to not be entitled this information
ONLINE ONLY – The system in its current format favours IT savvy people who can sit constantly refreshing at work – there will be individuals without this entitlement who are simply excluded. An email from the ticket office published online, endorsed that the approach should be to sit refreshing the sales page just incase – this does not seem correct.
SITTING TOGETHER – Given the enforced priority bands, there is no clear means of acquiring tickets with someone in a separate band. This is not only unfortunate but could also lead to difficult situations with parents / child for instance. We did raise this with Forest and we were simply informed nothing could be guaranteed. This is another emotive issue which we are not sure if Forest have considered – the ability to sit with friends and family is very important. This may also lead to some level of disorder at games as fans try to group with others they are not sat with.
CLUB RESEARCH – Club communications in the Trust Q&A on the new membership scheme states 'thorough research was conducted prior to promotion to ensure we were best placed to amend the scheme.' This was also implied in our own dialogue with Forest who pointed to following accepted methods that exist in the Premier League. This sounds a good idea in theory. Except it doesn't stack up in our opinion. Having identified a number of issues above we will take you through an extensive research we have conducted to see exactly how the Forest away ticket process compares to the other nineteen Premier League clubs.
A STUDY OF AWAY TICKET SALES ACROSS THE PREMIER LEAGUE
This research has been undertaken by examining the process at all other clubs, often using their official websites or ticket pages. We are also grateful to fans at a number of clubs who have assisted us, including Aston Villa, Brighton, Everton, Leicester, Newcastle, Manchester City and Wolves. For clarity none of these clubs offer anything similar to Forest's own scheme.
We begin our comparison by analysing what happens at other Premier League clubs (data taken where available from latest match day sales).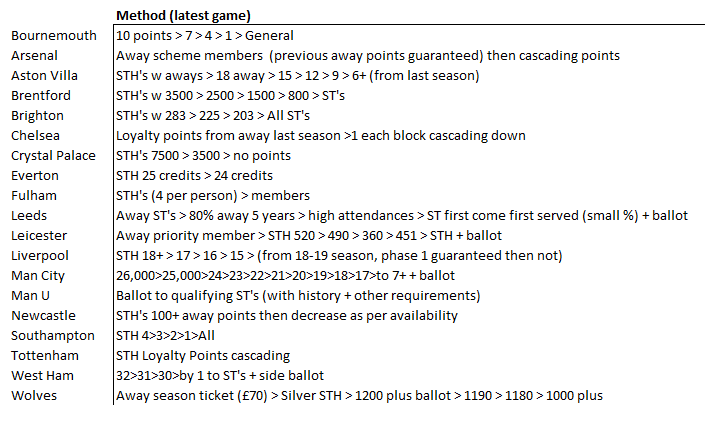 The variety above is interesting. One underlying theme is that cascading points seem common, along with the majority of clubs going straight for season ticket holders with these, and no need for monetary buy-in to a particular scheme. The most precise example could be seen with West Ham, going down in singular points: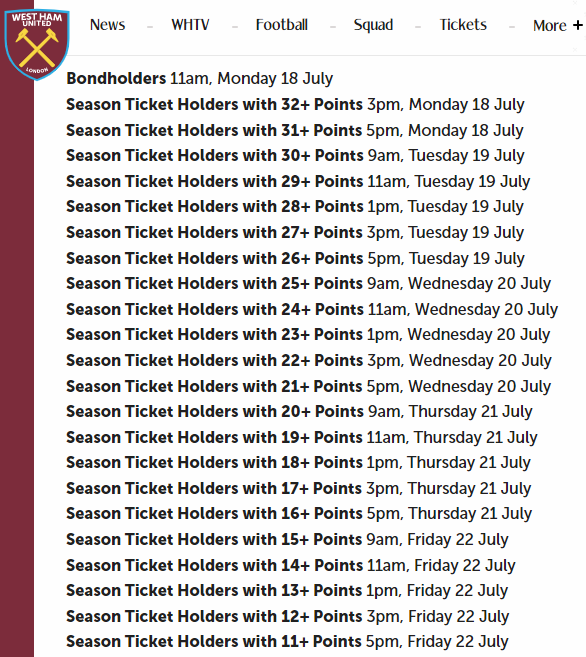 In researching too it was obvious some clubs managed to find a balance between the fans who had attended the most and requirement to engage new fans by operating ballots for all season ticket holders (such as Leeds, Wolves, West Ham and Leicester) for a small percentage of tickets each game. Manchester City had a particular innovative scheme where supporters 18-25 had a small % reserved each away game, to cultivate the next generation. It is obvious certain clubs don't have these dilemmas like Forest (such as Fulham and Southampton) where season ticket holders are reached with relative ease.
What is also seen is the varying spread of loyalty and way to obtain points – clubs such as Chelsea and Brighton award loyalty points differently for different games – and several clubs go back a number of years – such as Palace, Newcastle, Wolves, Leicester – seen in the high priority numbers required. Leicester have been tracking for 5 years in devising the points which results in approximately 600 fans in the top tier – then slides down between the % of games attended over this period. In addition to this, there is a ballot for 2% of tickets for people with no history.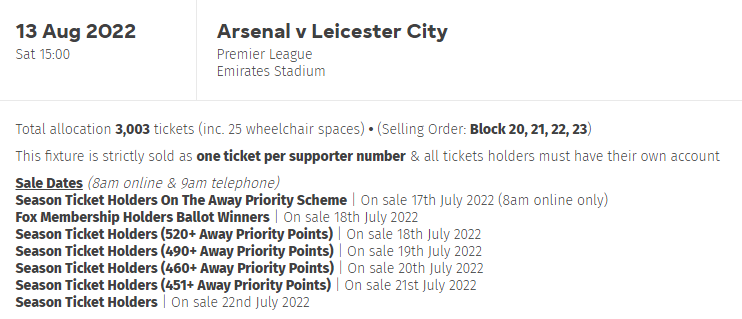 One interesting note was Arsenal are eradicating the away scheme membership this season and then reverting purely to games attended; and a further innovation sees Liverpool use away games attended in the season 3 years prior to award loyalty points – in it for the long haul. One club who had inadvertently created a closed shop is Wolves – with having some gold and silver season tickets. The club however said this summer that if anyone dropped out of these tiers or decided not to renew, those season tickets would not be resold. Ticket sales go to the valid away season tickets – then 5% of ST's via ballot (no loyalty) – then cascades through loyalty points – seen below: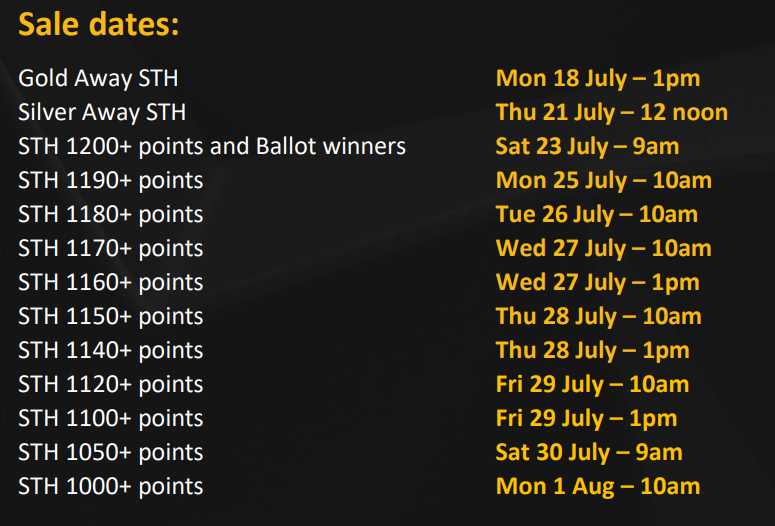 A further example of a concise ballot is seen from West Ham below:

An example of a slightly larger, thought out scheme, with concise explanation, and crucially with buy in from supporter advisory board, can be seen in Leeds United: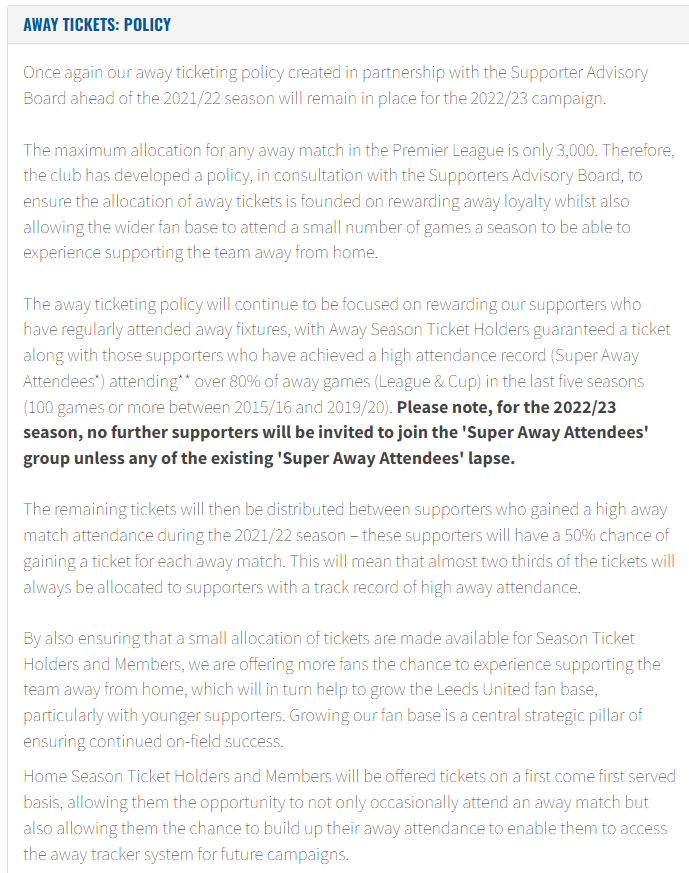 Some clubs, such as Spurs and Manchester United, offer detailed clarity of points required and applications per game, to ensure fans know where they stand. Each game is then taken on a case by case and cascading style – for example at time of writing, Spurs v Chelsea had a requirement of 374 points.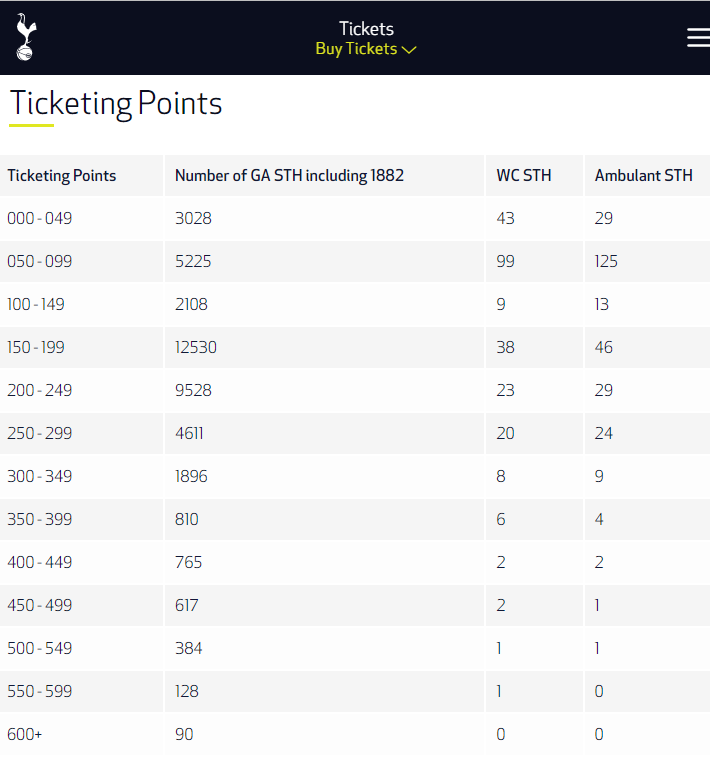 Manchester United offer the chance for season tickets of a certain level, who have also purchased all cup games, the chance to apply for away tickets. This information is then shared post season; again justifying the numbers.
It is abundantly clear that any suggestion by Forest that their new scheme is already implemented by any existing Premier League club is misleading. Forest's policy differs considerably from any of the other. The removal of loyalty points goes against what many others do and lots of clubs are recognising the need to avoid closed shop with some type of ballot for a small amount of the overall allocation.
In these models loyalty is being rewarded on a sliding scale without the specific threat of a closed shop. Forest offer neither of these initiatives. Based on the above research Forest's scheme is the unfairest in the entire Premier League.
Conclusions and Proposals
Producing a piece such as this is something we think a lot about before proceeding. It has never been a core aim of ours to place ourselves into this sort of field unless we feel we need to. Again, we feel that occasionally it is a role we must do because of the lack of supporter representation that exists. As fans, we need to encourage Forest to consider this single point and act upon it. Occasional meetings and dialogue with ourselves, the Trust or the Supporters Club is falling short of true fan engagement. We don't feel we are speaking out of turn to say none of these three groups claim to represent the fanbase as a whole. Admittedly, this is not easy and could lead to further disagreements but the away membership scheme is clear example of why it is so important. Our previous proposal of a Fan Council is, in our opinion, needed to swiftly get fan points across and put some accountability on the club on fan related matters.
In closing, we believe there are considerable problems with this new away ticket scheme. Hopefully this has been comprehensively documented but we would also like summarise while putting forward some proposals which could be considered to alter or reset the policy.
– Maintain the Priority Plus membership. It is correct to recognise this core support and it is a positive step that the club has done this.
– Consider expanding the Priority Plus membership, taking into account the previous data on around 1,200 fans attending over half the away games in 2021/22. Alternatively, form a new band which provides some additional layer of priority. This not only acknowledges loyalty but would also serve to take away a great deal of anxiety on fans while relieving the system of so many people logging in at once when the current Priority One membership goes on sale. As shown at other Premier League clubs, perhaps introduce a precise cascading system on a first come first served basis – e.g. 3 years rolling 60 loyalty points >58>56>54 etc – this could be e.g. 70% of tickets after the 400 (+ extras).
– Explore introducing a ballot for non-away members to enter. This provides an opportunity for new fans / younger fans to attend away games. We acknowledge there is an issue, if demand stays at the current level, to get new fans into the system in the years to come but it is clear that the current 5,000 away membership structure does not provide this opportunity.
– Remove the away membership fee, especially if Premier League status is retained, which is a tax on demand, and not reflective of market competitors.
– Accept fans as part of the process to decide on new ticketing policies. Be more transparent with systems clubs such as Spurs have been shown to do.
– Understand and acknowledge the strain and the emotion fans invest into match tickets.
– Continue to update fans on such matters, the Q&A with the Trust was a positive step but ideally this would come much sooner.
– Is it apparent that Forest have faith in the ticketing policy they have designed. The Trust Q&A confirms. It is certainly feasible that in due course, with some familiarisation and perhaps tweaks, thus will become a model that can be shown to work. We are not insisting there is no hope for this system but we do see it as flawed currently, and we do see it as unfair. Chiefly, we are not convinced it is the scheme that Forest are suggesting it is.
We hope this has been informative and interesting.
Thank you.
Additional Links: