FOREST AWAY: Brentford, Tuesday 28th January
It'll be sad to see the end of Griffin Park. Grounds like that one won't be coming back. For teams in the top two tiers it also represents a very rare chance to sample a glorious old ground ground with the old banks of terracing.
Some happy football memories revolve around terracing. The carnage of goals at Saltergate in our League One visits. A late Jon Olav Hjelde equaliser in the torrential rain at Deepdale in the days when a terrace lined on side of the pitch.
There was the old kop at Fulham that predated the scaffold like away stand we know today. And not forgetting the time at Peterborough when a mate lost his cigarette that followed a Radi Majewski goal. Moments later someone tapped him on the shoulder to inform him his hair was smouldering.
And yes, the old Trent End. I only stood on it a handful of times and perhaps my young mind elevates the experience beyond what it was, but it sits in my mind as a magical place.
All of the above examples are now gone. Griffin Park – the home of many other good times as a visiting Forest fan – will soon join them in the memory banks of English football.
I know some think such adoration for these cramped, squalid and potentially dangerous settings to view football is pretty stupid.
The reason I think many of us, especially younger supporters, value these grounds is because they are such a sharp contrast to what we have had to become accustomed to.
90 minutes of being stood right up against those next to you, gathering in pockets of mates rather than being spread across a seated stand and all swaying about with the ebb and flow of the game. Terraces conjure up camaraderie and more of a focus on the here and now. There isn't space or the opportunity to stand having a chat about the Arsenal game the night before or scrolling down your phone.
Modern stadiums wrap us up in cotton wool. The more of these old grounds that disappear the further it would seem we lose much of the heart of an English atmosphere. It has become gentrified as we succumb to new developments that dazzle us with lights shows, their expansive hospitality areas and that focus on comfort and entertainment rather than soul.
I hope that Brentford and its supporters recognise this in their new home. And I hope that football clubs up and down the country take note too.
TRAVEL
Rail: From Nottingham you'll need to be a train no later than then 16:45 to have a chance of making kick-off. That service arrives into St Pancras at 18:35 and if you don't dawdle you should have adequate time to make it across West London on the underground.
South Ealing is probably the best place to head, picking up the Piccadilly line southbound from Kings Cross / St Pancras. The service is direct and will take approximately 45 mins. Head right out of the station upon arrival and you'll have a 15/20 minute walk.
Griffin Park is also served by Brentford rail station which is a bit closer to the ground.
Getting back to Nottingham the 23:08 looks like being the only option from St Pancras which arrives back at 02:13. A cheap day return will set you back £67.50.
While a bit more of a faff you could save money and time using the East Coast Line from either Grantham or Peterborough. A standard return is a lot cheaper although you won't be able to make a connection back to Nottingham after the game. Instead you'd need to drive and park at the station.
The 23:00 from Kings Cross will get you back to Peterborough at 23:44. You could be back in Nottingham after an hour and a bit drive by 1am. Last time I checked there were some cheap singles meaning a return would be around £28.
Just a thought…
Road: Like with other London grounds I don't tend to bother driving in close. Instead pick up a rail or underground station on the outskirts of the capital and save yourself the hassle. It might end up a tad slower but I always find it a lot easier. Stanmore and West Ruislip are a couple of options.
PUBS
Where to start…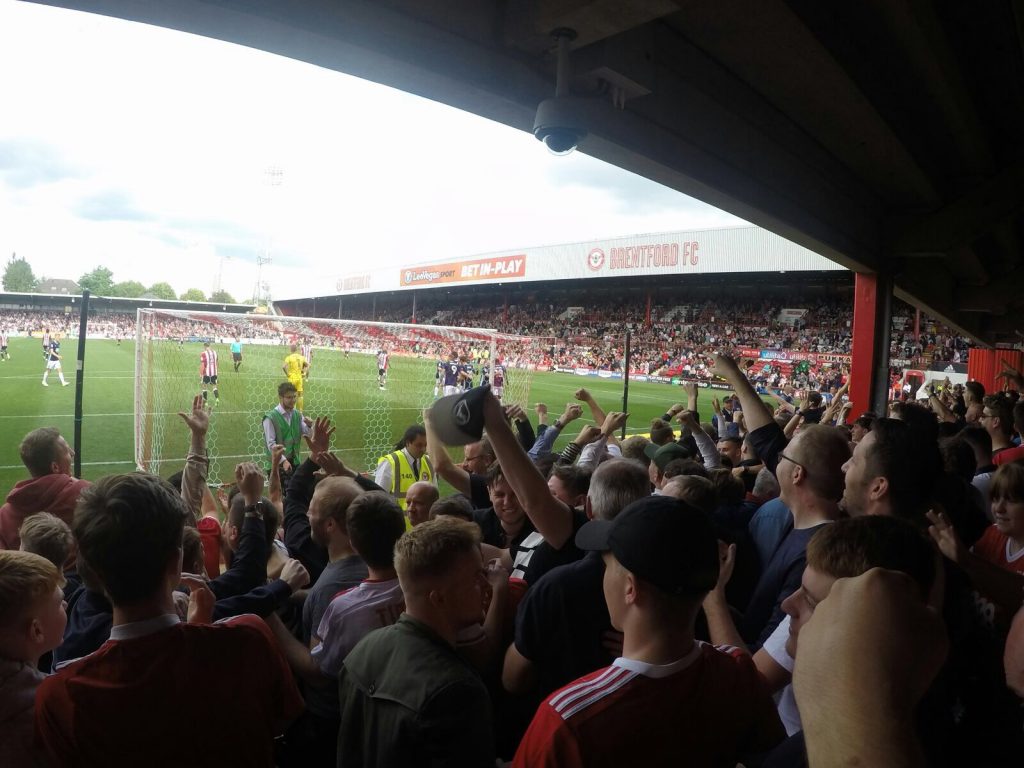 Another reason to be sad about the loss of Griffin Park is the pub options around it. Much is made about the legendary pub on every corner such the The Griffin which is a short hop to the away turnstiles but there are many good options a little further afield without having to go far.
Top picks would be The Globe and Lord Nelson which are a short walk away and close to one another meaning you could easily sample both. Each has a decent outdoor area too albeit that won't be a factor for many on a Tuesday night in January.
Both can be reached from South Ealing without going too far out the way. The Plough Inn is in that general route.
If you are short on time but want a quick beer then Roddy's Bar on the road down from South Ealing is probably your best bet. It's basic and tiny but ideal for a quick pit stop off the tube.
Finally – just a shout for the house right across from the stadium who set up the gazebo on their front drive to sell hot dogs from their kitchen. I've been a regular (annual) customer down the years and it's one of the nice little quirks about a visit to Griffin Park.
Billy Grant (@BillyTheBee99) writes, vlogs occasionally and podcasts for Beesotted (@Beesotted) <<http://beesotted.com>> .
You can catch post-match Brentford and Forest fan opinions from the Bees v Forest game on Beesotted's Pride of West London (http://PrideOfWest.London) Podcast around 1 hour after the final whistle
1. This will be our last ever visit to Griffin Park (barring potentially a play-off fixture). I know many Forest fans and I'm sure fans of others clubs will be sad to see it go. How are Brentford supporters feeling as the end draws near and is their much excitement about moving to the new stadium?
It's weird. I've been going to Griffin Park for 40 years. It's home to me. There are no frills. But it's got character. The ground is tight. If you get 8000 people in the place, it can get well lively. More bouncing than many clubs who have three times as many fans in their stadia.
I will be really sad to see Griffin Park go. To be fair, we have done a great job of longing it out. We have meant to be moving for about 30 years. Western International Market in Hayes was the mooted venue in the 80s. Miles away from Brentford.
Ron Noades tried to get us to share at Woking when he was chairman/manager in the 90s.
"Say NO to Woking !!!"
That was the catchphrase at the time which is still shouted tourettes-stylee from the terraces by certain individuals every now and then as a reminder of the past.
Eventually under the new regime, it was decided we had to make that move to make ourselves economically viable. We were simply unable to extend the current Griffin Park as we are hemmed in by commercial property. There are no real facilities. No real media facilities. The corporate hospitality – the lifeblood of many teams – consists of 60 people in a tiny window-less room under the main stand. It's Division 2 standard at very best.
When we got promoted to The Championship, government stipulation says that we had three years grace before we have to get convert our terracing to seating. Fair play to Brentford, every time the authorities came to review the terracing situation, they uttered the line "We're gonna be moving soon". So we managed to long it out for an additional three seasons to the three already allowed. 

But I have to admit. Last Saturday at the Leicester cup ti, the ground was packed. At half time, I desperately needed to relieve myself – after a 9.30am start in the boozer.
The queue to get from of the terrace area, around the corner and into the toilet was 15 minutes long in itself. I just about avoided a rather embarrassing situation. When I finally made it to the wee boys room, loads of people around me were muttering "I tell you what. I won't miss this when we move to the new ground". 

And it was true. It's a situation where
there are things that you love about the ground. And things that you are happy to leave behind. The thing is you can't have the best of both worlds.
Griffin Park is a wonderful old stadium. And if there was any way Brentford could have bought all the surrounded houses and extended the stadium, then I would have said do it. But that was unfeasible.
So we have to move. 

Saying that, we resisted the urge of moving to a stadium further away from Brentford on cheaper land which would have given us the opportunity of building a bigger, cheaper stadium.
Instead, we're 15 minutes walk down the road in Kew Bridge right in the thick of the action. It's a great location and 17,250 fans is plenty for a team who had an average crowd of only 5,000 fans 10 years ago when Uwe Rosler took over the reigns and kicked off this new era of Brentford.
Personally, I would rather the stadium was packed every week. And buzzing. Than we have a Wigan or Blackburn scenario with a huge half-full stadium and a fairly mute atmosphere.
So I will leave Griffin Park with sadness. But at the same time, I look forward to the new chapter.
I bought my New Griffin Park (as we've named it) season ticket a few weeks ago and had a look at the view from my seat through the VR glasses. There's no turning back now
2. The beauty of Griffin Park is it's character – old and cramped but such a fantastic, traditional ground. The terracing and the fabled pub on each corner. Is there a worry that too much of that will be lost never to be replaced? We have, after all, seen it happen so many times before elsewhere.
There is always a fear that we will lose something when we move. 
The biggest fear the club have is that the atmosphere will not be the same when we move. Griffin Park can be fierce and visiting teams don't like visiting our ground and losing that will give opposition teams a huge advantage.
Saying that, New Griffin Park is tight. It's going to be lively with 17k fans. We've got a load of 'posh seats' on the half way line. We have to make sure the the people in here join in like the rest of the fans and don't mute the atmosphere.
We had a joke on our PrideOfWest.London podcast a few weeks  backthat we should send the posh seat purchasers on a "Brentford Citizenship Test" and if needs be, send them on evening courses to ensure that they know all the songs … and when to 'ooh' and 'ah' in the right places durning the match.
Brentford Ciizenship Test Question 1. 

You find a clapper on your seat. What do you do with it?
Slap it on your palm and sing "ole ole ole"?
Throw it in the bin
Send it back to F*lham by return of post
Anyone who answers A (who is not under the age of 10 year old) should have their season ticket revoked.
Of course it won't be the same. But the fans and the club have to ensure that the new stadium has its own flava. And is equally enjoyable.
3. How much will the standing area be missed? Are fans and / or the club itself interested in incorporating Safe Standing into the new stadium?
There are people (like myself) who have only ever stood at home matches. That period spans over 40 years. When I buy my season ticket, I don't have to arrange with 20 other people to purchase out tickets in the same area. I love the fact that we're fluid where we stand. And if you have mates who decide to drop in every now and then for a match, it's not a problem for them to stand with you.
We're hoping and expecting that, despite the stadium being 'all seater', it will be normal service presumed behind the goal – with the West Stand in particular being the standing section for Bees fans.
We at Beesotted and BIAS (the supporters organisation) have been pushing for some sort of safe standing scenario at the new stadium. The club say they are up for it in principal and I thought there were plans to put in safe standing seating in the West Stand at one point.
However, looking at recent photos of the stadium, it doesn't look like we have any official standing type seating installed or rails or anything – which is a real shame and a missed opportunity.
I was really hoping Brentford with their new stadium would have been the champion of the new era of standing – not Wolves or Shrewsbury. 

I was on the Board and National Council of the FSF (now the FSA for years) and was very much involved the safe standing conversations. Talking to a few people recently, the vibe I am getting is that it looks like that standing at grounds is going happen sooner rather than later. It looks like the government are ready to make it happen. And this could happen within the next 12 to 18 months (this is my deduction from the conversations I have had rather than anything official I have to emphasise). 

If that is the case, Brentford have really missed the boat which is a shame.
Saying that, the way the seats are being sold – the club is directing people who want a 'lively experience' (translation: standing and singing) to buy in the West Stand.
So hopefully things will be OK
4. How is current form coming into the Forest game?
The Bees are currently in great form. Fifth in the league – 5 points off 2nd place. The best goal difference (23). The best defence (21 goals conceded). One league loss in the last 8 matches.  It's taken a while but we're finally getting there.
Analytics has played a HUGE part of where we are today. So what the coaching staff look at more importantly is how we're playing on the pitch. What quality chances we're creating and conceding week in and week out. Some people hate the word xG but we've (as fans) found it a real useful indicator on how your team is really doing on the pitch. Even if the results aren't quite going to plan.
Earlier in the season when we were lounging around in 18th position and fans were disappointed.  The 'underlying stats' were saying that we should be easily in the top six. Fans were concerned with Brentford's inconsistent results. We lost away to Preston and were beaten away at the City Ground to a solitary goal by Ben Watson.
The following match, Millwall came to Griffin Park. We were 2-0 down with 83 minutes of the match gone. A section of fans were singing "You're getting sacked in the morning" to Thomas Frank. Then an amazing eight minutes that saw our season turn around.
Josh Dasilva came off the bench to score a 18 yd pile-driver on 84 mins. Then Mbuemo hit a beauty from 25 yards evened the tie up two minutes later. Then Ollie Watkins pokes in four minutes into injury time to seal the win.
The week after that we went on to beat Swansea 3-0 in Wales. We also smashed QPR 3-1 at their place and beat Wigan 3-0. Losing only two matches in the twelve games following the Millwall game led to our rise up the table.
Interestingly coming back to the stats, we got Brentford Head Coach Thomas Frank down the pub a few weeks after the Millwall match on our PrideOfWest.London Podcast (https://audioboom.com/posts/7415500-frank-talking-part-1-brentford-head-coach-thomas-frank-joins-beesotted-down-the-pub-talking-foo). We hit him with some pretty tough questions.
One of them was
"When fans were singing your're getting sacked in the morning, were you ever worried for your job?".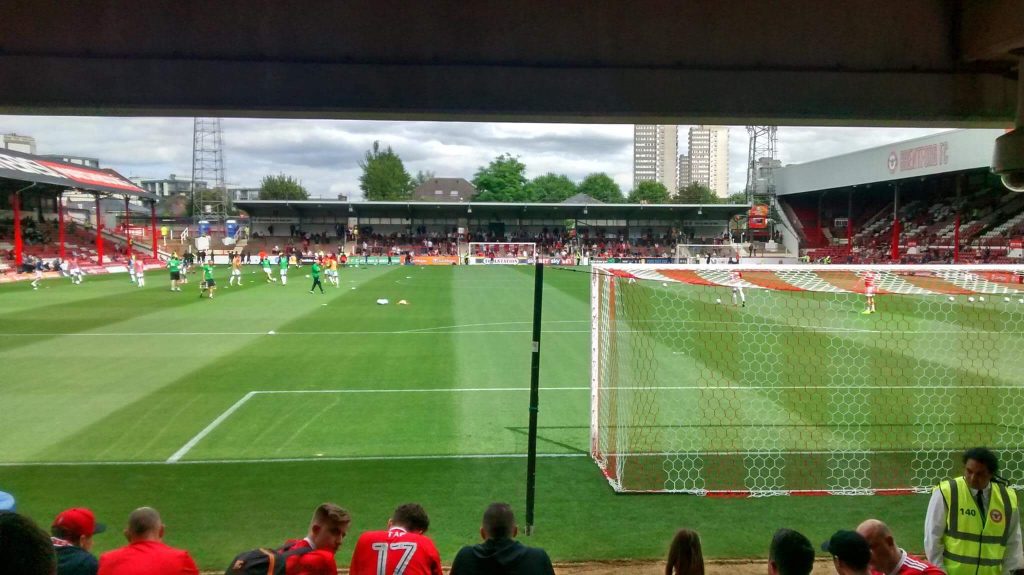 And his straight answer was "No".
And the reason.
At Brentford, they judge the performance. And not the results.
So if the team is ticking all the right boxes (stats-wise) and doing all the right things, then the belief is the results will come. And if the head coach getting the team is doing the right things, it is ill advised to change him. As he is not the problem.
The club came up with a fair bit of stick for sticking to their guns. Twice with Thomas Frank (he also lost pretty much 10 games in a row last season but the club was not worries in the slightest). 

But fair play to Brentford. They didn't consider letting Frank go despite pressure from media and some fans saying he should.
And I believe that is one element of the way the club is run that sets us apart from a lot of sides.
I really do believe clubs should make decisions to hire managers then they should stick with it. Sometimes it takes time for a manager to get his game plan into play. And if a club decides to hire a manager for particular reasons, then if that manager is turns out to be so terrible and they feel they have to sack him after three or four months, to me it's the club that has messed up in their recruitment due diligence. Not the manager.
When it comes to actual current form, Forest are flying high with four wins and two draws (14 pts) in six games. Brentford are third with three wins, two draws and one loss (11 pts).
And looking at the experimental 361 xG table (https://experimental361.com/2020/01/26/expected-goals-table-championship-25-jan-2020/) going into this match based on chances created, Ben Mayhew has Brentford 2nd behind Leeds with Stoke, Wednesday, Fulham and West Brom behind. This is basically the quality of chances created (but not necessarily put away).
Forest he has in 16th place which is interesting and Forest fans will know more about this then myself as you watch your team week in and week out.
It seems that your are getting a great set of results but the results you are are better than the way you are playing –  with you not creating a hat-full of chances. But the chances that you do get, you seem to put them away. 

Clinical.
At the end of the day it's results that count. Forest have Lewis Grabban who is a goal machine – scoring 16 goals so far this season. If you have a great goalscorer in your ranks, you're always a danger.
And Forest – although they may not create the wealth of chances that say a Brentford or Fulham do, they have a lethal strike force in Grabban and unfortunately, he seems to always score against us. 

Should be a great match.
5. This is going to be a big game for both teams. The aim to cement a top six berth and smelling blood in the hunt for the top two as the table heads into the final few months.  Where will Brentford finish this season do you think?
It's a massive game. We made a deliberate decision to play a second-string team against Leicester because the feeling was the Forest game was too important to risk tiredness, suspensions and injuries. We just about got through Christmas unscathed.
We are also having to manage players like Pontus Jansson. Kamo Mokotjo. Said Benrahma. Christian Nørgaard. Mathias Jenssen through injury.
At the beginning of the season I predicted us to finish fifth. I knew we had a strong team. But it's the stuff you can't control that always gets us. Injuries is the worst one. And then there is that olde chesnut of people buying our key players.
This season, as we have been doing so well we have been able to fend off the vultures (touch wood). So it's the injuries I have to keep my finger crossed for. 

If we carry on doing what we're doing at present, I honestly reckon it could be touch and go whether we could nick an automatic spot. It will be close. And we would have to not dip in form. 

But if we stay consistent, it really isn't out of the question. 

Some of our football this season has been absolutely stunning.
But I'm gonna stay level headed. And that means getting some sort of a result from the likes of Forest, Hull and a resurgent Boro in the next few matches before Leeds come to Griffin Park. All very good sides who can cause damage in this league as they have got some very good players.
So let's see how we stand after the Leeds game in mid-February.
6. Give us some pointers on where to drink before the game, if you don't mind. Most pubs around the ground are welcoming of well behaved away fans aren't they?
Forest is one of my favourite away days. The city is great. The ground is great. And the fans have always been great.
The Forest fans I know seem to love an awayday at Brentford which is great as there can be a bit of snobbery in London about which clubs are 'fashionable' and who is not.
We don't care if we're not fashionable though. We just want fans to come down and enjoy the day out.
We post a drinking guide for fans in our Beesotted pre-match preview (https://beesotted.com/nottingham-forest-preview-and-pub-guide-january-2020/).
But if you are coming down, as you know there are pubs on all four corners of the ground – The Griffin and The Brook are the most popular with away fans seeing as they are less than 1 minute's walk to the away turnstile.
Other than that, there are loads and loads of pubs in the area. The Globe and The Lord Nelson are good popular home fan/way friendly pubs.
One Over The Ait and The Express Tavern are decent choices near The Thames right by our new stadium at Kew Bridge.
And there are a few pubs down the High Street like The Magpie and Crown.
The Black Dog is a relatively new boozer fairly close to the ground which sells a variety of unusual ales.
Loads of choice.  All are away friendly. You can wear colours. And #manners are in order – with the visiting fans respecting the locals.
The police tried to segregate the pubs as home and away puns when we got promoted to The Championship. But the fans and local publicans said "no". We'll police he pubs ourselves.
And we've never had any trouble in the six plus years since we've ben promoted.
7. What's the best bet to reach the ground on tube / rail?
Again check the preview guide (https://beesotted.com/nottingham-forest-preview-and-pub-guide-january-2020/). Personally I always recommend tube. Because they run every few minutes and takes 35 mins from Kings Cross to either South Ealing or Northfields (Piccadilly Line). Whereas the overground take 30 mins from Waterloo or Vauxhall to Brentford and runs every 15 minutes.
I always recommend Northfields tube because there is a mini pub crawl on the way to the ground – The Plough (2 mins walk from Northfields Station). Then The Lord Nelson (12 min walk from The Plough). Then The Globe (1 min walk from The Lord Nelson). Then The Brook (8 mins walk from The Globe). Then The Griffin (1 min walk from The Brook).
8. There has been much in the news of late about Financial Fair Play – certain clubs have gone down the route of selling the stadium to owners, linking up with gambling companies to sign players and spending millions that exceed the imposed limits. It's all a bit of a car crash really.  
I won't profess to know much at all about the inner workings of Brentford FC but, to an outsider, they would appear to be far removed from this sort of circus and a club that cut their cloth relatively accordingly amongst the huge spending of their peers. Would you say this is an accurate assessment and, if so, how do you manage to compete at the right end of the table? What do Brentford get right that so many others don't?
Don't get me going on FFP or I won't stop. Basically, a small club like ourselves has a fairly low turnover (£13m a year in 2017/18) compared to the likes of Leeds (£41m), Fulham (£38m in 2018/18 but much higher this season due to parachute payments) and Derby (£30m – not accounting for stadium sales of course).
Forest actually have a relatively medium-ranking income at £23m.
However, when you look at the wage bills, it's obscene. Stoke at £56m. Fulham at £54m. Boro at £49m. Derby at £40m in 2017/18.
Forest are at £28m.
Our wage bill at £17m was deemed quite high by our standards that season.
We're not saying we're paupers. As we're very lucky to have an owner – Matt Benham a lifelong Brentford fan – who has put over £100m into the club.
But what he has bought, which has been much more value to the club, is a long-term vision and a strategy for the future. His company Smart-Odds has some sort of super computer which crunches stats collected by a building full of analysts and dishes it out information to a closed group of high worth gamblers.
He made a decision to use the information that has made him so much money to identify left-field players and coaching staff for Brentford.
Players that other teams will often pass on.
Players who we rate whereas other teams may look at other markers for their ratings.
So we are able to pick them up for relatively smaller fees. Develop them. Then – if an offer comes in that we can't refuse – move them on and reinvest. 

We have had to do this because we don't have the money to play with the big boys. Or  – more to the point – we refuse to get drawn into that game.
And it's reaped it's rewards.
Despite only turning over £10m in 2017/18, last year we sold £60m worth of player across two windows including Mepham (£15m), Konsa (£12m). Maupay (£20m).
Of that money, we spent around £30m – a lot of money in our books. But the reality is it is only around half what we got in. And we only spent big when we had enough in the pot to pay for it.
This is the first time we've spent anything like the type of money. Previous to that, we would spend maybe £3m or £6m. We even went up to £11m in one year. But we've always been cautious.
And we've always made sure we haven't flaunted FFP. These rules say that you can't lose more than £13m a season and  £39m over three years.
What we find frustrating is – whilst we have had to continually sell players to remain within FFP and keep within the rules, other teams with bigger income than us still feel that they have to spend a ridiculous amount of money to try and reach 'the promised land' of The Premier League. 

What does that end up doing?
Inflating the prices of players and their wages. Often for sub-standard players.
All the teams in the league then end up suffering as the market has taken a huge shift in price upwards. With player fees rocketing. And everything costing more.
For what is in effect the same players.
My personal view. I would LOVE if every team was capped at a particular amount. Not even a percentage of their turnover. Just straight cap. So it was transparent. 

Then each team would have to spend money wisely instead of flaunting it left right and centre. Prices would not be inflated. Teams could actually spend money in other areas instead of putting more and more money into the same players.
There would be no need to hike up ticket prices as the money within the game would be manageable.
So fans. Grass roots. Community. Development. Marketing. Would all benefit
And the world would be a much happier place. 

I told you not to get me started on FFP.
9. How do you think this game is going to go – score prediction?
This is going to be a tough game for us. Make no bones about it. Traditionally Brentford struggle when teams come to frustrate. And that is what I believe Forest will come and do.
It will be our job to try and break you down. Which will make the game very tight. Also, you are very good on the counter-attack which means we will have to try and maintain possession as much as possible and not give away cheap passes.
You are good at creating and finishing scoring chances which means our defence has to be completely focussed. No silly mistakes.
And you are good at protecting the lead which means we can't go behind.
I'm a little bit gutted because I have a lot of Forest mates and I was hoping we would meet up for one last drink up to toast farewell to Griffin Park this season. Unfortunately, the FA Cup put paid to that with many unable to make the match with it being a Tuesday night. 

However, the Forest fans who are coming down will get a good welcome. Manners is the key and Forest fans have show that and more every time they have visited Griffin Park.
As for a score prediction. I'm going to let my head follow my heart this week.
We have to justify the selection on Saturday (no pressure) by coming up with a result on Tuesday.
I'm going to go 2-0 Bees. With the final goal being scored very late in the game to keep both sets of fans on tenterhooks for the bulk of the 90 minutes.
10. To finish – give us your guess of the three promoted teams this season from the Championship.
I think, despite their tendency to crumble towards the back end of the season, Leeds will go up. From a stats point of view, they are creating far far far too many high quality chances (big xG) to ignore.
Bamford up front is doing them a disservice. If they had Grabban or Watkins up front with the amount of quality chances they create, they would finish 15 plus points clear of second place at the end of the season.
Let's see if whoever they bring in this window delivers for them.
As for second place. I really think it's up for grabs. And it will be anyone between West Brom. Ourselves and F*lham.  I would have said Wednesday but they have a points deduction looming and have lost Fletcher for the long term.
I'd put my neck on the line and say, Bees v Forest or Bees v F*lham in the playoff final would be quite tasty.
But let's not get ahead of ourselves. We've got a long long long way to go and lots to do between now and May.
Safe journey down Forest fans. And enjoy your evening in Brentford.
Come on You Bees.