A Week In The Life
If asked to define Nottingham Forest's 2019-20 campaign so far in one sentence I would answer as follows:
'A side full of spirit and resilience, capable of swift attacking football mixed with a new found desire to fight to the very end and grind out a result.'
Footnote: 'Also have an inexplicable knack of floundering when you least expect it and failing to build on momentum. But some things will never change.'
The eight days captured in between 5:30pm on Saturday 8th and 2:30pm on Saturday 15th February adequately captures where we are I think.
Leeds was the showpiece occasion that we have all craved. A packed and feisty City Ground roaring on our side to a pretty complete performance and a sizemic victory. The mood immediately after and in the few days that followed was as buoyant as we have known it for many a year.
True to form we then wilted in our very next game against a team down at the bottom of the table. It was a gruesome showing. Team selection, attitude and the basic principles of how to play football were all raised as fundamental issues. It was like a step back in time.
Another pressing worry was the ability of those sat outside our core side who stepped into the team – there is little doubt that out fortunes between now and May rest of keeping most of our starting XI fit.
As bad as it was these games do happen and are going to continue to happen. Lamouchi admitted his fault but we were all left to rue another wasted opportunity to cement our status as promotion contenders. This was even more depressing having come so swiftly after the Brentford / Birmingham games where the high of Griffin Park was dashed at St Andrews.
At the very heart of us losing games isn't just our lack of quality, our team sheet or how much the fans sang; it's that The Championship is bloody nuts. It is perhaps the most competitive league in all of Europe and relegation fodder will not just occasionally take points from the top sides, it will happen pretty damn regularly. We have to accept it and not launch an inquest every single time we fail to win.
We are one of many half decent sides all battling to be slight less crap than the rest. That is the reality of this league. Fulham's 0-3 battering by bottom side Barnsley hours after we finished at West Brom is a prime example among countless others. The Championship's main appeal is that it is full of misfiring sides who very rarely get their act together. It's what makes it so great.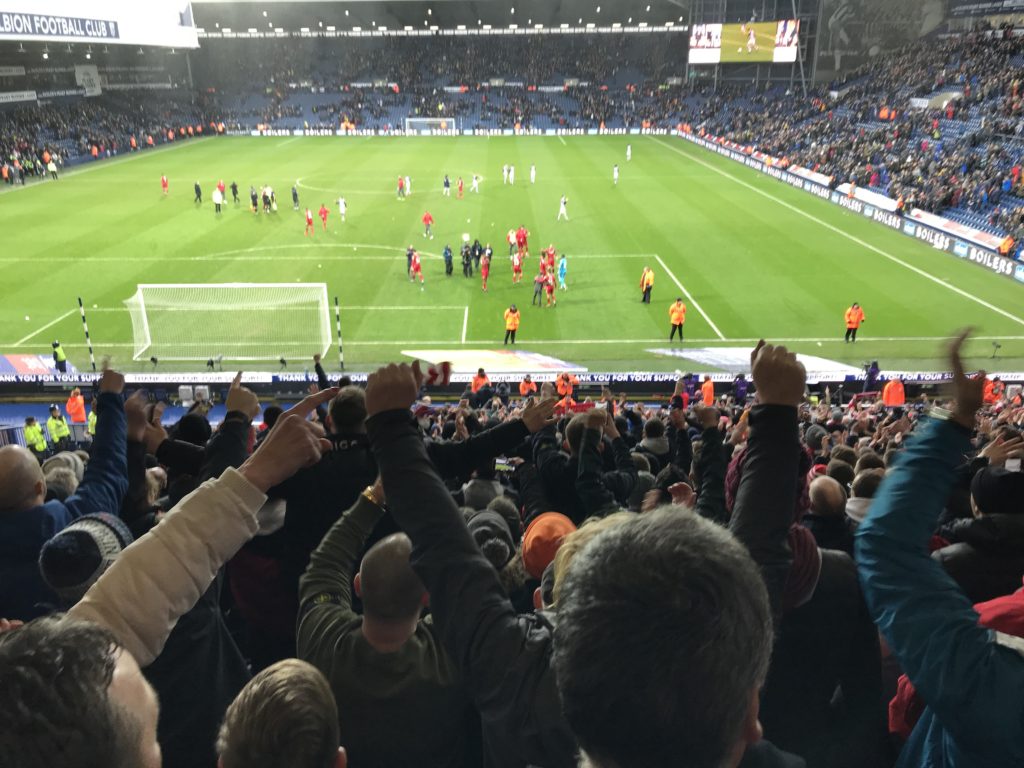 We are going to lose games and we are going to be abject at times. The performance against Charlton will almost certainly not be the last time we play like that this term. It's a minor miracle that we have only seen a handful of similar defeats this season. You simply don't waltz through this league unscathed. Especially when you've been battered by it for most of the last twenty years and you're only just starting to work out how to compete.
And then we move to our final act of the eight days. A daunting trip to top of the tree West Brom.
Except, for the reasons I've explained above, it really isn't all that much of a fearful experience. Only a couple of weeks back Stoke skipped out of there with all three points while the likes of Barnsley and Reading have taken away a point.
Aside from one guy who was rather stupidly shouting out on the concourse that Lamouchi was a 'lying bastard' (presumably because Lewis Grabban had made the starting line-up) the dour mood following Tuesday night had lifted.
The away support was once again superb. It has been all season and is, I'm sure, part of the reason why we have enjoyed such a successful points haul on our travels. The connection between the players and the supporters continues to flourish and it's especially noticeable at away grounds up and down the country.
It's also great to hear so many of the players earning their own individual songs. Samba, Cash, Ribeiro, Watson, Ameobi, Lolley, Silva and Grabban all hopefully thriving off hearing their names sung in tribute at The Hawthorns. And when the Toby Figs version of The Supremes 'Where Did Our Love Go?' takes off there will be another fine addition!
West Brom was a topsy turvy game that threatened on numerous occasions to be overshadowed by the man in black but as ended up as another chalked up to our ability to keep plugging away. Even when most of the closing stages were spent in our own half.
Matty Cash racing down the full length of the pitch to celebrate with us was joyous. I didn't see it at the time due to scrambling around trying to stay alive in the midst of some first class pandemonium in the away section. What a revelation that lad has been; a wonderful footballer and a wonderful chap too it seems. A word too for Yuri Ribeiro on the other side who continues to show what a great signing he was.
Despite the late leveller being our only shot on target I thought we were good for the point. The term 'shithouse' has become a badge of honour under Lamouchi. It was raised again yesterday but I'm still not sure it applies as much as people say.
The task of this Forest side is to win games. I don't recall many times when we have sat back aiming for a point with our entire side camped behind the ball. We regularly try and attack the opposition and our philosophy, while often centred around being resolute and solid at the back, has way more to it than looking to nick something during a rare foray into the final third.
It was essential that Lamouchi started assembling a staunch defence. You may remember one of his predecessors highlighted the importance of building a side from the back – I think that bloke's all conquering side was called negative too at times wasn't it?
We are also competing against a top eight that all have more recent experience than us in a promotion contest. Our naivety does show at times but is masked by many other strong attributes instilled into us.
There appears to be a consensus from our rivals that we are a negative, ultra-defensive and niggly side. Thoughts usually conveyed in the aftermath of us 'stealing' points from them. Because of that there is a viewpoint that we are fortunate to be where we are and will soon fall away leaving the rest of them to sort out the business of who goes up.
It's playing directly into our hands. There is way more to us than other teams realise. This is the most streetwise Forest side in ten years and it is combined with the exciting talent of Cash, Silva, Lolley and Grabban. Plus a coach that has finally made us hard to beat again.
Since West Brom on opening day none of our immediate rivals have found a way to beat us. They hate it and resort to calling us names – Brentford in particular couldn't handle us rocking up and beating them pretty comfortably. Even with the ref on side like at The Hawthorns they can't overcome us.
I'm becoming more and more confident in this Forest side. Yes it's prone to stupid mistakes and bad performances but so is every single one of the other 23 teams. We also have Sammi Ameobi with legs like Dhalsim from the Street Fighter game terrifying and bemusing full backs in equal measure. I'm convinced that IF there is a goal scored to take this club back to the Premier League this season it will be Ameobi who gets it. Just a hunch.
I'm not going to say we are going up. Who could possibly say? I do think we will have to improve a bit more and enjoy a decent slice of luck but it's definitely within our reach. And I do think at this moment in time we are very much in the mix. It's still a thousand miles off but it's closer than it's been for a long time.
Thirteen games to play. Onto the next one.
Matt