FG Away

Ipswich 4 Forest 2
Five months into the biggest reset button in the club's recent history and the world, once more, is caving in. Twitter is awash with frenzied messages about our plight. It's the tiniest minorities of course; anyone who sees Twitter as a constant gauge for the fans thinking is wholly mistaken. The most vocal, angriest verdicts online will inevitably rise to the surface but delve a little deeper and you'll find sensible and reasoned debate. There is no right answer here but there is a need to stop screaming your heart out at everyone when we lose a game of football, no matter how ridiculous the nature of the defeat.
The reaction at the final whistle at Portman Road was a mixture of dismay, frustration and a bit of audible angst. Yet the players were largely applauded as they made their way across to thank the 1,100 Forest. I steered clear of Twitter in the immediate hours after the game. Partly because I was enjoying the remainder of the day, can in hand and laughing with mates. And also because it can be a disheartening place at times. I knew what I'd witnessed, I knew the defending was criminal and I knew that a lot of what I had seen was not good enough regardless of how short a time into a rebuild we are. I also saw the usual flashes of promise and, believe it or not, I do admire the philosophy Warburton is trying to stamp on his players. And, shock horror, I think he's made some good progress in a matter of months. Shoot me quick!
Through glazed, drunken eyes I took a first proper glance at just after 10pm as my tram rolled through the city centre. Fans calling other fans deluded and stupid for one viewpoint or another and an army of one informing folk that we should abandon any ideas of playing football because it's not working. I don't raise this as some blasphemous statement, anyone is entitled to have a say, but it's the panic to throw everything else out the window so soon into this project that sticks in the throat. It was just weeks ago that we purred at the destruction of QPR. An all too rare performance I know but if that is what we are aiming for on a  regular basis then I'm all for giving it a go. You only have to remember back a couple of seasons to the widespread outcry at 'Dour' Dougie Freedman. He very quickly made us tight at the back but there was widespread outrage at the style of play. I'm certain that some of the same people who complained profusely about that now lament our latest style.
I also saw one Twitter user announce, with no shortage of drama, that he was turning his back on the players. Jesus Christ. It's all I need to say on that matter. Let's hope it was the beer combined with disappointment talking.
The eagerness to rip up the plan and then rip up the plan and then rip up the plan is absolutely frightening. Time has to be afforded to try and get it right. We all see the issues; the frailties and the mistakes but are we seriously suggesting these are exclusive to the Warburton era? There has been a long standing malaise at NFFC and an underlying weakness in each and every squad. It's been passed on from generation to generation and we never succeed. It's spread into the fanbase in the form of impatience and a habit of panicking at every turn. Eventually we have to give someone the opportunity to eradicate it. A manager needs a series of transfer windows and he and his players need all of our understanding. It was almost universally accepted back in August, now some are sadly starting to turn.
To Mark Warburton and his players, you have my support.
Ipswich, Saturday 2nd December 2017
Ipswich away is always one of those games I look forward to. When it lands on a Saturday at 3pm it's genuinely one of my favourite trips of the season. Honest! There are far too few football grounds where you can step off a train and find yourself a matter of minutes from the ground and the town centre. The added bonus is that there are also some very good pubs. The downside is it's a long way and not easily reached however you travel.
In the days of retail park football grounds miles out of town it's refreshing to visit Portman Road; a proper ground with some character. Four individual stands including a two tiered Cobbold Road Stand where away fans are housed. With just over 1,000 tickets sold we'll probably all be together in the upper tier.
Thankfully Ipswich have decided to reduce their ridiculous ticket prices to a more reasonable £25 this season. It's often unreserved seating but, if it's not, those wishing to stand at the back can usually find the back few rows aren't sold. Usually.
For those seeking a pre-match drink, directly opposite Ipswich Station is the appropriately named Station Hotel. It's the designated away pub and is usually where the travelling fans congregate together. Because of the close proximity to the ground it's ideally reached by those on coaches and in cars aswell as those who have arrived via rail. It's okay but there are better options if you can be bothered and have time to explore. Also keep in mind it's often shut after the game. For those like us on a later train (17:56) then I'd recommending heading elsewhere because by the time you have walked there you're already running short on time to get to somewhere else.
The Swan is a small but decent establishment where we spent much of our time before last season's game. Just down the road is the Black Horse. There is a 'Home Fans Only' sign on the door but we've never had any issues. The landlady, so they say, is a Forest fan which probably helps. It's more of a place for when the weather is better as it's a bit pokey inside and extremely busy. But if you are about early then give it a try. Possibly the best pub in Ipswich and very close to Portman Road. The town centre is a five minute walk from the ground and has various other places to try. I couldn't possibly begin to remember the names of them unfortunately but there's a few to choose from.
We'll be arriving into Ipswich on the 10:34 which doesn't arrive until 13:28 so there won't be much chance for us to sample the aforementioned pubs but we'll get chance for a couple no doubt to supplement the cans we make our way through on the train.
Another group of us are making their way down in the car. We've only ever parked in the car park right next to the stadium and found it a pain to get out again. Something we have done a couple of times now is to park up at Stowmarket which is just up the line and catch a train the rest of the way. We found this better than navigating in and then out of Ipswich.
Our results on the pitch at Portman Road really has been a mixed bag in my time. It's a relatively successful ground to visit with my dozen or so games since 2002 bringing 5, maybe 6 wins Thinking about it have we won anywhere as much as Portman Road since we left the Premier League? There have been a fair few less fondly remembered games there though. The 6-0 under Megson and a couple of long Tuesday night voyages where we returned empty handed spring to mind.
My favourite ever visit was actually my first. Spring 2002 as we battled Ipswich for a place in the play-offs. 2-0 down in a very short space of time soon became 2-3 and then 3-3 before we edged it 3-4. A tremendous game, very possibly one of the best games of football I've witnessed. I remember charging down the aisle when the equaliser came and nearly cartwheeling straight into the lower tier. If you were there for that one there is a strong possibility I hugged you that day.
This time out who on earth knows? We're more than capable of winning convincingly and more than capable of losing in the crushing manner only we can. But, you know, I'm enjoying it. It feels like we are all stumbling forward together. We stagger from side to side every now again and take the odd step back but forward it most certainly is. I believe a day will come before too long when we'll break into a stride. And when we do make sure you can say you were backing this team when they really needed it.
See you in Ipswich. And Come On You Reds.
****
Birmingham 1 Forest 0
Somewhere in the midst of a fairly heavy drinking session on Saturday was a game of football. We lost. Once the sting has faded normal service resumes and we carry on enjoying ourselves. It's a mentality that has to exist being a Forest fan, otherwise you'd become a wreck. I enjoy letting myself get excited with a win but I try not to get too downbeat when we lose. Some games hurt more than others but we all spend so much time, effort and money that days like Saturday need to be grasped.
We are Jekyll & Hyde – we run out of superlatives to describe wins at Hull and against QPR and we crash in Reading and Birmingham. But there is certainly no need to panic. The progress we have made continues to smack you in the face and five academy players starting at St Andrews, even in defeat, should make us proud.
After gallivanting around Brum for a few hours pre-match we wandered quite randomly into the Old Joint Stock in town afterwards. It's a bustling, brilliant pub. Do give it a try next time. There we met our Wolves mates – some of you may remember them from the Xmas meet last season when they found themselves on stage. They had arrived back after a win at Reading. They were humble but you can't blame them for being more than happy with the status quo at Molineux right now. We'll be seeing them again in January…
One area I want to touch on is how we (the collective we, not us) improve the support at away games. Am I alone in thinking we've lost it a little this season? The numbers are still as impressive but we aren't taking control of the atmosphere in grounds like we can do. Yes, yes the performance being flat won't help and nor will conceding another early goal but we can make it so much better. All else to one side, I'd have enjoyed it a lot more and so would most of the other 2,800 Forest in attendance. And it might just have made a difference.
This isn't a rant or a moan; the support was good on Saturday. Yet we had an opportunity to really help pick the players up and keep out the cold too! But we watched on in frustration for the most part.
We stood, by chance, directly in front of another group of lads who questioned the atmosphere and lamented having seats low down. One of them asked if we (FG) could do more to help it. The answer is yes, we hope so.
Unfortunately our group keep finding ourselves in seats towards the front. In a packed away end like Saturday we are pretty stuck. It becomes almost impossible to do anything ourselves from there. Noise doesn't travel and won't reach towards the top of the away end. During a quick reccy up to the back looking for some space I couldn't help but notice that some of the people sat in the higher rows may have been happier or just as happy sitting a little closer to the pitch. I could be wrong, of course. When purchasing the ten tickets for the game we specifically requested seats towards the back of the stand but were told it wasn't possible. It is frustrating.
On Saturday a couple of exciting new song ideas were being floated around along with a desire to have a bit of a go, spurred on undoubtedly by the several beers we'd had already by 3pm. It didn't materialise because of the aforementioned issue. You might have heard the new Dowell song on the video that was kicking about online. It's simple and catchy but we knew it had zero chance from Row 13.
We do, however, have a request lodged with the club to try and change this dynamic. We want to make it easier for fans to get together and create an atmosphere in the ground. We don't want to turn this into singing blocks as such, more of a way that you have a bit of a say in where you sit / stand. And while our objective is noise it can also benefit those who may want to avoid all of that and just watch a bloody game of football! There's nothing wrong with that whatsoever I might add.
At this stage we are awaiting something back from Forest. What would be useful in the meantime is if you would share your thoughts on this, good or bad. Tell us if this would help, whether it would't and whether you'd like to be involved. After floating the idea around through our newsletter the reaction was entirely positive. We may need to build a bit of a case to support the proposal and naturally we need to communicate with folk who have some interest in joining in with this idea. So please do let us know. Either via the direct messaging on social media or to ForzaGaribaldi@hotmail.com. Thanks.
Hopefully see you at Ipswich.
A few images we have collated from Saturday are below. Thanks to all those who submitted their pics for us to use. And whoever knew Heisenberg from Breaking Bad was a Forest fan…?
******
Birmingham, Saturday 18th November 2017
We return to St Andrews in a much better place than when we last visited at the start of the year. That game, if you recall, came within 24 hours of the news of the failed U.S takeover. Needless to say things were at a low ebb that day.
Upcoming trial dates in Greece aside, the contrast is stark. The thumping of QPR was as convincing as it gets for a post 2011 Forest side and all with Garibaldi Red at heart can hopefully begin to see the stamping of a philosophy on the club at board and pitch level. It will remain a steady and often frustrating climb but progress is something we haven't seen for a long time. We should cherish it, not demand it hurry the hell up.
Mark Warburton, I think, deserves immense credit for his long-term focus. Too many times we have seen managers being forced to look no further than the next game because of the ridiculous demands on success. I don't blame them for it in truth; success at Forest for any manager in the last five years has been to survive in their job.
Warburton has something more stable above him now but his approach is nevertheless refreshing. It's brilliant to see a Forest manager remain unwavering in support of his players, as it is to see them given time to develop, improve and learn his methods. We'll lose plenty of games this season but you get the sense we are growing at every turn.
A decent sized group of us will be on a mid-morning train to Brum from Nottingham. Services depart twice an hour at 10 mins past and 41 mins past the hour so plenty of options to choose from. The 10.10 or the 10:41 seem the likely choices. Less than an hour and fifteen minutes later we'll be in Birmingham.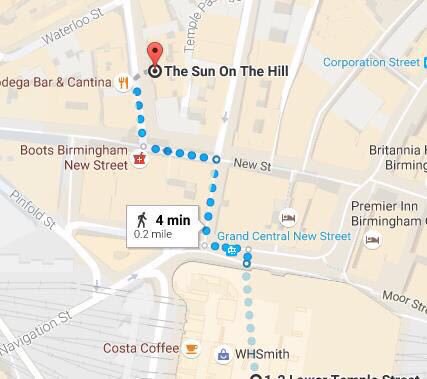 Leaving New Street station is a mission in itself these days but if you can navigate your way out past the endless coffee shops you'll find yourself smack bang in the middle of the city centre, a brisk 20 minute walk from St Andrews. Hanging about in the city is a far better use of your time though – lots of choices for some pre-match bevvies and I'm not aware of many options close to the stadium.
I'd suggest similar if coming in via car too. Something we've done a couple of times is to park just outside of the city at a station called Gravelly Hill which is just off the M6 Jct 6 / A38 junction (Spaghetti Junction) and pay £2.60 to get the train in to New Street and back. It's not any quicker but a bit less hassle and you can find yourself straight into town after a ten minute train ride. Note it is only street parking at Gravelly Hill but there is plenty of it in the surrounding streets.
If you're on the train from Nottingham then it's £18.90 return. Return trains are generally 19 and 49 past the hour. The first service back to Nottingham after the game is the 17:19 which you'll make if you don't dawdle. We'll be hanging around for a while to soak up the bright lights of Brum.
I'm a fan of the Sun on the Hill a couple of minutes' walk from the station (over the high street and up the hill) and is often a starting point for many other Reds arriving into town it seems. The Shakespeare is even closer and is also worth trying.
There are other odd pubs and bars I'm less familiar with to pick from but you might need to head a little further out of the centre of the city to find some other options. Broad Street is fairly close (left out of the front of New Street) and that has numerous places to try all the way down towards the Brindley Place complex of bars.
The Frankfurt Christmas Market opens this Thursday (16th) and it's highly likely we'll end up there at some point. It ain't cheap but it's something different and the beer is spot on. It's usually pretty busy too.
Last season we spent pre-match in the Bierkeller / Shooters on Broad Street and climbed into a taxi at 2pm. The ground is walkable from there but you'll be pushing 30 minutes or more. Incidentally, the Shooters that day was the birthplace of the 'Party in the street' song. The second half of the game also saw a constant 25 minutes wave of 'All we care about is NFFC' which was at least some way of letting off some steam following the takeover news. Of course, it was also the end of Montanier. An eventful day.
The initial 2,500 tickets have sold out and a further batch of 300 has been allocated which probably won't last long. Grab one if you can. If you are going then let Warburton and his team see your support at Birmingham and get yourself on the train and get some ale down you.
See you there. And sing up!
Warburton's Red and White Army.
*******
Reading 3 Forest 1 – Tuesday October 31st 2017
Aaah crushing disappointment, always lurking somewhere close by.
It's a long way back from Reading when your team have lost. And it's even more painful when the Highways Agency organise their lane and road closures around Forest away games. I appreciate the partial randomness of the fixture computer but surely more should be done to avoid fans trekking hundreds of miles in the week. I read the recent piece from the EFL about purposely arranging these long fixtures to fall on evening kick offs to maximise bigger weekend games but that's not much fun when you are queuing on the M40 gone 11pm at night.
The things we do, eh?
********
Hull 2 Forest 3 – Saturday 28th October 2017
I can't have been alone amongst the 1,297 Forest fans tucked away in one corner of the KCOM Stadium to feel that there was the smallest of markers laid down in Hull. It might become a bigger moment somewhere down the line or it might, in true Forest fashion, be a red herring but there was a certain style to this victory. I referred to it in a jubilant Saturday night tweet as a 'swagger and a shine' that we possessed. Some Hull fans might think this is barmy, indeed so might some of you. Yet I saw progression, undoubtedly. The words we write as FG purposely try to steer clear of critiquing performances but this one dazzled me sufficiently to make it worthy of note I thought. It wasn't just the brilliant build up and tempo or the magnificence of Osborn or Dowell in attack, it was combined with the determination to stubbornly defend our own goal too. Yes, we conceded two but I thought we looked good all over the pitch. As I make my way home from Reading late on Tuesday evening I might find myself wondering what went wrong since Saturday but this certainly felt like the click we've been looking for.
We'd arrived into a blustery Hull just before 2pm and (via a detour to another pub)eventually found our way to The William Gemmell where we had been invited by a group of Hull fans known as Hull City Action For Change. You can read a little more about them in the article directly below but, in brief, they have severe issues with their owner and had organised a day of activities to make this point. Along with a couple of the Bandy & Shinty chaps and one or two other Forest fans were made to feel very welcome. I had to laugh at the song as we walked in – the guitarist on stage was singing 'You Can't Always Get What You Want' by the Rolling Stones. Perhaps not the best choice for what was in essence a protest base! Still, it was a well attended and often lively place and it was enjoyable to be doing something a little different before an away game. I was eventually coerced into saying a few words on stage and repeated our often said mantra that maintaining support for the players on the pitch is vital.
The Hull fans set off on their march to the ground and we too advantage of the now empty pub to get another pint in! It was, after all, only half 4.
You'll have seen the 19th minute yellow ball protest that occurred, stopping play for a few minutes. The stewards trundled on with all the effort of a dead badger to clear the offending objects. It was the Hull captain and Jordan Smith who did most of the work. Wheelie bins appeared at half-time to complete the process. We had acquired a couple of these balls pre-match. As simple souveniers, you understand. One female steward took it upon herself to confiscate these balls and a fairly good natured (us, not her) half-time confrontation ensued. The balls were referred to as 'weapons' by the steward and for a brief moment I thought there was a risk of one of the Bandy & Shinty lads being ejected as a burly steward made his way over. Instead a fragile peace was brokered and our balls remained in our trousers.
I'll finish with a word for the away following…
It was a slightly bizarre set up. Three different price brackets meant that we were rather spread our across the entire corner with sizeable pockets of seats in between us all. It didn't seem to hamper the noise though which was kept up throughout. I love away games like Saturday. Everyone singing up right through the game, keeping it up even as Hull crosses were launched into our box.  I was pleased that Warburton made a point of it in his post-match comments. It's struggled a bit of late away from home but it was definitely back towards it best at Hull. Winning obviously helps no end!
See you at Reading. Onwards!
*********
Hull City – Saturday 28th October 2017
We're back on the road this Saturday to Hull for the tea time kick-off. It's a ground I do enjoy going to and the city centre is worth a visit if you can find the time. Plenty of great little boozers. A couple of us found ourselves there mid- afternoon for the Tuesday night game back in 2015/16 and set off on an impromptu crawl.
We always seem to take a decent following and make a fair bit of noise, plus we have a knack of putting in a decent performance too. It was the aforementioned midweek game at Hull where a seed was planted about how a relatively small group can drive the atmosphere. A few Forest fans, quite by chance, huddled together and made a difference that night. What would perhaps have been a fairly typical mundane evening actually became a really enjoyable night with some brilliant support from the 1,000 Forest fans that had travelled. We'll get more of the same this Saturday hopefully.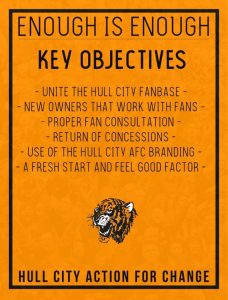 We'll be travelling up in car from Nottingham in the early afternoon. The shift back for Sky will inevitably dent the numbers as will the lack of concession tickets available but hopefully a decent number will be in attendance to back the Reds.
Those making the trip to Hull should also be aware of plans by the home fans to make a stand against the club ownership before and during the game. A few days ago we were contacted by a Hull fan group called Hull City Action for Change. They have reached breaking point with their owner and have decided to take the fight on themselves. You might find their plight somewhat familiar…
You'll be familiar with the Hull Tigers name change fiasco which thankfully ended in failure but that did not end the frustration for Hull supporters. Mike of the Action for Change movement points to 'severe asset stripping'; the removal of concessionary prices and the closing down of a community sports facility to transform it into a training facility that still remains unused. Needless to say they also find themselves back in the Championship after a single season back in the Premier League.
What the group are looking for is support. Not only from their own fans but also from Forest supporters to join them in their 'Day of Action' this Saturday. Although the title sounds feisty, Action for Change intend for this to be more of a community event with live music and a tribute to former player Les Mutrie. The gathering will conclude with a mass fan walk to the ground. While their objectives ultimately involve the removal of the owner they also want to ensure a positive atmosphere for the team and a united fanbase; issues that we at FG faced ourselves last season.
The venue will be the William Gemmell Club which is in close proximity to KCOM Stadium and the event will begin at 2:30pm. They have asked whether we are able to attend and that invitation extends to all Forest fans who wish to go along.
While the scars of our own previous owner are still fresh and the recovery process will be long we can at least console ourselves that the previous regime ended over the summer. Hopefully Hull City can find a similar solution.
You can read more at @HCAction4Change on Twitter or Facebook.
************
Sheffield Wednesday Image Gallery – Saturday 9th September 2017
It was good fun in the Great Gatsby before the game and the tram ride to the ground was the usual swaying sing-a-long. It continued onto the concourse but it all went a bit flat from there which was a shame. Some will blame the performance on the pitch or perhaps the tea-time kick-off meant we were all a bit too pissed after a full afternoon in Sheffield. Very possibly. Still, a good day out with good people.
*************
Sheffield Wednesday, Saturday 9th September 2017 – 5:30pm k.o
My first ever away game was at Hillsborough. December 1998 on a chilly Monday night. I was fourteen and insisted on pulling the red shirt over my big coat which, I can see now, probably looked ridiculous. Unsurprisingly we lost, more surprisingly Thierry Bonalair scored.
My main memory is being in awe as the away sparked into life just before kick-off with a rendition of 'Nottingham, Nottingham'. There was (and is) a different vibe about being an away supporter; the feeling of being outnumbered and a kind of siege mentality that takes hold. That probably sounds a little silly given it's a football match but some of you will know what I'm talking about. Still being a schoolboy at the time only compounded that special feeling of representing my team outside of Nottinghamshire. It's never really left me since.
Hillsborough is one of the best grounds to visit in this league. It's a dated and vast stadium but wholly unique; a world away from the identikit grounds that have been erected over the last twenty years. You hope that grounds like Hillsborough can be around for as long as possible.
If the demand is there the away allocation is huge. Sadly I've only been part of one truly massive following there on Boxing Day 2002 under Paul Hart when 7,000 Reds descended on Sheffield. Oh for a following like that again this time. At best we'll probably fill most of the upper tier – not a crowd to be disappointed about by any means. Those big bastard blue columns aren't half a pain though.
One little quirk I always used to enjoy about a visit to Hillsborough was the wooden seats that can be clattered against their metal frame creating a right din. Every corner and dangerous free-kick was greeted with thousands of seats being banged to buggery resulting in a hell of a noise. I don't know whether this was strictly a Forest thing or not but unfortunately this little tradition seems to have died now. I received a few bizarre looks when trying it on our last visit there. Give it a go on Saturday!
For those of you, like us, travelling via train you'll be best off sticking about in Sheffield city centre ahead of the game. First of all it's a great place for a drinking session and around the ground you're likely to be trying to infiltrate home only pubs. A designated away pub may exist but I have no idea where it is.
Trains are regular with at least two an hour either 17 minutes past the hour (Northern Rail) or 47 minutes past the hour (East Midlands Trains). If travelling in groups of 3 or 4 you can get a third off when buying in person at the ticket office as long as you are travelling back on the same day. This only applies to the East Midlands Trains service and NOT the Northern Rail trains. A standard return is £13.90 with the group saver deal reducing it to £9.26 return.
In the city, the top end of town (West Street / Division Street area) is worth a visit. First though you'll need to avoid the clutches of the inevitable police presence outside The Howard across from the station. Don't fall into the trap of ending up here. You might find a few Forest fans but it's a crap place to spend your pre-match. Instead avoid walking out of the station in big groups and head straight up past The Howard and veer right and across the road up the steps to the Crucible area.
Already you'll be finding a better choice of pubs – The Graduate, Head of Steam and the Brown Bear – but there are plenty more options if you keep walking up through the town and past the town hall past the Lloyds No1 bar. The Frog & Parrot is only a short walk from here. It's a small place but worth a stop off. It's usually our first call upon landing in Sheffield.
Just around the corner is the tram line you'll need to get to Hillsborough. Be warned that not every service goes that way so you'll need to have a bit of an idea what you're doing or just follow others. Also keep in mind that the trams begin to get very busy from 1.5 hours before kick-off. You'll be struggling to get on them with less than hour until the game starts.  The journey is around 25 minutes and getting off at the Leppings Lane stop will leave you a few minutes' walk from the away end.
After the game the trams back towards the city are carnage. You'll end up penned in at the tram stop and battling to get on board. A better bet is to avoid all of this and find a drink somewhere. Obviously if you have trains to catch etc this isn't possible but we tend to stroll down the tram line to the Rawson Spring pub. It's busy and colours won't be permitted but it beats the uncomfortable tram journey. After a beer or two you can board a pretty empty tram directly across the road.
Our post-match typically involves a slow crawl back down the hill towards the station and a late train home. The juke box at The Graduate used to take a hammering but to our dismay it had been removed last season. Let's hope we're boarding that train with the points!
We'll hopefully see you there. If you're around then shout up and we'll see you for a beer.
*Along with the Trust, Bandy & Shinty and London Trickies we are calling on all Forest fans to try and attend the game at Hillsborough if at all possible. If you can make it and you can justify the expense then don't just watch it on TV, get to Sheffield and back the Reds. The club are providing a number of free coaches to help supporters get to the game and it would be a big sign of the renewed positivity and faith in the new ownership, manager and players if we travel to Hillsborough in big numbers. After defeat against Leeds giving us a slight downturn heading into the two week break it would be a great demonstration of the togetherness at NFFC for us to respond in such  a way.
Have a look at our 'Get Yourselves to Hillsborough' piece on the home page of our website.
***************
Newcastle Image Gallery – Wednesday 23rd August 2017
An absolutely magnificent evening in the north east. Newcastle is a fine city and a terrific place to go and watch football. Well, that is until you take your seat miles above pitch level. All roads seem to converge on St James' Park and the pubs were bustling with barcode clad locals from the early evening. They wouldn't be quite so jovial a few hours later.
A pretty impressive following made their way up the hundreds of steps and into the very top of the ground where we sat alone; the sweeping tier empty other than 1,000 of us. It's fair to say the Forest contingent didn't really come to life until extra time. Until then much of the racket came from a small group of Hibs fans who had travelled to see their former hero Jason Cummings in action.
It was a long old night in the end but it was further demonstration of how much fun it is to go and see Forest at the moment. And it was a nice reward to discover the following morning that a trip to Stamford Bridge now awaits.
We're on the march with Cloughie's army.
Barnsley Image Gallery – Tuesday 15th August 2017
A much improved performance but, alas, a first defeat. It's a funny old game isn't it? Still, Forest travelled in massive numbers which was great to see and we shouldn't be too downbeat after 6 points from 9. The biggest pain was undoubtedly the miles of roadworks on the way home. Thanks to all who contributed images.
*************************
Brentford Image Gallery – Saturday 12th August 2017
*************************
Brentford – Saturday 12th August 2017
The fixture list was kind to us when our first away game was selected.  Brentford remains a favourite for many of us because of the old fashioned terrace we are housed in.  Supporters are tightly packed in below the low roof and the noise it kicks up is brilliant.  This is how a lot of football fans want to watch football:  shoulder to shoulder; swaying in time with the masses.  Fans on a terrace become more of a single entity; a joyous and often furious mob and the atmosphere is far greater for it.  And those celebrations… Not much in football compares to the sheer joy of the physical assault that follows.  Bodies flying down steps and limbs pointing in all directions.  It sounds unsafe and not fun for all but it's fantastic for a lot of us.  No, there is nothing quite like a terrace. It's a shame they are such a rarity in the upper leagues now.
After the success of the QPR gathering we organised with the London Trickies group we couldn't turn down an opportunity to do it again when we saw Brentford smiling at us on the second weekend of the new season.  Within minutes of the fixtures bouncing through the planning began…
Once more we will look to organise ourselves onto trains down to the capital and to a pre-arranged meeting point with the London branch and others.  It's a simple idea but it's quickly becoming a special part of following Forest away.  We don't need pubs that we're told to go to, we find our own.  We do our own thing and in huge numbers.  A peaceful but passionate group determined to drink, sing and spur our team on all over the country.
The departure will be early from Nottingham and will see us in the chosen pub before 11am.
The itinerary, should you wish to join us (or avoid us!), is as follows:
Depart Nottingham: 07:45
Arrive Peterborough: 08:56
Depart Peterborough: 09:08
Arrive London Kings Cross: 10:12
See information below the main text for the best way to buy tickets to get them cheapest.  As long as you can travel in a group of 4 you will have to pay a maximum of £28.31 but note that this does include buying the Peterborough – London return part in advance online.
Upon arrival into London we will head to The Old Station House in Chiswick.  We clearly made a good impression at the pub before QPR (and spent a shit load!) as the owner is welcoming us again to another of his establishments.   This one doesn't have a jungle out the back like the Garden Bar but looks ruddy good all the same. You know the drill by now – we plan to fill it with Reds!
The pub is a very short walk from Chiswick rail station.  This is the overground line and those heading from Kings Cross / St Pancras should head south on the Victoria line to Vauxhall where you can get a rail service to Chiswick.
Brentford Rail Station is just two stops along from Chiswick and is 5-10 minute walk to the ground.
For those who won't be joining us at the Station House there are plenty of options closer to Griffin Park.  The ground is probably most known for the fabled four pubs that sit on each corner of it.  This isn't technically the case anymore as at least one of them has closed, maybe two.  Nevertheless they are usually crammed with home supporters and Forest fans are better served by heading a little further afield.
Last season we congregated in The Globe about a five minute walk from the ground.  Incidentally it was Brentford last season where we first mooted the idea of some sort of Forest meet-up.  It involved the first meeting with a couple of the guys from Bandy & Shinty.  At that time in August 2016 both groups were fresh and starting down our respective paths towards world domination (more them than us!) but we have remained close since.  Although I hear they turn nasty when you stop buying their excellent publication!  The Globe pub is well placed for those heading in from South Ealing on the underground.  It's a 10-15 minute walk from there but there is a small place called Roddy's Bar that's decent enough for a quick pit stop if you get chance.
One little detail that we must point out is the house near the ground where the occupants set up a small gazebo on their front garden and flog hot dogs cooked in their kitchen.  Quite how that came about I'm not sure but give it a try.  It's better and cheaper than the usual offerings.  I can't remember exactly which corner of the ground it's near but those coming in from the South Ealing tube will probably pass it on the way to the away end.
Griffin Park shows a club who have been competing above their weight for a while now.  And good on them.  I gather plans are afoot to move in the not too distant future and, with that, another glorious old football ground will be lost.  Despite my earlier gushing about the terrace, the away end concourse is far from pleasant.  Mainly because there is never any beer on sale and the access in and out the back of the stand onto the tight, open concourse is always pandemonium right before the game and at half-time.  Thinking about it, it's probably for the best they don't serve alcohol!
With it being the first away game and with it being the best away end in the league we will be aiming to get ourselves inside the ground early and start to create a racket.  Obviously those who want to remain in the pub that little bit longer can do but it'd be great to have the place coming alive long before kick-off.   Come 3pm it will no doubt be bouncing.   Think about doing the same and keep it up throughout.
Come what may we will also return to the Station House after the game.  Unfortunately the route we have chosen to get decent priced tickets does not allow us loads of time afterwards. We'll be on the 19:34 service from Kings Cross as stated below:
Depart London Kings Cross: 19:34
Arrive Peterborough: 21:06
Depart Peterborough: 21:27
Arrive Nottingham: 22:32
We won't ask that you join us; we'll just simply say you should.  We add a drop of organisation to put things in place and galvanise the support, sort of like lighting the blue touch paper. We'd all have a cracking day doing our own thing all over London but together in our hundreds taking over a little corner of West London is what we should be doing.  It's what we should always be doing.
"The miles I have travelled,
The money I have spent,
To see that Garibaldi Red from by the River Trent,
There'll never be another way,
What a way to spend my day,
On the beer,
With the Reds,
Forest away."
***
The information below should be useful for those wishing to book themselves on the same trains but we're happy to help if anyone needs it.
To get the best priced train tickets buy as a group of 4.
The Nottingham – Peterborough return leg is £23.60 but a group of 4 (or 3) will receive a third off when purchasing (and subsequently travelling) together.  These can be purchased from the station ticket office in advance of the date or on the day.
For the Peterborough – London part of the journey travelling in a group of 4 also creates a saving. You can buy a Super Off Peak Day Return via http://www.nationalrail.co.uk/for just £50.00 for 4 people (£12.50 each).  Note that on the trains specified the cost for one person travelling via a Super Off Peak Day Return is £18.90 per person. Please be warned that the Super Off Peak tickets must be purchased online in advance of the day.
Those without an Oyster Card or contactless card will also need to acquire a London Travelcard. These can be purchased in London but the queues are usually substantial so the best bet is to buy it as Nottingham before we depart.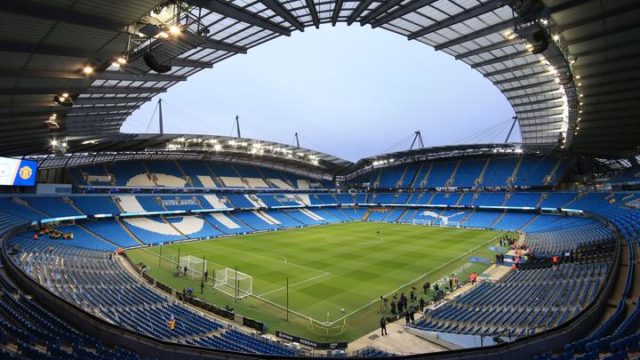 We should be beating teams like Burnley at home…apparently. Burnley hadn't registered a single point yet and are obviously a bit useless…apparently. The dominant feeling as we trudged away into the year's first autumnal night after a 1-1 draw on Monday evening was one of frustration. Yet at the same time, a small sense of […]

A cynical stare at the August results could well produce a feeling of disgruntlement; three losses from four isn't easy to dress up. But, the rather meek exit from the League Cup aside which featured seven changes to the starting line-up, it's feeling somewhat hopeful that we may be finding the means to compete on […]