The Dying Art of the Terrace Chant
I've been building up to this article. If you read through previous correspondence from FG you'll see similar strands of an overall message – the importance of originality, not following the tedious atmospheres of others and building ourselves a reputation.
Please keep in mind this is a personal viewpoint; it isn't a manifesto or a one-sided debate. It's a fairly narrow gaze through my eyes and how I see it. Ultimately my thoughts mean very little and I realise that others won't share these views and some just won't care but it can hopefully spark a bit of interest, perhaps even a bit of action. Maybe.
Forza Garibaldi doesn't just want to make it noisier at games, we want to rejuvenate the atmosphere and make it different and exciting. We aim to change the culture in the stands and showcase the already brilliant support we have to make us the best in the land. It won't be easy and it won't happen quickly, we know that. But we'll try.
***
I have a fairly good recollection of my first ever game – it was spring 1993 and Clough's Forest were spiralling out of the newly formed Premier League. The game was against Leeds and 'our Number 9' forced a 1-1 draw from the penalty spot.
The game itself isn't really there in my head. What is there though is the sheer wonder at being stood on the old Trent End. My Dad and older brother delivered me onto the front wall and there I stood alone. I was 7 years old. Except for a very brief check at half-time as my Dad passed me a Milky Way through the crowd I spent 2 hours on my own that afternoon. It was exhilarating. I had no real concept of the torment that was unfolding that season, or the sad demise of the greatest individual in this club's history. What mattered to me was that I was there.
I unfortunately would have to wait for a Psycho salute due to injury but I was nevertheless carried away into the world of terrace life and the songs. Oh those songs. I was hooked from the moment the noise kicked up. And you know; I'm still as transfixed now.
It wasn't just the volume or the passion that dived deep into my soul; it was the wit and the craftsmanship that I loved, and have ever since. The old Trent End were the masters of it. I sampled it only too briefly before it disappeared forever in the mid-nineties but it was a magical place to stand and watch football. Even as a young boy I can recall the camaraderie and the kinship. That's how it felt to me anyway.
A lot of my admiration for the Trent End and its collection of chants and songs developed over time. It was while reading the fantastic 'Forest Ever Forest' (2001) by Chris Broughton that I fully realised the extent of its contribution – not just to the atmosphere at the City Ground but the stand and its occupants had earned a reputation as one of the ends in English football. In the back of Chris' book there is an 'A-Z of Trent End songs' which became a regular reference point for me. One that jumped out was:
'Whenever you're sad, whenever you're blue, whenever the Forest are playing
If we're out of luck, we'll fight like fuck, to keep the Trent End swaying'
This and many, many others will be oh so familiar to many of you. But where did that artistry go? Why don't we churn these marvellous songs out like we used to?
Those individuals who dreamt up these witty and often profound ditties have thankfully given us future generations some brilliant songs to carry on but we haven't taken up the baton creating them ourselves. We've become lazy and football crowds have lost their charm. The noise still continues but it's often just that – a noise. There's a lack of magic to it, at least in many grounds.
I turned to Chris Broughton himself for his thoughts sixteen years after his book was published:
'In my book I lamented the demise of the original chants and anthems which were rife back in the 1960's when I first started watching Forest from the middle section of the all-standing, all-chanting Trent End. The songs and anthems were unique to the fans who sang them, unlike the bland, universal songs you hear around most football grounds today.'
Chris also points to the set-up at Manchester United where focus among their fans is to produce new songs that are 'clever, witty and amusing and completely unique to their club'. I agree that United are a good example of how it can be done. They don't just engineer the new chants but they actively push them around the pre-match drinking holes to the point where thousands are soon singing them in the ground. If you look at their away support in particular it is phenomenal.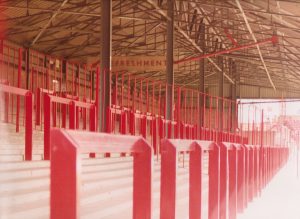 The default position of many sets of supporters is to take what they hear from others. It's always happened but now it's the only real way the majority get something 'new'. The popular football chant pages on social media help share songs about like a disease. It spreads around and people, it seems, stop thinking for themselves.
At Forest we've at least shown some appetite to avoid this trap. New songs appear occasionally and are sometimes taken on by the masses. Efforts for Lichaj & Antonio and the Munich / Madrid songs are a few examples. We've also had various self-penned works from Ryan Freebury, not only inspiring but also lifting the mood in dark times. Yet, from first-hand experience, it's ruddy hard work to take them to that level where hundreds of others will join in.
If I can use the Lichaj song as an example, we sang that bastard tune for weeks. Nobody wanted to know. Pissed up on a train home from Millwall and a video finds it way online and it suddenly becomes huge. This, however, demonstrates how things have changed. More often than not we don't possess the patience to pick something up on the terraces and help it on its way. Instead we need to consume it directly from the internet. Nevertheless, it was an incredible reaction and the song quickly became part of the repertoire.
Quite simply we need more like that one. A new song genuinely is a shot in the arm when it appears and catches. It helps the whole atmosphere along and is often a welcome gear shift to the standard offerings. I can't be alone having become a bit tired with the same old we have been singing for years. They're brilliant but we seriously lack variety and the repetition begins to tell.
As mentioned we are fortunate that our predecessors went to the effort of producing songs that carried through into the present day but sadly some do get lost over time and others get shortened or bastardised along the way. One of our big efforts in the last couple of years has been to re-introduce the first verse to Mull of Kintyre:
Far have I travelled, much have I seen,
Goodison, Anfield, the places I've been,
Maine Road, Old Trafford, still echo to the sounds,
Of the boys in the red shirts from the City Ground
Beautiful isn't it? But we spent years not singing the verse only for it to be thankfully resurrected of late.
For anyone that argues that making up new chants and anthems isn't worth the hassle or is too difficult I hand you that song as Exhibit A. As Chris Broughton writes in 'Forest Ever Forest' I would like to shake the hand of the person that dreamt up those words. Yet imagine that that person hadn't bothered; imagine that they thought it was a waste of time. That song is such a huge part of what we are these days, it's a significant part of every matchday and, best of all, it's known far and wide as ours. Its gravitas and meaning is far greater because of it. We'll forget those pesky Charlton fans taking it on for themselves at some point. 'City Ground' is one of the most recognisable football songs in the country and it's a source of pride that a Forest fan laced those words together. What a hero.
It would seem that 20, 30, 40 years ago there was more importance placed on this original flavouring to football songs. I can remember serenading every player in the team with their own song prior to kick-off. Yes we often had a team full of special individuals but hearing their name being sung must have been a lift for them, surely. The crowd didn't wait for them to do something well, they began showing support from the very start. It wasn't that every club had totally unique songs, of course ones got shared around and I'd never expect that to stop. But Forest were trendsetters and we influenced others up and down the land. We didn't need to take all our chants from the rest because we did it ourselves.
I can't help but think that this current c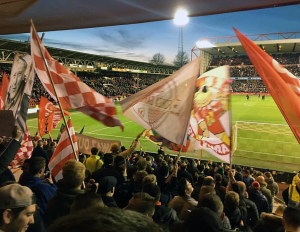 rop would benefit greatly from the same treatment. It creates an affinity between players and supporters and forming those sorts of bonds can only have a positive impact. The likes of Jordan Smith, Joe Worrall and Daryl Murphy might not be overly fussed about whether there song is unique or not but it should, I think, matter to us. And I'd imagine some players would get a kick out of hearing that their supporters have put some real thought into it. There's that song Celtic fans have been singing about Scott Sinclair for a bit now to the Supertramp tune. I use that example because it's one that gets sent to us a lot with Barrie McKay or someone attached to it. Does Sinclair prefer to hear that – his own bespoke chant – or would he prefer to hear some generic one that he hears sung about dozens and dozens of other players? Think about it, think how much more special it is when you give your players that type of song and the positive impact it can have.
We should be creating something for our players if we can rather than just taking what we hear City, Arsenal or whoever singing. And isn't it just a tad boring to insert our club or players name into some random song that countless are also doing the same with? Perhaps it's just me! It's a lot more interesting to work it out for ourselves. Otherwise we're just sheep.
To use the Lichaj song again (there aren't many other options!) I do feel it has helped create a strong relationship with the player; more so than if we just sang 'One Eric Lichaj' or another generic alternative. Similar was starting to happen with Antonio before he departed and even a few years back with Adebola although that one might not make it in the present day given the recent Lukaku furore!
It's very possible that all this doesn't matter to you. If it doesn't then that is absolutely fair enough and well done for sticking with it this far. This is, after all, football songs I'm talking about and it's somewhere way down a list of important matters. The purpose of this isn't to tell you how to think, it's suggesting an alternative. I've seen the appetite there is for it; the eruption through a pub or a concourse or stand when something a little new and exciting starts but it's all too rare. And these new songs don't need to be masterpieces – 'Forest All Over The World', the Quo tune, is simple but effective and doesn't half get things motoring. And I adore that someone has taken a moment to dream up something up that's different to the likes of 'Everywhere We Go' that haunts most football stadiums in this country.
If I've in any way got your attention by now then I would ask that you give this some consideration. Share your thoughts and by all means send them our way. We'd be only too pleased to exchange ideas, particularly where they are fresh and different, and then try and get them heard in the ground.
Forest have always been a pioneering club; in the boardroom, on the pitch and in the stands. We are the Original Reds; we have often led the way and it's a tradition that we should always try to follow. It's important that we keep supporting in whatever way we can but we can transform that support into something incredible if we rip up the rule book and do things our way.
The benchmark of FG is never to just equal what another club does, it's to go beyond and on our own terms in every aspect of fan culture. We want to inspire our team on and become the set of supporters known and revered for not just following the herd but for breaking new ground. The songs, chants and anthems are such a big part of that for us.
Lend us a hand if you would. Let's start crafting these wonderful original songs at the City Ground again and help recapture that spirit and reputation we once held. And if you don't fancy that then at least be prepared to give something new a chance. Don't dismiss it because you can't be arsed or it sounds crap on first hearing. And however trivial this whole subject may sound don't underestimate it. It can make a difference. And if nothing else it might make things a little more enjoyable.
The days of the old Trent End are gone. It's time for us to take up the mantle again, and add our own additions to the A-Z of Forest songs.
I am a Garibaldi,
Born and raised,
And I will follow that Red & White for all my days,
I'll keep that,
 Forest fire burning,
And come what may,
I'll be following those Reds again today
(It Doesn't Matter Anymore – Buddy Holly)
If she said it's Forest or me,
You can count on my reply,
I'd say 'no way duck'.
I'll never give 'em up,
I'm Forest 'til the day I die,
And wherever I may go,
Wherever I may roam,
You're never gonna change the way I am,
There's a place on the river called home
(Show Me The Way To Go Home – Emerson, Lake & Palmer)
Footnote: 'Forest Ever Forest' is quite simply the greatest NFFC related book I have ever read. I don't know the author, Chris Broughton, personally but I thank him for writing it and helping me with a few words for this piece. Apparently only 3,500 copies were ever produced and a quick glance around the internet shows that copies aren't readily available. But if you can find it anywhere or borrow it then I'd highly recommend it. It's a trip through Chris' years following Forest everywhere and it is a glorious read.