FOREST AWAY: Brentford, Saturday 1st September – Fan Guide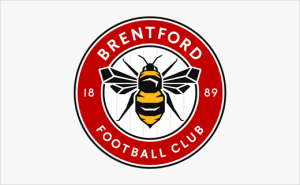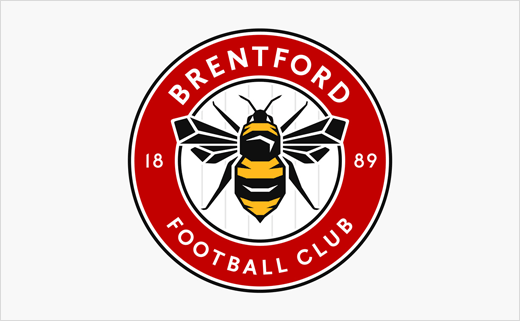 Crikey, September games are upon us already. And the first batch of games up to the maiden international break of the season ends with our visit to Brentford's Griffin Park. It's testament to how well Brentford have developed in recent years and how they have started in 2018/19 that this will prove one of our sterner tests this season and certainly the biggest threat to our unbeaten record.
I have a big admiration for Brentford. They have been putting clubs like us, Leeds, Sheffield Wednesday and the rest to shame for large parts of the last 5-6 years and it's always a cracking place to visit. It's become one of the first games I look for when the fixtures are released in the summer.
The away end itself is a big part of the draw; the terrace and the low roof combined with the usual maxed out away following, merry from several hours of heavy drinking before kick-off. Sure it's absolute chaos at half-time as fans try to navigate their way through the queues for food & drink to reach the toilets but it's all good fun. More concerning is the usual failure to sell beer in the away end but the aforementioned chaos may have something to do with that.
Last season we tipped up slightly earlier than usual due to concerns over a lack of trains and were aghast to find that no alcohol was on sale. But a fairly large group ended up on the terrace over half an hour before kick-off and, with little else to do, made a bit of noise. It sounds incredibly simple and perhaps a bit dull – English football fans are usually about staying in the pub for as a long as possible, myself included – but it's not hard to see how building up the atmosphere long before the game helps massively. Back when terracing was widespread fans got in early and by kick-off the end was bouncing. You see the same that happens abroad now. I wouldn't fancy it every game but it's a part of football that has sadly faded in this country. Grounds like Griffin Park keep that alive.
A large group of us are headed to the capital early but will be across two separate trains due to pricing. The cheaper option that yours truly is on is as follows:
07:45 from Nottingham to Peterborough
Depart Peterborough at 09:04
Arrive Kings Cross 10:16
The other mob are going direct and arrive shortly before us.
On last look the train fare had risen significantly from the £30 we paid (which included tube / rail pass).
Like last year the plan was to head to the Old Station House at Chiswick but planned rail strikes on the overground line through to Brentford make that difficult so we would recommend avoiding that route wherever possible. Instead, if you're arriving into Kings Cross / St Pancras, head onto the Piccadilly underground line westbound and that will take you direct to South Ealing. Head right out the station. It's a bit of a walk from there to the ground but you'll pass a couple of pubs and a decent chippy. On the right a few hundred yards down from South Ealing you'll find Roddy's Bar which is a decent pit stop. It's fairly tiny but has a decent beer garden, a good shout for a quick one before carrying on towards the ground. There is some more information on pubs around the ground below.
With our knowledge only ever going to stretch so far we asked a Brentford fan to help us out by answering our questions…
Billy Grant (@BillyTheBee99) blogs, video blogs and podcast for @Beesotted (Beesotted.com) fanzine. You can catch the post-match podcast from the pub capturing the reactions of both Forest and Brentford fans from around 6.30pm after the match at Beesotted.com/audio
1. Aaah Brentford, the favourite away trip for so many of us. Please tell us you are never going to leave Griffin Park…
We wish that were true. Not many old traditional grounds left – especially in the Championship – so it seems many away fans enjoy coming down here for a number of reasons.
The terrace. OK it's not the best view below in the Wendy House as we call it (that used to be a humungous home terrace back in the day called The Royal Oak but it was carved up and sold off for houses and the Wendy House built in its place). But it's officially standing room only. And away fans always create a decent atmosphere in there.
The stewards. Stewarding can be awful at football matches. So you have to give props to stewards who treat fans with respect. To be fair to our stewards, they treat away fans well. That's the least you would expect when you are paying a load of money to come down and watch your club play.
The local pubs. There are loads. If you check beesotted.com there will be an away preview go live on Friday morning that will have a list of pubs to visit in the area. It's not even the full list. If you were to do the full list, I would advise you to come on Friday night … do a load on the Friday. Then finish up with the traditional few on matchday. None of the pubs have bouncers. And all are away friendly. So you can wear colours if you so wish. There aren't too many football clubs with a pub literally 30 seconds walk from the away turnstile too.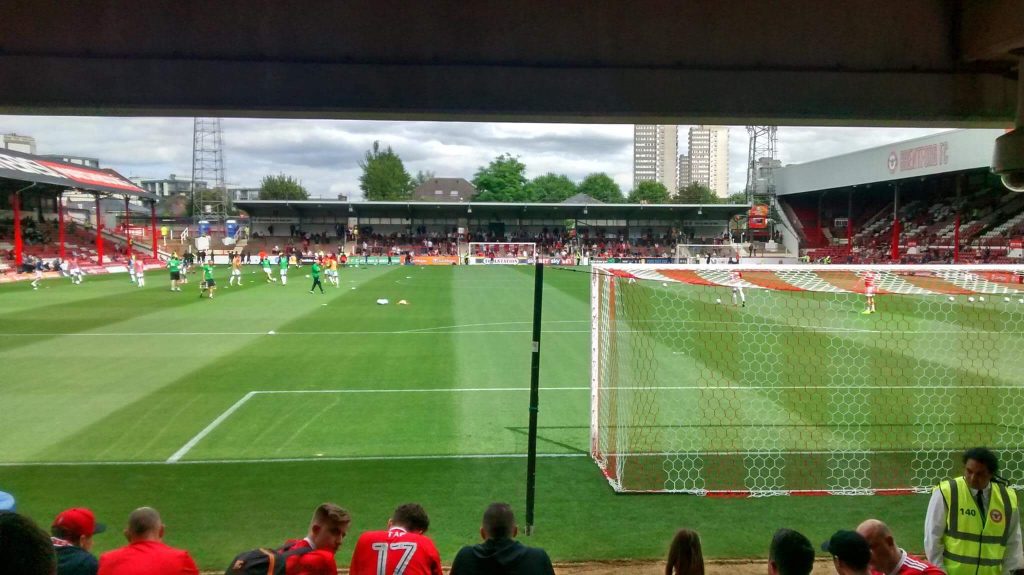 I say many fans.  Not all are happy with Brentford away mind you; Fulham fans are constantly moaning that they can't get a padded seat with a foam finger and clappers on their seat at our ground. Think they're missing the point somewhat. We'll leave that to them.
Well the good news. We're not now moving until summer 2020 now. So assuming we stay in the same division, Forest fans have one final trip to Griffin Park after this weekend in the league.
When we do move to Lionel Road, it will only be 15 minutes walk down the road. At Kew Bridge. Many of the pubs fans currently drink in (The Griffin. The Globe. The Lord Nelson) are still closer to the stadium than when you go to many away games – where the closest pub is a good 15 to 20 minute trek. You are lucky in Nottingham to be fair.
Saying that, there will also be closer pubs like One Over The Ait, The Express Tavern and a few over the bridge on Kew Green. And posh Strand on The Green – where Ant and Dec live – which is under 15 mins walk will have a change of complexion with a load of football fans frequenting their drinking establishments.
2. It'a a shame to think that the days are numbered for Griffin Park but at least we might get another chance next season then. Some of my favourite memories in the last few seasons have been in that away end. Being the only club with terracing left in the top two tiers do you find that supporters of other clubs look forward to a trip to Brentford?
Yes I have loads of great memories standing on the terraces on four ends of the ground too. As I said before, most fans love coming to Griffin Park. Many ignore the fact that it hasn't got modern facilities and are wooed by the atmosphere generated in and around the ground. We're working hard with the club to ensure that we retain that atmosphere and some sort of uniqueness when we move to the new stadium.
It's very important to us Brentford fans that the away support enjoy coming down to our manor. OK we would much prefer you left with no points if I were being totally honest. But if you go away with no points and profess to still have had a great day out then everyone is a winner.
3. Back in June we attended a Parliamentary debate alongside numerous football fans including yourself. During the debate you spoke of the desire to retain standing at the new stadium and how important it is to the matchday experience of many of your fans who have only known terracing at home games.
Is standing at the new stadium still a possibility do you think and, like with new Spurs stadium, has it been designed to incorporate a potential retro-fit of safe standing barriers?
Safe standing is a must for Brentford and the club are now 100% behind it. The fans have been pushing the club to ensure they they make a big shout about this and to be fair, they have responded.
We have made plans to incorporate over 3500 safe standing seats in the home end (the West Stand) and a standing area in the away end as well. The club are well behind the campaign and have been part of the lobbying campaign which the Football Supporters Federation and the EFL are championing.
We have a fan group – The West Stand Alliance (@WestStandBFC) – who are similar to Forza Garibaldi in the fact that they are looking to make our new home end a proper lively end.
Naturally we are very sensitive to the feelings of the Hillsborough families who lost they loved ones in such terrible circumstances. And can completely understand why some of them may feel against standing.
However, at Griffin Park we have been standing for well over 100 years. If you ask anyone who has been down to our ground, there have been no problems whatsoever on the terraces. We ensure that the terraces don't get too overcrowded. They are stewarded properly. And everyone at Brentford knows how to stand. That may sound like a silly thing to say. But for many fans who have grown up with seated stadia, standing (legally) at football is a new experience.
They are not used to standing at home matches week in and week out. Brentford fans are. So if anyone can demonstrate how it is possible to stand at a football match safely, we can.
News has emerged as I write this that the F.A has now changed it's stance and is fully backing safe standing at football matches. This was a bit of a sticking point before as they were firmly in the 'no' camp. But to be honest, it was only a matter of time before this happened. As the weight of supporter pressure grows, the Premier League was only going to cave in – pretty much like they did with the Twenty's Plenty ticket campaign.
This is a pretty huge game changer I believe. We were hoping after the recent lobbying that government would allow the decision for standing at football matches to be passed down to local level so the clubs and the safety bodies could decide whether that particular club could take on standing and in what format. This could be the turning point.
If Brentford have proven over years that they can accommodate standing on an old fashioned terrace in a 100 year old plus stadium then why can't it accommodate standing in a brand new state-of-the art stadium?
This is where Brentford can lead the way. And I am confident that we will get standing at our new stadium – especially as the date has been pushed back to 2020. We could possibly be will be the first new-build EFL/Premier League stadium with a dedicated safe-standing area.
4. Griffin Park is served by various public transport services. What's the best way to get to the ground from central London and which is the best tube / rail station to head for?
If you read the preview on Beesotted.com on Friday you will see at the bottom of the pub guide there is also a travel guide to Brentford.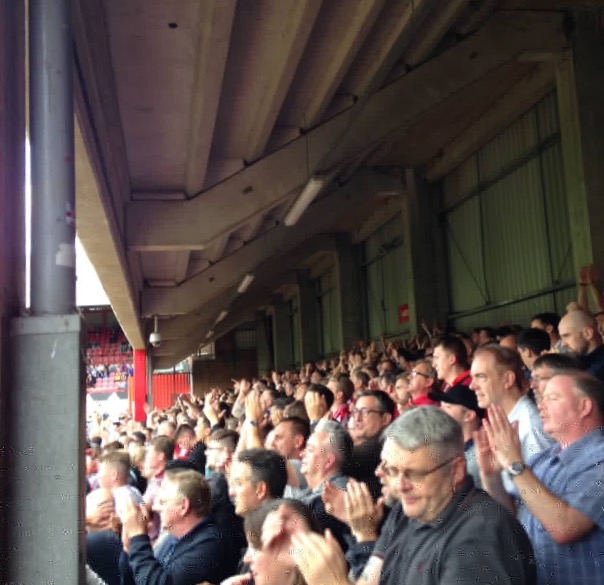 You can either take the tube or the overground. Personally I think the tube is easier and quicker (and cheaper).
From Kings Cross, take the Piccadilly Line to either South Ealing or Northfields. 

If you go to South Ealing you can walk to the ground (22 mins) or take a bus (65) from outside the station. If you walk there is one pub of note en route.
If you go to Northfields (my preferred station) you can again either walk to the ground (25 mins) or take the bus (E2). The only danger of getting off at Northfields is there are three pubs en-route to the ground (The Plough. The Lord Nelson and The Globe). So it will take you a lot more than 25 minutes to get to the ground.
Once at the ground, most away fans go to The Griffin which is 30 secs walk from the away turnstiles.
If you do fancy getting the overground to Brentford, you can get it from either Waterloo Station (Northern, Bakerloo, Jubilee line) or Vauxhall Station (Victoria).
The fast train comes every 15 mins and takes 30 mins. There is a slow train too which takes nearly an hour so don't get that. Once you get off the train, it's literally 4 mins walk to the ground.
Download the app "bus times". It's brilliant. Basically it allows you to sit in the pub until the very last minute and then pop out just when your bus is turning up at the bus stop. Very handy for pub crawls (when you want to cut out a bit of walking time and maximize drinking time).
5. Another attraction is that there is a plethora of great pubs around the stadium. Can you clear up for us whether the fabled pub on each corner is still the case?
There are loads of pubs in Brentford as I stated before. Fans who go to the ground for the first time always try and do a 'four pubs' tour. We were down to three pubs as year or so ago when the Royal Oak closed down. But it's reopened again so fans can start planning their tours again.
The other pubs on the corner are The Princess Royal. The New Inn. And The Griffin.
6. For the last couple of visits we have drank before the game at The Globe and, a little further out, at the Old Station House at Chiswick. Where would you recommend for away fans to gather for a beer?
This depends. All pubs are away-friendly.
The truth is … The Griffin will always be the most popular with away fans because it is 30 secs from the away turnstile.
We drink in The Globe. It's a bit further away (a whole 8 minutes walk away) but is normally frequented by away fans ITK.
The Nelson is less than a minute from The Globe and is a nice little boozer in the middle of the houses. Again away fans ITK go here.
On the other side of the ground, The Express Tavern is a unique little pub right on Kew Bridge. This will be the closest pub to our new stadium. It's definitely worth a visit. One Over the Ait is a minute's walk away from The Express – on the river Thames by Kew Bridge.
There are also more pubs by the river. Pubs down the high street. Pubs in the houses. There are pubs everywhere. Check our pub guide in Beesotted.com on Friday in the review section or even make up your own using our friend google.
7. On the way to the ground after leaving the pub it's almost become a tradition for some of us to call in at the house next to the ground who cook hot dogs in their kitchen and sell them under a gazebo on their drive. It's one of the little quirks I always remember. Do you know who I'm talking about?
Yes. They started up a couple of years ago. I didn't think it would last but it did. And they have become part of the fabric at Brentford football club.
That's the thing about Brentford. All these little things you get because our ground is smack bang in the middle of a community. A pub 30 secs from the turnstiles. The hot dog and coffee stand across the road in someones house. The little cafe just over the railway bridge.
8. As we find ourselves almost a month into the new season, what's the general feeling amongst Brentford fans?
We're still confident.
Some of the football we have been playing has been breathtaking. We had Stoke on the ropes – running them ragged with slick passing. Only a silly mistake at the back gave them a goal against the run of play before we pulled one back.
We feel we learned a lesson at Villa. We played the same side who had wiped the floor with Rotherham, Stoke and Wednesday. But we were taught a footballing lesson for the best part of the game – despite taking the lead twice.
It was only when we changed our formation and put more steel into our side in the final 20 minutes, did we take the upper hand in the game and could have won it bar a 95th minute equalizer from Villa.
We then went with the same final team at Blackburn and got beaten – some argue it was because we didn't have the creativity in the side that we had up at Stoke and at home to Rotherham.
We also lost our top scorer Maupay due to a very childish stamp up at Villa where he got a three-match retrospective ban (Villa fans are asking for his goal to be taken away as well … er … yeah OK then).
Not I'm sure how will will set up on Saturday. We played a B-team graduate Marcus Forss up front against Blackburn and it didn't quiet work out. Early days for him but I think we will change it up on Saturday as Maupay is still suspended.
Overall, I think we will do well this season as long as we don't get any injuries. We've kept the bulk of our side with B-team graduate Chris Mepham (who was literally playing for our B-team a year ago) subject to £10m plus bids from Bournemouth over the last couple of windows. We also have had Ollie Watkins being sniffed around too. His value is well over £10m but it wont be long before we have teams come in for him too.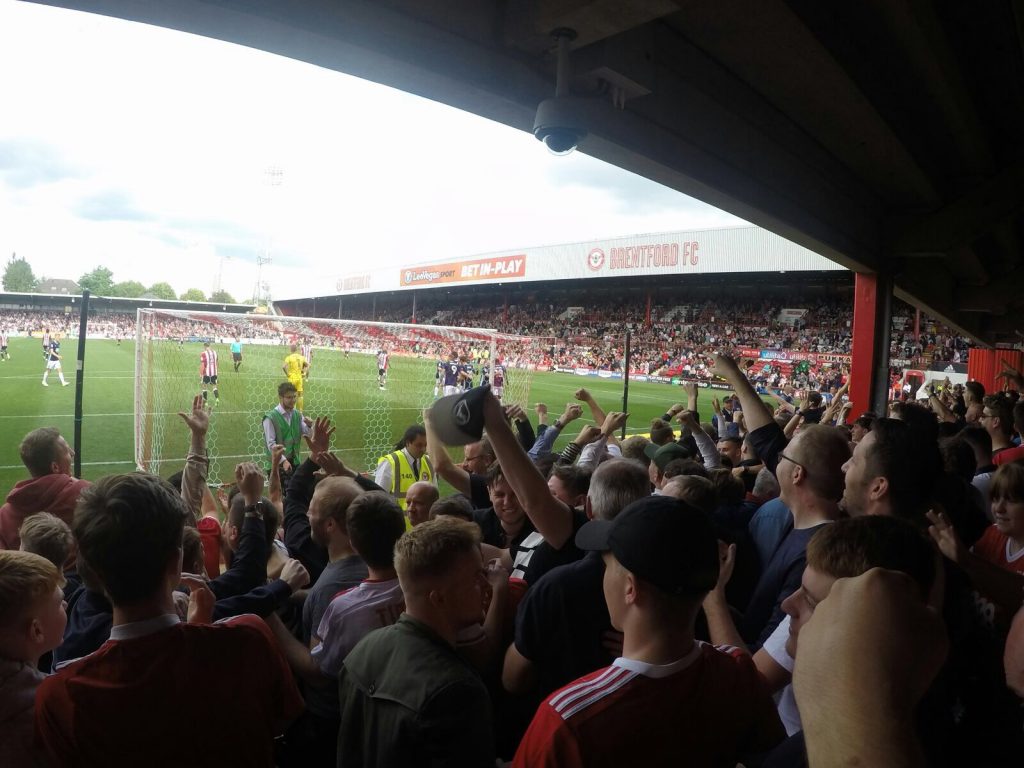 We still have a young side. But we have a lot of creativity in the side. We have just lost a key player in midfielder Ryan Woods who went to Stoke. How that will affect us we will only see over the next few weeks.
He has been replaced by Josh McEachran – a player who has been plagued by injury in his three years at The Bees. On his day and when he is fit, apparently he is an absolutely unbelievably talented footballer. He just hasn't been fit enough for a long period of time for Brentford fans to make a judgement.
We seem to have tightened up at the back – losing Harlee Dean last season and John Egan this summer – which has enabled young blood like Mepham and Erzi Konsa (signed from Charlton in the summer) to come through. Ball playing centre backs with a combined age of 40.
And look out for Benrahma. Signed from Nice in the summer. He's a proper trickster. Should have had a couple of goals at Blackburn at the weekend if it wasn't for the crossbar and their keeper.
People question whether we need another striker. And an effective box-to-box midfielder to make us the perfect side this season.
Only time will tell I guess. But we're happy. If you consider we're picking up players for £1m and £1.5m.
To put it in perspective, the cost we paid for our whole squad will be less than the £14m you will have paid for just Carvalho
9. What's your score prediction for this one?
Tough one. With Maupay playing I would have gone 3-0 to Brentford. But I don't know what the plan is up-front on Saturday.
I've still got confidence but I think it will be tighter. I say 2-1 Bees.
Thanks to Billy for such a comprehensive insight. 
See you all Saturday.