FOREST AWAY: Brighton, Tuesday 18th October – Fan Guide

There is now undoubtedly a real sense of unease about our ability to compete in the Premier League. The defeat at Wolves felt different, not that we were miles behind them, but a bit of hopelessness set in. Wolves were pretty bad themselves but we couldn't muster enough to overcome them.
Steve Cooper said similar himself after the game but we seemed to lack courage at times, and belief. Our promotion team was built on these things, this new look squad either hasn't got them or, more likely in fairness, hasn't found them yet. The scary thing is the weeks are flying by and we are going to start to run out of road before we know it.
We look every inch the team of strangers that we are. Smashed together in some hope that they can be crafted into something exciting. Something functionable would do right now. Yet how can we expect that? Cooper has got a horrendous job on his hands, he built a ferocious side last season that snarled and hissed at the opposition with their bombastic play, but it was quickly dismantled over a barmy summer. We know some of this was necessary but I have this horrible feeling that a summer of vast spending which was once heralded as great ambition is starting to sniff of recklessness. Especially when the men said to be chiefly responsible have now been fired, even though they weren't the ones claiming lots of credit when things seemed rosy a matter of weeks ago. I do hope I'm wrong, but it feels bleak right now.
There is time enough still for this squad to transform itself, to be melded into something that can hold its own, and I do think the full returns of Mangala and Niakhate could really help us, along with early promise being fulfilled from a number of the new signings. But we must pray Cooper can chisel out another small miracle on the banks of the Trent, our salvation hinges on it happening before too long.
TRAVEL
TRAINS: Well, you won't be surprised to hear you aren't getting back to Nottingham on a train on Tuesday night. I know many of you are planning on staying down and sampling the midweek delights of Brighton.
Brighton station is well connected to the station at the Amex, Falmer, but if you are in the city centre before the game don't leave it too late to jump on as the station, from past experience, gets very busy very quickly as home and away fans all flock to the stadium together. Falmer station is right by the Amex but you'll need to head round to the right to reach the away end. Do take a moment to admire the Brighton legends wall which you'll pass, it's a really smart tribute to former heroes and I'd like to see something similar done at Forest one day.
ROAD: We've tried a couple of options when driving down previously. We have parked at the stadium car park and waited for an age to get away, or we used the well organised park & ride which we stumbled across on the way down. It doesn't get you out much quicker, but it takes the strain away from navigating your way out yourself. I believe parking near the ground may now need to be pre-booked.
The Brighton official website suggests Mill Road Park & Ride (BN1 8ZF) as the main option which is situated off the A23 which is the main road in from the north, on the junction with the A27 which takes you towards the Amex.
There may be the odd bit of parking somewhere close to the stadium but the more realistic options are using some of the official parking options or getting into Falmer train station.
Your match ticket will offer free travel on much of Brighton's public transport from 4:15pm and for a period after the match.
PUBS
As with the travel, the location of the stadium makes drinking nearby difficult. We have drunk in the bar attached the to the stadium before and pretty much opposite the train station but I'm not sure if this is still viable.
If you are around the town centre, then you are definitely much better off staying put there. There are great pubs very close to the station, including one over to the right at you exit the station with a cracking rooftop space which sadly I can't recall the name of. But try a few place if you get chance, it's a great place.
With Brighton being accessible from the stadium on train, if you do arrive with enough time take advantage of the free public transport with your match ticket and get into town.
Q&A with Brighton fan Byron
Brighton have become a benchmark team for clubs looking to establish themselves in the Premier League and to thrive. I realise this is a loaded question, but it isn't too long ago since we were coming to watch Forest at the Withdean athletics stadium (what a place that was!), what has been behind your remarkable rise to the upper reaches of the top flight?
Yes, the Withdean. Don't really miss sitting in the rain for 2 hours. Do miss being home 20 minutes after final whistle though.
Being able to build a debt free 30-thousand-seater stadium and a training complex bettered by few clubs in the country has certainly helped attract better players.
But I think the single most important reason is having a man with a plan in charge at the top and sticking to it. Patient progress. Developing a scouting system bringing in quality young players from South America and Europe.
Bloom has only made one mistake in manager appointments. That being Sami Hyypia. Every other manager has improved the team. Careful recruitment on the pitch and behind the scenes, with a developing portfolio of feeder clubs on the continent allowing player development in a competitive environment.
Not panicking when on a six-game losing streak. So pleased Forest gave Cooper a new contract. There really does need to be some patience in such an unforgiving league.
It is of course very early days but what impact is the loss of Graham Potter going to have?
Ahh. Well, we're hoping De Zerbi will maintain and improve what we already have. But way too early to know. What Potter gave was absolute clarity to the players regarding what was expected of them in their position. Often a previously unfamiliar one. The systems changed even during a game but there was never any confusion.
His communication skills are quite phenomenal. Even though results weren't always what was desired performance levels improved year on year. I think quite possible Potter is a top top manager and will hopefully one day manage England. That way we all benefit.
I have always found the Amex to be a very different place to other grounds. It almost doesn't feel like a football stadium when you arrive, and I don't mean this as a negative thing. In the past there has been live music on, kids taking penalties and various other forms of pre-match entertainment. And much of this was happening before the rise of fan zones most clubs operate nowadays.
Considering the aforementioned troubling days without a proper stadium, how loved had the Amex become now for Brighton fans?
The Goldstone Ground was great but fell into complete disrepair.  The Withdean was liked because it was In Brighton and Hove after the Gillingham years.
The Amex is the best stadium we've ever had and we love it once we're there. It's just the transport system getting to and from the ground is and always will be a pain. But we will be eternally grateful to Tony Bloom for giving it to us.
It's not the easiest place to get to but there are various systems to assist supporters. What's the best means of getting in on public transport to the Amex? And I can recall in the past that a match ticket allows you to use certain forms of public transport for free. Does that still happen?
Yes. Trains and buses are free to the ground.
And what about those coming in the car. What do you suggest for parking and any recommendations on how to get a quicker getaway after the game given the long drive back on a Tuesday night?
Park as near to the exit as you can in any car park. This isn't Germany so leaving the stadium does take time I'm afraid.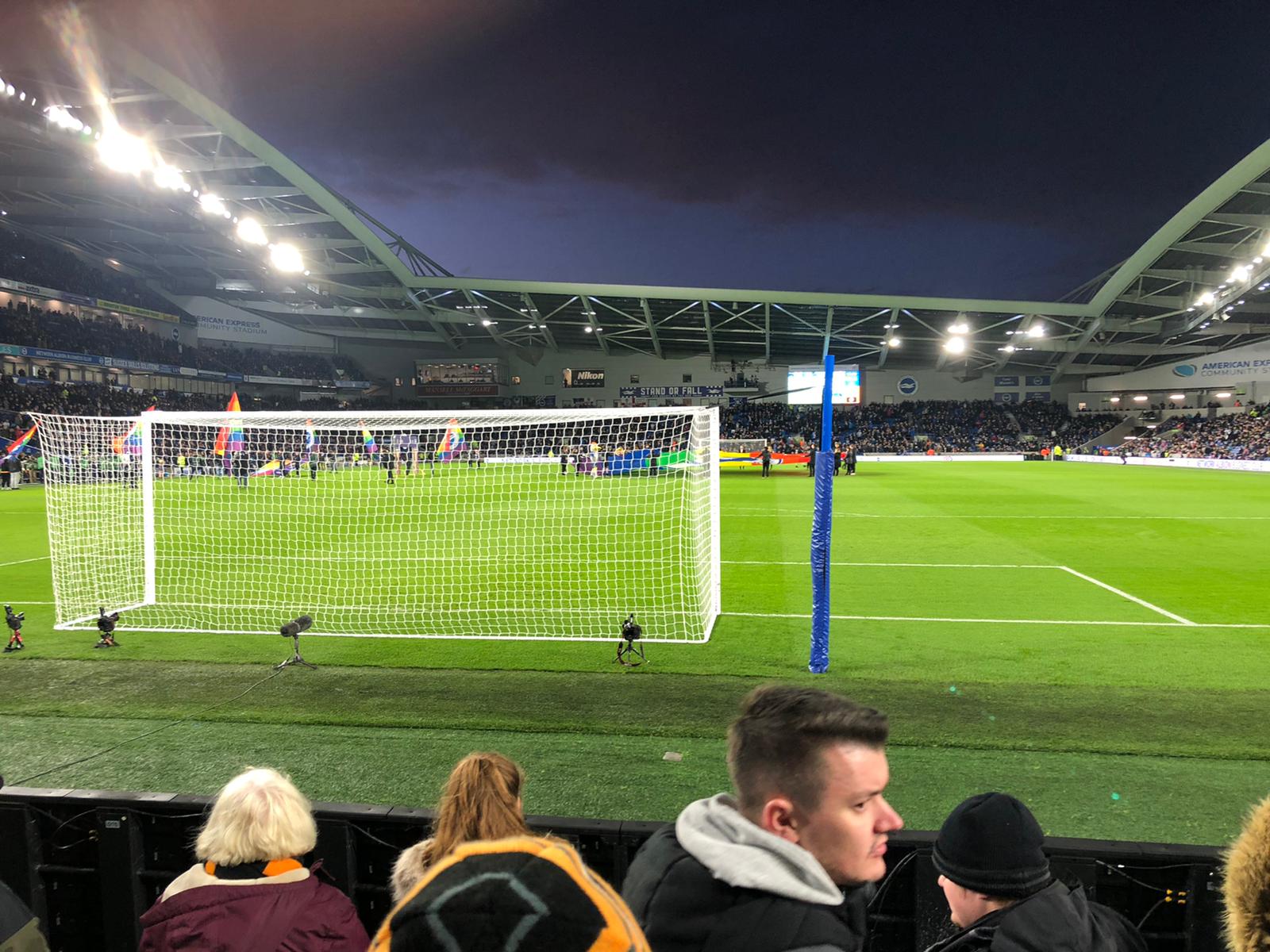 It's likely that some Forest fans will drink in the town centre and arrive at the stadium on the train. For those who are after a drink around the stadium are there any welcoming options?
Sadly, with the stadium being where it is the only place to drink nearby for away fans is in the away concourse.  It's a nice concourse but still a concourse.  Luckily Lewes and Brighton both have plenty of away fan friendly pubs close to the train stations to enjoy a pre match pint
Given your current league position, what is a realistic aim for this season?
Looking at the teams we've played so far and having watched the ones we haven't I think a top 10 finish is realistic. Based on De Zerbi maintaining the status quo. Best case scenario is 7th place and European football for the first time.
I don't care if it's the Allianz Arena or Azerbaijan, just to experience following your team in European competition would be amazing. We can't all win the European Cup twice, but we might just get a Conference League game to reminisce about in years to come.
With thanks to Byron for his Brighton insight. Safe travels to all of you heading down.
You Reds.