FOREST AWAY: Coventry, Sunday 8th August – FAN GUIDE
Hello again.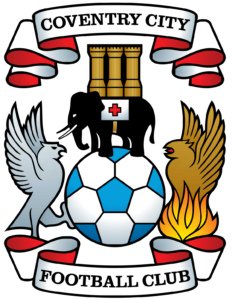 I don't know about you but this still doesn't feel real. It doesn't feel like we are off to see Forest on Sunday. I actually feel strangely numb about it, maybe because I still think it isn't happening.
When I clamber aboard our bus on Sunday morning I'm expecting it to feel normal again. God forbid it might even be bit special to sit with mates again, have a laugh and worry about silly things like if we'll get enough time in the pub before kick-off and who will play left back. It will also be nice to see those faces, those same old faces that are just the embodiment of following Forest. People you see every week in towns all over the country but suddenly you stopped seeing. We were pulled apart in the most horrible of circumstances, shut out of our own game.
I fell out of touch with it all a little bit being honest. Maybe even began to resent the whole thing a bit last summer. Football was so desperate to push its fat nose through the door and didn't really seem to give a damn about all of us. Of course, that's probably harsh but being left behind a screen while being expected to pay through the nose for the privilege for so long was pretty damn awful.
And now we're back (from outer space). There's little doubt that it will be a bouncing atmosphere on Sunday. It's a shame Sky Sports tempered things a little kicking our return back to a stupid time at the arse end of the weekend but it won't spoil it. A moment will come when a team in Garibaldi Red will emerge from the tunnel and 4,000 of us will roar them onto the pitch. Christ knows how that feel. Maybe I'll burst into tears, maybe it will just feel wonderfully normal. Like when you've had a fortnight off work but three minutes into your first day back it's like you've never been away, not that there is anything wonderful about that.
**********************************************************************************************
In among the main plot of stadiums welcoming back supporters there is another sizeable occasion that will unfold on Sunday. Coventry fans will be back watching their team in Coventry. It's a happy homecoming for them after a long battle with their ownership and stadium landlords although hopefully not too happy for obvious reasons.
It's been a while Forest have visited and therefore this might be the first trip to the Ricoh for a fair few. It's nice to be able to bring back our away guide. For those who may have missed it last time we try to do one of these before every away game. To provide a bit of useful advice and, if we can, help organise pre-match pubs.
TRAVEL
TRAINS: The late Sunday kick-off combined with the distance of the stadium from the city centre doesn't make it easy. The main station at Coventry is a hell of a way away but the Ricoh is served by the Coventry Arena station virtually next door. Unfortunately services to this station seem somewhat erratic and it isn't clear whether it is even operational when football matches are on.
A quick glance looks like it'll take somewhere up to 2.5hrs to get to there from Nottingham (if it is open) but be aware of rail replacement bus services that are in operation for a small leg of the journey. The way to avoid this is to head into Birmingham and out which some may prefer to do to sample some of the Birmingham pubs. It's a similar story headed back and realistically it'll be a bit of a late arrival back into Nottingham station. A standard fare looks like it's around £28.
ROAD: Presumably because of the above a good number will look to head in by car or coach. It should be a simple enough run down from Nottingham (M1, M69 and one junction along on the M6 westbound) but parking may be a bit more difficult. From one of our last trips there (a Tuesday where David McGoldrick scored the winner I recall) I found some free parking right off the M6 junction near a hotel (a quick Google search suggests this was a Novotel) but I cannot remember for sure. Either way it looks like there might be a few places around there to ditch the car but it's more guesswork than anything.
Alternatively, there will be some car parks that charge close to the ground but it may be a slow exit back onto the M6.
PUBS
In the middle of Coventry there are plenty of pubs that will welcome travelling fans. The Rocket pub next to the main station used to serve as a good starting point but it's been demolished since our last visit.
Closer to the ground options become more limited. Our Coventry fan below will offer some more guidance but the casino built onto the ground admits both home and away fans and is actually a decent bet. There was previously multiple bars dotted around the complex with screens and, of course, various gambling activities.
One area that looks like it could be worth a visit if you have opportunity is on the canal north of the stadium but have a quick look on options first and how long it will take. The Bull & Anchor has been passed on as another option a little further out which is a Greene King pub, possibly a 15 min walk and may also be a shout for parking if you are using the pub itself before the game. In terms of an away pub there doesn't appear to be a main option, the casino is probably the best bet. But Coventry Police (@CCFC_WMP) have advised the Longford Engine is close to the ground and will welcome Forest fans. That may prove to be a good option.
We have a couple of buses running from Nottingham and will be staying south of Leicester at the Black Horse, Aylestone with a view to heading straight to the ground from there, perhaps with chance for one in the casino or the Longford Engine first. The buses are now sold out, but the landlord of the Black Horse is a Forest fan and would welcome any others that wished to drop in on their way through.
Q&A with Coventry supporter Ryan of the PRESERVATION SKY BLUES GROUP (@psb_group)
1. From a football perspective it's been a bizarre period since the football season was suspended in March 2020. How has it been from a Coventry perspective watching from afar and on screens only given you've actually had a pretty positive time on the pitch?
Lockdown was obviously hard for all football fans. From a Coventry City point of view it was gutting as we were flying at the top of League One, certain to win the league, and then the only time we look set to witness the club win a title the season was cut short due to Covid and CCFC rightly so being awarded the league title. But that was not how we wanted to win it.
Then for our first season back in The Championship we were not allowed to attend which was hard to see such a positive time for the Sky Blues be played out in front of no fans.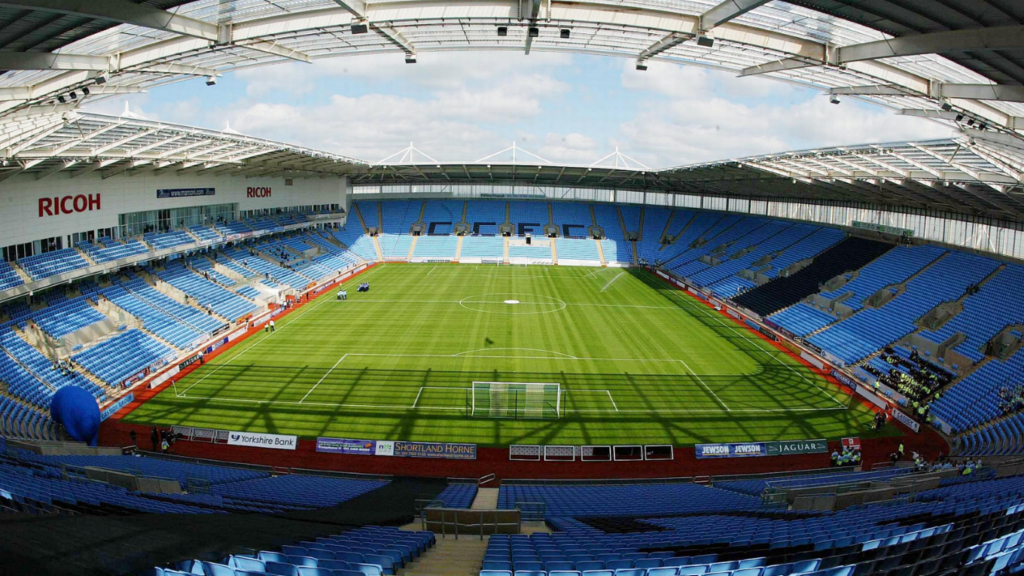 2. This game takes on even greater significance given that's it's a return to the Ricoh Arena after a period of playing at Birmingham. Are Coventry back home for good now and will Sunday be a celebratory occasion?
Yeah for the first time in the past decade we actually look like we are here to stay for the next decade at least. The constant toxic battle with SISU, Coventry City Council & the present landlords, Wasps, seems to be over or near to being over. So fingers crossed that now is the time the club can stay in the city of Coventry with some much needed stability
3. You are part of the Preservation Sky Blues Group which sprang out of a movement to remove the SISU ownership. Can you tell us a little about your activities and the latest on Coventry's welfare after some turbulent years?
We formed a small group to protest against SISU and there poor handling of the club. We have had it all under them – points deductions, 2 relegations, liquidation, transfer embargoes and various seasons played out in ground shares in Northampton and Birmingham. Which really were avoidable when there is a perfectly built stadium in the city of Coventry.
However, it has to be said they've certainly acted a lot better in recent times. We have had success on the pitch, Mark Robins has really worked miracles and credit has to be given to the owners for bringing Mark back to the club. But also Dave Boddy has come in and he seems to be connecting the club back with its fan base a lot better than the likes of Tim Fisher and from what we have heard he has played a massive part in getting CCFC back playing in Coventry again. Something Tim seemed to fail to do so in many years of turmoil.
We have relaxed our protests and have always said if we are back in Coventry we will be back as season ticket holders and that is exactly what we are today
4. Last season you acquired Tyler Walker from Forest. How has he settled in?
Tyler was a player we wanted for a few years when we were down in the lower leagues. To finally get him was a good bit of business; he's done well in parts but also been disappointing at times. I think with a good run of games in a fresh season he could be like a new signing. If anyone can get the best out of him it's going to be Mark Robins.
5. There will be a decent following coming from Nottingham. The initial allocation of 1,800+ sold in 24 hours and a further 2,000 has been provided. The late kick off on the Sunday has put a slight dampener on it and may mean some decide to travel by car. Any tips on parking around the ground?
There is parking around the ground, if you get there early enough you will be fine but it's an absolute nightmare when leaving. Personally I would of come on the train but if driving is your choice then maybe park at a pub a little away from the ground so you won't get caught in the thick of it right outside the ground.
6. It's a bit of a trek from the city centre to the Ricoh – are there means of getting to and from the stadium? Is walking possible?
No I wouldn't walk. The city centre would be the best place to go for a few pints then get a taxi up to the Ricoh no later than 45 mins before kick off to get in the ground and maybe have time for a quick pint inside before the teams come out.
7. Any recommendations on pubs? Will the casino still welcome away supporters?
Pubs your best bet is in town, but if you want to be drinking by the ground then the casino is welcoming away fans. There is also a new sports bar built at the ground but I'm not sure if it welcomes away fans as there has yet to be a game played there. It's called Antidote Bar.
8. Back onto the football, what will represent a good season for Coventry?
Safety first. As long as we stay up then it's success I believe as in terms of budget we are right down the bottom end, but if we have a season without so many injuries like we had last year I honestly believe we could finish in the top half/ mid table. But safety first then once we hit that, let's see how high we can finish.
9. Finally, in what month will Derby get relegated?
Derby are lucky to be in the Championship after staying up on the last day of the season due to results going there way. They deserved to go down and unfortunately this year we tip them to finish rock bottom and Wayne Rooney will be odds on one of the first manager casualties of the season no doubt, especially if he keeps up to his old off the pitch antics haha.
Good luck for the season
Thanks to Ryan and looking forward to seeing everyone in Coventry on Sunday. You Reds.
Matt