FOREST AWAY: Crystal Palace, Saturday 7th October – Fan Guide
As we step into October and the nights begin to draw in quite quickly, there is usually a chance to assess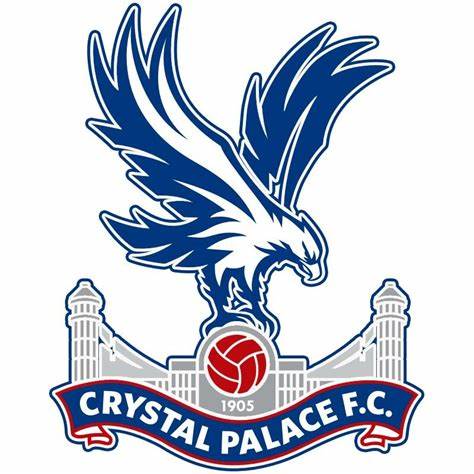 what the campaign might have in store. At this point last season, it was very much about survival, both for the team and the manager, after a dismal loss at Leicester. There was a pretty simple outlook for everyone that 17th place, however we achieved it, would be absolutely wonderful. I guess many might say the same this season, we certainly don't want to get ahead of ourselves, but there looks like there has been a fair bit of coming to terms with the Premier League since last season came to a close with that blissful episode at Palace. Coupled with the money spent and the self-confessed ambition of Steve Cooper to progress from last season's style and results, it seems fair to say we are at least for now setting our sights a little higher.
The early signs are that we are much better equipped to do something more than just finish above three other clubs, but the next few weeks are going to be a good test of that ambition. The fixtures to date haven't really helped us determine what we are yet I don't think; the away games have been pretty arduous but we have acquitted ourselves well and the home games have returned a nice haul of points but there is perhaps a sense of expectation that have dominated them and has perhaps hampered that vociferous support.
Given later in October the model of winnable home game and incredibly tough away game continues with Luton and Liverpool respectively, the game at Palace this Saturday evening is a different sort of game. The type of game we'd probably have lost a year ago and is still a very difficult challenge, but against a club, similar to Brentford last weekend, we are perhaps looking to move into the slipstream of as we try and become an established Premier League club. Come full-time at Selhurst on Saturday night, it could offer the best idea yet of what we are all about and what lies ahead.
For the third time already this season, it's off to London we go.
TRAVEL
TRAINS: It's a real shame that this game has been derailed by engineering works which makes getting home on train a real struggle. Not fully impossible but certainly very difficult. Was it strictly necessary to move a fixture which creates such a travel headache? The lack of consideration for this is continuously frustrating and I really hope that these unfortunate but avoidable clashes are at least challenged by our own clubs when these decisions are enforced. We know that it is the broadcasters who call the shots but a voice to speak up, however futile, would be nice.
Below is a statement we received from East Midlands Railway concerning the situation on the main route from Nottingham to London this weekend:
The engineering work affecting the Midland Mainline will take place on Sat 7th & Sun 8th October. This will mean NO DIRECT TRAIN SERVICE TO LONDON ST PANCRAS.
 The last train service out of London Kings Cross to Nottingham via Grantham will be the 20:30, this will not change.
 The 21:16 London St Pancras to Nottingham via Hitchin & Bedford is Train-bus-Train and takes approx. 3hrs plus (due to the bus transfers this is not recommended for large groups).
 Unfortunately, there isn't any other options, plus there's some significant engineering works on the Thames Link services which will cause additional disruption in and around St Pancras/Kings Cross.
We had raised the possibility of organising a later service to get fans home, but this unfortunately has not been possible.
The good news is that there are trains down via Grantham / Peterborough although these are coming up at £72.10 for a return which an awful lot of money and this already includes splitting the legs between the change at Grantham. If travelling in a group of 3 or 4 a group saver discount should apply on the Nottingham – Grantham leg.
As mentioned in the above statement, the best route home will be to make the 20:30 which changes again at Grantham and will land back in Nottingham at 22:27. Miss this, however, and it's not as simple. The bus replacement EMR refer to will be only clear way to get back to Nottingham. You can get back to Grantham on later trains but there doesn't appear to be any services home from there. So potentially consider leaving the car there which, although not ideal, does at least get you back. I also had a brief look at going to Birmingham and then onto Nottingham which looks possible but leaves virtually no time to make the last train home.
Assuming that most will not fancy the bus replacement 3-hour journey, it puts pressure on getting that 20:30 from Kings Cross. Making this should be okay in my experience, but it'll be close. Given today's huge injury times it could easily be gone half 7 before we have left Selhurst Park.
From the main stations that serve Selhurst Park:
Norwood Junction – Approximately a 15-minute walk from Selhurst Park. Note that last season entry into the station was controlled so this could cause a further delay getting onto the platform. The TFL website states there is a 19:36 from here back to London Bridge which will be difficult to make. After that it shows nothing until 19:56 and that service, again changing at London Bridge, will almost certainly not get you back in time to Kings Cross.
Selhurst – This looks like the best bet based on the TFL website. There is a 19:47 which takes 15 minutes to Victoria and then the Victoria underground line to Kings Cross which will take around 10 minutes. It should leave enough time to get to the platform for the 20:30. You just need to make sure you can get that train from Selhurst which could be a rush; get yourself out the ground sharpish!
Thornton Heath – The optimum route back to Kings Cross suggests changing at Selhurst so suggest avoiding this station.
Norwood Junction & Selhurst stations are shown on the enclosed map.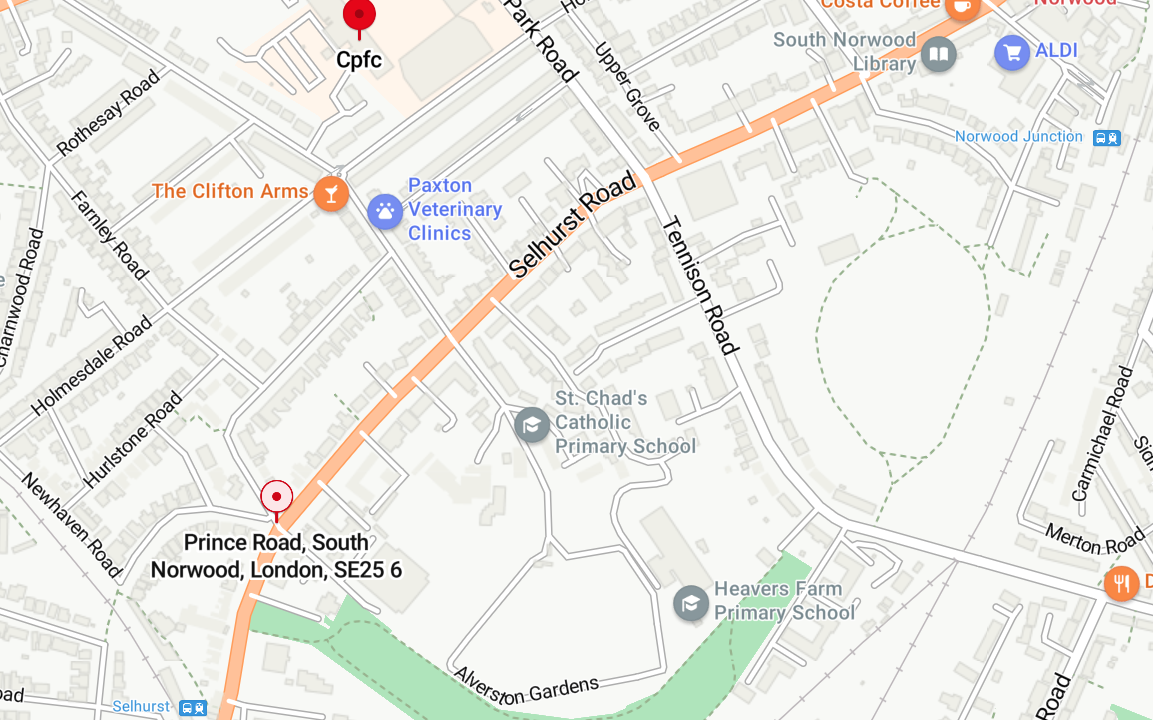 ROAD: Given the difficulties on the rail network, expect roads and parking options to be busier. Unfortunately our usual shout of Luton Parkway appears like it is also disrupted so best avoided this time. A few potential options you may wish to consider:
Stanmore / Edgware/ Canons Park: All relatively easily reached from Jct 4 of the M1 but each have some issues with guaranteed parking. If there is any kind of event on at Wembley Stanmore is best avoided.
Cockfosters: Not brilliantly placed for Palace but a northern based tube stop which will get you in and out without too much fuss.
Cheshunt: A couple of junctions around the clockwise M25 although it's a bit of a trek down to London Bridge from here; taking an hour with a change at Liverpool Street.
Watford Junction: Not a bad stop for a direct route into London Euston, but still takes a while overall to get down to around the ground.
There are no doubt plenty of other options and getting closer to Selhurst is an option for those who wish to try.
PUBS
As with the game at the end of last season we intend to gather at The George in London Bridge. This has a big courtyard and has a couple of bars either side. It's also handily place right by London Bridge Station to get to Selhurst Park, but please don't leave it too late as the trains usually get very, very busy.
Services to Norwood Junction are very frequent; the last services to comfortably make kick-off, allowing for a circa 15-minute walk from the station are:
16:10 – 16:22
16:21 – 16:32
16:25 – 16:38
16:40 – 16:52
16:51 – 17:02 (this one is cutting it fine!)
There are plenty of other pubs in and around London Bridge too, some very close to The George and the nearby Borough Market. Last season we started at the Wheatsheaf inside the market. Another very good option given the promising forecast is the Old Thameside Inn which is through the market and sits right on the Thames.
For the previous game at Selhurst we were advised by P.C Rob Glozier, Dedicated Football Officer for Crystal Palace, that The Prince George near Selhurst Station will accept away fans – see the enclosed map. The Atlantic Bar will also apparently although I'm not certain where this is. We had made a another request for confirmation of any away pubs around the ground but, at the time of publishing we had not heard back. Our Palace fan below points out a few more possible options.
Trains run at the following times:
14:12
14:42
15:12
15:42 (this is last one to make kick-off)
Q&A with Matt of the Team Called Palace podcast (@TCPalacePod)
A glance at the league table shows Palace have made a promising start. What's the ambition for the season now we are a good few games in?
I think the first ambition for Palace is always to get to 40 points as quickly as possible. This is our 11th consecutive season in the top flight, but I don't take our Premier League status for granted! After that, it would be nice to challenge to finish in the top half and have a cup run.
Unfortunately, we don't have the spending power of the vast majority of our Premier League counterparts and our squad is rather thin, which may well undermine those particular ambitions.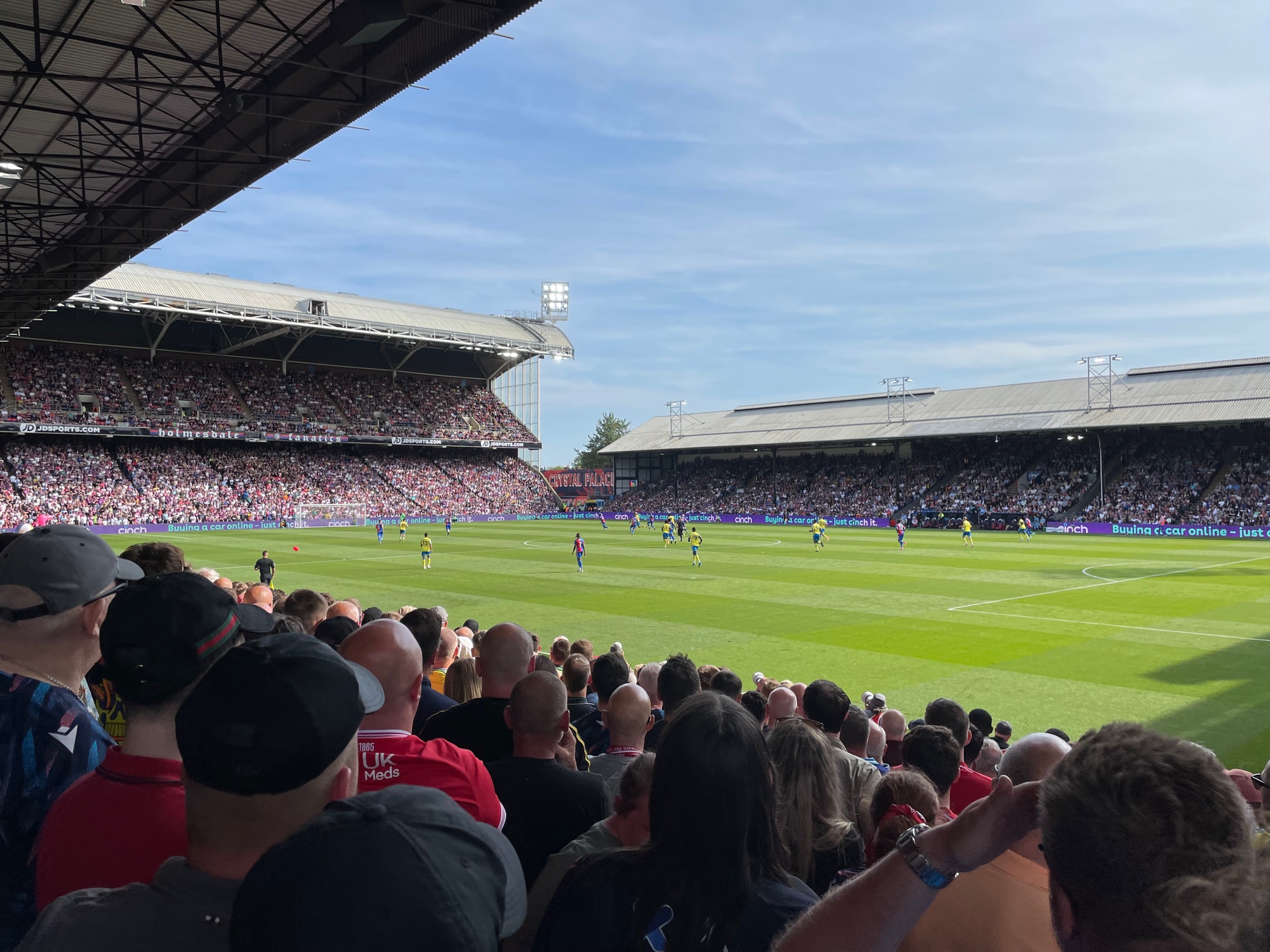 The game on the final day of last season at Selhurst will go down in Forest folklore as one of the best away days that many can remember, due to our survival having been earned the week prior. There was nothing riding on the game that day but what can we expect this time around? Are Palace a better team this season do you think?
Honestly, it took me weeks to get 'Waka Waka' out of my head!
I think Palace have the potential to be a better side this season, but it's hard to tell because we've got so many players out injured. We're yet to see Michael Olise or our new signing Matheus França yet this season, the likes of Odsonne Edouard and Jefferson Lerma have also been out recently and it more sounds as though we're now going to be without our star man Ebere Eze for a number of weeks.
There was some more bad injury news for Dean Henderson last week. Is there any news how serious it is? There was many Forest fans really hopeful that he would come back in the summer to us. What had you made of him pre-injury?
Unfortunately, we saw Dean Henderson for less than 20 minutes before he suffered a thigh injury and had to be taken off. I feel sorry for Dean but the club's decision to spend £20m on a goalkeeper does seem like a strange one – especially when we've already got Sam Johnstone and we've got a serious lack of depth in other positions.
Last season many of us drank around London Bridge and then hopped over to Norwood Junction on the train? Is that the best option still would you say for fans heading to Selhurst from central London?
Absolutely. If you want to make a day of it, go into central London, head for London Bridge and then get a train to Norwood Junction. Just beware that Millwall are at home so, if you are down nice and early, you might have the misfortune of bumping into some of their lot!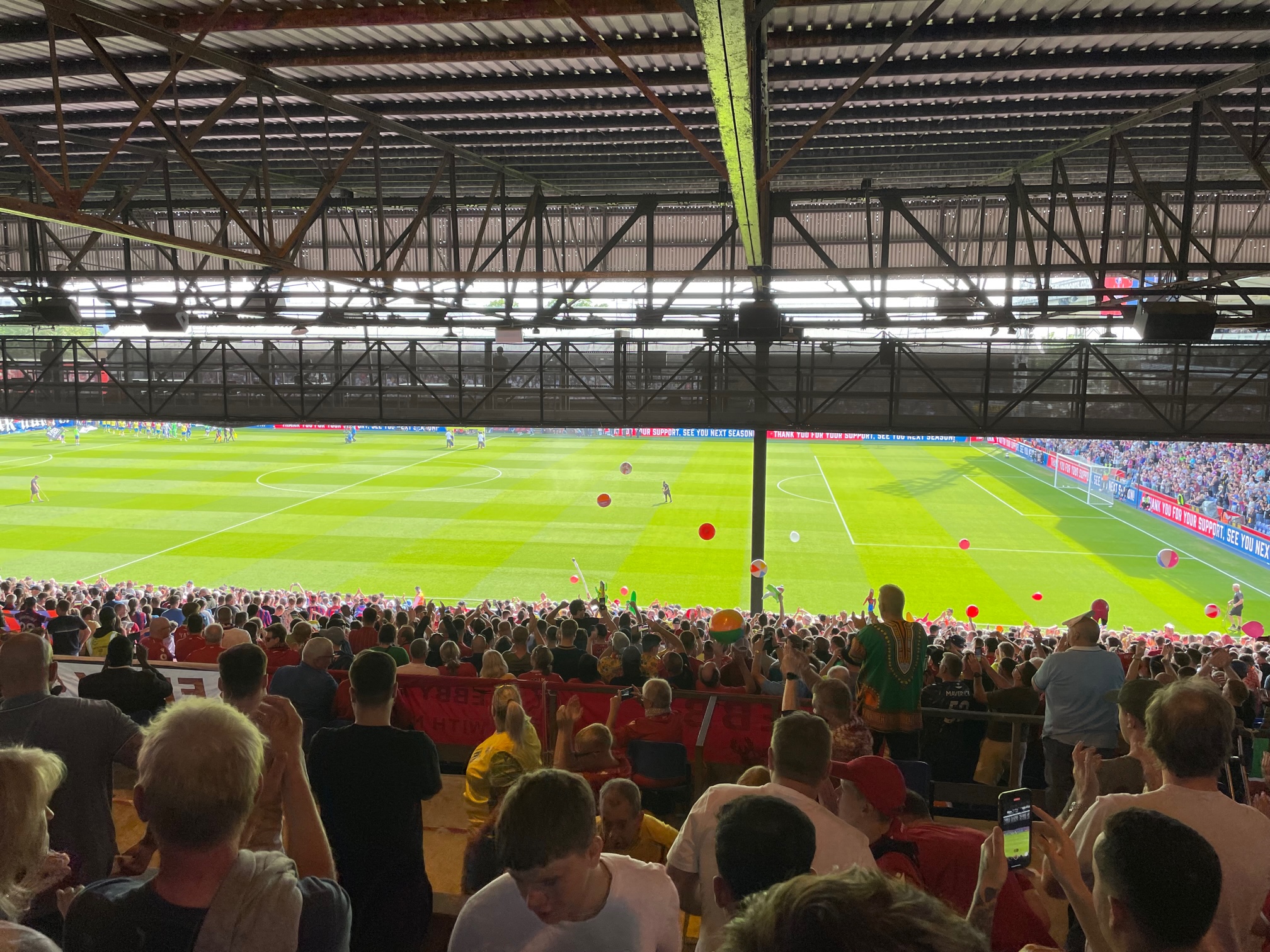 Hopes of a good day in London for Forest supporters has been tempered by the shift to the early evening TV slot. Due to the later start and planned engineering works it's not looking possible for supporters to get back to Nottingham by train. Presumably this will cause issues for at least a small amount of Palace fans too. In your opinion, is the rescheduling of games fair due to the riches that broadcasters bring, or should more be done to consider fans in these decisions? 
Kick off times are a massive bug bear of mine. Quite simply, I love a Saturday 3pm kick off! I can accept the odd Sunday game against teams that are in Europe, but there is no reason for Palace v Forest to be a 5:30pm kick off.
Unfortunately though, money is king and, if you want the riches that come with being in the Premier League, you have to accept it. I do think that TV games should be announced three months in advance though and the clubs could and should do more to help their supporters.
Because of the train issues, do you have any helpful advise for fans coming down in the car? Anything close to the ground or any further afield tube / rail stops with parking that serve Selhurst Park?
Unfortunately not. As everyone knows, Selhurst Park is not the easiest ground to find and it's not the best ground for parking either. If you're driving down, set off early and try to park in one of the residential roads within a one or two mile radius of the ground.
Are there any pubs around the ground that will welcome away supporters?
It's been a few years since I had a drink in one of the pubs near Selhurst Park, but The Prince George and The Railway Telegraph always used to be popular with away supporters.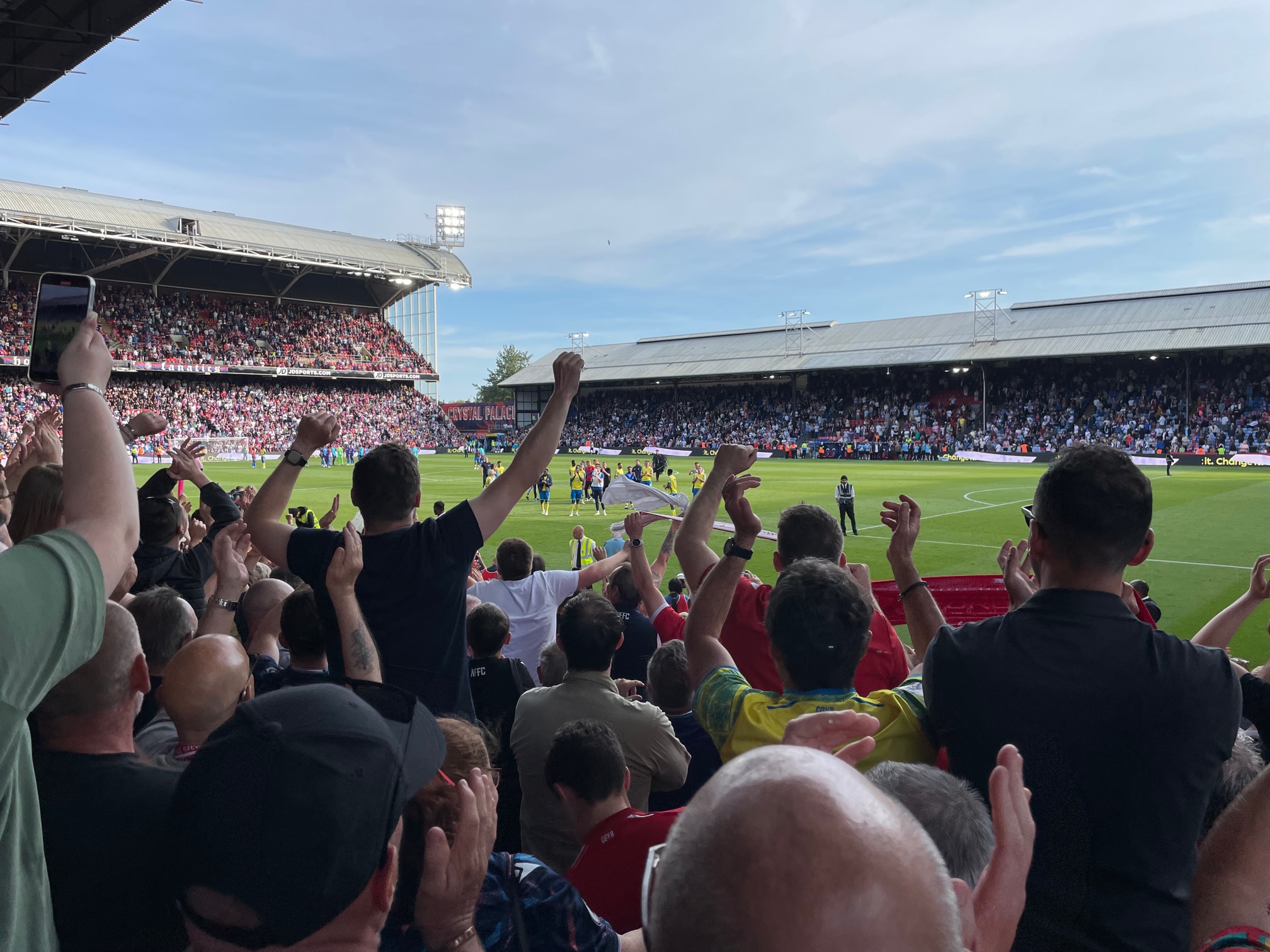 Finally – let's have your predictions…
– Scoreline this Saturday?
– Where will Palace finish?
– Where will Forest finish?
Given our fitness issues, I'm not as confident as I would like to be, so I'll probably go for another 1-1 draw. In all honesty, I don't think there's a great deal between the two sides. Our best XI is probably stronger, but you've got more strength in depth. I could see us both finishing somewhere between 12th and 15th.
With thanks to Matt for his help and insight.
We'll see everyone on Saturday.
You Reds
Matt