FOREST AWAY: Derby County, Monday 17th December
It's here….
The fixture we all keenly look out for when they're released in early summer is finally upon us. Albeit two days later than originally planned given the somewhat inevitable date change to accommodate Sky Sports.
We make the short journey down the A52 in full force after unsurprisingly selling out the full allocation of 3,111 tickets.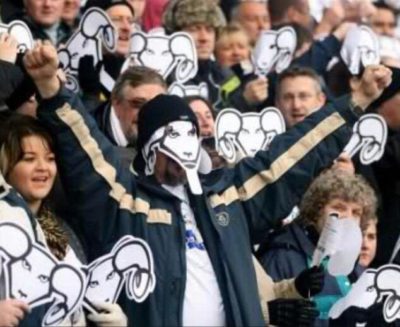 Despite what can only be described as a dreadful record at Pride Park, there remains a strong sense of both excitement and anticipation leading into what is unquestionably our biggest game of the season so far. The opportunity to leap frog our bitter rivals back into the play-off positions will provide added spice to the already cauldron like atmosphere.
Games such as Monday night will go a long way to really proving how much we have progressed this season. Which is an acid test we've both previously and regularly failed. But you get the sense this current crop of reds players wont simply lie down in the face of free scarves, banging drums, and choreographed bouncing. But head there on Monday night with real backing and belief of bringing the most desirable of three points back to Trentside.
TRAVEL
Train: Regular services operating around every twenty minutes between the cities in the afternoon for around £7-£8 return ticket. Realistically, the very latest train fans want to be catching is the 18:41 direct from Nottingham, which gets into Derby shortly after 7pm. A friendly welcome from the locals upon arrival, is sure to await.
For those that haven't had the pleasure of arriving into Derby via train before, the ground is around a 15 minute walk from the rear exit/entrance of the station. Pretty much a one track road will lead direct to the ground if the beaming floodlights aren't enough to guide you there automatically
Earliest return train on the timetable is 22:20 (designated football special) to arrive back in Nottingham for 22:48, although I imagine this may not exactly be the case given the likelihood of a group escort back to the station and willingness for fans to begin their journey home as soon as possible.
Car: Street parking will be very limited within Pride Park itself if arriving anywhere near kick off. A car park has long been used just off the A52 at the turn off for the stadium on the opposite side to the now redundant Toys R Us store, but again availability is likely to be low.
From previous trips, an alternative may be just over the other side of the A52 in the Meadow Lane & Albert Road area of Chaddesden, postcode DE21 6PT. Around a 20/25 minute walk up and over the bridge to the ground from there.
Coach: Both official and unofficial supporters coaches will be ushered down the side of the JJB centre, just across from the ground upon arrival, and most definitely be escorted out of the ground back onto the A52 after the game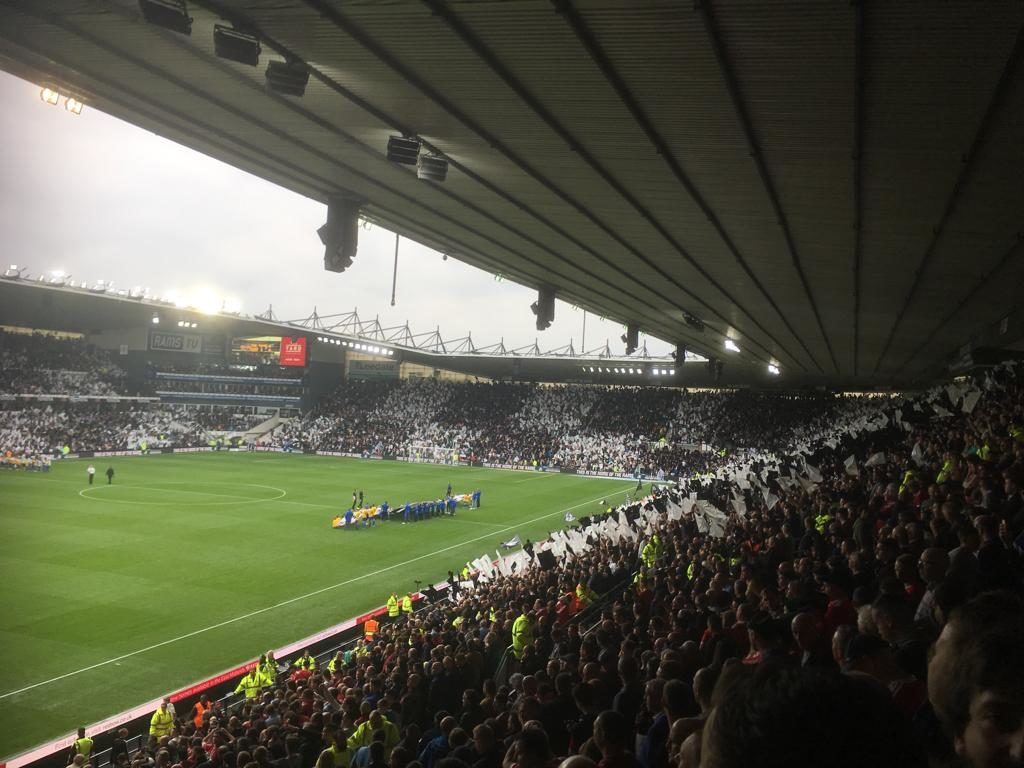 PUBS
As many of you will be aware, there's no offering for reds fans in the close proximity to the ground on Monday night. The generally considered "away pub" is Tiffany's lounge near the train station although try and avoid if you can, it's a dreadful place.
There are options more in the city centre if you're early (and sensible) enough. The Tap is an excellent real ale pub on the riverside, and generally not associated with football so may be a good option if time allows.
Many instead will choose to head directly into the ground before kick-off. Unsurprisingly pricey for drinking, but the atmosphere is sure to build in there from fairly early on. For any Derby away first timers, it's sure to hit you at this stage just how different this game is to the rest.
Q & A
We spoke to Derby season ticket holders Mike Czekalskyj & Ryan Weston to get some of their thoughts leading up to the big game
1. I suppose there is an obvious place to start… Our football clubs don't like each other much do they? What's your take on the rivalry?
Correct we don't! This is easily up there with one of the best in Country and steeped in history. Growing up on the border between the two counties, we've seen families split, workplace arguments and friendships highly tested. It's more than just football!
2. Both clubs have this slightly strange closed relationship that we don't let others in on. Notts County hate Forest and Leicester seem to hate us both but Forest fans don't really care about either of them. 'We only hate Derby' as the song goes. Sheffield United perhaps coming somewhere down the pecking order for us.
Do Derby fans hold a similar view or does your rivalry go beyond the one club?
There's also only one club we "hate", although some of our older supporters would also have Leeds in the same bracket due to the Brian Clough and Don Revie era. Over recent seasons a dislike has grown towards Stoke and QPR for reasons we would rather not talk about! Sure you have it on Sky+ anyway!
3. This is very possibly the most exciting fixture between us for a while; both clubs battling it out at the upper reaches of the Championship. We've become accustomed to one or both of us struggling in the last 20 years.
How do you think this one will go?
Mike: Wouldn't be surprised to see any of the 3 results. Both teams have shown so far what they are capable of by producing outstanding displays against the more fancied teams whilst labouring against the teams we should be beating. We both hold threats going forward and for that reason I'm sitting on the fence and saying a higher score draw.
Ryan: I'm also going to go for goals. I think a key battle will be in the full-back area. If Bogle can keep Lolley quiet and we can exploit Osborn we have a real chance. Our problem has been keeping and defending balls out of the box. Forest have injuries and suspensions (queue excuse already!) in the heart of the defence which could tip the balance our way. Rams by the odd goal.
4. There was a bit of consternation when the game was announced for the Monday night but it might be a refreshing change to the usual Sunday lunch-time. What do you think about the constant upheaval of this fixture for TV audiences?
Unfortunately this is something that is now part and parcel of today's game and something we have to get accustomed to. Would much rather weekend afternoon kick off, however this fixture under the lights should lead to an electric atmosphere. It does make a mockery of 'moved early due to police advice' though.
5. Who do you see in the Forest team as the biggest threat at present, and if being entirely honest, would secretly rather have them operating their trade in the black and white half of the East Midlands instead, and why?
Ryan: For me, Lolley would slot lovely into the gaping void currently "filled" by Tom Lawrence! His goals and assists speak for themselves and has proved a shrewd bit of business.
Mike: I have to agree with RW on this. Lolley has shown in recent weeks that he would be an asset for any team in this league and would love to see him in our front 3. Furthermore id take the Portuguese lad Figueiredo seems a no nonsense tough tackler, something we will lack in Curtis Davies' absence. Grabban can't be overlooked either, he would provide some decent competition for the superb Jack Marriott 😉
6. What sort of reception can we expect this year at Pride Park? A sell-out presumably? Another mass of black and white flags or something a bit more special planned?
As usual an electric, heated atmosphere especially if we grab an early goal again. But the shift of the game to a Monday, silly prices this season and Sky TV says we could be seeing some empty seats, which is obviously a shame, as this game should always sell out. We have no info regarding displays, but we do know that the people that do organise these do put in a lot of time and effort and I'm sure this game wouldn't pass without anything being planned.
7. The appointment of Frank Lampard as Derby manager in the summer was met with some degree of pessimism by certain corners of the football world, given his lack of experience in management. Along with fellow Forest fans seemingly developing a new found dislike for him, simply for no other reason than his new role! How would you evaluate his first half season in the job, and how his career may potentially progress after Derby, given his already high profile?
Ryan: I for one was in the pessimistic crowd on his appointment, but I must say I have been won over. Of course, there have been moments of naivety to be expected with someone learning their trade, but the big thing for me is there is a philosophy and we try and win football matches- something that can't be said for some previous gaffers. The mid-term report is good, with January set to be a crucial window, given the tightness of the table.
Mike: It was an exciting appointment for me and the obvious choice. We have tried the experienced managers, the highly rated younger managers – neither have worked in getting us where we are striving to be. Frank Lampard's reputation within the world game would always give us the ability to attract good quality players and this has been seen in the loan signings of Mount and Wilson. However, the inexperience of holding such a position was always at the back of my mind, therefore I can't argue with the start made. We have played some of the best football I have seen at Pride Park for a long time, but also we have shown there is room for further improvement especially with game management. Frank Lampard will continue to learn from mistakes for many seasons to come, but it's too early to predict where his future in the game lies.
8. Considering recent history is there a concern that Derby may slip away again in the second half of the season or do you feel that you are now better equipped to last the pace?
Ryan: Given the recent past there is always that concern but for some reason we seem to be better equipped this time. No side is really running away with it and I can't see Norwich or Leeds lasting the pace with their stretched squads. As I mentioned earlier, January will be key and here's hoping Frank has a couple of aces up his sleeve. Davies will be a key miss and we are also short at left back but if we can bring in replacements and keep key players fit we will make the playoffs at worst.
Mike: I feel we are better equipped than previous seasons due to the fact we have a younger and hungrier squad with that strength in depth. Franks's tactical nous will be tested come the business end of the season, as will the players mental capabilities, but we have seen what this team is capable of so far and no reason to doubt that we cant last the pace this season.
9. What would represent a good season for Derby?
Ryan: I think the sensible of us Rams fans expected a transitional season, given the sale of Vydra in the summer, plus the need to cut the wage bill and appointing an inexperienced manager. However, the business in both the loan and permanent markets has been strong and given the relative averageness of this year's league, anything less than a play-off berth would now be considered disappointing.
Mike: Considering this is Franks first season in such a position and even though I feel we can last the pace, a Top 6 would represent a very good season in my opinion. Top 8/10 would be good solid foundation for next season. In this league anything can happen and there is no reason why we shouldn't be aiming higher.
10. Finally, would you rather…
a) Two wins against Forest, Derby finish mid-table and Forest are relegated?
Or..
b) Two losses against Forest, Derby finish top six and Forest win the league?
Mike: Difficult question! Can we answer "Non of the above"?! It's a great feeling to beat your rivals but personally it's where you finish after 46 games that matters most and Forest being relegated will not soften the blow of Derby not being promoted for me! My arm could be twisted to answer B if that Top 6 finish includes a win at Wembley for us!
Ryan: Good question….I'll go for A as despite the fact I'd miss the rivalry, I'd soon get over it! Plus we'd lose in the playoffs anyway!!
Thank you to both lads for taking time to speak to us.
Come on you Reds!!
Thomas