FOREST AWAY: Fulham, Saturday 11th February – Fan Guide
A visit to Craven Cottage, whatever division we are in, is one to look forward to and enjoy. Nestled
among the huge, fantastic stadia and smart but characterless bowls that fill up much of the the Premier League away schedule, Fulham still has plenty of quaint heritage and a bucketful of soul that makes it stand out. The impressive new riverside stand that has risen up by the Thames adds contrast to the politeness of a ground that proudly still makes room for a cottage in one corner, but doesn't uproot what makes it such as fabulous place to consume football.
It's developed and grown since my first visit to Fulham, back around 2000. Mohammad Al Fayed bounced around the pitch before kick-off and John Terry was a rock in our defence, but it still somehow feels like the same place. Craven Cottage doesn't feel like the Premier League, but that isn't a bad thing. Perhaps it's a shame that sometimes the Premier League doesn't feel a bit more like Craven Cottage.
The away end will flex beneath our feet again on Saturday as The Reds go in search of more points to keep us scurrying away from the relegation fight. Pillars will block the view and we'll squeeze past each other on a concourse that is exposed to the elements, but it won't matter as jot as the noise ratchets up and that big away end starts to sway. I'd say it feels like a big game but they all do, and that's the thrill of it.
Another exciting climax to a season is just starting to twist into view.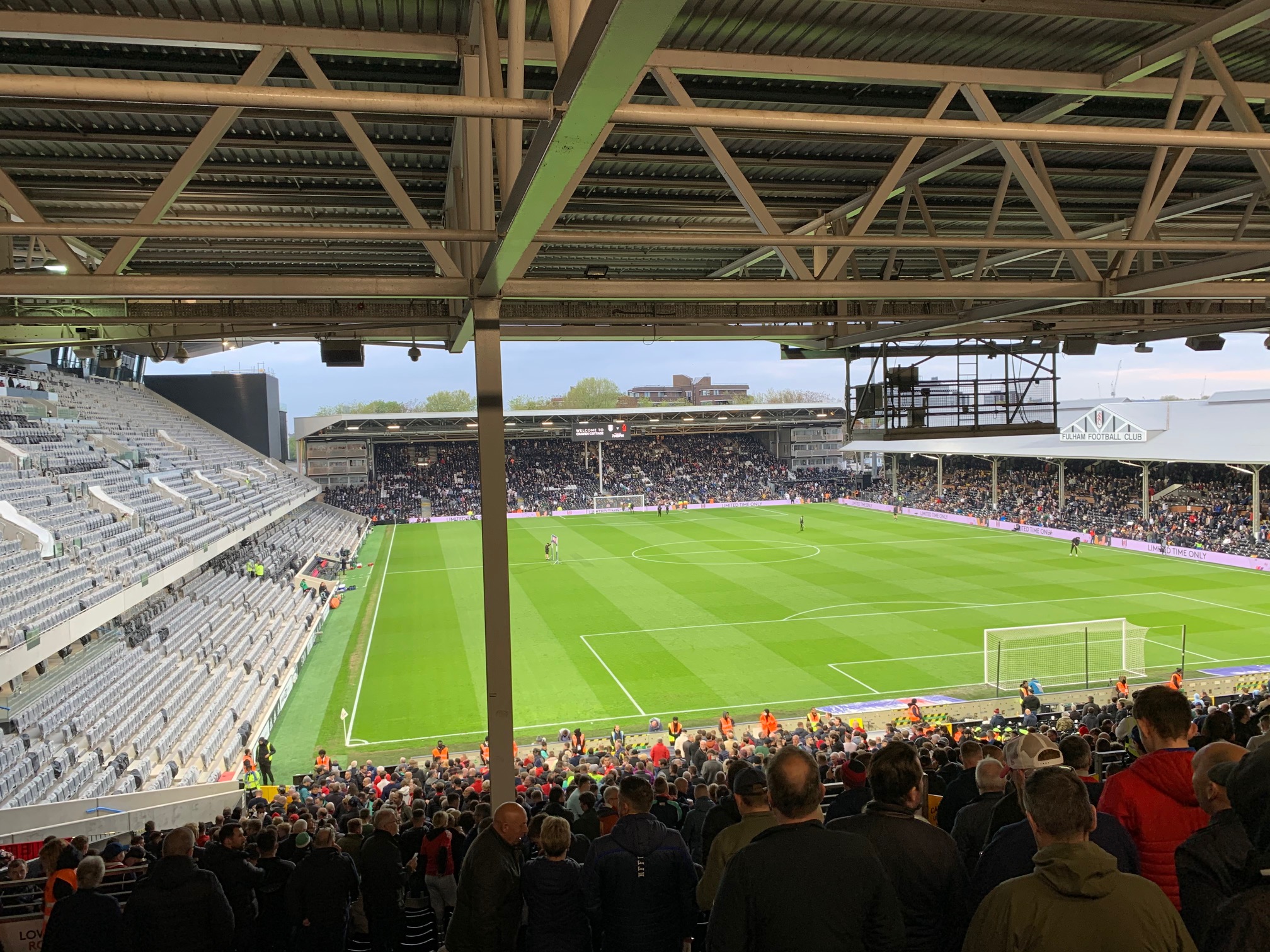 TRAVEL
TRAINS: After game after game of some issue or another on the trains; rail strikes, ghastly expensive fares, rescheduled games and evening kick-offs, we have what seems like a fairly straightforward train journey on our hands at long last.
We have booked on the 08:12 from Nottingham using the split ticket option on Trainline.com and managed to find good value tickets. Another mention for the Two Together Railcard which is really easy to sort. Looking again now, going down on the 08:12 and coming back on the 18:35 is £57.10 with the SplitSave option on the Trainline app, but a Two Together Railcard would take a third off bringing this down to around £37. The railcard costs £30 (£15 each) and therefore would pay for itself on this one return journey, plus giving you a full year to save a 1/3 on rail journeys.
Trains are regular into St Pancras, there might be some joy going via Grantham / Peterborough too which can sometimes spring up some cheap singles.
From St Pancras, you'll need around 40 minutes on the tube network to reach Putney Bridge underground station which is on the District Line and around a 15 minutes' walk from the away end. Head across the main road and into the park which runs parallel with the river. At the end of the park the away turnstiles are the first you will come to.
ROAD: Driving to Fulham is not something I've ever attempted and probably never will. As usual, our suggestion will be to find yourself a handily placed tube or rail stop on the outskirts and work your way in. You've got the options like Stanmore, Edgware and Canons Park on the northern part of the tube map which can be reached quite easily from the M1, or a few of the westerly stops around Ealing etc could be a slightly quicker option.
PUBS
As away days go, Fulham is one of the best for drinking within walking distance of the ground. When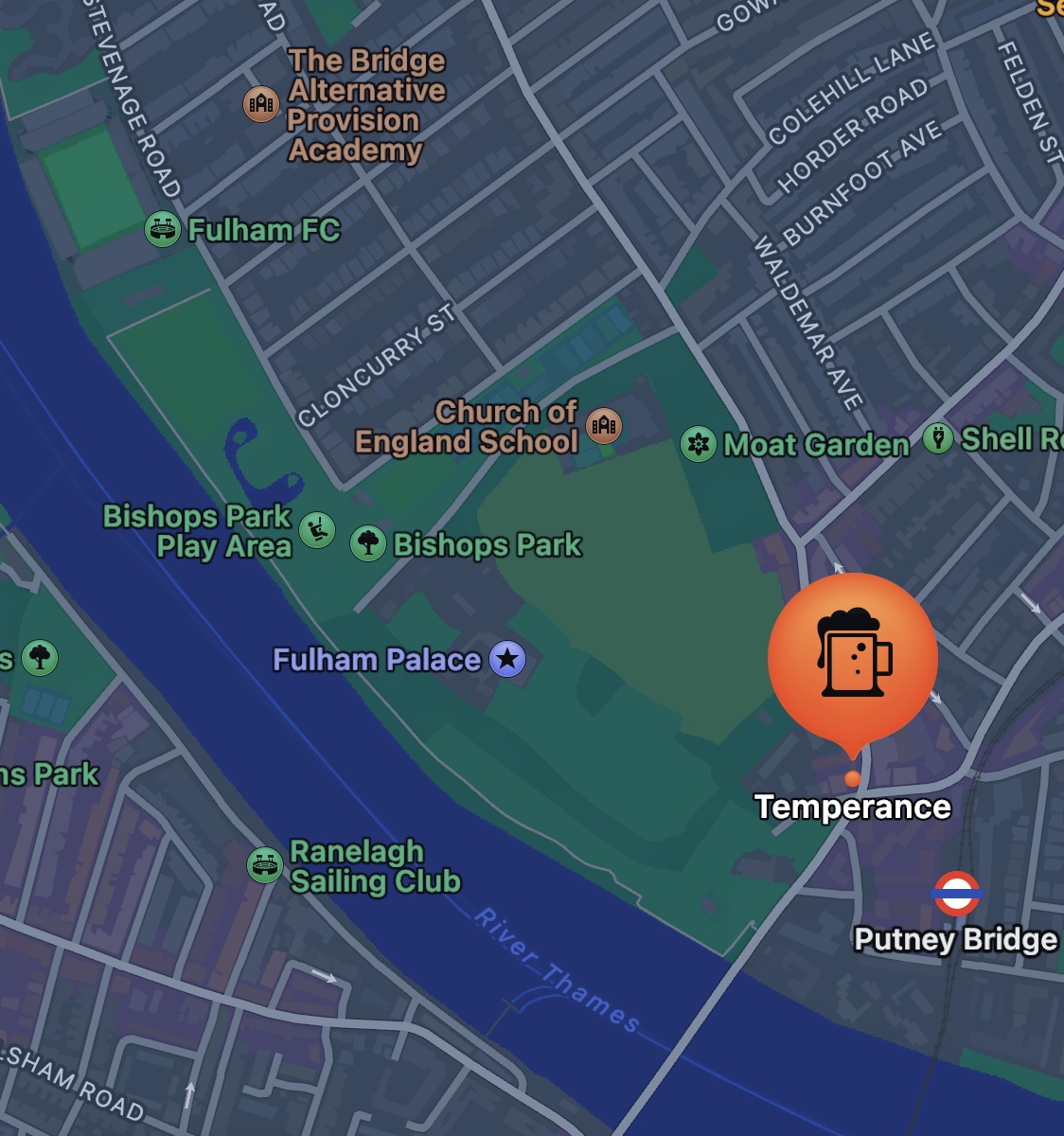 coming out of Putney Bridge tube station, you won't need to go far before you find options. Just around the corner is the Eight Bells, a pub that is traditionally an away venue. It's small and gets a bit squashed but a decent pub. To the right, a short way down the main road is the Kings Arms, I recall this being a mostly home pub, but we had no issues having a drink in there a few years ago.
Across the road from the Kings Arms is the main away pub – The Temperance. It's a big place with the bar in the middle. It always seems a right pain to get served but will likely be the main congregation of Forest fans.
There are other places dotted about if you venture a bit further, but the main alternative to this clutch of pubs is to venture left out of the tube station and venture over Putney Bridge. This has been a regular tactic of ours for the last few visits. You won't find any away pubs this way but lots of good places to drink. There is a Wetherspoons called The Rocket over to the left on the other side of the river, and a bit further down is a regular stop for us called the Coat & Badge. I think we will likely be on this side of the river embarking on a bit of a pub crawl before the game.
Q&A with Drew from Fulham podcast and content creators Fulhamish
Having escaped the Championship together last season (you a bit simpler than us!), there was a fair few predicting we'd be both heading back there in May. For Fulham, it's been a much different season to your previous Premier League campaigns – what's the difference this time?
There are two things, and I think they go hand in hand. At the root of it all, there's Marco Silva. Not since Roy Hodgson have we had a manager that has every player willing to run through walls for him, as the saying goes. Look at Mitrovic – cast aside by Parker, he's a completely different player under a manager who has said 'look; you're going to be our focal point. Show everyone what you can do'.
The second thing – and this is heavily influenced by Marco – is a more focused and strategic approach in the transfer market. Players like Joao Palinha – for all Tony Khan's posturing that 'he's a player we've watched for years' – is a Marco Silva target. Couple that with astute signings like Bernt Leno – the deal for whom, by the way, was fantastic and can be attributed to Khan – and we've finally created a side that is able to not just survive, but thrive, in the Premier League.
Given your lofty current placing in the table, what are your aspirations for the rest of the season? Staying where you are? Europe? Finishing above Chelsea would presumably be nice!
Personally, I'm part of the 'get to 40 points, then we'll talk' school of thought. It's a case of twice bitten, thrice shy for us in recent years, so I'm not counting my chickens yet! But, of course, expectations among fans will inevitably rise after the way the season's gone. I think 10th would surpass everyone's wildest dreams.
When we last came to you last April the new stand to our left was still being finished. Is that stand open now?
It's half open. The club has slowly opened sections of it, presumably to get some coins in the coffers. So, it's half opened – but also half finished. I watched our FA Cup fourth round tie against Sunderland from there. Let's just say that while it's impressive to look at, there are more than a few teething problems to get over before the grand opening – whenever that may be! But the view of London's skyline behind the Johnny Haynes stand is unlike any other view in English football.
Is there still a neutral zone in operation next to the away section and does it still continue to work well?
The neutral zone was only ever a necessary evil due to the mixed concourse of the Putney End (behind the goal) and the lack of alternative turnstiles for the Riverside Stand. We don't have it anymore, and once the Riverside Stand is fully open, we'll never see it again. People assumed (and why wouldn't they) that it was some kind of twee feature from Fulham designed to capture day trippers. It wasn't.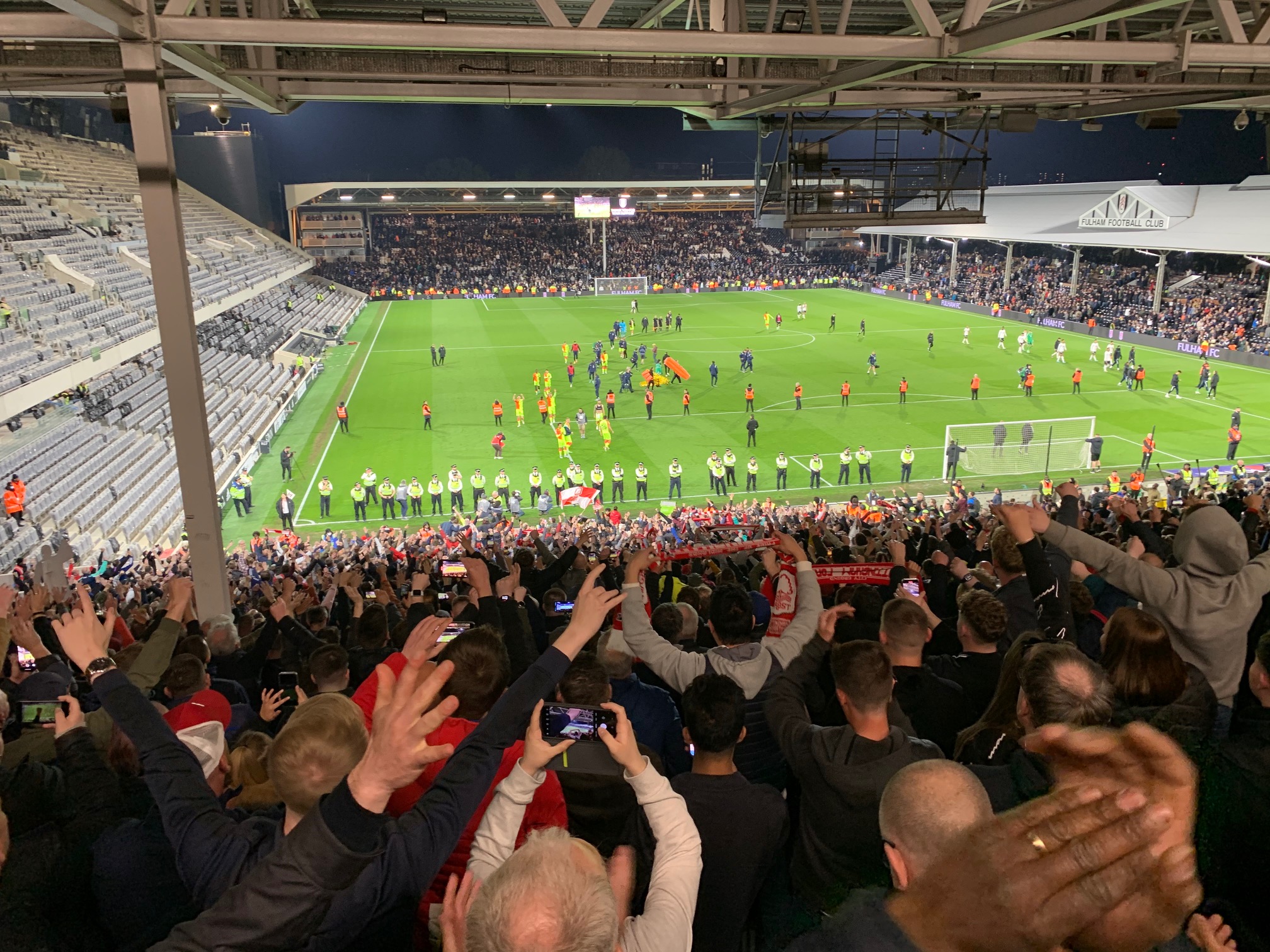 Where would you point Forest fans towards for a drink before the game?
There's the Eight Bells by Putney Bridge tube station, and the Temperance, which is a few yards away from that.
Any parking tips for those coming down in the car?
Try not to! To be honest, I take the tube so I'm not an expert. I did see a multistorey just off Putney High Street recently though…
Finally – what's the best thing about being a Fulham fan?
The location. The fans. The fleeting moments of success and near-success, the kind that make you believe that our best days are still to come.
Our thanks to Drew for his insight from a Fulham perspective.
We'll see all you in London.
Matt