FOREST AWAY: Grimsby Town, League Cup R2, Tuesday 23rd August – Fan Guide
Until May of this year, if you'd asked me what's the best fun I've ever had at a game, I think I would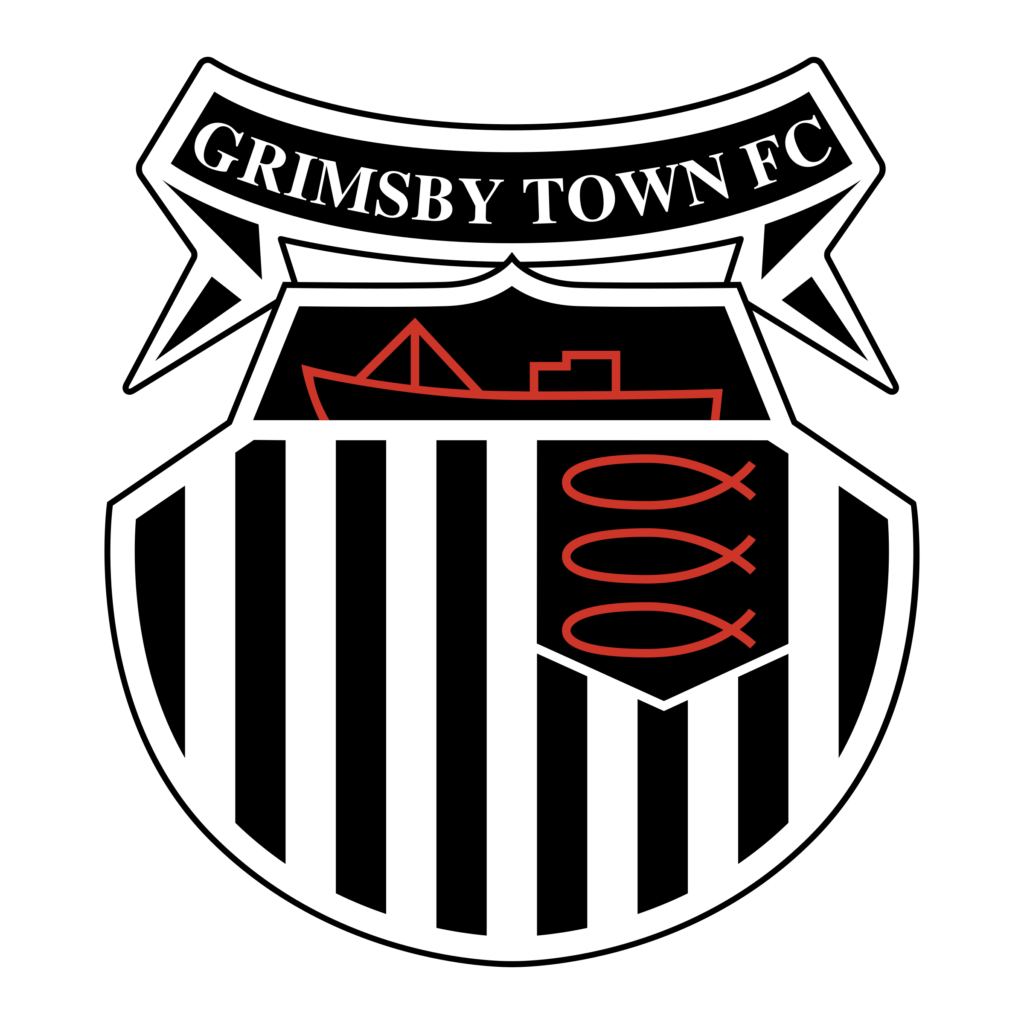 have plumped for Grimsby away, September 2000. A fixture that had little major significance turned into a party on the east coast as the second half began with Forest two goals up.
I'm still never sure where it sprang from, but the Singin' the Blues song started up and just ran and ran. The away end swayed and danced as events on the pitch became very much secondary. Fans started to leave their seats and fill the spaces down the front behind the goal, clapping their hands and huddling together like you see towards the end of the Saturday night DJ set in the local pub when Angels comes on.
It must have been a good twenty minutes in when a cheer went up at the sight of the embryonic stage of a conga line twisting down the aisle towards the front. Some fans, myself included, joined the back and spent the next five minutes making our way around the stand; back up the aisles, through the concourse and then around the side back to the front. It was brilliant mayhem, especially for a young lad like me.
It's wonderful memory I have from the earliest years of following Forest away. It's a reason why I always enjoyed a visit to Blundell Park, a place we visited a fair bit post-relegation. I suppose it's clear why it's a fixture that is enjoyed so much – a local-ish trip to the seaside, some good pubs and we often tend to get them at a good time of year, as has happened again this time. It may have been two decades since we last went but it'll be good to get the chance to visit once more. For many it will be a new ground and presumably a chance for us all to see some new players get a chance to shine.
TRAVEL
TRAINS: Things are slightly complicated by the stadium being in Cleethorpes, not Grimsby. There are three primary train stations – Grimsby Town, New Clee and Cleethorpes. On the way up it would make most sense to head for Cleethorpes. It's a mile to Blundell Park from there. New Clee is slightly closer but is on the other side of the ground and so won't offer the same pubs / seafront in close proximity. Grimsby Town is a couple of miles away but you'll need to change there to get a connection into Cleethorpes which is just ten minutes down the line. All fairly straightforward, especially with direct trains between Nottingham and Grimsby and a return fare being £19.30.
Issues do, however, surface on the return leg. There is a direct train out of Cleethorpes at 21:58 which looks like being the last service until 05:04 the following morning. That seems a tall order given the match probably won't finish until around 21:40. Do-able but very tight. And then we have the possibility of extra time which would totally scupper everything. That same train stops at Grimsby Town at 22:06 but that seems even more unlikely to be reachable.
ROAD: There are a couple of ways of going which might be dictated by whereabout you are setting off from. For those north / west of Nottingham M1 / M18 / M180/ A180 seems a conventional route which will take around 1.5 hrs and bring you in from north of Grimsby. Those going from the east may lool to take the A46 and head via Newark and Lincoln.
There are a lot of streets around and away from the ground. Whichever your route there should be ample choice, provided you aren't too late. There will likely be sea front / holiday maker parking around Cleethorpes too which may be an option.
PUBS
As covered in the Q&A below, the Leaking Boot was always the main away pub but this has now disappeared. Our Grimsby fan has provided a comprehensive list of pubs and there doesn't seem to be much prospect of struggling to get a drink somewhere. There is an abundance of places in walking distance of Cleethorpes Station, either by heading slightly inland into the middle of town or by sticking to the sea front.
For those in particular coming in on train there is the option of stopping off at Grimsby on the way through, something we did previously, and then hopping back on the train to Cleethorpes closer to the kick-off.
Just remember to save time to sample some delightful fish & chips.
Q&A with Grimsby's DN35 Podcast (@DN35GTFC)
There was a nice reaction to an away tie at Grimsby, especially from those of us who have fond memories of visits to Blundell Park 20 odd years ago. Back then we were both second tier sides. Is it possible to summarise what's unfolded at Grimsby since then in a fairly brief snapshot for us?
Ultimately, a terrible owner who brought with him a bunch of brainless sycophants all of whom had the footballing nous of Ian Holloway (FYI. That guy is also a brain-dead idiot). An owner who for 16 years never improved the club consistently cut cost and treated fans, players and staff like dirt.
It all came to a head when they tried to welcome in a convicted fraudster into their ever-growing clusterfuck of a football season. They tried to give the fraudster full financial control of the club that they were apparently fans of. This all during a season where they managed to relegate us to non-league for only the second time in our 144-year history, the time before also under their incompetence. They were finally run out of the club and the town in disgrace.
We were thankfully saved by local boys done good who trust their process and almost do everything the right way, minus adding a flag to a badge (don't ask). We brought back persistently undervalued Paul Hurst who inexplicably took just 12 months to right the non-league wrong it took seven years to do under the previous regime. The TLDR version. Never trust a Tory.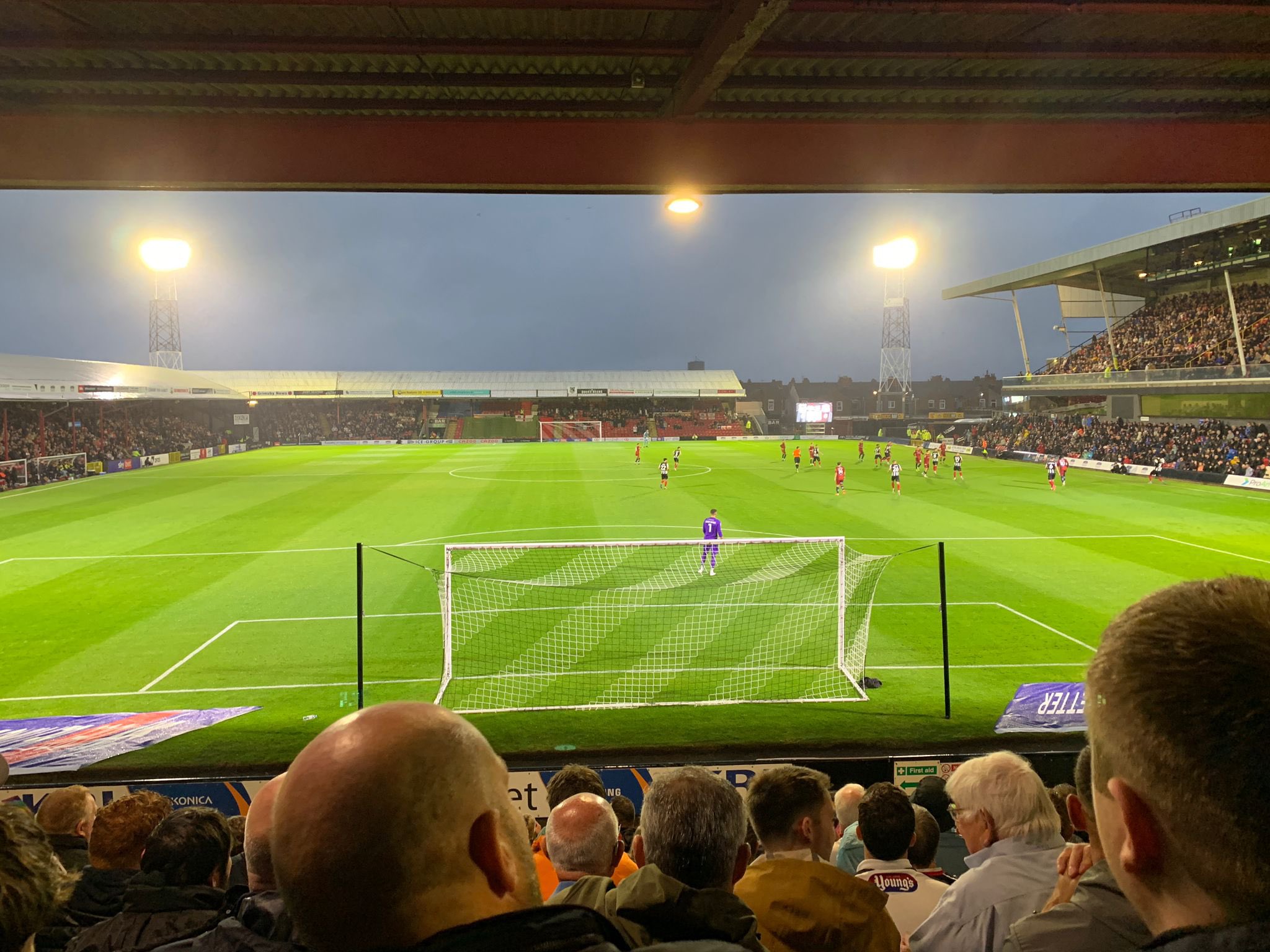 At least there is now the relative sanctuary of the Football League back on the table again in Grimsby after your wilderness years outside. What's the current mood like among Mariners fans and is there optimism of climbing any higher than League Two in the near future?
The mood is exceptional we have had the highest season ticket sales in living memory, roughly 6,000. Club interaction, communication and even shirt sales are through the roof. Local children have all woken from their Big Six trance and have thrown those awful pieces of merchandise in to the street and have adorned the only true black and white football shirt worth wearing (see what I did there?).
We carry expectations of football at a higher level than League Two and have aspirations to try and drag this old girl of a football club back to the heights of old but we'll do it in the right way.
By the way do you have any strikers we can take on loan? Call it repayment for giving you Jack Lester.
It's rather ironic that as we reacquaint ourselves with some stadiums in the Premier League we haven't visited for over two decades, we are paired with Grimsby who we haven't visited for a similar sort of spell. Is the stadium still the same largely as the one some of will be familiar with and are away fans still housed in the same stand behind the goal (the one where you can't see if you stand up on the rows towards the back)?
It is exactly the same. We can't be more than five years away from the ground becoming some sort of footballing Beamish museum where we all have to dress up as football fans from the 50's and carry around those rattles which in the modern day would have been confiscated as a weapon.
I do believe they serve you beer in 2-pint glasses which is pretty nifty but under the old regime there had been no changes to the ground at all. The floodlights formerly from Molineux in the 50's had to be shortened due to neglect, but the new guard have improved the view slightly for those of you in the Osmond Stand and the pitch now has those posh sprinklers that come out of the ground.
The Fan Zone is cracking with local beer and good food too.
What sort of game is this from a Grimsby perspective? Forest won't likely have the draw of a City or a Spurs but is there any anticipation around the game and are you expecting a big crowd?
Crowds have pretty much been a sell out all season especially in the home end so much so that the away stand is now segregated to allow more home fans to get in and will be the same for your visit, this isn't something we even had to think about doing in The Championship.
For those of us of a particular vintage it's a nice return to the old but for those poor souls who have followed the club since 2004 this is something special for them. The League Cup has served us well in the past as we've had the chance to see off Spurs, Liverpool at Anfield, Leicester, Everton and even got to give Shearer a thick lip so it would be nice to add another name to the ever growing list.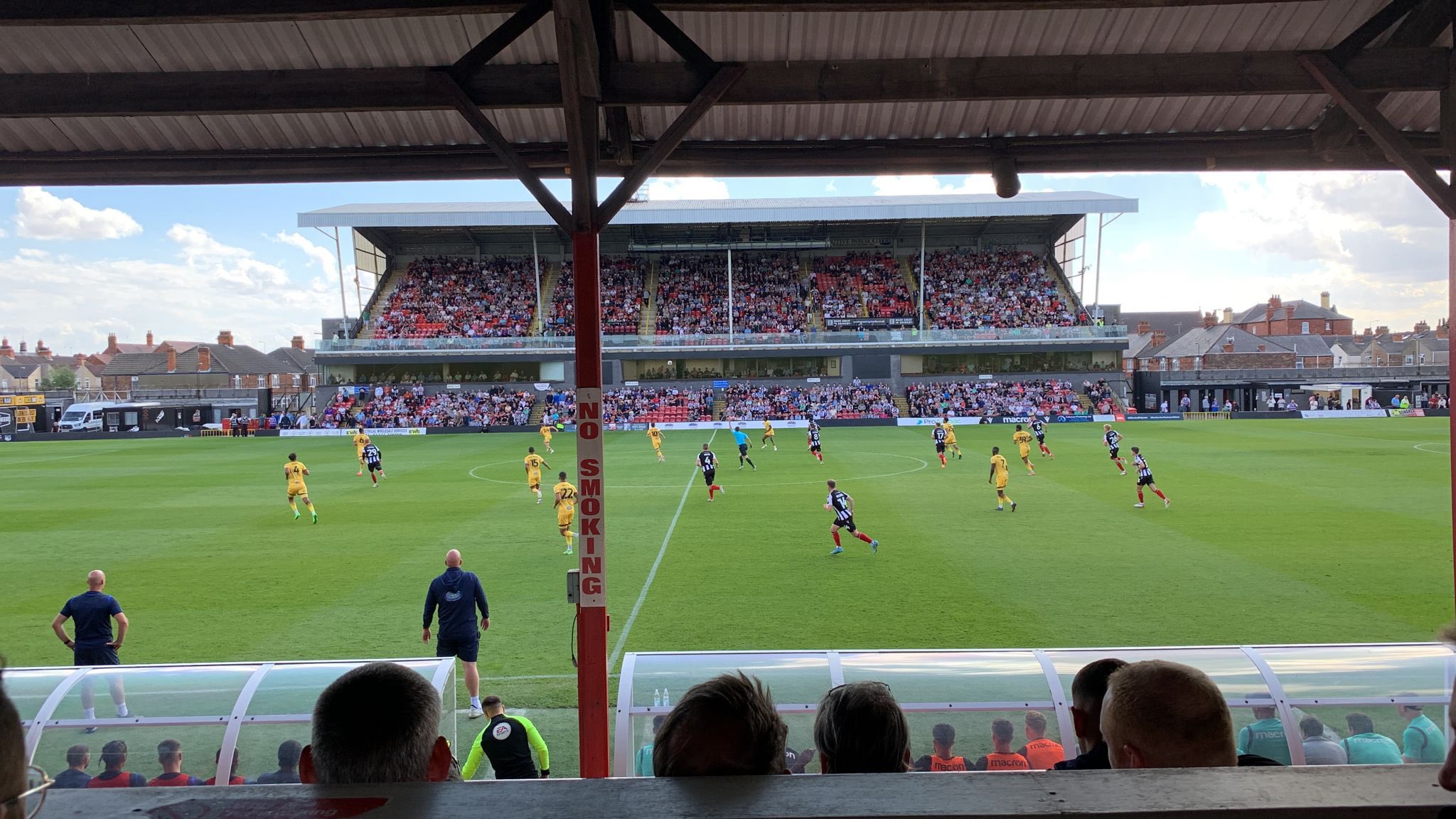 Recalling again our previous visits, there was one place that always seemed to be the main gathering point for away fans, I think it was called the Leaking Boot. Is it correct that pub has gone now and what pubs would you suggest for away supporters?
Afraid so. It couldn't live on the proceeds brought along by 15 Bromley fans so it's now a pharmacy and our old home pub is now a block of flats so your best bet is to head in to Cleethorpes and hope the sun is still shining.
Cleethorpes as you can imagine is packed with decent bars and places to eat (Fish & Chips only of course) Those driving into town the local brewery Docks Beer is stunning. If you're heading to Cleethorpes and it's a nice evening, you can walk down the seafront to the ground.
Grimsby Town Centre (3.5 miles from ground)
Old Lloyds Arms
Tivoli Tavern
The Yarborough (Spoons)
The Barge (An actual barge)
Docks Beers (10 minute walk)
Cleethorpes Town Centre
The Smugglers
Willys (grow up!)
Nottingham House
The Fisherman Arms
Coliseum Picture Theatre (Spoons)
Recommended Fish and Chip shops
Steels Restaurant (Cleethorpes)
Ernie Becketts (Cleethorpes)
Gr8 White (Near ground)
Oceans Fish Bar (Cleethorpes)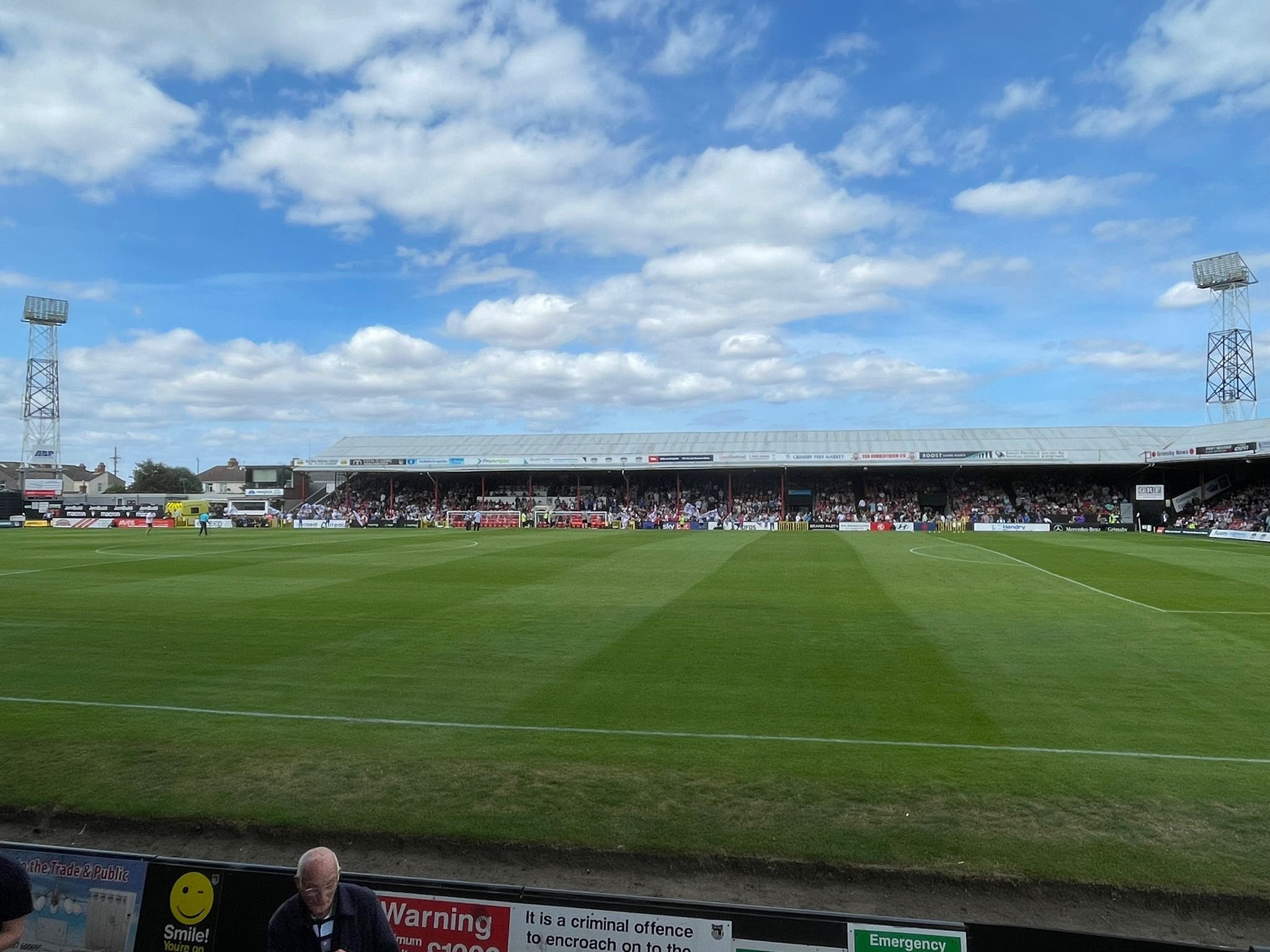 For those coming in the car, any advice on parking? Particularly anywhere that doesn't come with a cost.
There are no parking restrictions around the ground so street parking is free, this is the closest to watching football in the 80's and 90's you will get so save the pennies and take your pick.
There are no paid alternatives within a mile and a half of the ground.
Finally – what's the best thing about being a Grimsby fan?
We are without a doubt the most entertaining football club on the planet bar none. The most promoted and relegated team in English football with mid table finishes being for those other more run of the mill boring clubs.
Did you not see our play off campaign last season? Try and beat that for entertainment! Is that crying I can still hear from the Nottingham side of the Trent?
Bill Shankly said "Pound for pound, and class for class, the best football team I have seen in England since the war" He wasn't wrong.
Thanks to the guys at the DN35 Podcast for their insight and for contributing the images of Blundell Park for us to use. Really looking forward to this one and wish Grimsby all the best with their climb back up the Football League.
Matt