FOREST AWAY: Huddersfield Town, Saturday 18th September – Fan Guide
The mood may have lifted slightly with the news that Chris Hughton had been relieved of his duties but we are excruciatingly back at the point of placing our hopes on the shoulders of yet another football manager. One who will appear into view on a conveyor belt like some ghastly version of a Yo Sushi restaurant and minutes later they'll be battling against a Category 5 hurricane.
The point is probably rather obvious now but we don't keep appointing bad managers. Nor do we only appoint good ones – Hughton showed no signs of being that in his year with us. But a poke at the crumbling castle walls around the City Ground gives a glimpse of a catacomb of failures we cannot even begin to lump on a football managers shoulders. Forest has become a place football managers go to die. We wrap the noose around their neck on Day One and then pray they can somehow lead Nottingham Forest on a merry dance to the league above. It is absolutely fucking stupid.
Lessons need to be learned and quickly. Otherwise the crumbs of patience that remain will be blown away in the storm.
***
TRAVEL
TRAIN: Services from Nottingham are as follows:
DEPART                ARRIVE
09:37               11:50 (Change at Meadowhall)
10:17               12:50 (Change Meadowhall)
11:14               13:50 (Change Meadowhall)
There are other services but they involve a couple of changes so the above just includes those that require only one change. It's about 50 mins from Meadowhall to Huddersfield. A standard day return is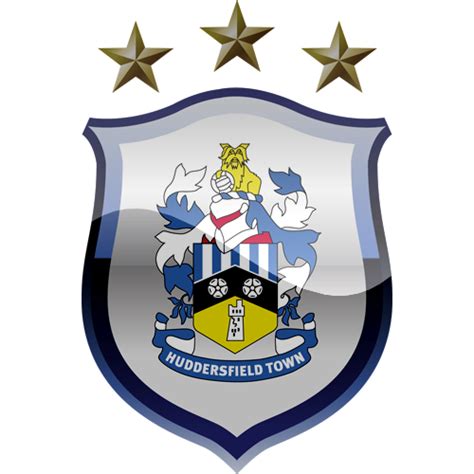 £30.60 but you will save some cash if you buy your tickets separately – a standard day return from Nottingham to Meadowhall is £15.70 and a standard return from Meadowhall to Huddersfield is £11.50. So do it that way and pay only £27.20. Not a huge saving but will just about pay for your first pint.
For the return leg the obvious one to aim for is the 17:17 which changes at Leeds and gets back to Nottingham at 20:00. Another way of doing this is catching the 17:13 to Meadowhall and the back to Nottingham from there picking up the same train from Leeds. Alternatively you could kill some time in Huddersfield let the crowds go and catch the 18:13 which changes at Sheffield but is an overall shorter journey, getting back at 20:26.
Huddersfield train station sits around a 15-20 minute walk from the John Smith's Stadium and gives you plenty of options of where to head with it being in the middle of town.
CAR: Up the M1 to Jct 38 and pick up the A637. It's a bit of a long and winding road and eventually turns into a B road but, via various Yorkshire villages, will pretty much take you to the ground. When you drive in the ground will be over to your right. There is, I understand, a fairly large official car park that welcomes away fans right at the away end but unless you are in a real rush give that a miss. Instead weave around the streets and there is ample free street parking to be had but be warned some roads are controlled parking. Our Huddersfield fan provides a little bit more specific information in the Q&A below. These streets will also provide a quicker getaway afterwards although, from experience, it's always a little slow.
PUBS
Again, have a look below for some specifics on pubs in and around the town centre. But the Magic Rock
Brewery is definitely worth a visit if you have the chance. It's a little out the way but we visited at the end
of 2019 and it's a really good place for pre-match. It's predominantly home fans but we had no issues inside. Lots of good local beers and ales and also plenty of food options. It's almost like being at a festival. We walked from there to to the ground.
Closer to the ground the main place for away fans is the Yorkshire Rose, a big chain type place. It's close to the ground and it's pretty big with lots of outside space. Alternatively you could head around the back of the ground (opposite to the away end) and there is a retail park with a Lloyds bar.
Q&A with Matt of the Huddersfield fan podcast And He Takes That Chance
1. Having had the pleasure of visiting your stadium a fair bit over the last twenty years it never fails to impress me. It's sat in the bit of a dip with the backdrop of trees and, for a ground that was built in a similar era to a lot of the identikit bowls it nicely distinguishes itself from that ilk.
It's had a fair few names changes but I still find myself calling it the McAlpine. After the enforced break from attending games due to the pandemic how does it feel to be back watching games again at the (checks Google) John Smith's Stadium?
The 'McGalphsmiths Stadium' had seen barren times in 2021 with only 1 home win in 13 games leading up to the stadium opener against Fulham, so there has been somewhat of an apathetic feeling for many coming back into the stadium. The 1-5 score line on the day only added to the indifference but the recent about turn in results has recaptured some imaginations and with fans a bit more cheerful over the last few games and players ready to excite us it does feel nice to be home again.
2. There's another thing that I've always enjoyed about your stadium – the away end. It kicks up some right noise at times. Which is guess is why your fans group, the Cowshed Loyal took control of half of it a few years back.
What can you tell us about their efforts to enhance the atmosphere at home games and will a time come when away fans are relocated altogether from that end?
I was part of the initial movement of supporters back in 2008 who recognised that change was needed at home games as the atmosphere had become sterile and negative. As a group we faced a lot of obstacles, the stadium safety officer held us in deep contempt, the club were unwilling to get on board with our ideas and we were often forced to move areas or sections. The group was in its last throws until when in 2014 fresh faces saw the take off properly.
The reboot involved a more constructive dialogue with club directors and in 2016 the group achieved what we wanted to do 8 years earlier in securing a new home in The South Stand. The lower roof makes for better acoustics and the atmosphere went from one of the worst in the top 2 tiers to one of the best which often saw us lauded particularly throughout The Wagner era (2016-2018). After much misery since then the guys are once again finding their voices and it was bouncing in there during the recent home win over Reading.
Due to stadium logistics and safety concerns it is very unlikely that we would ever be able to move the away fans anywhere else due to the position of the away coaches/car parks/train station. There may be an outside chance that we could move away fans to the South end of the Kilner Bank but I feel that persuading long time season ticket holders to move from their seats would be an impossible task.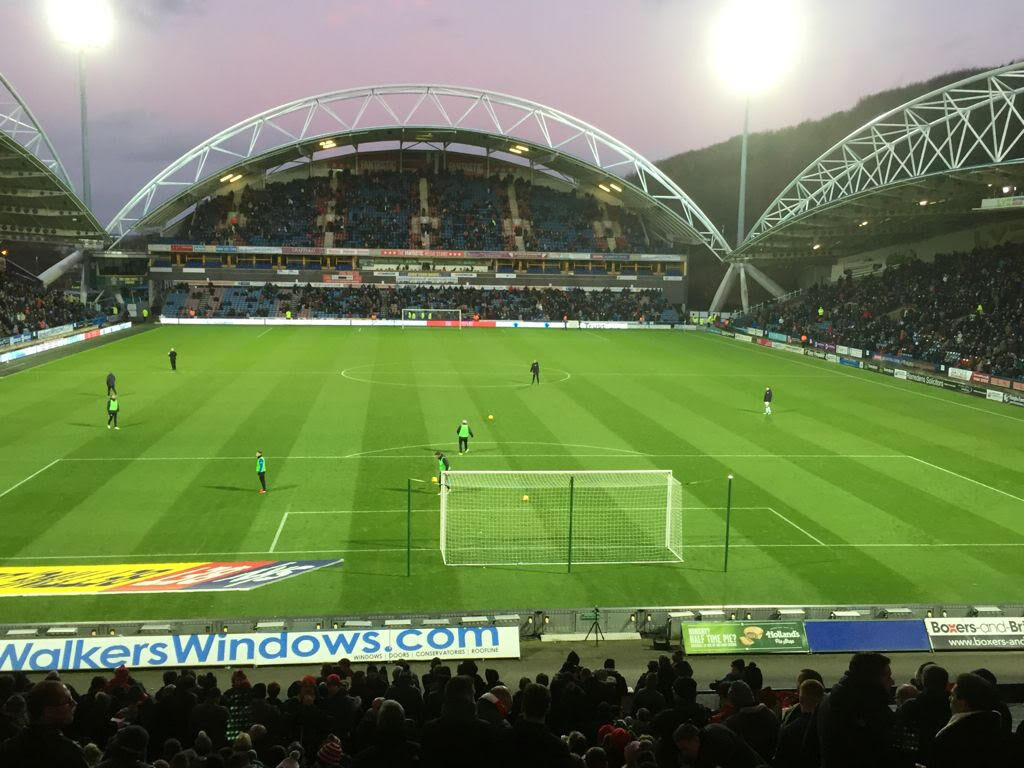 3. Tell us, if you would, about Huddersfield Town of 2020/21. Viewing from afar you had a little bit of a slump after relegation. What would represent a good season for you?
Apologies for the hackneyed response but it really was a case of the dream of Premier League promotion in 2017 turning into a nightmare by 2019. Town spent the Premier League windfall very poorly on a selection of mercenary type players and were saddled with a high wage bill and player amortisation costs upon relegation. All of this was easily manageable with parachute payments but our then owner Dean Hoyle sold the club after a period of ill health and took out a debenture secured against future income to claw back his loan stock of around 45m. This left the club in a position whereby it drastically needed to cut costs, make sales and in the words of incoming owner Phil Hodgkinson 'be stripped back to basics'.
24 months prior we were told that the Premier League money would change this club forever, however with the money earmarked elsewhere it felt like not only had we been relegated back to The Championship but relegated back in time to 2012 when Town struggled to initially find their footing in The Championship after 11 seasons away. Town found a safety net in 2019 when appointing The Cowley Brothers. Danny and Nicky whilst not the most popular management team we've had turned around a depressed group of players still hurting from a multitude of defeats over the previous year and were moving us forward, slowly. Rumoured internal issues and apparent disagreements over style and jurisdiction meant that The Cowley's were dispensed with and owner Phil Hodgkinson elected to roll the dice with Carlos Corberan, a head coach who would hopefully coach and improve players and not get too involved with the recruitment side.
Town again rolled the dice when they went into the 20/21 season slightly undercooked due to covid restrictions and with a much reduced squad of players. After a promising start things started to unravel as the workload of a condensed season and heavy training demands topped off by weekly murderball sessions saw injured players drop left, right and centre. Town in fact had rotten luck with injury from December right through to the end of the season with every key player spending a prolonged period on the side lines.
The story of Oumar Niasse perhaps sums up the 2nd part of last season. Having failed to land a striker in the January window with several moves failing including one for Luton bound Elijah Adebayo, Town signed free agent Oumer Niasse. However, visa issues meant that the signing was delayed for a further 6 weeks whilst Town sorted out paperwork with the relevant football authorities. Town's hard work was rewarded at 9am on March 26th as Niasse was finally registered. By 11:15am Niasse had suffered a season ending injury after slipping and doing the splits in a friendly against Rochdale. Months of hard work were dashed in just over 2 hours by another long term injury. A small squad with inexperienced young players shorn of 7 or 8 first team regulars for months on end suffered and in the end were thankful for the season finishing when it did.
Over the summer Town have looked to inject more solidity throughout the squad and have added a dash of excitement with Levi Colwill and Danel Sinani. We've made a good start, look stronger throughout the squad and the other day managed to ship out our final relic of financial misery of The Premier League era in Isaac Mbenza. It now feels like we've turned a corner under Corberan and we're looking for an improvement on last season's 20th place. Progress needs to be achieved off the field as well and if the new owner could remove the financial milestone of debt owed to the previous owner then a new era can finally begin and we can start to look forward.
4. For those coming in on train or in town before the game where would you recommend they head for a drink? Any places that wouldn't welcome away supporters?
Huddersfield is like many places. If you want to enjoy a few drinks, mix with friendly locals and avoid trouble it's easily done. If you want to find trouble then that's quite easily achieved as well. I'm presuming like myself you'd prefer the none troublesome route!
So my preference as an away fan would be to pop into the Kings Head right off of the station platform. The Kings Head features on the Transpennine Ale Trail and has some good selections. From there I would leave the station, turn left and head towards The Sportsman. The Sportsman like The Kings Head has more of a classic pub feel with some good choices, then from there it's only a 10 minute saunter to Magic Rock Brewery where I would spend most of my time before heading to the ground.
5. Aaah, The Magic Rock Brewery. We found ourselves there before the game in December 2019. Can you tell us a bit about the place, we thought it was brilliant when we visited? We note it also sponsors your podcast.
The craft ale scene is very strong in Huddersfield and Magic Rock Brewery sits right at the top as the best one in my opinion (sponsor or no sponsor). They started in 2011 and have been going from strength to strength and were recently bought by Lion Brewery of Australia. There are all sorts of weird and wonderful beers you can try with Dairy Freak and Highwire my personal favourites.
As of this season Magic Rock are now sponsoring The South Stand which will house The Forest fans and sell drinks inside the ground, although it can apparently be quick to sell out. Also, if you're unable to make it there on Saturday and want to place an order on their website then feel free to use our code of AHTTC10 for 10% off.
6. For those closer to the ground where are they best to head pub wise? Any decent tips on parking that don't cost a fortune or take an age to get out of afterwards?
Parking can be tricky, I wouldn't recommend trying B&Q or the retail parks closer to the ground. Instead get there in reasonable time and try Hillhouse lane or Alder Street. Both free to park and 10 mins walk to the ground.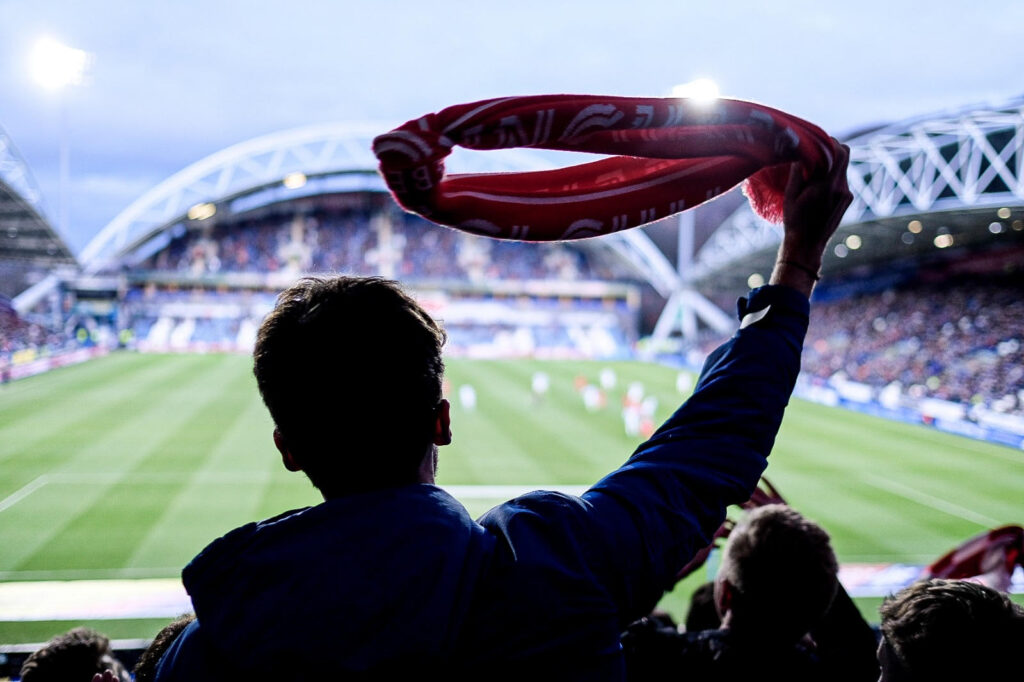 7. Back onto the podcast… tell us a little bit about it if you would.
We started the podcast back in 2018. We were frustrated about the portrayal of the club in the national media, and with local journalism incredibly poor in Huddersfield at that time our mission was to give Huddersfield fans a platform that they could all get involved with. It quickly progressed from just a podcast to more of a fan media site.
Covid threw spanners into the works for how we recorded but we've evolved from 3 or 4 blokes behind a mic to hosting live episodes (which still makes me nervous!) and we now have a range of shows, videos, articles and other silly bits n bats at www.takesthatchance.com which I hope covers most of what Huddersfield fans want to see and hear.
8. We do these away day previews before each Forest away trip. We were recently asked to see if the opposing fan had much of a view on Forest.
So what do you make of us – in terms of our current team or generally as a club, anything really. You can be as vague as you like and it's fine to be critical but it would be interesting to hear any thoughts you might have.
Without wishing to cause any offence (which probably means I will) Forest were one of the big names in the country when I first started watching football as a youngster and that coincided with the tail end of the Brian Clough era. I could sit and listen to Brian Clough stories for hours and those that witnessed and lived through that golden age must have some incredible memories which hold such a special place. But I also think that maybe that period still weighs heavy across the current club and their incumbents which impacts upon their decision making. From the outside looking in it feels like the crowd expectation and pressure leads to a constant stream of owners making persistent and often silly short term decisions without ever really having a coherent long term strategy. Dane Murphy looks like a good appointment as CEO though so maybe that is the first step to getting Forest back to the top flight and drawing a line over Forest's persistent under achievement, you're way overdue for a return to the top flight.
9. Let's end on something a bit different. Which of these scenarios would you prefer?
A) Huddersfield remain on their current trajectory with whatever may lie in store.
B) Huddersfield are promoted this season and win the FA Cup. But then endure immediate successive relegations to League One.
I've seen Huddersfield win 4 play off finals and The Yorkshire Electricity cup which were great, but we've not won a domestic cup or the top flight for coming up to 100 years now. So tangible success doesn't come around very often, nor does it look like doing so for the foreseeable future. If there's a cup on offer we'd have to snap your hand off. Plus it'd give us something to talk about for the NEXT 100 years as well.
Thanks to Matt for his insight. See you all Saturday.
Up the Reds (the only way is up).