FOREST AWAY: Leeds, Saturday 27th October
Two wins away win on the spin, five goals scored and zero conceded. Heady days. Just the sort of form we want before a trip to Elland Road to face top of the table Leeds.
It's a shame that TV and ridiculous pricing may impact on the travelling Forest fans but the 1,400 at Boro and the 1,000 at Bolton on Wednesday were tremendous, noisy followings. Hopefully that will continue on Saturday no matter how many of us are in the away end.
For us – a drinking session around the city centre is the likely plan following a mid-morning train out of Nottingham. There isn't much around the ground that will welcome us with the exception of the bar is joined on the stadium right next to the away turnstiles. Having never been in I can't comment on it but it's the only away pub I know of. If you do get chance the town centre presents a very good pub crawl – some common sense is probably needed but some great pubs about. Just make sure you leave enough time to get to the ground as it's a 25 minute walk.
Be advised that there is some disruption on Northern Rail services this Saturday which will have a detrimental impact on the Nottingham – Leeds services. Some trains are running but best best might be to stick with the East Midlands Trains services.
If travelling up in the car there are huge car parks by the stadium but it's not a pleasant experience. So here is a little tip…
If heading up the M1 leave at Junction 41 and towards Morley / White Rose Centre via Dewsbury Road (A653). Around the Broadway pub there is lots of street parking – either Westland Road or across the main Dewsbury Road up on Cross Flats Grove. The stadium is approximately a 15 minute walk up to the top of Cross Flats Grove and then over the main road and down the grassy hill and you'll see the stadium. Very simple. The benefit is you'll avoid any parking costs and you will get out of Leeds an hell of a lot quicker after the game. The Broadway pub can also be used for a couple of drinks of you have time – it's not spectacular but a half decent stop considering the lack of other options. The map below shows the Broadway (bottom) and Elland Road (top left) with the route to the ground.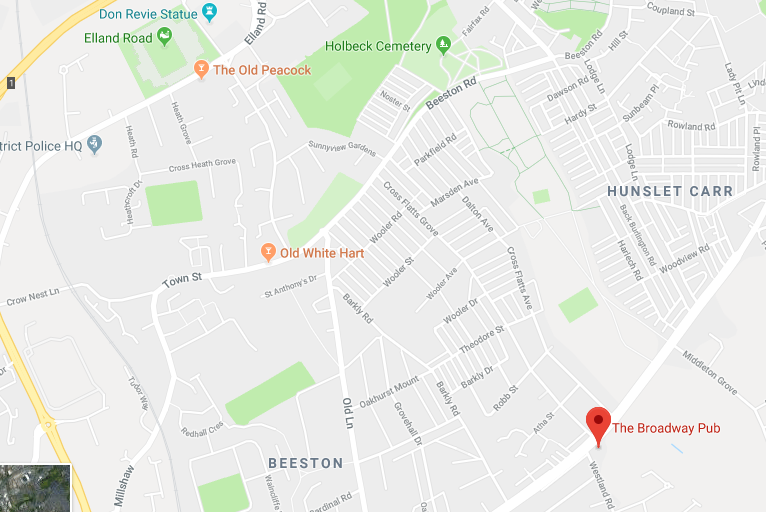 For a little more detail we spoke with Oscar from the @AllLeedsTV who kindly answered our questions…
1. You've made a decent start – is this season you last the pace and stay up there at the top?
We've done well, although the last couple of weeks have seen a drop off in form with just 10 points from our last 8 games. I think it's fair to say the loss of form has mostly down to the loss of key players such as: Hernandez, Douglas, Roofe and Berardi to injury, whilst £7 million summer signing Patrick Bamford is also out until around the new year. Now that we have three of those players back I think the next few weeks/months will be a far better indicator as to whether or not we are promotion material. The squad has responded well to Bielsa's methods and our football has been breathtaking at times.
We do seem to have a good balance: The defence has been much improved on last season (although, there is still room for further improvement), we are creating plenty of chances and controlling games in the middle of the park plus Kemar Roofe and Tyler Roberts have both performed very well up front, with both managing a 1 in 2 goal ratio whenever they have been asked to play the lone striker role.
I still think there is a lack of leadership in the side particularly in our back 5 and that is why I think we might fall short. The only natural leader at the back seems to be Luke Ayling. Barry Douglas and Pontus Jansson are incredibly talented but neither of them are really leaders as such. I am probably in the minority here but I don't think we have replaced Kyle Bartley (now at West Brom) and to an extent Rob Green; two key leaders at the back from a couple of seasons ago. We just need someone like Bartley who can communicate and organise the back 4. Nothing showed that up more than last weekend in our 2-1 defeat at Blackburn where we conceded both goals from corners, no one seemed to have a clue who to mark whilst 2-3 players were also going for the same ball. If we address this in January I think we could last the pace.
2. Leeds and Forest have followed a similar trajectory in the last 15-20 years. Relegation from the top flight followed by numerous false dawns and even a spell in League One. We've also each shed dozens of managers in this time. You have to go back until 2014 to find the last time either club employed a manager for over a year. Leeds have had nine managers since then (Forest have had 5).
That's a ridiculous statistic isn't it? Is Marcelo Bielsa the one to end that?
It's incredible how similar the last 15 years has been for both sides: We have both had to put up with dreadful ownership for the vast majority of those 15 years. Which continuously saw our best players sold for well under their value without bringing in adequate replacements, some dreadful managerial appointments and several bizarre decisions on and off the pitch. However, I do think both teams are now heading in the right direction at least; from an outsider looking in you seem to have shown some serious ambition coming into this season and have built an impressive squad.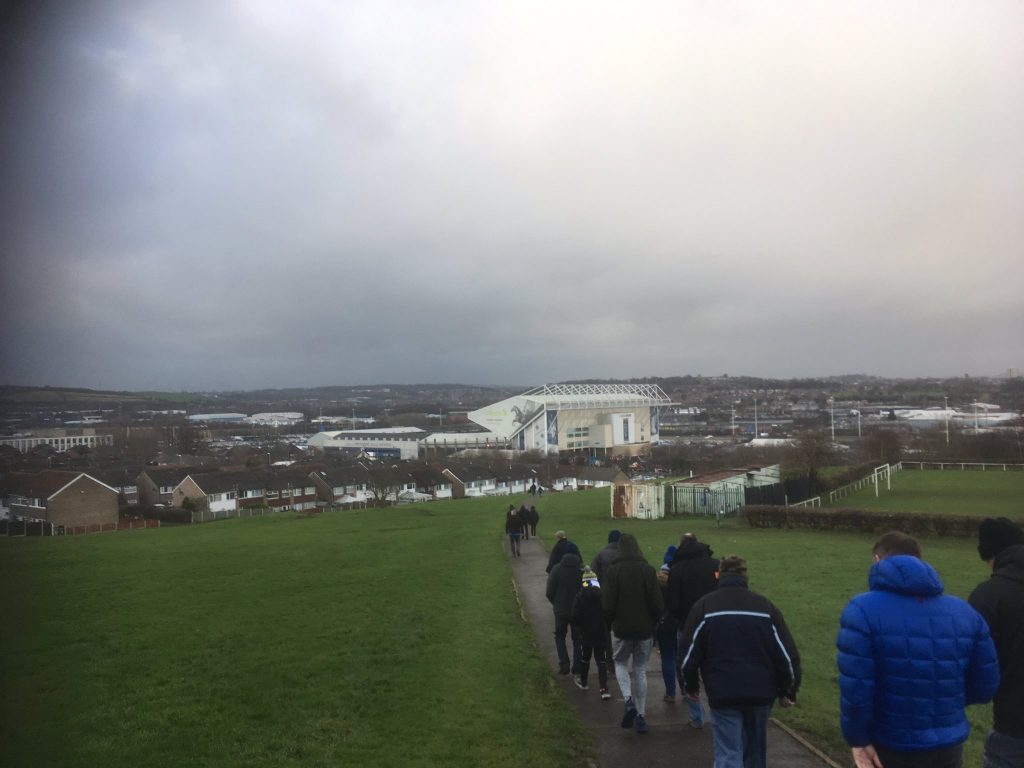 Even now four months on from being appointed I still pinch myself that Marcelo Bielsa is managing Leeds. Bielsa has totally changed the mentality of the football club, the Stoke and Derby games early in the season were incredible we won 3-1 and 4-1, however, Bielsa was frustrated after both games that we didn't score more goals and played with less intensity during the last 15-20 minutes, he is a perfectionist.
Another one that stands out was when we played Swansea and remained top of the table earning a credible 2-2 draw despite not playing well, Bielsa wouldn't let the team board the bus home until they had watched the 90 minutes back as a team  and assessed their performances we then won the next game 3-0 at Norwich. Bielsa is without doubt the right man for the job and we are incredibly lucky to have him my fear is that if we do not achieve promotion this season it might be a long summer ahead for us. Everton, West Ham and Swansea (when in the premier league) have all been said to have shown big interest in Bielsa over the last 3 years and that's just in England.
3. Much has been said about the cost of tickets in the away end. £39 or £44 on the day.
Combined with this being a live TV game it's likely to harm the numbers we will bring. What do you make of the pricing? And do Leeds fans pay the same?
It's not good for starters I always think the atmosphere is better when the away end is full at Elland Road. We can't justify charging £39 or £44 in all honesty, I've been in that part of the ground a couple of times before it became the away section and from memory the view is terrible in some parts.
On average I would say we probably pay around the £30-35 mark for tickets although that is a bit misleading as the prices vary massively at this level I find. For example Sheffield Wednesday away is consistently £40 plus, whilst and you won't thank me for this but i've been to Derby away several times and it's always cost less than £15, how can there be such a big difference in prices? We have to take responsibility for that ourselves as we do seem to be well up there in terms of high ticket prices. It's not only away games where it is an issue even at home fans seem to be overcharged, I have to say there does seem to be a massive drop in attendances this season across the board and it's not good to see and no fun.
4. In the last couple of visits, Elland Road seems to have rediscovered its mojo. Can we expect a big atmosphere from you on Saturday?
Definitely, this is a massive game depending on results during midweek we might be within a point of each other in the table come Saturday. Even if we concede early on or if the game is a boring 0-0 I still think the atmosphere will be electric, the club and the fans feel together again Andrea Radrizzani has made some mistakes over the last 18 months as owner of Leeds United but he deserves so much credit for the work he has done off the pitch to re-build the relationship between the fans and the football club.
2012-2016 was a difficult time for Elland Road owing much to: the ownership, dreadful football and having to watch players who clearly didn't want to play for the football club with some players even refusing to play for the club. However, over the last 2 years everything feels different atmosphere wise, there isn't a player in the squad who doesn't put in 100% and the fans appreciate that and will get behind the team from minute 1 to 90 no matter the result or performance purely because of that.
5. One song I'm certain we'll hear on Saturday is WACCOE, a song about Leeds being the champions of Europe. Can you please explain…?
It stands for We Are The Champions Champions Of Europe, It's in relation to two games most commonly the 1975 European Cup Final, a game which we totally dominated it was bad enough the referee failed to award two blatant penalties for Leeds one for a handball and the other a clear foul , the second appeal probably being as blatant a penalty as you will ever see.
We then wrongly had a goal chalked off for offside, despite the referee and linesman initially giving the goal, Bayern captain Franz Beckenbauer (who was also involved in both penalty incidents) demanded the referee reviewed the decision with the linesman (despite the linesman not raising his flag) the goal was then disallowed moments later. Quite easily we could have been at least 2 or 3 goals ahead at that stage with Beckenbauer sent off for his two bookable offences on both penalty appeals. Bayern got two goals on the counter attack and that was that.
Sometimes you get poor refereeing decisions but the whole process behind the disallowed goal decision was disgraceful. The We Are The Champions chant comes from the feeling that we deserved to win that night, all we needed was just one of those easy three decisions to have gone our way that night and we would have won that game without a shadow of a doubt.
2 years earlier we lost 1-0 in the European Cup Winners Cup Final to AC Milan another game which saw several controversial decisions made against Leeds similar to 1975 one clear goal and numerous clear penalties not given. The goal AC Milan scored was also from a free kick which shouldn't have been given. The referee that night Christos Michas was later banned for life by UEFA after match fixing was proven. Despite this we were never awarded the trophy or at least allowed a rematch.
The song isn't just sung to register the disgust of what happened in both games in more recent times it has been used as gallows humour as well.
6. Despite the cost and the TV factor there is still likely to be a fairly healthy following from Nottingham. We've got the afternoon stretching out in front of us with kick-off not until 5:30pm.
Where do you recommend we head for a drink or two? Suggestions in town and around the ground (if any) would be appreciated.
I will be honest i'm not sure 100% sure on what pubs are away fan friendly especially in the city centre. I tend to have pre match drinks at the two pubs closest to the ground (however, both are most definitely home fan only as far as i'm aware).
The only pub I can think of which is away fan friendly is a pub called Drysalters roughly 10 minutes walk from Elland Road as far as i'm aware this is still home and away fan friendly. Sorry I couldn't be any more help there.
7. This is one of many TV games for Leeds before Xmas. Does it become hard work constantly having games moved away from the traditional 3pm slot? I recall a few years ago your previous owner getting a bit fed up with it.
It can become hard work especially when its 4-5 consecutive games being moved and sometimes it leads to having to stay overnight in hotels etc, our next 3pm Saturday game isn't until the 24th November and our last one was the 22nd September.
The Friday and Saturday night games I don't really mind that much especially at home around this time of year it just feels like a night match and I love Elland Road under the lights. The early afternoon Saturday kick offs and Sunday games never quite feel the same though.
Our previous owner went about complaining completely the wrong way he tried to lock the sky tv cameras out of the ground which was never going to end well really. What I will say is though when you play Friday night or Saturday early afternoon and win there aren't many things better in football than waiting for the 3pm results to come through knowing you have 3 points already on the board.
8. Our record at Elland Road isn't particularly clever although there was that one time we scored seven… How do you think this one is going to go?
I'm thinking a draw, Karanka has a reputation of playing defensivel, particularly in games like this but to be fair he seems to be willing to give your creative players more freedom to express themselves than he did at Middlesbrough. Your front four could cause us a few problems on the counter attack particularly if Barry Douglas isn't back in time for this, as our left hand side isn't working well at the moment without him.
I have to say I'm very surprised Tobias Figueiredo has been taken out of the side he was a player I wanted Leeds to look at 12 months ago.
Whilst our performances have still been alright we are not in the best of form and Karanka will be fully aware that we have struggled to break the top teams teams down who have the capability to carry out a more defensive game plan and I would expect him to adapt his team accordingly. However, I don't think defensively this Forest side is as solid as his Boro side so I do think we will score ourselves. An entertaining 1-1 draw.
9. What would represent a good season for Leeds United?
A top 6 finish would represent a good season, the league does look wide open this season but we still have to be realistic Bielsa hasn't been able to work with anywhere near the same budget as some of the other favourites for promotion this season .
Also in some positions mainly: centre back, holding midfield and out wide we haven't been able to bring in any cover, if we get any injuries/suspensions in those positions we would be in trouble. Top 6 might sound unexciting but given where we were in June and the fact we haven't made the play-offs at this level in 12 years it would represent good progress.  Although, if we have a good January window we might be able to push for the top two.