FOREST AWAY: Leeds, Tuesday 4th April – Fan Guide
I have always been conscious that my own views on Nottingham Forest are often at odds with those of our Greek owners. Which is fine. It can be an occasional concern or worry but realistically the views of fan and owner are not always going to acquiesce and nor should they. Having lurched into the umpteenth managerial saga of this ownership, however, and hot on the heels of the disappointing season card news, I fear these differences are beginning to bubble up and out of the saucepan for plenty of us.
Marinakis, and his assorted Greek underlings, don't seem the type to worry too much about fan reaction although there are, to their credit, some examples of them being swayed by supporters. The lockdown season card offers and, more recently, Steve Cooper's job being under threat last year both having been subsequently influenced in a positive manner. I wonder how the owner viewed the unwavering show of support for Cooper on Saturday from all sides of the City Ground after the news his position was once again under scrutiny. I had thought we were past such nonsense for this season at least.
The Greeks struck gold in finding a master craftsman in Cooper who knitted, jointed and sometimes slammed together a combination of players into a promotion winning side. Any shortcomings he may have must be balanced out by his still young age and the unfortunate truth that his miracle of 2021/22 needed repeating this season due to the reliance on loanees and players who wouldn't make the step up. For 2022/23 such an extensive overhaul, however necessary, was always going to leave us at a big disadvantage. Cooper's ability to mould something together that has made us competitive is rather remarkable in my opinion and deserving of support and admiration from his employer. It worries the life out of me that here we are again, and the owners are possibly looking only at the short-term. Cooper has to be worth the chance to break the cycle of not looking past the next fork in the road.
Steve Cooper is everything this club has longed for. It is success, quickly and without fanfare, but it is also the building of a culture and a deeply meaningful rapport with supporters and team. I'm not sure if Marinakis recognises this but I hope he does. It does matter, hugely. The City Ground of 2023 is well and truly the House That Cooper Built. Marinakis wasn't a regular visitor at the stadium early in his own reign, but he should be able to see how it has been transformed; how a once apathetic and deeply frustrated  fanbase has been ignited behind a figurehead they cherish and adore.
And again now, the supporters are fuelling that into defiance as we stand behind Cooper and his team when they need us most. An away win this week would be just the tonic.
****
TRAVEL
RAIL: The last train that gets you back to Nottingham departs at 21:48. Considering the station is a 25/30 minute walk from Elland Road that isn't going to be possible.
ROAD: There are a couple of options to reach Elland Road. The most direct route is to head onto the M621 just after Junction 42 of the M1. Stay on for a couple of junctions and leave at Junction 2; Elland Road being very close to the motorway. If you are arriving within a couple of hours of kick-off it's likely to be very busy. I've found in the past that the street parking around the ground is either permits or police traffic cones prevent parking. There are some big and well-placed car parks directly across from the stadium but they take an age to get away from after the game.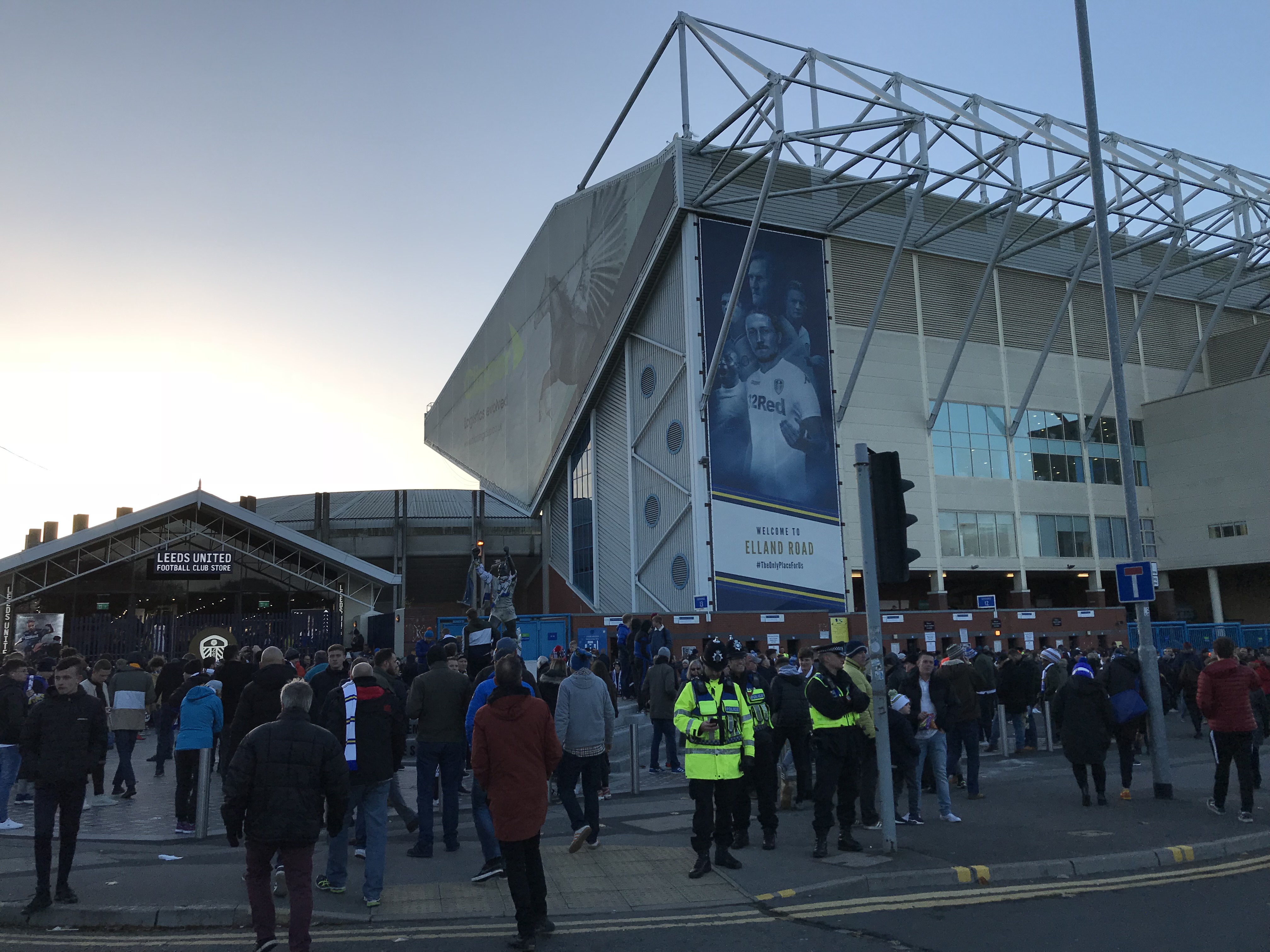 The other option, and one I have used many times now, is to leave the M1 at Junction 41 and head west down Bradford Road until you reach the M62 Junction. From here, head straight over following signs for the White Rose shopping centre. Follow onto Dewsbury Road. If you want to get to the ground, you can head past the shopping centre and turn right at the BP Garage onto Elland Road. Alternatively, veer off right before the shopping centre to remain on Dewsbury Road (watch out for the speed camera at this point), and follow the road for a few minutes.
It'll be a bit slow but eventually you'll want to use the street called Cross Flats Grove on your left. You can follow that road up quite a bit but from this point you are about a mile from Elland Road. There are loads of little streets off where you can park up but the further up you go the further you will queue back down the road afterwards.
To reach the ground, head up and cross Beeston Road at the top.  From here, there are a couple of routes to reach Elland Road, the quickest way being over a bit of green space (which has a tarmac path) which will offer a nice view of the stadium as you approach.
PUBS
Linked into the latter option above, at the bottom of Cross Flats Grove is a pub called the Broadway. It's nothing special but I've found it to be a better option than trying to find a drink around the ground. Plus, it's far enough away where it doesn't ever seem to get too busy. Allow 25 mins at least to reach Elland Road from here.
The main away pub is Howards which is bolted onto the away end. I've never actually been inside but it seems to link directly to the away concourse.
For those who have the opportunity, there are of course plenty of good drinking options in Leeds city centre. Just be warned it's a long walk.
Q&A with Adonis of The Roaring Peacock fan channel
The table speaks for itself but how are Leeds faring after the change of manager? Is it looking like a good decision to remove Jesse Marsch?
Marsch should have gone before the winter break. But the wins against Liverpool and Bournemouth saved him. But realistically – the system was appalling, the football was a terrible watch and most importantly it just wasn't working. Javi has come in, is working extremely hard, and is making the best of a bad situation. But it is unfair to judge Gracia on a salvage job with so little of the season left.
After a tough Saturday fixture at Arsenal, presumably many will see the visit of Forest as an ideal chance to earn some vital points. I think I read somewhere that you, like us, have a pretty bad away record so how important is Elland Road for Leeds in their remaining matches?
During the pandemic the normal rule of home advantage went out the window. Fans make a huge difference. And Elland Road is widely considered as one of the loudest grounds, and the one of the most difficult for away players.
Leeds' form at home, while being unexceptional, has been the one aspect of this season keeping the club with the last scraps of hopes it has of staying up. The next few home games will decide our fate. And Forest at home is a must-win.

I've always kept an eye out for Patrick Bamford after he began his career with us. Is he still a vital player for Leeds and can we expect to see him start on Tuesday?
Patrick has had one brilliant season with us – 17 goals in our first season back in the Premier League. In the Championship he was very wasteful and missed a lot of chances.
Since that first season back when he did so well, he has suffered many recurring injuries. But he is a focal point. I don't believe he'll start, as Rodrigo has been having such an excellent season and we generally play with one striker. But he'll have some part to play for sure.
Is there anywhere around Elland Road that will welcome Forest fans for a drink before the game?
Sorry I don't know where the Forest fans can have a drink. But if I were you I'd drink in the city somewhere before heading in. That may be a question for the Forest supporters trust, or the West Yorkshire Police.
Any parking suggestions around the ground?
I wouldn't suggest driving right up to and parking near the ground. Best bet is to park somewhere within a 10-15 minute walk of the ground. There are horrendous queues to get out of the car park and traffic is very slow when leaving Elland Road. And obviously I would perhaps not wear colours, 99% of the time you would probably be fine, but if it were me I personally would air on the side of caution.

Finally – It's ridiculously close down at the bottom – which three teams do you think will go down?
When things are this tight on points, I tend to use goal difference as more of a guide. For me, Southampton and Bournemouth are the most in trouble. That third spot could go to any one of a number of teams. But I'd say Leicester, West Ham, Wolves, Leeds and Forest are all in the mix.
I have a feeling that Dyche and Hodgson will keep Everton and Palace out of it. But anyone who can say definitively who will drop is lying. It could go all the way to the last minutes of the season.
Our thanks to Adonis for his insight.
See you at Elland Road if you are travelling.
You Reds
Matt