FOREST AWAY: Manchester United, Tuesday 27th December – Fan Guide
Every now and again I fall into the trap of forgetting, or just not being able to comprehend, that when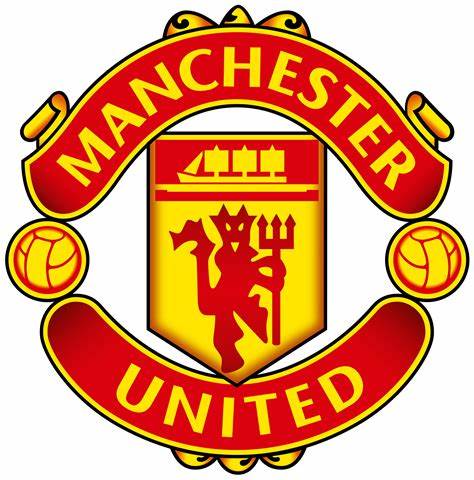 the return of the Premier League is mentioned, it involves us. It had definitely felt real, but the World Cup threw me off course again. Bloody hell, what a year it's been.
A first FA Cup Quarter-Final since 1996, finally winning a play-off semi final and then triumphing at Wembley. A return to the Premier League and, only this last week, making it through to a first League Cup quarter-final since 1994. We have somehow become a club that competes in the top flight and is chasing silverware in the later stage of the cups. 2022 will be a year we speak about in the years to come, there is no doubt. We'll talk fondly about Samba's penalty saves, the sheer emotion of Wembley and Awonyi's goal against Liverpool. Overall, I think I'll mainly remember the utter joy of it all, and the noise.
Maybe one day, in my later years, I'll find the new Glorious Banners book at the back of a draw, find an old newspaper or just a happy memory of any of it will just pleasantly amble in to my mind. And I'll recall what a thrill it was. 'We were bloody bottom of the league, you know.' Hopefully, I'll do so knowing I was there at the start of it all, that it was just the beginning. But 2022 will always be special, whatever comes next.
And just like that, there I am again with a happy smile and a tear rolling down the cheek.
TRAVEL
TRAIN: If the fixture had remained on Boxing Day there would have been no train services, but it's nevertheless frustrating that the game, having been shifted away from its traditional slot, couldn't have been moved with fans in mind to ensure we had a straightforward route home.
A train leaves Manchester Oxford Road at 22:28. It's over 2.5 miles from Old Trafford and with the game not finishing until close to 10pm it seems a real push to make it. Our United fans below have some thoughts on it but, of course, it's unlikely many will want to take the chance of missing it.
Would it be too much to ask that broadcasters (Amazon in this instance) give some thought to how the 8pm kick-off time makes it unfeasible to get home. If this was slightly earlier the 22:28 service would have been more viable. We also need out football clubs to realise these times aren't fair on fans and at least ask on our behalf. We can't say for sure whether anyone at Amazon, the Premier League or United / Forest picked up on the train situation, but it doesn't seem unreasonable for any of those parties to at least raise this as a concern.
We recently approached East Midlands Railways who operate the 22:28 service back to Nottingham about whether they could offer any help on holding the train back or adding a later service. We are grateful for their response which we have included below:
We have already looked at what we can do to a) enhance the last service b) allow some additional waiting time to extend the opportunity to get to this service c) provide additional option/service.
Unfortunately, due to engineering works (which have been planned for 24months) affecting Manchester Piccadilly station, and the RMT strike action, and action short of strike, we cannot provide any additional services or enhanced capacity. The train timings are fixed with this being the last train and the access on the route due to the engineering works.
Sorry but we have exhausted all options and therefore the only services potentially available post-match would be the 22:28 from Oxford Road.
ROAD: Like with Wednesday's jaunt up to Blackburn, the route you take will likely depend on where you are setting off from. M1 / M6 or A50/M6 plus the M1 / Woodhead Pass although not personally a big fan of this route late at night on the way back. Hopefully, we'll all have a smoother journey than many of us faced on the way to Ewood Park.
Another reminder too to check the Road Closure Report at NationalHighways.co.uk before setting off which flags up any issues or overnight closures which may impact your journey.
Like many of you, this will be a first time for me following Forest to Old Trafford so local roads and parking is not something I have much knowledge on. For the Youth Cup Final at Old Trafford last season, we parked at the Old Trafford Cricket Ground which was pretty simple and cost £5 (although someone mentioned at the time it's more expensive for senior games), but I'm not sure if it remains as easy on a normal matchday.
The best option may be to follow the advice in the Q&A below and look at the Trafford Centre or at park & ride options at tram stops down the line which run to Old Trafford. The above map may be useful to help you plan your journey and find a suitable stop up or down the line from the the stadium. If coming up the M6 parking at somewhere like Altrincham south of Manchester could work and give you a direct line through to the Old Trafford stop.
We have been advised by the Manchester United Dedicated Football Officer that there are a number of illicit parking schemes in operation around the stadium where individuals try and charge for parking on public roads. 2 people were arrested at Wednesday's cup game against Burnley for this and other arrests have taken place earlier this season, so please be wary.
PUBS
The official line from Manchester Police when we requested advice on away pubs is that there are none around Old Trafford. This doesn't mean you won't be able to find a drink a close to the stadium but there are none dedicated to away supporters, and many will possibly be home fans only. Further advice on drinking in Manchester was provided as follows (thanks to Simon Travell of Notts Police for his help once again for putting us in touch):
Manchester welcomes all supporters and in the city centre most bars will accept away supporters. The bars near to Piccadilly Station are the ones most used to housing away support.
For those drinking around the city centre before the game we'd point to the following as good shouts (can't be certain all are open but expect they will be):
The Piccadilly Tap – Small but really good micro brewery right by Piccadilly Station
Waldorf – Just across from the Piccadilly Tap
Piccadilly Tavern – A little bit further down towards the main square, this seems like a place many will congregate. Plus the Wetherspoons a few doors down.
Before the City game back in August, we also headed to Stevenson Square, just a few minutes away from the above pubs, to a place called Flok that was pretty good. From here we tried the Mackie Mayor which is a big indoor food & drink court, and we'd recommend, it was great. A few good pubs on this road too which leads down to the Manchester Victoria Station.
It's a big a brilliant city, you won't go wrong wherever you go but it would be good to try and find somewhere for us all to congregate in the afternoon / early evening. When we have established where everyone is planning to go, we'll aim to put something out.
The key issue is getting from the city centre pubs to Old Trafford but, as above, hopping on the tram system to the Old Trafford tram stop seems the best bet. Trams run direct from the Piccadilly stop straight there and takes around 20/25 mins.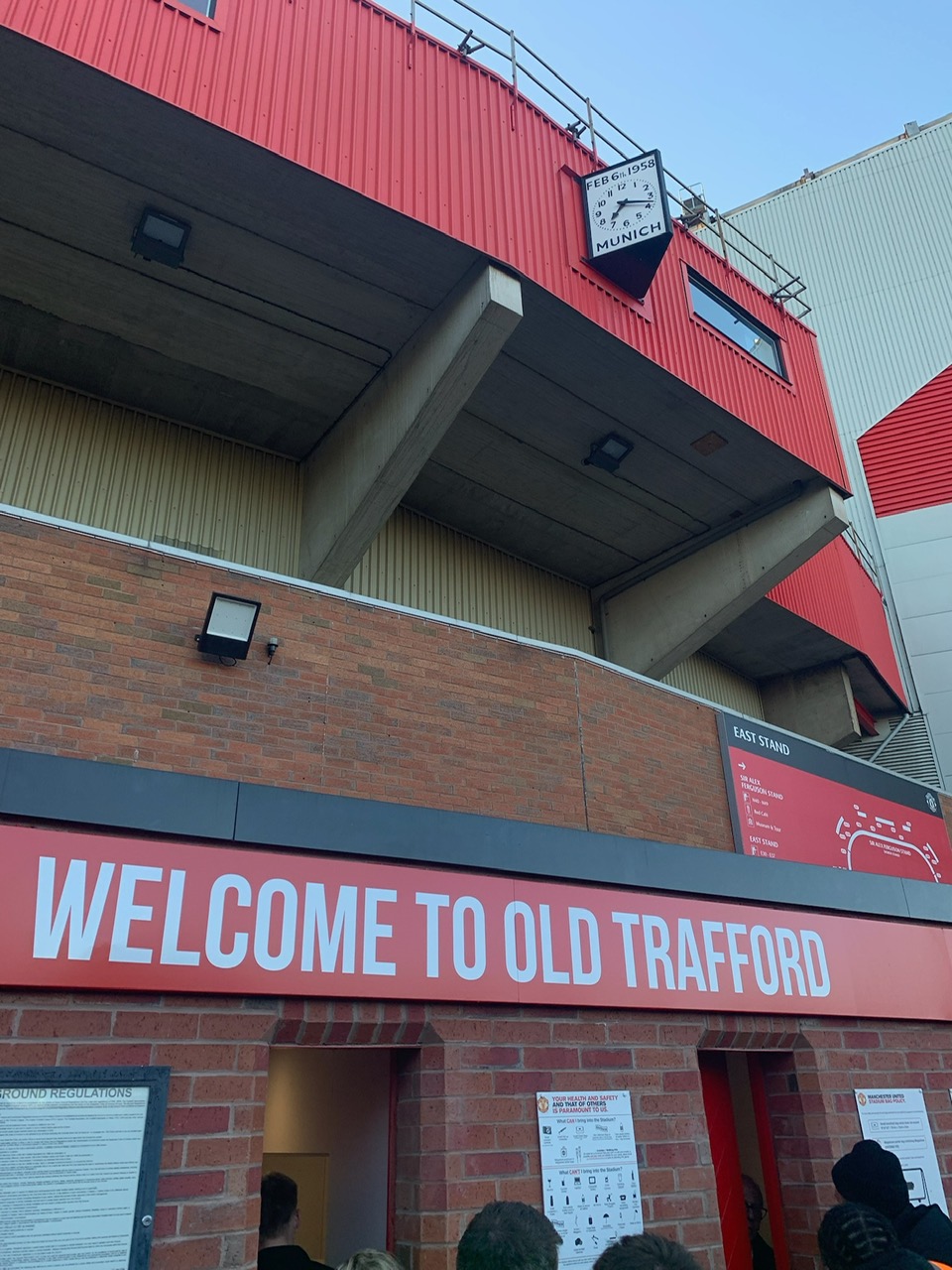 Q&A with United season ticket holder Ivan and Andrew of the Stretford End Flags group. One is my wife's uncle, one isn't. You'll guess which is which…
By United's standards it's been a frustrating number of years. The appointment of Erik ten Hag was the latest attempt at rebuilding the old empire. How's it going so far and what are the aspirations for this season based on where you are now?
Ivan: Positivity is now returning, and I think we can finish in 4th place.
Andrew: After the decline since Sir Alex left, the club finally looks to not just have a manager in place who can take the club forward, but also now appears to have a structure in place that can deliver sucess; even if that will take a few years.
EtH has got us playing football on the front foot again. His signings seem to have been made with purpose and planning, rather than commercially or signing big name players who don't fit. He brings an enthusiasm about him and the players and the fans have largely bought into this.
There will be bad days, as we've seen already, but on the whole it's positive and we all know it isn't an easy fix. For most fans and the players alike, a trophy is needed this season. Players need to feel like winners again and that first trophy for some can psychologically make a huge difference, as did that 1990 FA Cup win for Sir Alex. A top 4 finish and a trophy would be a good return on his first season.
The game against Forest will be a first Premier League match without Cristiano Ronaldo who had his contract terminated last month. Is his iconic status tarnished now and would you say most fans were in support of the manager's stance?
Andrew: In truth most fans realised that last season, Ronaldo was way off the pace and wouldn't fit into the new system or managers plans. Yes he had a good goal return last season, and he started and ended the season well, however that November to April period he was poor.
He will always be a legend, up there with the Georgie (Best) who have played for the club.
Sadly he's tarnished his legacy a lot. We would rather he went in the summer on good terms than the way it ended. At last nights game, large sections of the fan base made it known that MUFC always comes first.
It would have been nice for him to say goodbye to the fans properly and who knows, with time, we might see that; but in truth the ego means more to Ronaldo than fans sentiment.
Ivan: What the critics do and say is their business. Ronaldo leaving was the right thing for all concerned but his iconic status will remain. Viva Ronaldo.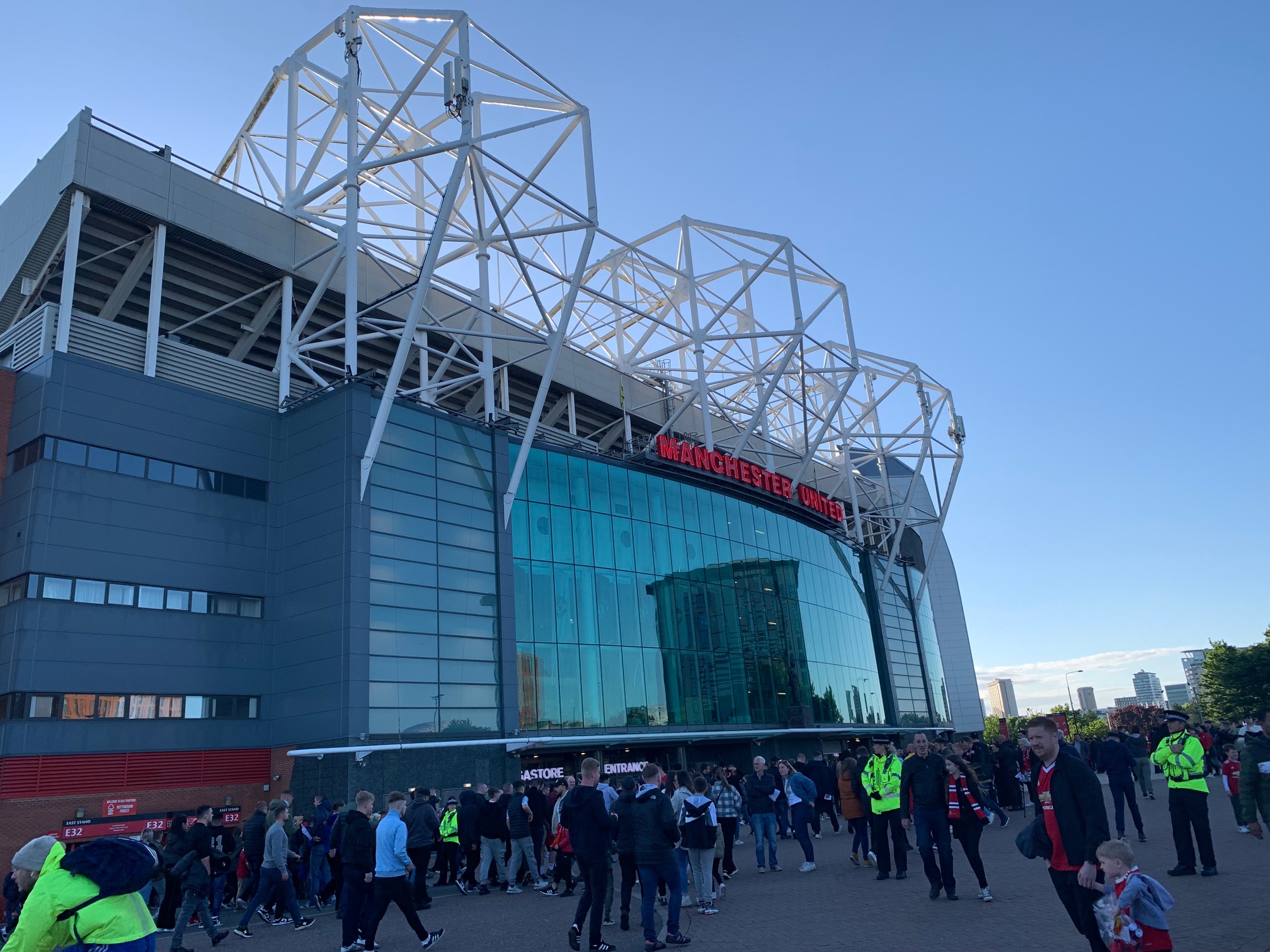 A much longer and hostile saga is with the club's owners, the Glazer family. There has been some hope of a takeover process beginning but how important is it that United can find new ownership? 
 Andrew: The ownership has dominated the landscape well before the Glazers walked into Old Trafford 17 years ago. It's reached a boiling point now and news that they want to sell has been welcomed by all. The time is right, the club needs investment to compete both on and off the pitch. Old Trafford is still one of the best stadiums around, packed with history but it now needs to be taken to another level to be the best there is both at home and in Europe. The current ownership can't afford to do this and borrowings are already at the limit.
We as fans also have to be careful what we wish for, it's not a case of simply anyone coming in. The model and the finance structure needs to be right. The football landscape is different now, you're competing with country's that have superpowers of wealth, rather than relying on the clubs own revenue streams; but the danger from these models can be highlighted by the Chelsea forced sale.
The off-field sale could be the biggest transfer in the clubs history and it can't come too soon.
Ivan: It would make a nice change to have owners putting money into the club rather than out of it. New ownership is vital for United.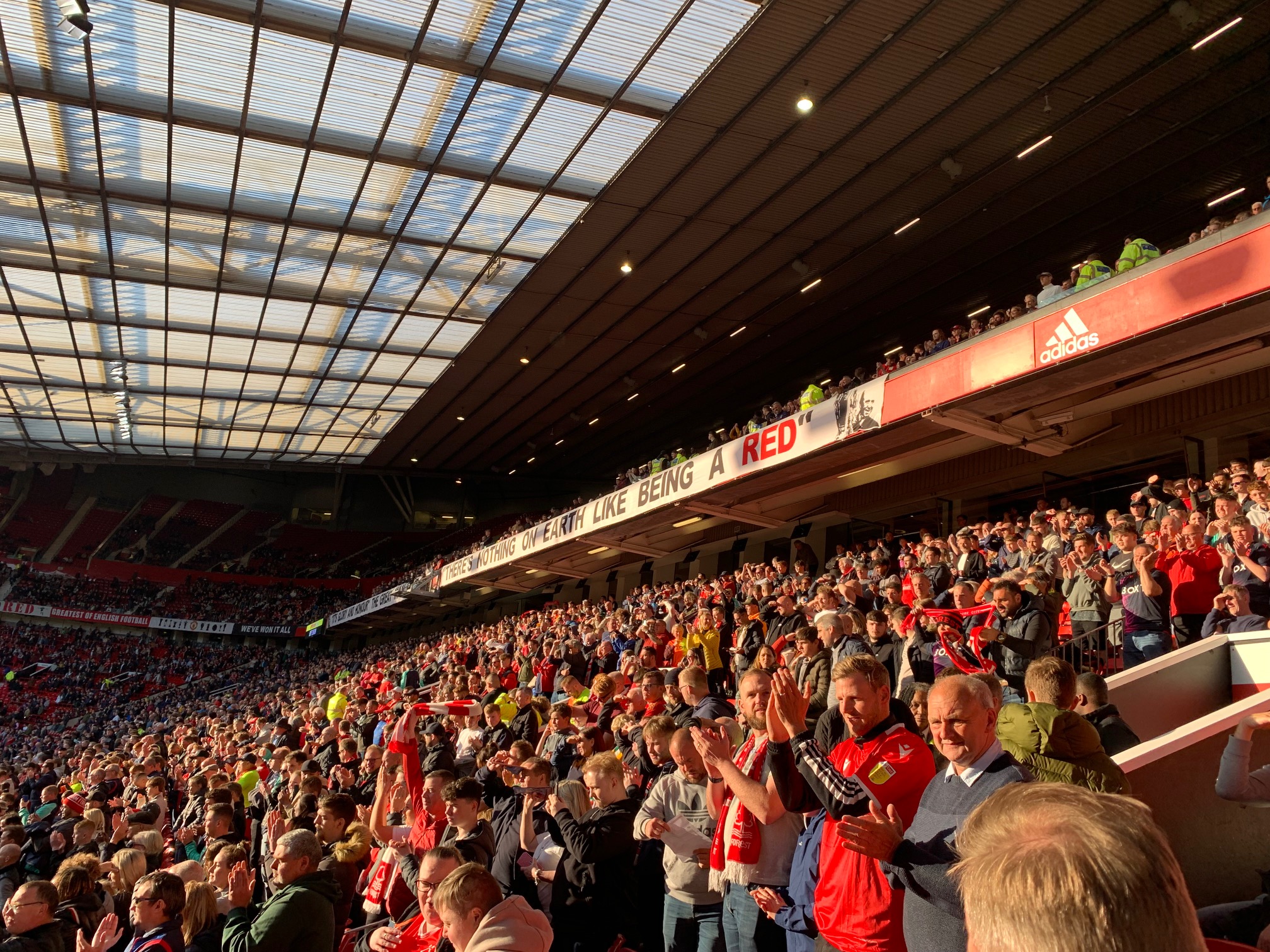 This fixture was shifted away from Boxing Day for television. It is painful given how many of your matches are moved for TV, or are you used to it by now?
Ivan: It's become normal at MUFC and has been since the Premier League was first introduced. Whether we agree or not, Sky and the broadcasters call the shots.
Andrew: Saturday at 3pm used to be the norm, now it's the exception (we havent have one Sat home 3pm game so far this season). It's a given that any cup game will end up on TV and with the Europa league schedule we know Sundays are now the new Saturdays.
No Boxing Day game isn't good for those who like tradition, but with the World Cup falling mid-season, it's been a weird season already.
The worst thing is planning, and fans come second once again. TV games schedules get later and later and what cheap train deals there are, often don't fit in with the last-minute arrangements.
As I write this, we don't even know what day we play City on January, never mind what time!
Question to Ivan only: Being a Nottinghamshire based United fan, how did your affinity with them begin and what's the best thing about following United?
 Ivan: As I always say, you don't need to come from Tupelo to know Elvis was a good thing.
As a small boy in the 50s I began to see some limited football being shown on TV. It was pre-Munich (disaster) and I found myself with a choice between United and Wolves, but it was a no-brainer… It was the (Busby) Babes all the way.  The first ever match I attended though was Forest against Portsmouth in 1959 at the City Ground.
The best thing about being a United fan is knowing you're not arrogant, you're just better.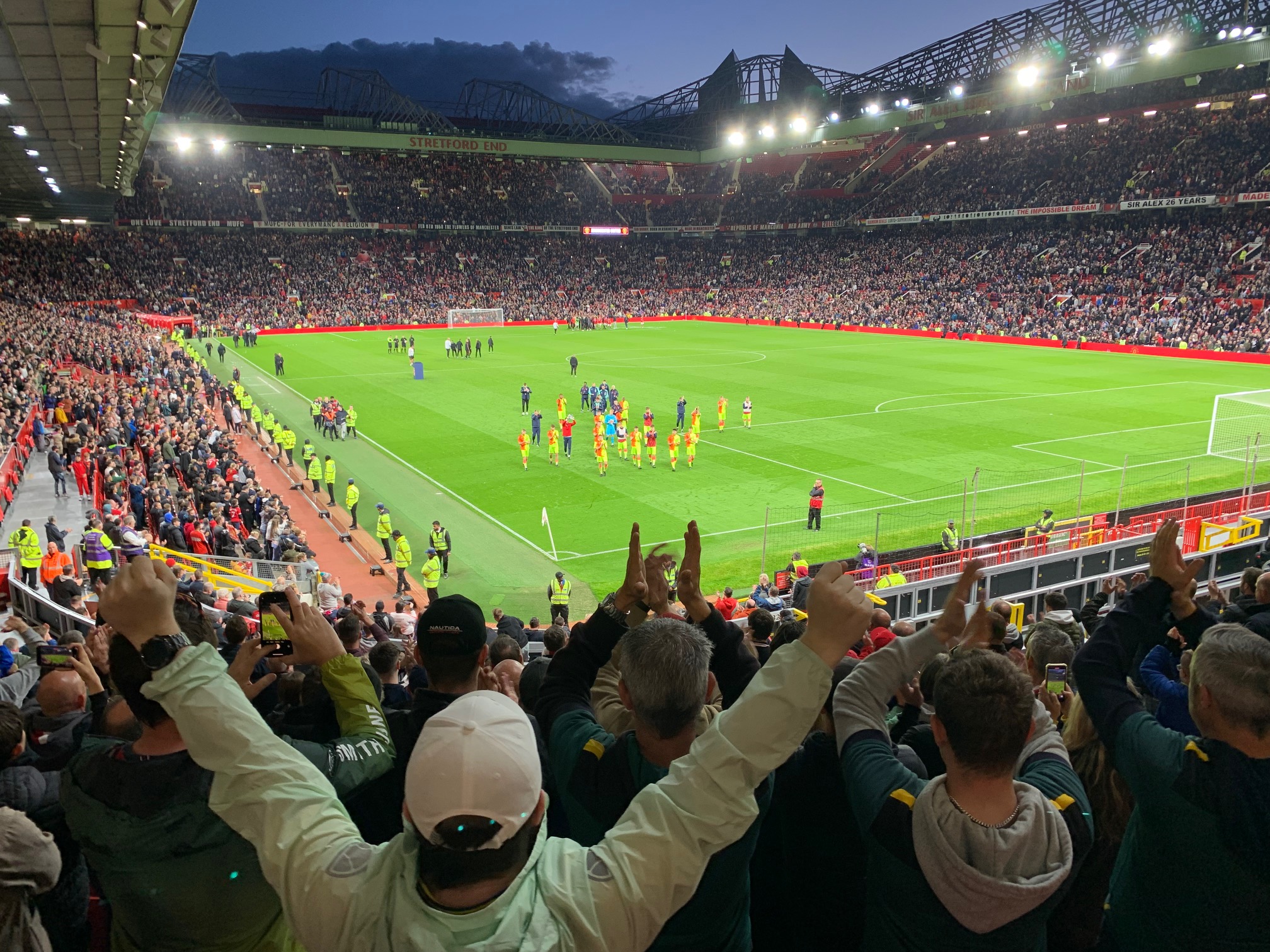 Is there anywhere around Old Trafford you could suggest Forest fans will be welcome for a drink before the game?
Andrew: The City Centre has a lot of bars obviously, but Salford Quays seems to be the place a lot of away fans have headed too this season. There are a few decent bars there and they welcome away fans. There's nothing else really near to Old Trafford these days, certainly not any that are fan friendly. The Quays are easy to get too via tram from the City Centre.
Any parking suggestions given there isn't a train back to Nottingham after the game?
Andrew: There's a few free parking park and ride tram stops, or even park at the Trafford Centre and get the tram in, with a new tram stop 2 mins walk from Old Trafford.
Ivan: I often use Trafford Park, Jct 9 of the M60. Try near the freight terminal and you might find something.
The last train back to Nottingham departs at 22:28 from Oxford Road. Is there any hope in hell we could make this or is just too far?
Andrew: It would be a rush to get back to the station if you leave at full time but it's doable as its only 5 minutes in a cab. Your best bet is to leave slightly early and grab a taxi on Chester Road. Grabbing a taxi at full time will be a challenge.
Just be wary of any planned trained strikes.
Question to Andrew only: Tell us about your work as Stretford End Flags.
Stretford End Flags was set up to initially coordinate the banners that you see on the Stretford End. These banners now adjourn all of the Old Trafford tiers. When we first put them in place, no other club had anything similar. All designs come from the fans, and we collect fan donations to fund them. At a time when clubs look to exploit advertising revenue, it's a privilege to have these tiers for our banners and they are now part of the fabric of Old Trafford.
As a group we have looked to improve the atmosphere at Old Trafford. We've done crowd mosaics for the big European semi-finals and finals, as well as for players testimonials.
We have also worked with the club and other fans groups to improve the atmosphere inside the stadium and to gather core singers together.  This has now been carried forward by the Red Army (TRA) who have created a section of core singers, almost like an away end above the players' tunnel.
We have campaigned for rail seats and it's great to see these now being installed at Old Trafford, you'll notice the entire away end is now rail seats, with the area being completed during the World Cup break. Most stadiums home atmosphere is never as good as the away end, and we hope to see more younger fans become involved in creating an atmosphere and for the whole Stretford End to be singing in unison as one.
Thanks to Andrew and to Ivan for their help with the Q&A.
See you in Manchester.
You Reds.