FOREST AWAY: Middlesbrough, Monday 2nd March
These games only get bigger and more important. For a team that has developed a nasty habit of careering off the rails when optimism it at its peak, the task in Middlesbrough is simple. Win. (Albeit a draw would hardly be a disaster).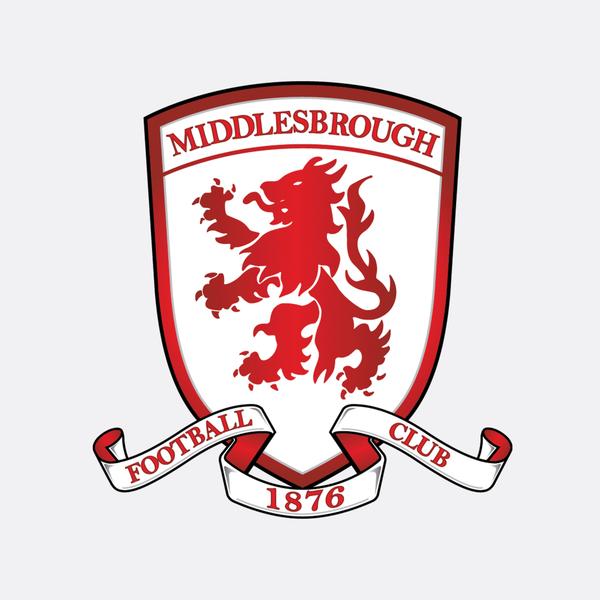 The top two is a stretch but still in our grasp if we can string some victories together. There is also a developing opportunity to cement our top six berth. Our competitors continue to slip up and any sort of consistency will be enough to steer us in to the play-offs.
We find ourselves in a peculiar position of playing twice before most will play again. It places an emphasis on the game at the Riverside and Friday's match against Millwall. There is a fair old way to go yet before we think too hard about where we might finish up but these two fixtures may well be the best indicator yet what we are capable of.
It is a shame that any sort of potential success has to come hand in hand with a fixture list demolished by Sky Sports. I won't go in chapter and verse right now but a midweek game at Cardiff (on TV but not moved by Sky) followed by a Monday at Boro and then a Friday game at home to Millwall is tough.
It smacks of naivety to say this but I do hope that someone, whether it's at the Football League, Sky Sports or even within Nottingham Forest, look at these three fixtures and just give a flicker of recognition that ordinary football supporters are going to a lot of effort to follow their team. And that maybe, just maybe, the disruption such drastic rescheduling creates isn't really fair. More than ever it feels like we are very much an afterthought.
No doubt many of the 782 that travelled to Cardiff will show up in Middlesbrough too. And hopefully they will do us proud once again.
TRAVEL
TRAIN: I've not looked at this too hard because, well, it's pretty pointless but it would appear that the last recognised train back to Nottingham departs two minutes after kick-off. Otherwise if train is your only option and you are determined to see the game then get set for a glorious night on the platform at York.
There are plenty of services to get to the game, usually with 2-3 changes, and a standard off peak return will cost around £90.00.
The rail station is no more than a 10-15 min walk to the ground.
ROAD: Surely the modus operandi for almost everyone. It's not really too bad a drive up from Nottingham with the A19 / A66 probably the best route in off the A1(M). You'll head in on a raised dual carriageway where eventually the ground will come into view on the left. Around this time you'll take the exit down and be looking for somewhere to leave the car.
There is, I believe, some parking available at the ground while around the town centre a short walk away there is some other car parks which I don't recall being particularly expensive. But by far your best best it to use the France Street Car Park (TS4 2AP). It sits just off the A66 and is next to the big Cineworld.
The car park is free to use after 6pm (free all day at weekends for future reference) so you may have to pay if arriving before this time but it's only around £1.50 for two hours. Just make sure you don't park in the parking areas reserved for the leisure centre / gym.
It's situated right between the stadium and the town centre, both less than 5 mins walk. For the stadium use the subway under the dual carriageway. After the game there will be a bit of a scramble to get out but it's usually pretty simple to get back onto the A66 and away.
PUBS
Unlike most of the identikit stadiums, Boro's is based only just outside of town so there is no trek to some retail park / wasteland. Although it looks identical to Pride Park, the Riverside sits nicely on the very edge of Middlesbrough and doesn't compete with Greggs and JJB for the premier reason to visit the area.
The town has a few decent places to try although most will head to Doc Brown's which you'll see as you drive into the France Street Car Park. This is the main away pub and is only a short walk from the Riverside (via the aforementioned subway).
Across from Doc Browns is a strange building called La Pharmacie. As part of this is the Medicine Bar which welcomes both home and away fans.
Further down the main street (Corporation Road) into town is the Pig Iron which is usually dominated by home fans but having been in numerous times we've never had any issues. Around the corner from there is a Baracuda.
We spoke to Boro fan Danny Graham who gives us some local insight…
1. I've kept a bit of an eye on Boro this season. First up I've always admired how by and large you stick with managers and the Woodgate appointment was intriguing. At most other clubs in this league it's a distinct possibility he would have been dismissed by now (more to do with their issues with patience rather than Woodgate himself).
How is it going under his stewardships and does Woodgate still have the supporters on side?
Wasn't everyone's first choice, but said all the correct things in interviews, seems he had been given very little money to previous managers and told to use more of the younger lads in academy.
You could see how he wanted to play and how he wanted to make it more enjoyable to watch, but results never went our way. Fans stuck by as you could see the style changing, and knew wins would come, more youngsters got add due to injuries and suspensions and we picked up a fair few points playing good football.
But then January transfers started, the squad got bigger,  injured players came back, he had more to choose from and since then results and performance dropped. Poor results in the last 3 games and fans are slowly turning against him.
I believe give him time, which we know the Chairman Mr Gibson will, and we will be okay but far better next season.
2. At this point what reflects a good season for Boro? I just admit I didn't realise you were so close to the relegation spots. Is going down a genuine concern?
Wasn't at all till the last two results made us start looking over our shoulder a bit again but with The Championship this year especially anyone can beat anyone. A few points, a good run of games and your away from it. So I think anywhere above 15th is acceptable/good for his first season.
Edit: Since asking the questions and having them answered Boro are now inside the relegation zone albeit  with the game against Forest as a game in hand. I received a follow up e-mail after the defeat to Leeds from Danny which simply read:
"Really in the shit now after last night".
3. And how is our old striker Britt Assombalonga getting on? He doesn't seem to be starting many games.
It's been a poor season for him. Woodgate had him as "my number 9" at the start of season but he suffered with injuries and Fletcher came in and has held that position in the team. After Britt came I think he looks lazy and disinterested.
Fletcher looks the better Number 9 in my opinion.
4. This one being moved to a Monday night is a right old pain for the travelling Forest supporters. We are away at Cardiff on the Tuesday before too and are currently in the middle of a run of 5 games out of 7 being on TV. 
In your opinion is there a disregard for football fans when it comes to TV scheduling or is it simply an important part of the game these days we must accept?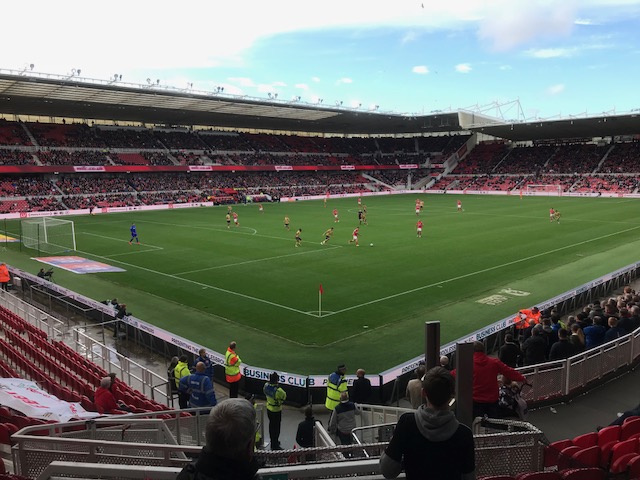 I feel massively for you boys and girls. Any night game away for TV is a killer but so many games on TV is even more so.
It's proven attendance are always lower because the walk up crowds stay away. I think TV scheduling has no thought whatsoever for the fans that are the heart to football and I think it's a massive point the EFL and Premier League have to look at.
5. A lot of away fans tend to congregate at Doc Browns. Is there anywhere else you would recommend for a pre-match drink?
Doc Browns is decent, I use the North Ormesby working men's club. It's always full of Boro and travelling fans. It also has parking which is free.
All welcome and it's an easy walk to the ground. Home to Glen Duzza as well. (Edit: I used Google – Glen Durrant, Middlesbrough born darts player).
Address: 66 Westbourne Grove, North Ormesby, Middlesbrough TS3 6EF
6. When we spoke last season you informed us about the Boro 'Red Faction' group. Being a relatively similar group to ourselves it's always interesting to hear about. Are they still making a positive impact and, on a similar theme, what's the mood like at games of late?
You have the Red Faction in the South Stand with the drum and a small group in the North Stand (Twe12thman). Both set of fans have been great this season, sticking with the team during a hard season.
Both sets trying hard to keep the fans heard and a positive feel for home games. Numbers at games ain't the best but fans are still trying to create an atmosphere.
7. Finally – what's your score prediction for this one?
Oo hard one. Depends on what team Woodgate goes with and also the after affect of Leeds at home (Boro lost 0-1), but I'll take 1-1 now.
Our thanks to Danny for taking the time to answer our questions.
See you at the Riverside.
Matt