FOREST AWAY: Norwich, Wednesday 26th December 2018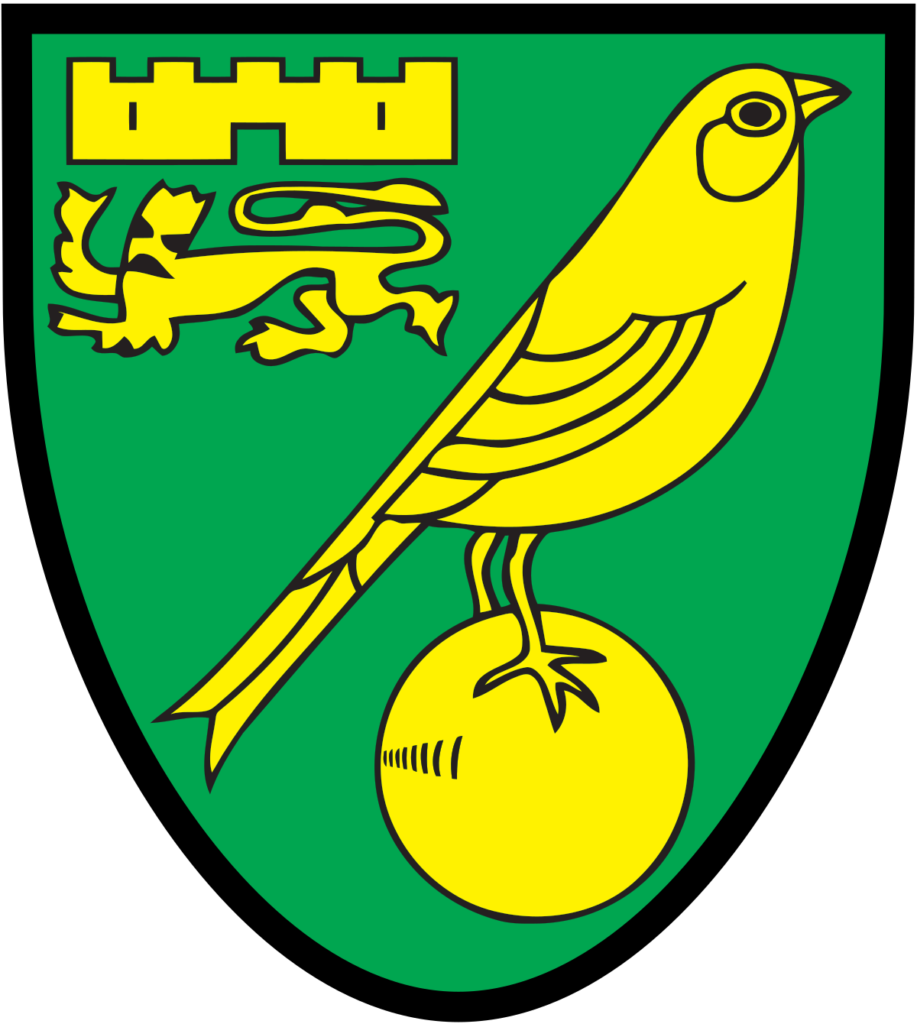 After what seemed a lengthy wait of 2.5 weeks between the Villa away to Derby away games, Forest begin a trio of tasty away fixtures over the festive period with a testing fixture at Carrow Road.
Norwich started the season slowly, but now sit an extremely healthy second; having not lost a league game since 6th October. Since Norwich defeated the Reds Trentside (2-1, 20th October), Norwich have played 10, winning 8. Daunting.
The Reds have not picked up a victory at Norwich since 2008; however, with a drastically improved away record, sitting in and around the play off mix at the half way point, and fresh memories of strong, solid displays away against the teams at the upper end of the championship, this fixture is arguably not the formality of recent years.
As of Wednesday, away tickets for the Reds faithful are on "Limited", however what this means is somewhat unclear with Forest returning some of the initial allocation.
After the extremely positive atmosphere generated by the Forest fans at Pride Park, hopefully this will continue on the terraces on Boxing Day.
Travel
TRAIN: Good luck on this one. To our knowledge it looks flat out impossible on Boxing Day to arrive on the usually regular Nottingham to Norwich line. A write off – which is a terrible shame given the proximity of the station to the ground and surrounding pubs etc.
CAR: Hopefully this will provide a relatively easy journey in comparison the nightmare that many of us endured getting home on a Tuesday night last season – with surely not much traffic on the A47.
If time permits there are a number of options in Norwich town centre – although be wary of potential Boxing Day shopping madness. The surrounding areas of Carrow Road are residents only – so some exploring further out may be required for parking.
Generally, Carrow Road is best accessible by train, and there appears little solid info re parking. Be wary of the shopping complex's near Carrow Road which are all time limited customer only. The official parking line is to take County Hall – although be extremely wary of the queues after the game, with around 2000 cars permitted. Having normally been by train we're a bit useless on this one and will hopefully pick up an unofficial car park not too far from the ground, or potentially one of the many city centre car parks.
Pubs:
The dedicated away pub seems to have changed from the Compleat Angler (opposite the station), to "Stadia" – which is about an extra 10 minutes walk up Prince of Wales Road. It is a dedicated sports pub and a safe option – leaving a 15-20 minute walk to the ground. There are a number of pubs in the Riverside complex on the way to the ground – although on last visiting some of these were home fans only.
For those wanting more of an explore, decent Norwich pre games before have included "The Mash Tun", "The Belgian Monk" and "The Rumsey Wells". A few could be ticked off in a short space of time – although it is worth considering this is Boxing Day so may be some issues with opening hours….There's also a few options mentioned below by our participant in the Q&A, which smoothly begins below…..
Q&A with Jon Punt – AlongComeNorwich
1. From memory, Norwich started this season slow – until you beat us 2-1 – then have been flying since. What happened, and, what kind of a performance can we expect today from you?
It's fair to say we started slowly. A draw at Birmingham when we could have easily lost, a defensive horror show against West Brom and a spanking at home to Leeds didn't exactly signal we were going to tear up the league. Yet we weren't playing badly, and the Leeds result seemed to be a catalyst for the team to come together and show some steel.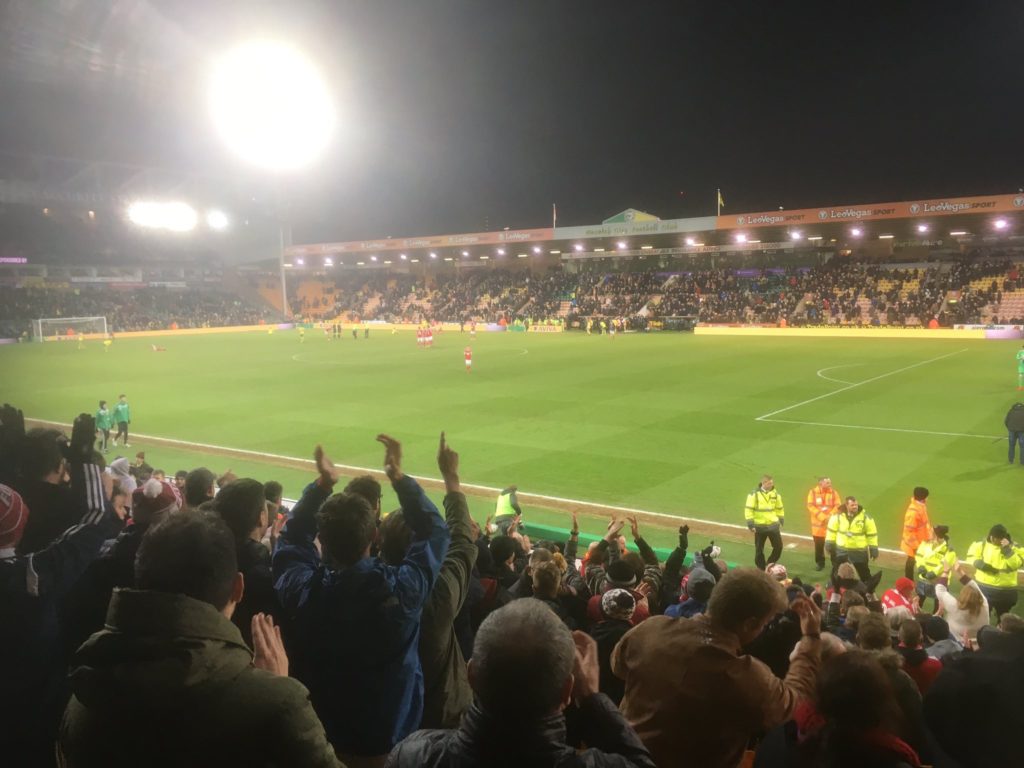 The reasons are difficult to pinpoint, but for me, here's the thrust of it. Moritz Leitner was being asked to play in an advanced role, which isn't really his game. Now he's playing in what you'd call the 'quarterback' role he can influence matches and often dictate pace, the range of passing on show is sublime. Leitner's move into this role freed up a spot for Marco Stiepermann to play in the hole as a number 10, which in turn meant we had a bit more physicality in attacking areas. Then there was the emergence of Max Aarons at right back, who made his league debut in the East Anglian derby. His runs, coupled with similar coming from fellow academy product Jamal Lewis on the left, have provided genuine width and pace.
Recently we've managed to grind out results, despite the absence of the aforementioned Leitner and centre back Timm Klose. They are now both close to a return so hopefully we'll be firing on all cylinders.
I'd expect City to try and dominate the ball, our attacking midfield trio will be intricate and narrow while our full backs will get forward. It's the blueprint that has served us fairly well so far.
2. What were the expectations for Norwich before the season, and, what represents success?
Had you asked me this question in August, I'd have said anything that represented progress (based on the fact we found ourselves 14th last term) would have been acceptable. I optimistically predicted 7th. That was more in hope than anything else, given that last season's stand out performer James Maddison swanned off to Leicester for £20 million plus, shortly after Josh Murphy also went for an eight figure fee.
The fact that Farke (and sporting director Stuart Webber) have moulded this squad into a cohesive unit, at the same time bringing a bit more attacking impetus and intelligence to our possession based style, is ridiculous. No-one in Norfolk saw this coming. And that's a bit of an issue now. None of us really know where we 'should' finish come May.
Any team residing in the top two in December should have serious ambitions of a tilt toward automatic promotion, but it would be very 'Norwich' to fall away with a whimper post Xmas. Success was a top 6 spot, yet now we have far loftier ambitions. Don't tell anyone though.
3. We're aware of the work of alongcomenorwich and Barclay End Norwich (for example the recent display vs Bolton) – can you explain what initiatives you have gone through since the beginning, and, how has it developed? How hard has it been to engage fans in this? Do you have any future goals?
Fan engagement wasn't really ever an issue, we kind of knew that we had like-minded people around us who wanted to see more colour in the stands. The problem was always getting the club on board. We had numerous meetings, conversations and obstacles thrown in our way. That has started to change. Success on the pitch clearly aids our cause, but the fact a number of fellow Canaries' fan groups have been vocal in their support, has really helped us.
We recently (against Rotherham) unveiled a banner including City's (and Forest's!) Justin Fashanu for rainbow laces day which was pretty much universally well received. At the moment we're also concentrating on getting 100s more smaller flags into the stands, as they seem to go down well with most people. Coupled with that, we've started the 'bring your scarf' initiative which you mentioned at the Bolton game. That pretty much means fans are asked to hold up their scarves during Norwich City's anthem (and the oldest football song still sung in grounds today) 'On the Ball City'. It's a really accessible way for everyone in the ground to join in, and not feel conscious they have to hold a flag or be particularly noisy for a full 90 minutes.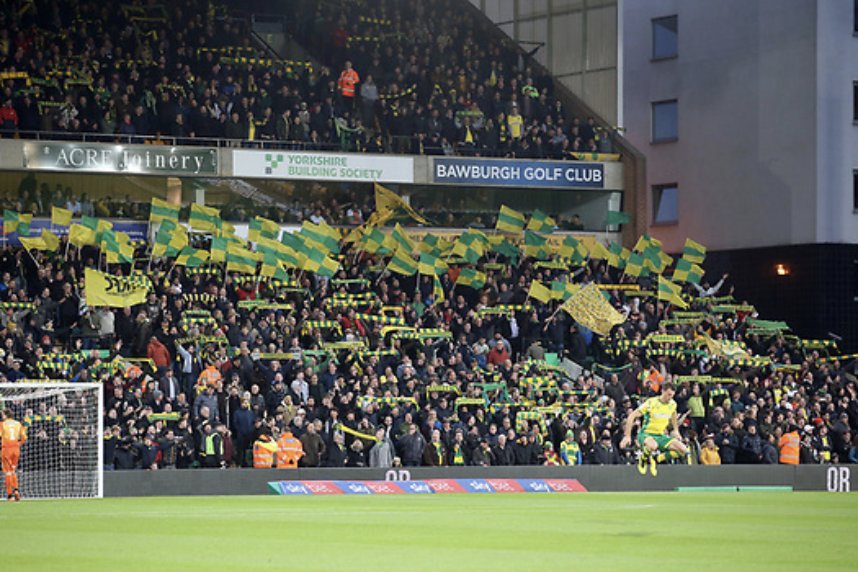 In terms of future goals, the long term aim is to have a hardcore of supporters congregated together in a rail seated area where they can safely stand and offer 90 minutes of vocal backing for the team, regardless of the result/events on the pitch. That might sound like a million miles away but the tide is turning, and Norwich are at the forefront of the conversation regarding safe standing. We were even invited by the club down to the Houses of Parliament to speak to Sports Minister Tracey Crouch (facilitated by our outgoing chairman Ed Balls) who was really receptive towards the ideas put forward. Wouldn't usually say this about a Tory, but it's a real shame she resigned.
4. Forest have not had much recent success at Carrow Road (5-1 and 3-1 spring to mind) – what's your prediction for today, and, what's an outsider view of NFFC?
I really like Forest, they seem to have struck a balance between celebrating their history while living in the here and now. Very much like our neighbours who just want to live in the past. We've also looked on at Forza Garibaldi's visual displays with a tinge of jealousy, you guys have done a fantastic job so far.
In terms of predictions – you have to think Lewis Grabban will score, because that's what he usually does against us. If all of the squad is fit and firing we're a tough challenge for anyone – let's say 2-1 to the Super Nodge.
5. One player who has linked the two of us is Grant Holt – so we have to ask – how have his recent wrestling exploits gone down?
Holty's recent exploits are bizarre to say the least, but people love him in these parts. Since retiring from the game he seems to be amusing himself with all sorts, be it a panel gameshow, playing local veterans football or stepping inside the ring. Guess it keeps him busy.
He also seems to be taking the wrestling fairly seriously, so good on him.
6. It's been a few years (does 20 count as a few??) since Forest were last in the top flight. You've been there somewhat more recent and both clubs have got ambitions to return in 2019. It always springs up the debate about whether the dream we chase is really the promised land we think it is.  In your opinion is is better at the top end of the championship winning games Tuesday Saturday on repeat, or being spanked in the Premiership most weeks looking forward to a 6 pointer with another lowly rival in 3 weeks time – Which is more fun?
Tricky one. It's definitely more fun being at the right end of a league, of that there is no doubt. In fact one of my favourite recent memories is actually the League One campaign where we romped to the title.
Yet there's something great about seeing your team go up against the country's biggest teams, and when you inevitably beat at least one of them it really raises the roof. So it's great for a season, then it becomes a little bit depressing knowing that the best you can really hope for is a 10th placed finish.
For me it comes down to what you'll remember a few years down the line. Winning the play off final at Wembley, securing promotions with exciting, free flowing football and having players you can buy into are things you just can't replace. You just don't get that in the Premier League. Yet the financial necessity for a self funding club like Norwich is that we need promotion, or we have to sell off our best and brightest. If we can continue the good work we're doing right now, in terms of investing in our academy, playing an attractive style and not spending the earth on imported players then regardless of the league we're in I'll be content.
7. Norwich brought in the lesser known Farke and have stuck with it – what were fans views at the time, and have they changed now?
Fans were definitely ready to buy into the new philosophy following his arrival. We sold many German themed t-shirts with Farke's face front and centre. There was an acceptance that things needed an overhaul, and it wasn't just Farke's appointment really. We'd brought in a sporting director (Stuart Webber), which is the first time we've gone down that route. He seems to have the midas touch, much of the recruitment has been inspired and he's trimmed out most of the old dead wood.
However, the results and performances were, to put it nicely, a bit stodgy last season. There were signs that our possession based game could work, but it was all a bit sporadic. Plenty were calling for the head coach's head to roll. Luckily the board exercised patience. Everyone is on board now, although it would be hard not to be. The football can be exquisite to watch at times and you feel there's more progression to come.
8. For the Forest fans there in good time, can you recommend any pubs, and / or parking tips?
Avoid County Hall car park if you can – it's expensive and you will get stuck in a massive queue to get out post match. In terms of pubs, Norwich is blessed with so many good places to drink before a game. The Fat Cat and Canary will offer a decent range of food and different beers, as will the Coach and Horses. Both are near the ground. The Kings Arms and Rose Tavern also offer similar, you won't go wrong with any of those and they're all fairly friendly places and should welcome travelling fans.
Harry