FOREST AWAY: Peterborough, Saturday 23rd April (3pm!) – Fan Guide
Luton brought doubt. Are we 'really' as good a team as we thought? After all, if Luton can shut us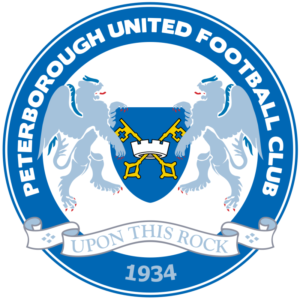 down as effectively as they did in that first half, surely other teams will take meticulous notes and pass them around the Championship classroom. This wasn't in the script. We were supposed to win at Luton and then continue our hunting down of AFC Bournemouth. Things didn't feel quite broken, just doubtful.
But then again, despite a poor first half, Grabban still managed to force an excellent save from the Luton keeper and we created enough chances in the second half to earn a point. It took a day or two to realise, but it really wasn't that bad.
As the football cliches playbook tells us in bold and underlined, it is how a team reacts to a setback that is the true measure of it. The performance against WBA alleviated those doubts. We can all breathe easily again. We are a good team. That doesn't mean we will win every game, but it does mean we will continue to win more games than not, which is nice.
Posh had a fantastic Easter weekend, beating both Blackburn and Barnsley. They now have a fighting chance of staying up. It won't be easy. It probably won't be April 1994 all over again when we came from two goals down to win 3-2 and secure promotion to the Premier League. Although if we do win after going two goals down, we will all lose our collective minds and probably start climbing the floodlights again like in 1994.
Travel
TRAINS: Peterborough is on the East coast mainline so is easily accessible from Nottingham via Grantham. Most services take just over an hour and are direct but do be aware that some of these require a stop at Grantham and a change, making the journey time an hour and 45 minutes. An adult open return is £27.80.
A method of saving a bit of cash is to obtain a group saver ticket. These are readily available although it seems mainly at the station in person. If travelling in a group of 3 or 4 (or multiples of that) a group saver will get a third off the standard price. As long as you travel on the East Midlands Railway services and all stay together as a group for both legs of the journey, you can get any train which is likely preferable than the advances singles which tie you to a specific train.
Direct trains as follows (some services change at Grantham and are not listed below):
08:36 > 09:36
09:39 > 10:39
10:34 > 11:39
11:33 > 12:41
12:34 > 13:37
Fifteen of us, having taken up the group save offer, are aboard the 08:36 and have paid £18.35 each.
Direct return trains as follows (some services change at Grantham and are not listed below):
17:25 > 18:31
18:28 > 19:31
19:28 > 20:35
ROAD: Again, relatively straightforward. Head along the A52 towards Grantham then head south down the A1. Or head across country through the rolling hills of Melton Mowbray, Oakham and Stamford before hitting the A1. You can either take the A47 towards Peterborough or go down another junction and take the A1139 – there's not much in it, although the A47 route means you will go through town on a Saturday and hit shopping traffic.
The ground is signposted. Either way, navigate a series of dual carriageways and roundabouts to get there. The postcode is PE2 8AL.
PARKING: There is a large council pay & display car park just off London Road (turn right at the traffic lights after crossing the bridge over the River Nene, from the city centre and it is immediately on the right). You can pay with cash, card, PaybyPhone app or paybyphone.co.uk (location number 803302). It costs £4 to park there for the day and is called Pleasure Fair Meadows, postcode PE2 9PB.
Another option is to park in the big multi-storey car park at the Queensgate shopping centre, just opposite the train station. Each hour costs £1 (up to 8 hours). The postcode is PE1 1NT.
A full list of parking options in Peterborough is here: https://www.peterborough.gov.uk/residents/parking/car-park-locations
Whatever you decide to do, heed the words of our Posh fan: 'I would advise you to park early. Parking is either expensive or far away, or both. Queensgate may be the easiest for away fans, but it will fill up quick.'
Pubs
The traditional away pub is Charters Bar: a barge on the river a short walk from the ground on
the way from the centre of town with a range of good ales. If it's a nice day, most take their drinks onto the riverbank. It opens at 10:30am and is likely to be a good place for everyone to meet if the weather holds.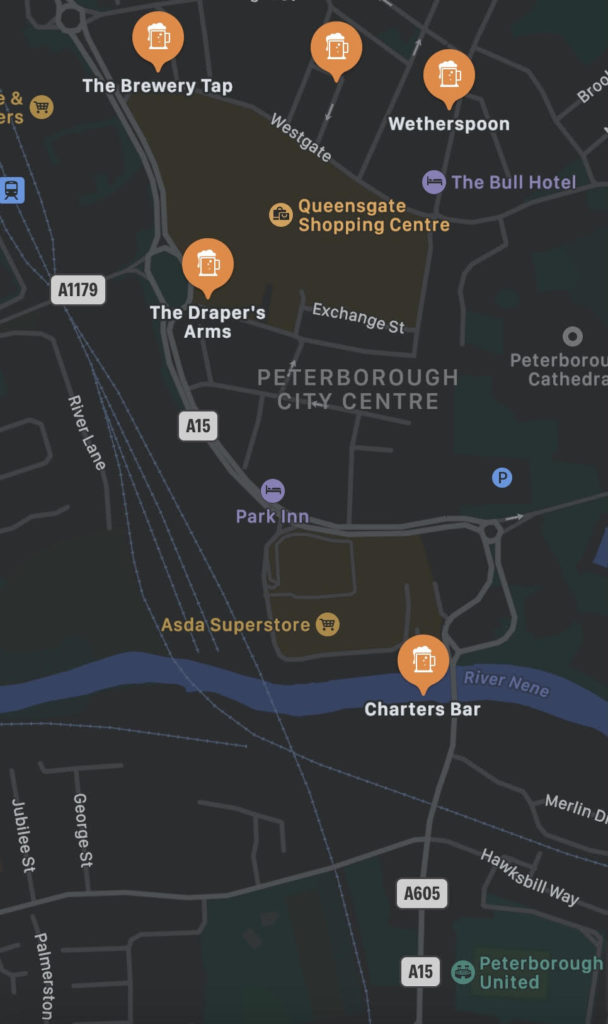 Since the ground is so close to the centre and a short walk from the train station, there are lots of alternatives. The Brewery Tap is a short hop from the train station and despite it being a Thai restaurant too, is great for ales. The Stoneworks
on Church Street is a craft beer bar which is highly recommended. The Queen's Head is just opposite it too, which has a small outdoor terrace on the 1st floor.
There is a large Weatherspoons pub on Cowgate (The Draper's Arms) between the train station and the centre of town.
The Palmerston Arms on Oundel Road is also away fan friendly. Take a right out of the Pleasure Fair Meadows car park, under the railway line and keep walking for a short while. You will go past the now closed Cherry Tree pub on your right. The Palmerston Arms is on your right.
Police have also advised us that the Sir Henry Royce and Cross Keys pubs will also welcome away supporters. The latter is a good stop for coach parking although pre-booking in advance is advised.
The above map (showing the train station top left) gives some idea of the proximity to certain pubs and the ground.
Q&A WITH DANIEL OF THE YELLOW BLOCK PODCAST.
A trip to London Road is always regarded very fondly by Forest fans since it is the site of a dramatic game in which we sealed promotion back to the Premier League at the first time of asking on 30 April 1994. Does this game mean anything at all to Posh fans?
I don't think the fixture means much in terms of any kind of rivalry no, there may be some animosity due to how close our two teams are relevant to the rest of the league, but ultimately, we're teams that haven't met much in the last twenty years. However, this particular occasion means everything to us. We need to win all three of our final games, while results elsewhere can put us down regardless. Expect a hostile atmosphere come gameday.
This is one of the few games for us which hasn't been moved back or forward to TV. What has been your experience of rearrangements for tv this season because frankly, it's been a right pain in the backside for us this season.
The TV schedule for games has been irritating to season ticket holders, the game that immediately springs to mind is the West Brom game towards the start of the season, which was moved to a Saturday night game, much to the protest of our fans. But in my opinion, I'm happy for games to be moved if they need to be because in the end, the TV money is incredibly beneficial to a club of our size.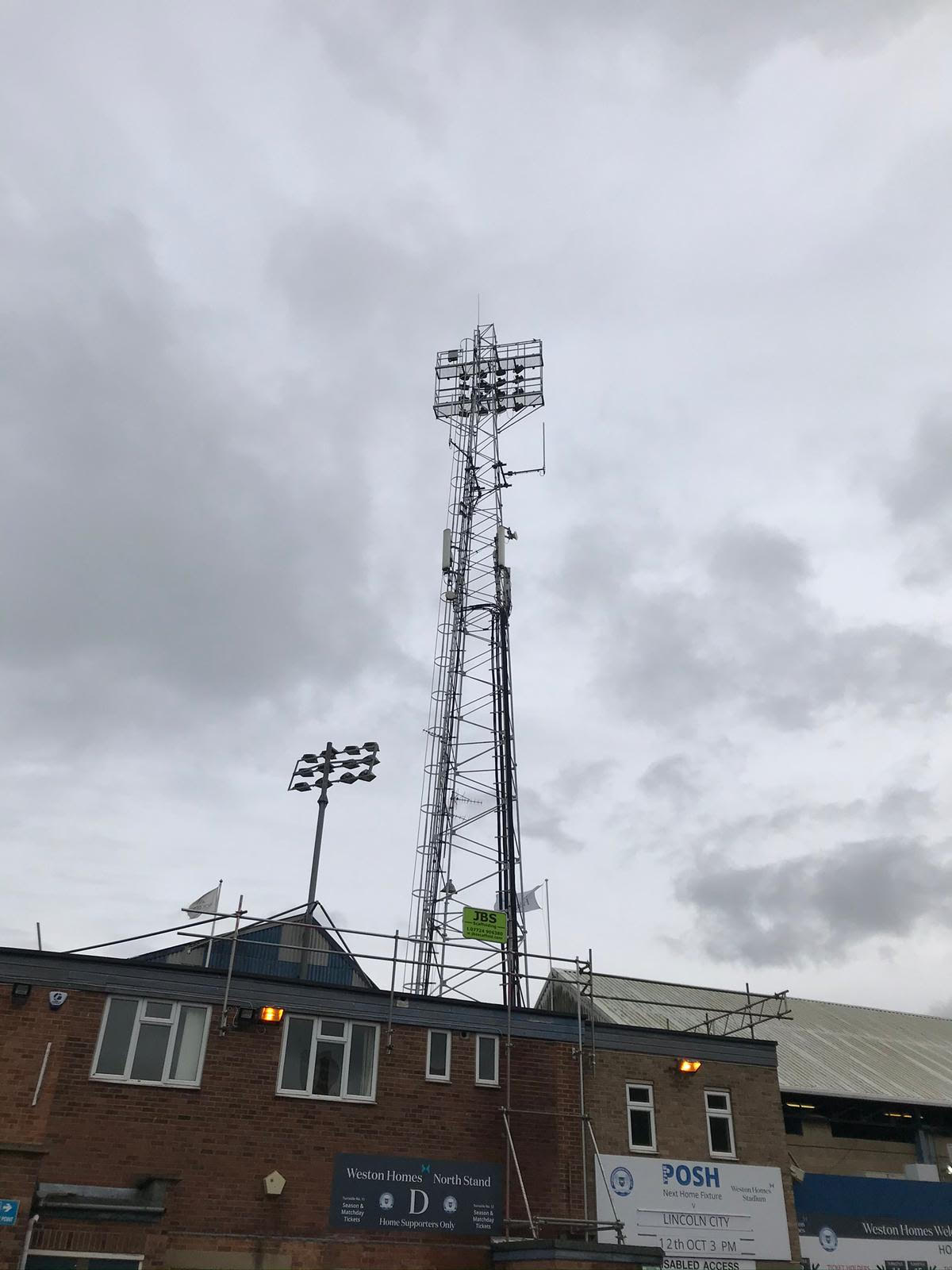 Grant McCann looks like a fine appointment from the outside: he knows the club/area and enjoyed a degree of success with Hull in gaining promotion from League One and seemed to be on the way to mid table in the Championship. Obviously, it must have been a wrench to see Ferguson leave (again), but is there now more optimism about things?
I think that the situation with Fergie really divided the fan base, half of us wanting him to stay for his experience of getting out of league one, but the other half of us desperately campaigning for some change. In the end I think McCann gives us the best of both worlds. His experience with Hull last year ticks the first box, and his changes to our form have given most of us a lot of hope for the future.
It is ultimately a very Peterborough friendly appointment, by which I mean we always go back to the old familiar, but in the early stages, it seems to be the right one.
Peterborough has always been a tight run ship in terms of Profit and Sustainability rules under Darragh McAnthony. His model seems to work or, at least, that appears to be the case from the outside. After all, it is increasingly impossible to compete with clubs which benefit from eye-watering parachute payment. Is that a fair assessment or can it be a little frustrating bouncing between the two leagues?
Dmac has come under a lot of scrutiny this year from the fan base for sticking to the recruitment plan regardless of league and situation, and while that's frustrating, it is ultimately in our best interests.
We've consistently bought young and cheap and sold for incredible profits. Without that method of recruitment, I think we would have struggled much more than we have over the last few years, and we certainly wouldn't be planning to build a new stadium.
About that, how are plans for the new ground coming along? Any firm dates for construction to commence? And in the meantime, is it true there are plans to install rail-seating on the London Road end terrace?
At the moment, we're not too sure about what's happening with the new ground. Obviously with COVID and protests, there have been delays, but I'm sure we'll have a tangible update during the summer, when we know how we need to plan for next season.
The railing system has been confirmed and the club have made it clear that they will be able to install the same system within the new ground after completion. This means we can keep our standing terrace, something I think is very important to the fans.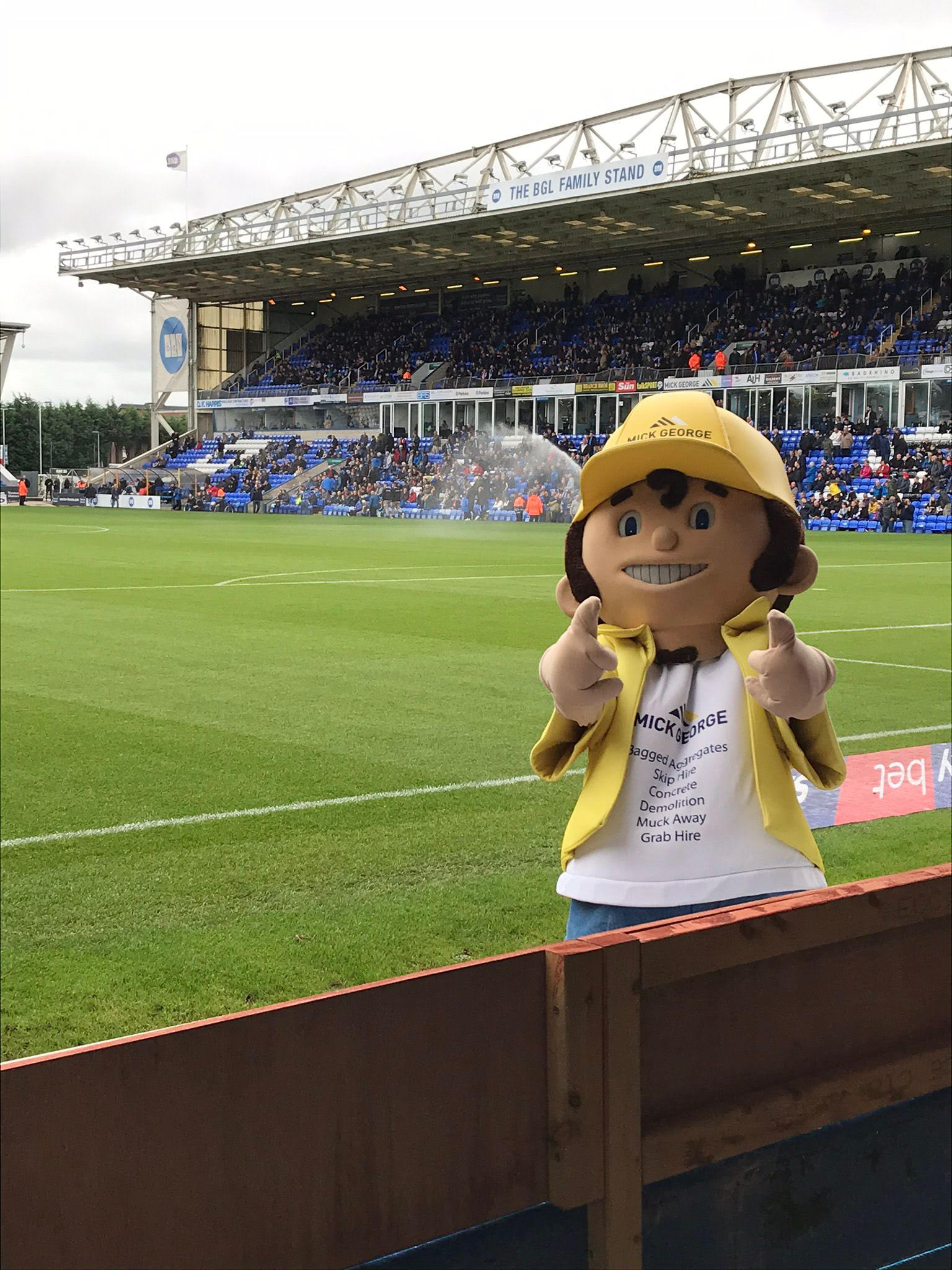 Is there still the 'kick the ball into the skip' at half-time?
Yes, the tinpot skip challenge will be making an appearance.
Fantastic. How is Jorge Grant doing? We always quite liked what we saw of him when he was with us.
Jorge has struggled at times this season, one of the key reasons is his lack of a consistent run in the starting 11. He's put some good shifts in at times, but I know we haven't seen the best of him this season.
For those coming by road, any tips on where to park? (Is the Queensgate Centre the best bet?)
If you are driving, I would advise you to park early. Parking is either expensive or far away, or both. Queensgate may be the easiest for away fans, but it will fill up quick.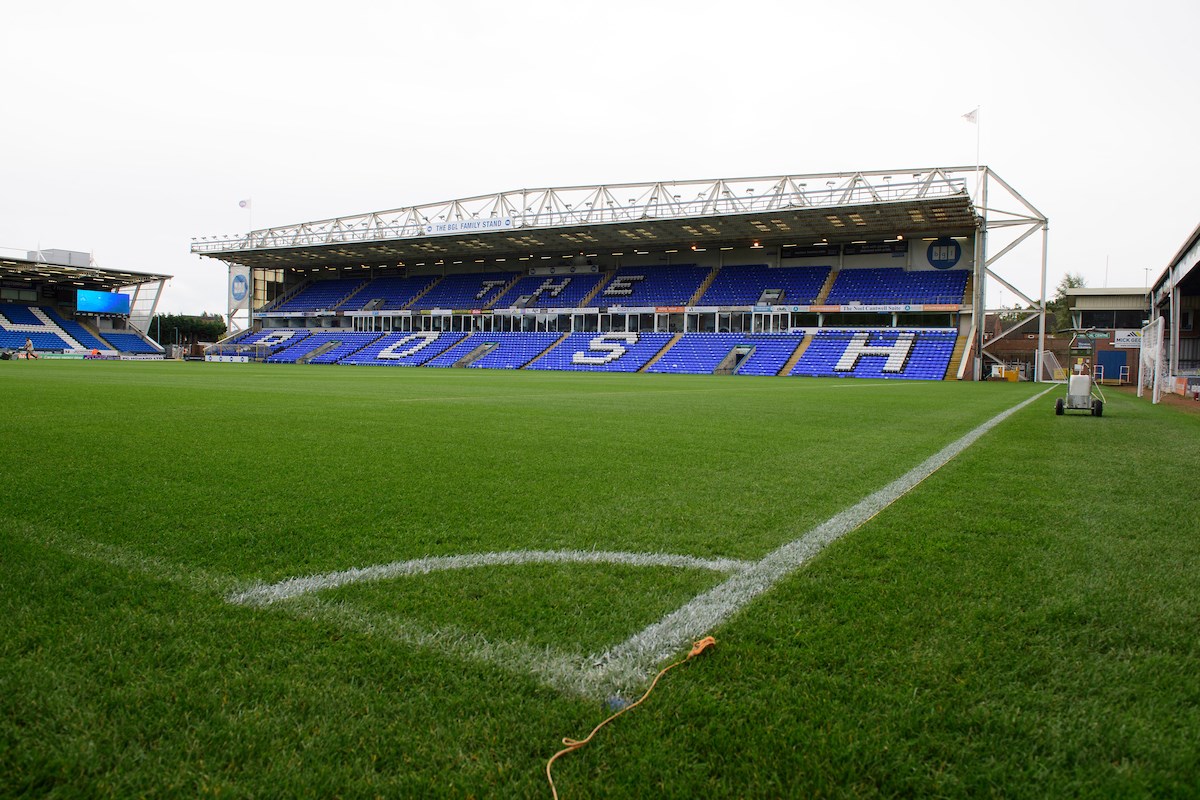 Is Charters Bar still the designated away pub? Or can you recommend any other away friendly pubs?
Charters is probably the best bet for pint before the game, you can try your luck in town, however with the volume expected to turn up on Saturday, I would imagine many bars would turn you away.
Can you stay up?
Never say never! There's a very slim chance, and we need a lot of help, I think if we can get through this game with a win and Reading drop points, then I would say we've beat the worst and our chance is as good as anybody's.
In the end though, we'll have to see what the scoreboard says at 5pm.
You can catch us on all podcast providers, and on Twitter @TheYellowBlock.
A huge thank you to Daniel for his information and insight.
David