FOREST AWAY: Reading, Saturday 20th November – Fan Guide
Reading is hardly the sexiest of away games. And no doubt those who were there for the last game when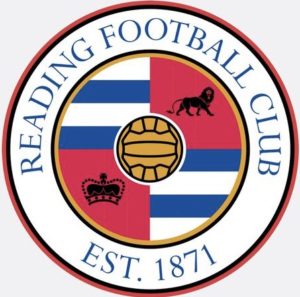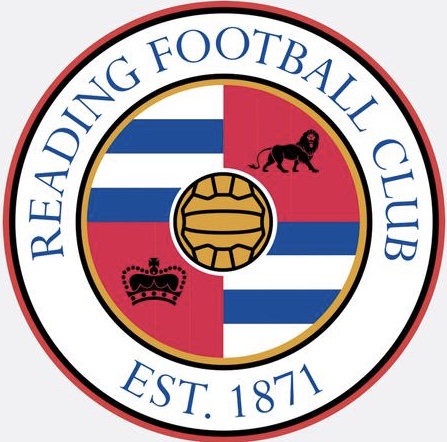 we were allowed in are probably not fully recovered from the emotional trauma of that final minute in added time.
Yet a trip to Reading suddenly seems rather appealing at the thought of those orange and yellow Stabilo shirts marauding forward with gay abandon.
***
TRAVEL
Train: It seems a rare occurrence these days that a train trip is very much a goer. This one is certainly do-able but it's another pain. Options are generally via London, Birmingham or Derby. The latter options are a little longer at around 3.5 hours but probably a bit more straightforward with just one the change. A standard return is £86.80. At the u23 game at Kimberley on Tuesday night somebody mentioned by splitting the journey up into four journeys and acquiring each leg separately you can save around £20. So you might deem it worth a bit of a play around to see what works out cheapest.
Reading station is at least a couple of miles from the stadium. Regular shuttle buses run from the station, use the 50A Greenwave Park & Ride which should get you to the ground quite quickly nothwithstanding the usual match traffic. After the game you'll likely hang about a little waiting for the buses to get running back to town but there will be plenty lined up waiting.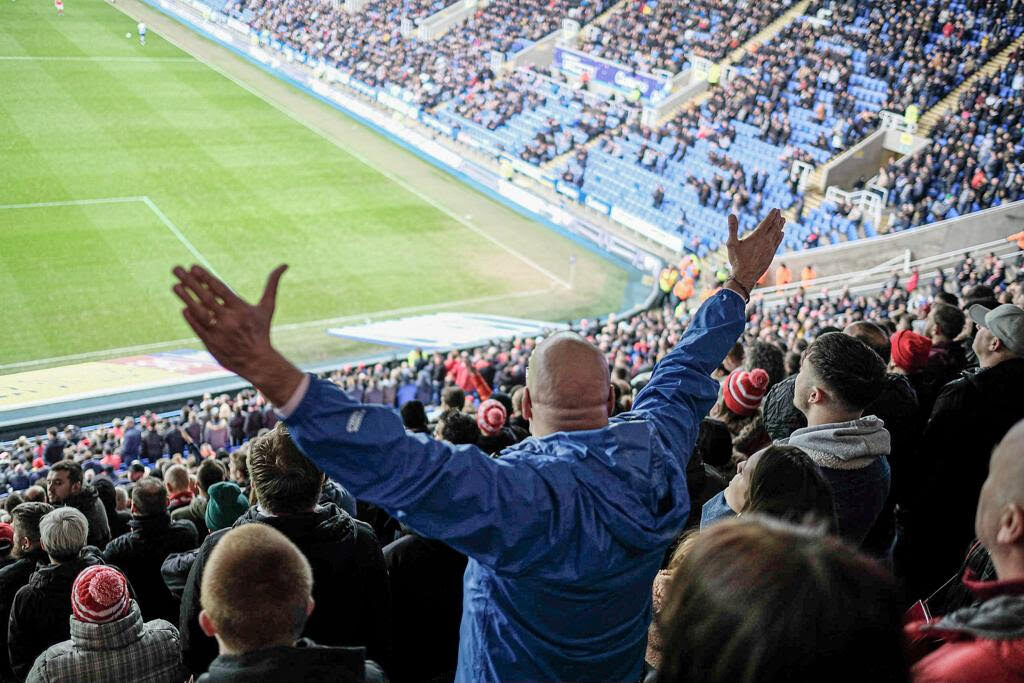 Road: I'm not sure there is a definitive way to get to Reading from Nottingham. Probably M1 / A43 at Northampton and then M40 seems the obvious way and will take you most of the way there.
The Reading website offers some solutions for parking, either close to the stadium or via a park & ride service. There is also an industrial estate directly across the road which has various paid parking places. But I reckon I have some better advice, especially for those who are able to arrive a touch earlier.
A 10/15 minute walk away is some free street parking – head to Spencer Road (RG2 8TP) which takes you into a bit of a housing estate. I've used it a few times in the past and always been able to find something, albeit I've not turned up at half hour before the game. After 2pm you might start to struggle. Another advantage of this is when you walk to the stadium you'll see the rather delightful Deep Blue chip shop which is worth a go. Just please keep in mind it's been a little while since our last game at Reading and things change – it's possible that some parking restrictions are in place around here now but hopefully not.
I would also have recommended a visit to The Swan on Basingstoke Road for a pint before the game but a quick check seems to suggest it has closed. A real shame if so as it was by far the best place I'd visited before a game at Reading and had the added bonus of generally being okay to leave your car for the duration. From memory, there was some street parking around there too so might still be worth a look; maybe there's another pub down there somewhere albeit don't go too far as The Swan is around a 20 minute walk to the stadium.
There is a little bit more on parking from our Reading fan below.
PUBS
Given the apparent closure of The Swan I'm struggling to offer you anything on a par. The official Reading website suggests that there are no pubs to welcome away fans and to head straight to the ground where there is a fanzone or alcohol available on the concourse. What a bag of crap that is.
The Holiday Inn used to be the designated away pub but has apparently now stopped welcoming football fans (might still be worth a look), or further down the road is the World Turned Upside Down, a carvery pub which is a good 15-20 mins or so from the stadium. If you are looking for a fairly reliable option then this is probably the one. A little bit further along still is Trooper Potts. Both pretty unremarkable but given the lack of options might be among the better choices. Both of these are fairly close to the aforementioned Spencer Road parking spot.
A final possibility might be the area of Shinfield area, there is a apparently 1-2 places around there including the Shinfield Arms. Never visited myself and it does look quite far to the ground from there.
In town, the usual option is the Three Guineas right next to the station. Reading town centre is generally okay for a few places but just be mindful of the distance to the stadium.
Given all of this it's a reason that for the last few visits we've taken a bus and stopped at Henley-on-Thames. It's a 25 minute drive away and has some cracking places from the looks of it. We've got 98 of us going to a place just outside of town and will head directly to the ground from there.
Here's Ed from fan group Club1871 to give us his thoughts on how things are going at Reading in their 150th anniversary season.
1. Let's start with the grim stuff. It has been reported you will be facing a points deduction of between six to nine points for breaching financial rules and also that the wages to turnover ratio increased from 194% to 211%, the worst to date in the 2019/20 Championship.
This is eye-watering stuff, even for the Wild West of the finances in the Championship.  What's the story behind this? Is it the typical one of paying hideously inflated wages combined with poor management in an effort to hit the jackpot of promotion?
Spot on. It's a combination of poor financial management and high ambitions. We had signed up key players onto long term contracts at unbelievably high wages for a Championship club (Ron Gourlay's time at the club) and then we had our current owners who have been splashing the cash and rejecting offers for those key players for a shot at promotion.
It hasn't worked out and we have now been stuck with these players at high wages who have left or who will be leaving on a free in the summer. Especially hot prospect academy players – we've seen Omar Richards go to Bayern Munich and Danny Loader go to Porto for nothing.
One of our best academy talents ever went to Palace for £7m due to a stupidly low release clause. We can't fault our owners' ambition but there is a right time to cash in on players, bank in and re-invest – especially with FFP. Hopefully after this 9 point deduction, we have learnt our lesson and we can look at a sustainable business model moving forwards.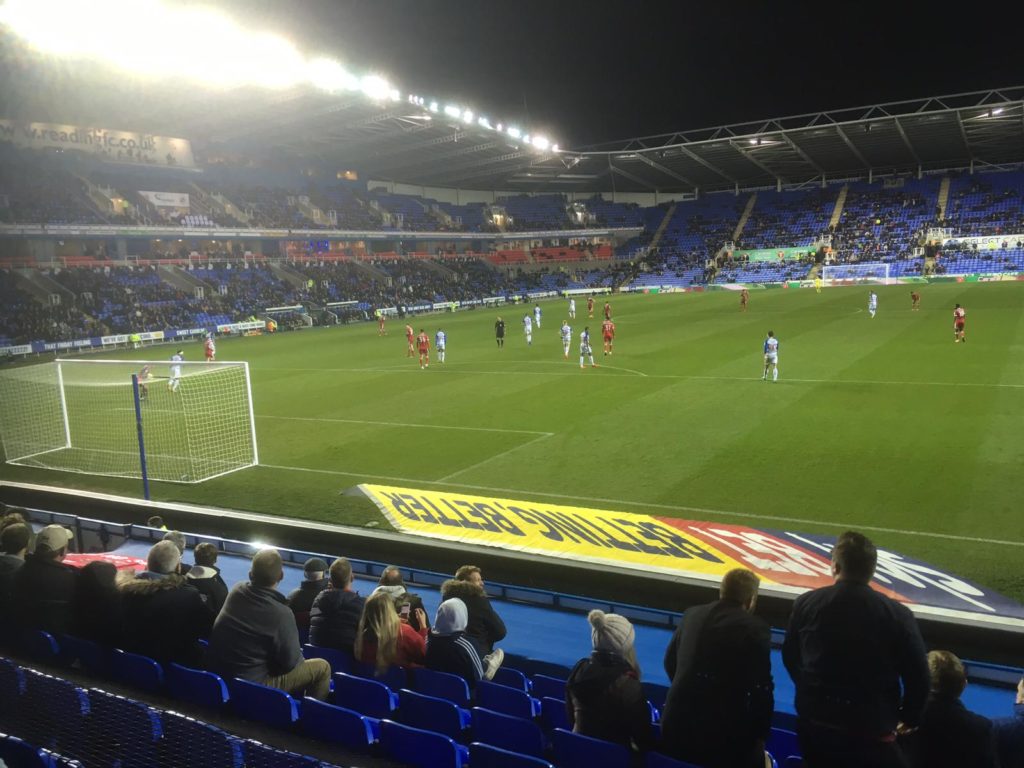 2. A seventh place finish last season took most outside of Reading by surprise but this season seems to be shaping up to be one of mid table – understandable given the embargo imposed as result of financial restraints.
Is this season – and next – a case of just getting through it? Of heading to the Winchester until it all blows over?
Being a Reading fan, we'd be in the Winchester most nights..  I think most fans are confident we have a good enough squad to stay up despite the points deduction. However, this depends on the status of John Swift. His contract expires in the summer so we may decide to cash in on him in January. If you look at his goal contributions this season, he will be a massive miss.
I do still think we have a strong enough squad to survive without him though. Next season will be our biggest worry, we have 17 players (including loanees) whose contract expires in 2022 – with most being first teamers.
We need to build a brand new team next season with limited budget and limited wages to offer. We may be still stuck to EFL restrictions and only being able to offer one year contracts at a maximum of £8.5k a week. Next season won't be pretty…
3. On a more positive note, John Swift is some footballer isn't he?
He is far too good for us. An absolute delight to watch and could be the different between survival and relegation. The lad is different gravy!
4. You're three years down the line since forming in an effort to create a better atmosphere. How is it going? Are you getting buy-in from other supporters and the club? You had a few early battles regarding flags and poles but has that all settled down now?
I would say despite poor attendances across the ground, it's probably the loudest we've been throughout the years following the club. We have changed to where the away fans used to sit due to a large increase in clashes with away fans after the game but would say it has worked in our favour as we can join in with the louder Sir John Madejski Stand. It's still not perfect, we need to add more variety of chants and get fans to join in for longer with chants and trying to get the crowd going when you are playing poorly and losing can be difficult but overall we are happy with where we are at. In terms of opposition fans, we have had a lot of compliments on our home support that we've seen but we also get the classic football Twitter kid who will say that we have the worst home support going. Our own fans are mostly on-board but can still see there is room for improvement. The main thing for us is that we are much better and louder than what we were 3+ seasons ago.
5. Have you noticed any changes in fan behaviour since being allowed back into grounds? Is it louder or are folks still a bit cautious do you think?
Fan attendances have most definitely dropped all around the stadium. I wouldn't say that anyone is particularly cautious anymore but attendances have been dwindling year on year anyway and I think some fans got used to not watching and stressing around Reading each weekend so don't bother coming anymore. A lot of fans have also said that they feel like the soul has been taken from Reading since Madejski left the club as owner and have stayed away since.
6. Like many groups, you appeal for funding for big displays and even sell merch. Is it a constant battle to raise funds or are people forthcoming and supportive?
Yes, most definitely. It's difficult to get fans to part with money to fund flags and displays. We used a dropshipping model to sell Merch this year which has worked out well and still took donations on top but as you will know putting on giant flags and displays are very expensive.
Luckily, Reading's new shirt and stadium sponsor funded some murals and flags for us which we really appreciate. This gives us the rest of our budget to do something special for our 150th anniversary game vs Luton.
7. That 1-1 back in January 2020 had quite the finale. Rarely have we gone from dancing in the aisles to sitting with heads on hands so quickly. Was that as memorable a game for you as it was for us?
Ha ha – yes it really was! I laugh because a lot of my friends and family left as soon as the Forest goal went in so I remind them each time to never leave a game early and take the mick out of them for missing that goal against Forest. Absolute euphoria in our end when we equalised.


8. Is it fair to say that drinking in town is still the better option for an away day at Reading?
Yeah I do think we get a bad name for being an M4 service station but town is a great laugh. We have a strip of bars and pubs in town which is perfect for pre and post-match then you can either go on the 45 min walk to the stadium or get a bus or taxi. It's also worth mentioning Green Park train station will be coming from 2022 so that will take you from town to a nearer station which is a 20 min walk away.
9. If travelling by car, is the best option to pay a fiver on an industrial estate on Acre Road or Bennett Road?
To be honest, I'm not sure. If I'm driving, I tend to park free by Whitley fire station in the estate or Mereoak park and ride and have a long walk.
***
Huge thanks to Ed from @Club1871 for offering us his insight.
See you there.
Dave