FOREST AWAY: Sheffield United, Play-Off Semi-Final First Leg, Saturday 14th May – Fan Guide
Sometimes it still returns fleetingly to my mind. Different parts of that night; occasionally happy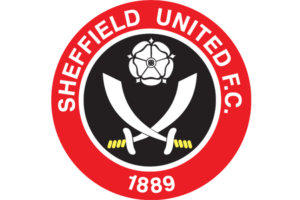 memories but mainly it's the mild punches to the stomach it can still provide. The absurdity and the shock. It gets forgotten but in the madness of it all we nearly rescued it. Matty Louis-Jean from nowhere getting up and crashing a header goalward right at the end that was somehow kept out. But then it was done. Des' tears, Harty looking broken and thousands of Forest fans unable to comprehend what they had just been part of.
I found optimism in our chances the following season, but we know now that night was our chance. It took a long time to regather ourselves. Chances must be taken when you get them. There might not be another go.
I shouldn't dwell too much on it, that evening in Sheffield has zero relevance nearly twenty years on, but my teenage self was wounded so deeply. It was, without question, not just a defining moment of my years following Forest but my youth. I mention it again now because, as I've mentioned before within these lines, I find things remarkably similar today. I see young lads and girls finding that same connection with a Forest team, singing songs with all their might. Happily, I feel it too.
And now history has come back around again. There is nothing about these next two games that doesn't terrify and excite me in equal measure.
Once more unto the breach.
***
TRAVEL
TRAINS: This week we have been liaising with PC Simon Travell, Dedicated Football Officer for NFFC, and East Midlands Railways, providing some thoughts on fans travelling by train and how the railway operators can increase carriages accordingly. At the time of writing, we are still awaiting the answer on which trains will be increased in size to accommodate Forest supporters but the good news this is being looked at and hopefully adequate space will be provided by both East Midlands Railways and Northern Rail who both run trains up to Sheffield from Nottingham.
Direct trains from Nottingham are as follows:
Depart         Arrive
  08:17           09:13  (NORTHERN RAIL – calls at Ilkeston, Langley Mill, Alfreton)
 08:45           09:37  (EAST MIDLANDS RAILWAY – calls at Alfreton, Chesterfield only)   
 09:17           10:13  (NORTHERN RAIL – calls at Ilkeston, Langley Mill, Alfreton)
09:47           10:13  (EAST MIDLANDS RAILWAY – calls at Alfreton, Chesterfield only)   
 10:17           11:13  (NORTHERN RAIL – calls at Ilkeston, Langley Mill, Alfreton)
10:44           11:38  (EAST MIDLANDS RAILWAY – calls at Alfreton, Chesterfield only)   
 11:14           12:13  (NORTHERN RAIL – calls at Ilkeston, Langley Mill, Alfreton)
11:44           12:41  (EAST MIDLANDS RAILWAY – calls at Alfreton, Chesterfield only)   
*The 11:44 has been confirmed to have been increased to 6 carriages*
12:15           13:14  (NORTHERN RAIL – calls at Ilkeston, Langley Mill, Alfreton)
12:39           13:31  (NORTHERN RAIL – direct service with no stops)
12:47           13:39  (EAST MIDLANDS RAILWAY – calls at Ilkeston, Alfreton, Chesterfield only)   
 13:15           14:15  (NORTHERN RAIL – calls Ilkeston. Langley Mill, Alfreton)
Clearly many of these services are going to be busy, some will be packed. Do not leave it too late as there is the possibility that certain trains will not get everybody on although hopefully the extra carriages can be added and this can be avoided.
Bramall Lane is around a 15-20 minute walk to the station, heading left when you come out the front entrance. For those intending to head into the city centre head upwards and the middle of town is around a 10-minute walk.
After the game, for those intending to head straight back to Nottingham there are trains at 17:41 and 18:03. We have been advised that there might be a football special service in operation but this has not been confirmed as yet.
A day return from Nottingham is £12.60. If travelling in a group of 3 or 4 and using the East Midlands Railway trains, enquire at the station about a group saver which will save you a third off that price if available.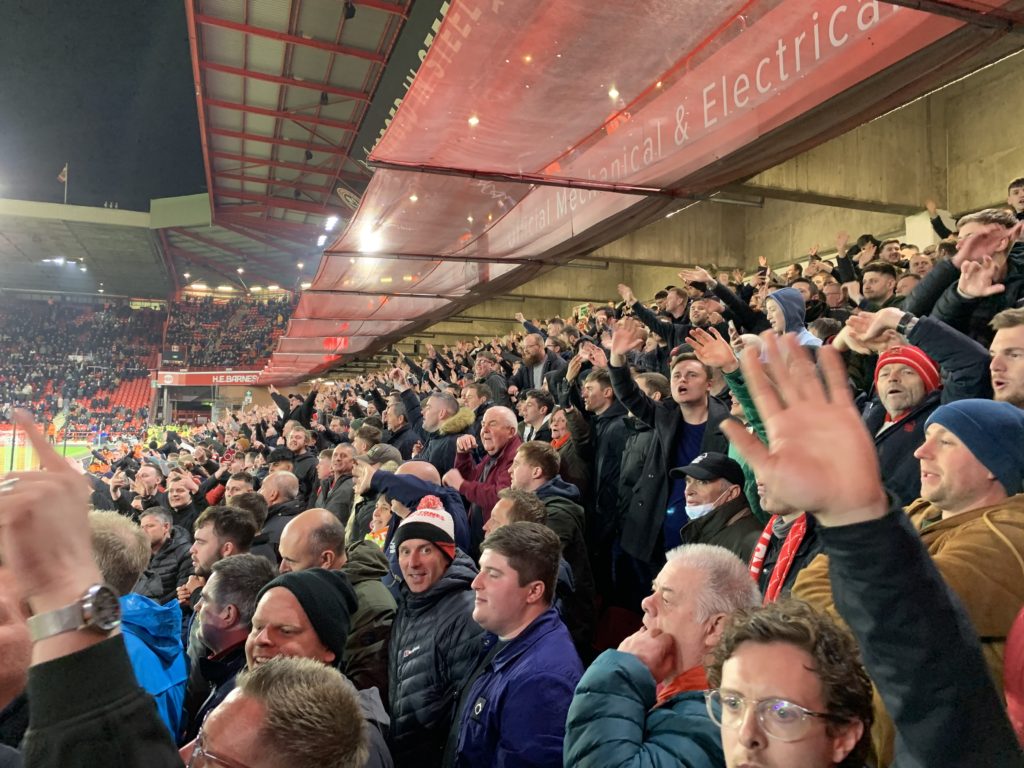 ROAD: Not a particularly easy ground to get in and out from, especially with the close proximity to the city. There is a lack of street parking, although it does definitely exist, especially if you head past the stadium from the city. There are a couple of multi-storey car parks on the edge of town which may offer one reliable option.
If you find yourself needing to drive but don't like the idea of getting too close to Bramall Lane then one option is to park at Meadowhall's dedicated train station (believe it's free to park) and jump on regular trains from there to Sheffield. It's usually less than a ten-minute journey and only costs £3.60 return. There are regular trains back there afterwards, perhaps a little less busy than the main trains back to Nottingham too.
PUBS
As with the recent visit in the league, the designated away pubs are as follows:
The Howard – virtually opposite the station
The Globe – a matter of yards up from The Howard
The Graduate – Further up from The Globe, across the main road and up the steps. My personal favourite of the three.
The following is taken from the previous away guide and still stands as a good summary of other drinking options around Sheffield.
The Howard was always the de facto away pub, welcoming travelling fans straight off the train, with it sat fairly directly opposite the main entrance at Sheffield Station (up past the water feature wall). Do consider though a right turn directly out the station and pay at least a quick visit to the Sheffield Tap.
Either of these two venues can, if time allows, be the launchpad for a hell of a crawl deep into Sheffield. But keep in mind that heading up into Sheffield is away from Bramall Lane, to reach the ground you'd head left out of the station and it's around a 15-20 minute walk. I'm not for one second imagining anyone would be able to take in all of these pubs and bars but to give you some options from many, many years of Sheffield away days:
Crucible Area – Continuing up from the Globe, cross the main road and head up the steps. At the top on your left you'll see The Graduate. A regular of ours down the years, albeit more after the game for a couple before the train home. Again, just a short hop from the last place a bit further up is the Head of Steam. This is on the square which houses the Winter Gardens and the Crucible. Never been in this one without it being rammed but always good. Next door to the Head of Steam (at its rear entrance) this is a old style selling local brews called Brown Bear. Small but something a bit different.
Division Street area – At the bottom of this just off the city hall square is a Lloyds Bar. Just a bit further up from here is the Frog & Parrot, a personal favourite. (EDIT: And the chippy across the road from it served us well on that Friday night a few weeks back). Close to here is a place called The Great Gatsby which is a small but good place with a little beer garden. And a little further up the road is BrewDog.
West Street area – loads of options on here. There is a Bierkeller and various other places I can't remember the names of. Best keep in mind that you are a fair way away from the ground up this way so allow plenty of time to make your way back down the hill towards Bramall Lane.
Q&A with PC Simon Travell, Dedicated Football Officer for NFFC. Input also provided from equivalents at South Yorkshire Police
From a police perspective, was there any sort of preference regarding who Forest might face in the play-offs? Maybe down to the the distance, away allocations or perhaps the risk factors involved against certain opposition.
From a Notts Police point of view, Forest finishing in 3rd position would have been a less staff intensive operation as this would have given two evening kick off games against Luton. I think we all know and understand the histories of the fixtures against Sheffield United and the "challenges" this brings.
From a personal perspective and looking through the eyes of a fan – the current situation of having a two leg chance against Sheffield United would perhaps be a more favourable option, especially as it involves a rare 3pm Saturday kick off! A final with Nottingham Forest against Huddersfield or Luton must be more favourable from the Met Police point of view than if Nottingham Forest had have been playing in a final against Sheffield United !!
With such a quick turnaround between the end of the season and planning for the first leg of the play offs it is difficult to get the intelligence and information to demand an earlier kick off and, as we have seen already this season, Televised games are often even more difficult to move.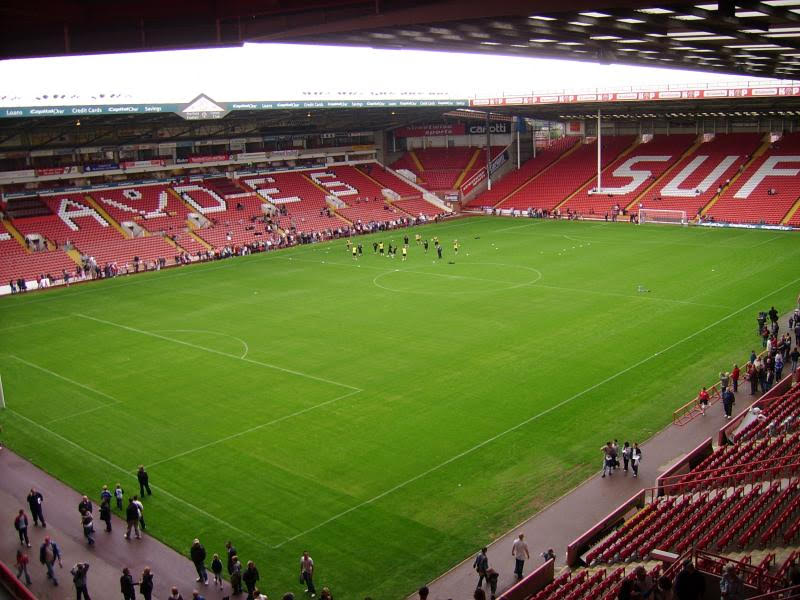 The game is scheduled for a 3pm Saturday kick-off. Have the police has any input or perhaps concerns about this and are Forest fans going to be able to move freely around Sheffield before the match?
The police are happy for away fans to drink in the city centre and apart from a small number of pubs where they would not be welcome due to them being home fan pubs.
Are there any special arrangements around trains to or from Sheffield? Special football services or extra carriages to aid travelling Forest fans?
British Transport Police are looking to put on a special train at 6pm from Sheffield to Nottingham but there are no plans for any special trains pre-match. We are grateful for the input that Forza Garibaldi have already had in the planning around the train arrangements for this fixture.
Previously the designated away pubs have been advised as The Howard, The Globe and The Graduate. Will this remain the case on Saturday?
Yes. Open from 10am.
We saw some disorder after the game at Sheffield back in March. Coming out of Bramall Lane after a Forest game often seems to lead to trouble. Given what we saw that night is there any potential for fans to be held back / escorted back to the train station? And can we expect an increased police presence given the high profile nature of this particular game?
Any hold back of away fans would be on a voluntary and not enforced basis. There will be an increased police presence at the end of the match.

You will likely be aware of issues for Forest fans being kept outside the grounds at Bournemouth & Hull recently due to extensive searches and inadequate staffing. While not necessarily a police matter has this been raised as a concern with the home club and can more be done to avoid this occurring again? From memory, it often takes a while to get through the away turnstiles at Bramall Lane.
All I can advise is to arrive at the turnstiles as close to 1330hr to enter the stadium. Stewarding at the turnstiles will be robust and professional but as you have rightly stated, stewarding at the turnstiles is a club matter and SYP are simply there is assist should we be required.
Q&A with Hal of the Sheff United Way Podcast and You Tube channel
Well, here we are. Another Sheffield United v Forest play-off tie. Many supporters from both sides will still hold memories of that second leg in 2003. Were you there that night at Bramall Lane and what do you remember about it?
I was there, I was interviewed by ITV afterwards and had my first taste of minor celebrity for about 2 days after! Blades fans loved it, I was, shall we say, quite animated!
It was an incredible game, the best I've ever been to as a Blade. Back and forth and it looked for all the world like Forest had done enough but that United side never knew when it was beaten and were going all out to win the FA Cup, League Cup and get promotion, ultimately, with such a small squad, we fell short in the semi-finals of the cups and lost in the playoff final to Wolves.
I believe the exertions of the Forest match took their toll in that final. The team looked utterly exhausted.
You secured your play-off berth on the last day of the season with a trouncing of champions Fulham. How confident were you that you would make it in the weeks leading up to the season finale?
I wasn't at all confident, I said we'd make the playoffs back at the start of this year after witnessing how good a manager Paul Heckingbottom is. Then we had the injuries to key players like Bogle, Billy, Basham, McBurnie, McGoldrick and let's not forget the long-term absence of our defensive left-sided legend, Jack O'Connell.
A fully fit United side pushes Fulham all the way, this patched up Blades XI is having to perform at 100% each and every week just to get a result, it's been heart-warming to see, they really want it.
I'm concerned about our frontline though; we can't be relying on teenagers but that is what we will have to do going into these playoff semi matches. Time will tell if they can step up. I have faith in the likes of Will Osula and Daniel Jebbison but it's a big ask!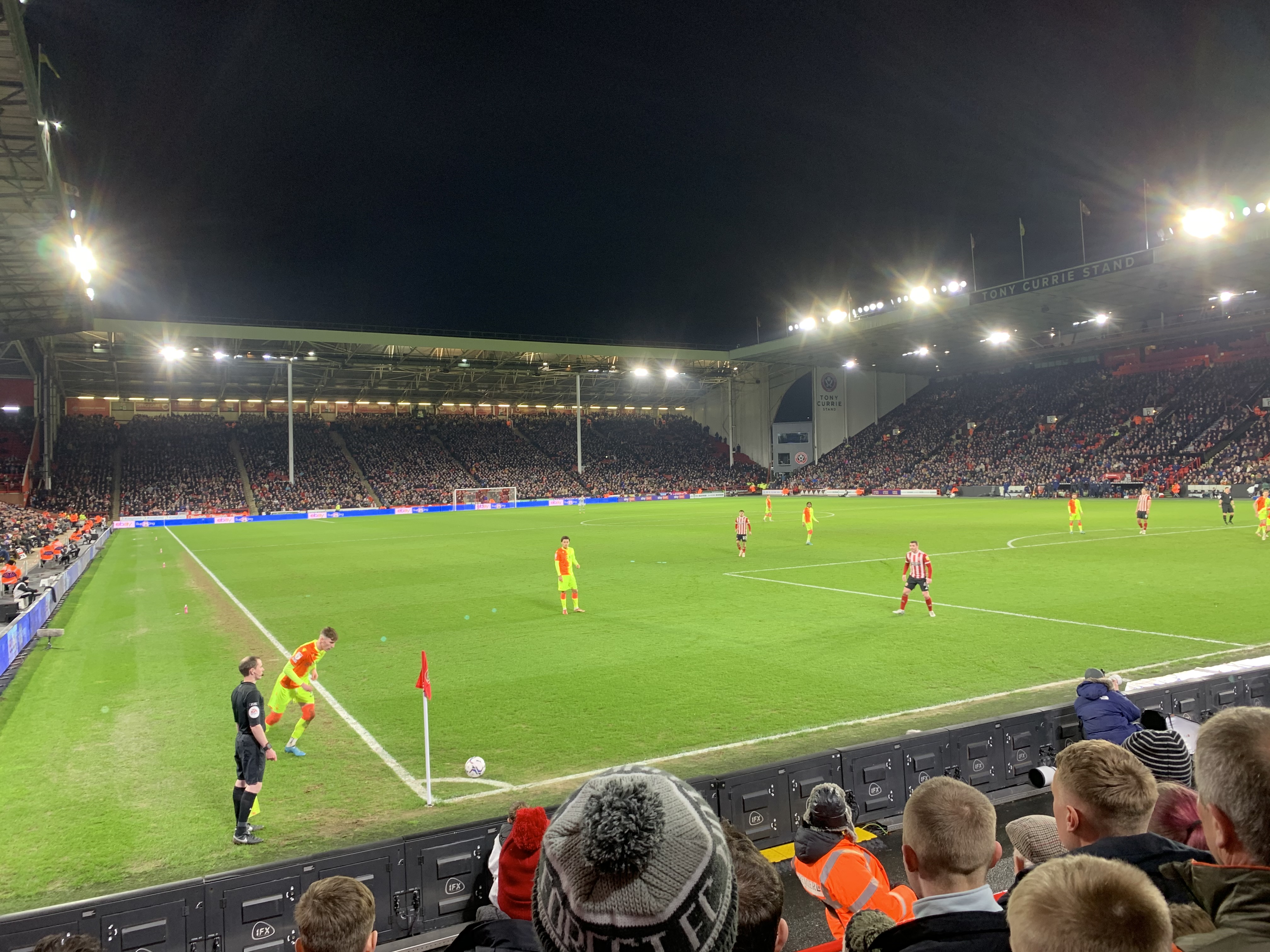 We last spoke ahead of the game at Bramall Lane in March. Forest eventually rescuing a draw with a last-minute goal. That game isn't likely to have much bearing on these next matches but what did you make of the game that night and specifically Forest's performance?
Forest played well, most Blades would say they were the best side to visit United under Heckingbottom. We were all impressed. That said, it took an injury time goal in the 95ht minute after the referee signalled 4 minutes of added time to salvage a draw. I recall United having more of the ball and more shots on target and of course Forest missing a dubious penalty.
It won't have any bearing on the playoffs, it is worth praising Forest though for that performance and the overall turnaround, not dissimilar to our own, under a replacement manager this season.
We've been allocated the upper tier this time, which was a surprise, we had presumed we would be in the lower tier again. Any idea what the reason was behind that decision?
No idea, probably a South Yorkshire Police decision, maybe to stop a pitch invasion but that seems like an unlikely event, even if Forest did score a last-minute winner, it would still only be technically half time, maybe I'm being naive?
It's not gone down well with Blades fans at all, especially those on the Upper Tier who are season ticket holders, we've now had a situation where all season ticket holders get first dibs on tickets BUT no guarantee of their season ticket seats. It's caused a bit of friction as people are already reporting 'their' seat has been taken by another supporter.
Far from ideal and badly communicated by the club, hence why I don't know the full story. Forest fans will have a cracking view from up in the top tier, I often sit there and it's the best view in the stadium in my humble opinion.
In the previous Q&A we discussed our respective clubs' rise up the table under new management. It's an achievement for both teams to have made the top six following disappointing starts to the season but how much is riding on this play-off campaign from a Sheffield United perspective? I'm thinking from a financial viewpoint but also with players who could leave without promotion and maybe even whether Paul Heckingbottom could face any repercussions.
Paul Heckingbottom's job is safe, no question. United HAVE to get promotion this season, also no question. The financial repercussions will have seismic waves if we fail to go up. We would have to sell our few remaining assets who can command a big fee, parachute payments will soon run out and three teams with bigger budgets are about to join the Championship party next season, making it all the harder to get back to the big time.
We have seemingly overspent, and revenue is down from the Premier League seasons, so it's imperative, vital and any other word that means the same thing, that we go up this season otherwise I genuinely fear for the future of the club's top flight aspirations. Vital.
So… which teams from the four are off to Wembley and who is going up?
Your guess is as good as mine but what a story it would be if Luton Town could get to the big dance, on their budget it would be a fairy tale story. I will say that I want a fair contest between United and Forest, I want the best team to win on merit, not from a referees decision, we've had enough of those go against us this season! Although I'm sure all fans say that about their team!
Thanks to PC Simon Travell and to Hal for their input.
Thank you too to all those who have followed the guide this season. We hope there will be one final edition to come.
See you in Sheffield.
Matt