FOREST AWAY: West Ham United, Sunday 12th November – Fan Guide
The calm has been restored after a delightful victory over Villa. Cooper fist-pumps all round and the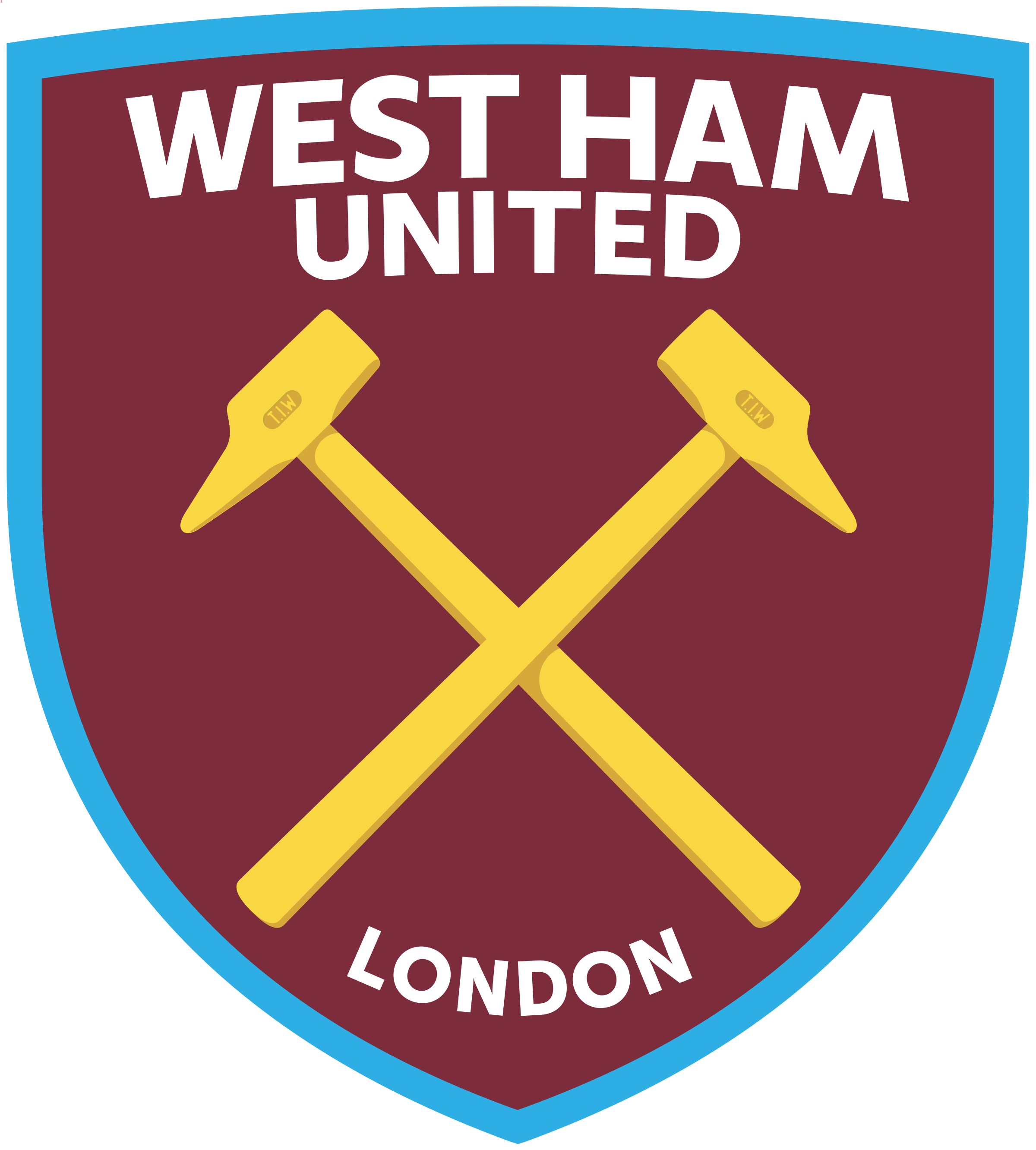 team were serenaded by a boisterous City Ground. All is well, until the next time it isn't.
Sunday (it's always Sunday now it seems) presents a game that is hard to read. Last season this fixture was one of the low-lights of the post-Christmas campaign but we are no doubt better equipped now to try and prevent such a collapse happening again. It would be a wonderful time to try and piece together a few results, something that has been hard to do when Arsenal, City and Liverpool have formed part of the early season schedule. Perhaps West Ham's Thursday night Europe excursion may come to assist us, or perhaps they wrap up a Marinakis double in the space of a few days.
Our away form, however improved, remains a point of concern though and this is a chance to try and build on the promise of Chelsea, Palace, even United and City, and properly establish ourselves as a mid-table team collecting solid results both at home and across the country. As unglamorous as that sounds, it is certainly the aim now. Villa was hopefully the start of flashes of promise becoming something a bit more evident, but it is still going to take some time before we can say for certain we have found the sanctuary of a Premier League orbit.
It's been a bit of a clunky start but, as mentioned in the Liverpool guide, it is unrealistic to expect much else when a new team has been sculpted yet again this summer. We can hope Villa was a springboard but if it isn't, we can remain assured that a wonderfully talented squad is being weaved together and still growing stronger.
TRAVEL
RAIL: The planned engineering works that would have caused significant problems getting to London on the direct route into St Pancras have thankfully scaled back but we have this week received the following update from East Midlands Railway which related to their direct services:
'Just as a heads up for this Sundays away game with West Ham.
The EMR Intercity service will be affected by engineering works in and around the Market Harborough area.
This will mean extended journey times and roughly one train per hour DIRECT. There is of course the option of travelling via Grantham and to Kings Cross which does have a short journey time even with the change on to connecting service.'
Please therefore research your plans thoroughly and check for any updates before heading to the station. Trains are running but will take longer and less frequent, at least the direct services.
These look like the current services on Sunday morning from Nottingham:
07:48 – Arrive St Pancras 10:36 (DIRECT SERVICE)
08:55 – Arrive St Pancras 11:43 (DIRECT SERVICE)
09:18 – Arrive Kings Cross 11:34 (CHANGE AT PETERBOROUGH)
09:40 – Arrive St Pancras 12:20 (DIRECT SERVICE)
09:50 – Arrive Kings Cross 11:40 (CHANGE AT GRANTHAM)
10:40 – Arrive Kings Cross 12:50 (CHANGE AT GRANTHAM)
A return fare seems to be particularly expensive – coming up at £75.70. Some money can be saved by splitting the journey from Nottingham – Kettering / Kettering – London which brings the cost down to around £60.
The cheapest route, however, appears to be via Peterborough. A standard return from Nottingham to Peterborough is £29.40 but if travelling in a group of 3 or 4 group saver discounts should apply and save a third off this price. A Super Off-Peak Day Return from Peterborough to London Kings Cross is £23.30 (you can only get certain trains with this return) which brings the maximum fare to a total of £52.70. But, again, travelling in a group of 3 or 4 brings the second leg from Peterborough down to just £15.35. So, the whole journey could be done for around £35.
Given the delays and disruption on the mainline, heading via Peterborough therefore looks a much better bet for this one. For those wanting to look at these, I've used Trainline.com.
From St Pancras / Kings Cross, the best route to the stadium is to get to Liverpool Street and then it's an 8-10 minute ride on the Central Line Eastbound to Stratford.
ROAD: Our West Ham fan below advocates using a nearby underground station to link into Stratford and this seems like sound advice. Have a look below but we'll chuck in a few other options too.
Stanmore – Just off Jct 4 of the M1. Change at Bond Street and then take the Central Line to Stratford. This will take just over an hour. It'll cost £6 to park here.
Edgware – Also just off Jct 4 of the M1. Change at Tottenham Court Road and use the Elizabeth Line to Stratford. This will take just under an hour. As long as you use the commuter car park at the shopping centre, it'll cost £6 to park here.
Cockfosters – Best reached off the M25. The simplest way with the least changes seems to be to head to Holborn and then use the Central Line to Stratford. But there may be a quicker route via Caledonian Road if you scrutinise the underground map.
Luton Parkway – This is a regular shout which can often be a bit easier than driving too close to London. Use Jct 10 of the M1 and it'll cost around £5 to park in the multi-storey. A return fare is £12.50 but, again, groups will get a third off.
Cheshunt – A short drive off Junction 25 of the M25. A 27-minute direct journey to Stratford from there which will cost £12.60 or a third off if in a group of 3 or 4.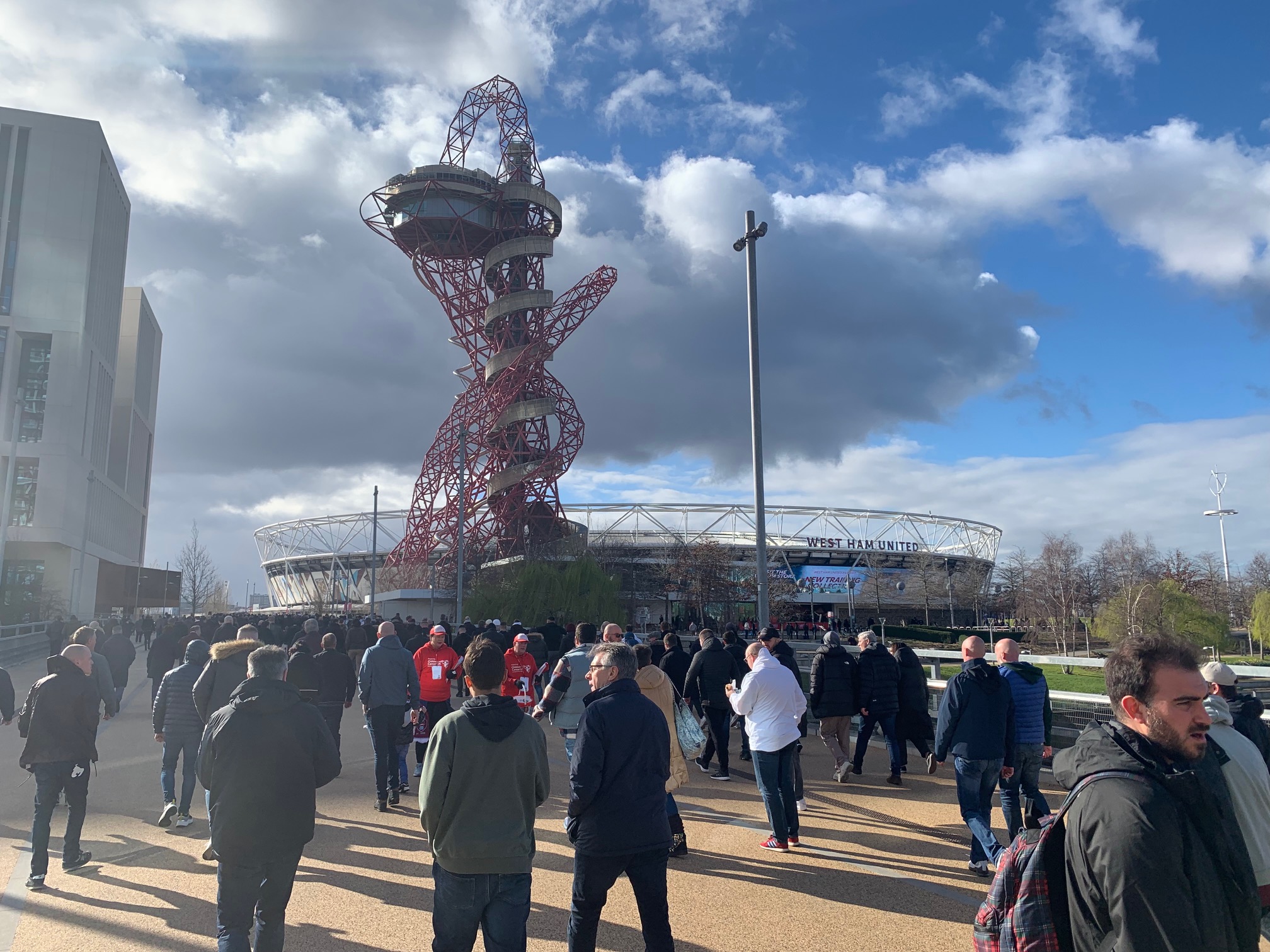 PUBS
Pubs around Liverpool Street will be a wise option – the Kings Arms and the Railway Tavern very close to the station will be good bets although these may open later with it being Sunday. There is a Wetherspoons around here too which may help with this though.
Last season we drank around Highbury & Islington with plenty of decent pubs and a short hop over to Stratford.
I'm not familiar with any of the pubs around the stadium and our West Ham fan below suggests drinking further afield is a better option, but we were advised last season that the Lord Napier and Number 90 '*may* be okay for away fans.
Upon arriving at the London Stadium last season, it took a fair old while to navigate through a couple of security checkpoints. Make sure you are approaching the stadium half an hour before the game as it will likely take a while to reach the away end.
As a final point, the Remembrance Sunday service will be taking place at the Cenotaph on Sunday morning. While this is not close to West Ham it does tend to make London a little busier so allow a bit of extra time for travelling around the capital and consider the two-minute silence which will take place at 11am which many, yourselves included, may be looking to observe.
Q&A with Russ of the West Ham Network fan channel (@WestHamNetwork)
When we last met back in February, West Ham were (like us) battling to stay out of the relegation spots and David Moyes was under severe pressure. By the end of the season, you were lifting European silverware. We meet again with you having another difficult spell and the future of the manager being questioned. What's your view on things right now? Could Sunday be the end of Moyes or are we a little bit off that stage yet?
There is a clear divide amongst the fanbase in terms of whether to stick or twist with David Moyes. If we lose on Sunday, I don't think that will be the end of Moyes – it will certainly make his position more fragile, that's for sure! A loss on Sunday would be four EPL losses on the bounce, which isn't great for any manager regardless who they are in charge of. The early good start to the season is quickly becoming a distant memory for most fans.
Given we are nearly a third of the way through, what would represent a good season for West Ham? Is more European success possible do you think?
A good season for West Ham would be a top 8 finish with us getting to the latter stages of a cup or two. If we manage to qualify for Europe again, that would be a fantastic achievement, whether that be by league position or winning a cup. It took 43 years to win the last one, so it could be like buses, lol!

The VAR debate has exploded again recently. What's your thoughts on it?
In an age of technology, utilising it to benefit football makes perfect sense – however, it's when humans get involved that it all goes to pot it seems. I don't know why other sports seem to get it right and yet football – the biggest and most profitable sport – can't. Rugby, tennis, cricket – all seem to be able to work with video referring and yet football week in, week out always seems to have some controversy regarding a VAR decision. Surely football should learn from rugby for example in terms of its application?
For Forest fans heading across from Kings Cross / St Pancras, what's the best way to get to and from the stadium on the train / underground network?
The quickest way is to get Liverpool Street from Kings Cross (Metropolitan or Hammersmith & City line), then jump on the central line or Elizabeth line to Stratford – then follow the directions to the stadium – should take you about 30/35 minutes on the Tube to get to Stratford but check to see if there's any engineering works happening this weekend! It is a bit of a walk from the shopping centre to the stadium – 15/20 minutes or so, so worth adding that time in!
For those coming down in the car, do you have any advice on parking? Either close to the stadium or a little further out.
Westfield car parking can be a nightmare and quite expensive, Stratford International has a car park which is cheaper but a longer walk. My advice is to park at an Underground car park (somewhere on the Central Line like Leytonstone, Newbury Park, Redbridge) and get the Central Line into Stratford. It will be cheaper than Westfield car park.

Are there any pubs / bars around the ground which will welcome away supporters?
To be honest, there isn't really in the local vicinity – I'd suggest getting to Liverpool Street, quite a few bars and pubs and then getting the Tube to Stratford…
Finally – let's have your predictions…

Scoreline on Sunday?
I think it's these types of games that Moyes seems to pull a result out of the bag, the chips are down, well and truly down at the moment – but with Paqueta and Alvarez back from suspension – I think it will be 3-1 to the Hammers… having played your owner's other team on Thursday night, it will be interesting to see how we cope/respond to the game on Sunday.
Where will West Ham finish?
Anywhere from 7th-12th.
Where will Forest finish?
11th-14th I reckon… a year of consolidation.
With thanks to Russ for his insight.
We will see those of you travelling on Sunday.
Up the Reds.
Matt