Forest Away: Wigan Athletic, Sunday 20th October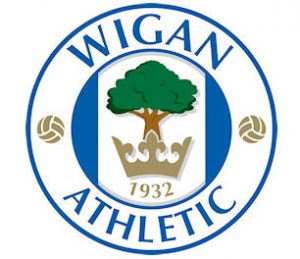 What a brilliant opening quarter of the season it has been for Lamouchi's Garibaldi's; 10 games unbeaten, sitting second in the league, and everyone seems to truly be buying into the philosophy that monsieur Lamouchi is employing on the banks of the Trent.
One very key area of improvement, and one that we have struggled with for a very long time, is the away performances. It became apparent early on in my time following Forest away that the days out were very much going to be enjoyed more than the game itself. Victories, and performances you could be proud of were few and far between when you would journey away from Nottingham. Something feels different about our travels so far this season, the performances on the pitch are giving fans something to get behind in the stands, we look resilient, tough and perhaps most important we are winning games. No defeat in 6, and victory on 3 occasions is certainly helping to change our historically bad away form.
Looking forwards to the game, I honestly didn't expect for us to have sold as many tickets as we have, given the journey and the difficulty that is public transport on a Sunday. Also, the fact that it is on Sky. The price of tickets has certainly helped, but I do think it's a testament to Sabri Lamouchi and the players for what they have achieved so far.
To take 3,000 + to Wigan, on a Sunday is fantastic.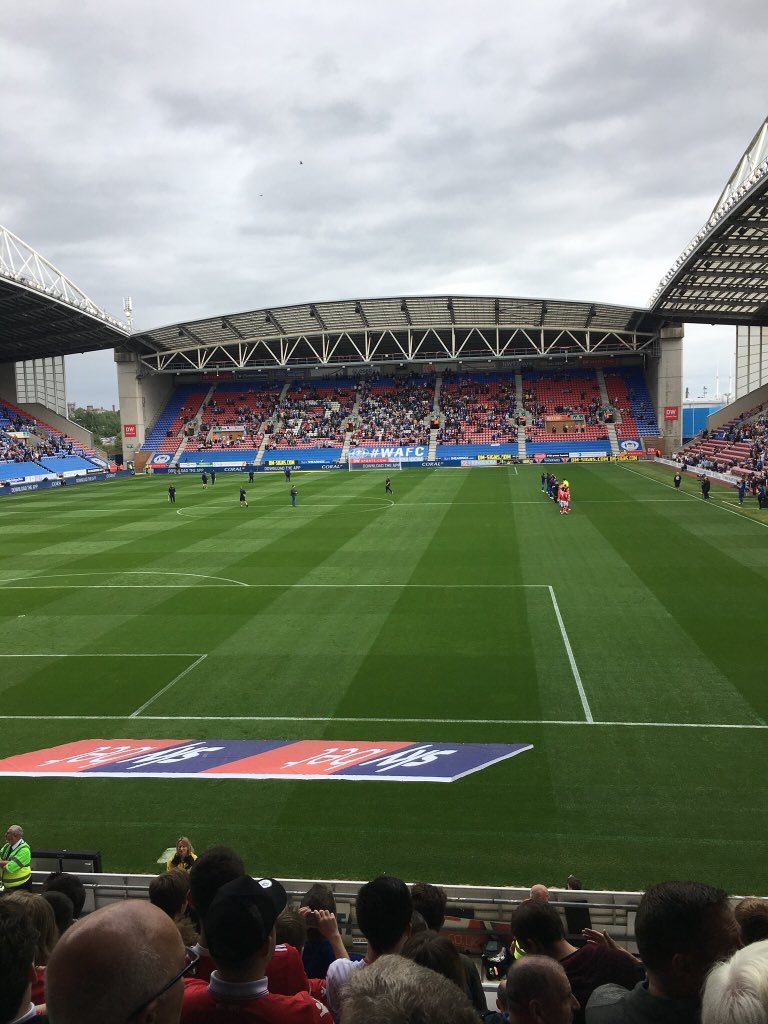 Travel
Train: With it being the Sunday, trains are unfortunately, few and far between. The best bet would be the 09:47 from Nottingham, this goes via a change at Manchester Oxford Road and arrives in Wigan at 12:19. The way back looks rather complicated, with the original route not being available, the options are via Warrington or Crewe then Tamworth.
Price wise it is better to split your journey with returns from Nottingham to Manchester and then a return from Manchester to Wigan. If travelling in a group of 3 or 4 you will be able to get a group saver from Nottingham to Manchester which will save you a third off the standard return fare. You will all need to travel together though there and back. The group savers are generally only available in person at the station.
Note that there are two train stations in Wigan – Wigan Wallgate and Wigan North West – both are close to each other. From past experience trains from Nottingham via Manchester will head into Wallgate. From here the stadium is right down the hill. Many of the town centre pubs are left up the hill.
Car: Parking is simple enough, there are official car parks at the stadium, you'll also find streets within 5 minutes' walk of the stadium where you'll park for free around the Robin Park Road area.
There is a large car park at the Wigan North West station – if the prices haven't increased this is just £2 at weekends. A quick online check suggests this is still the case.
Pubs: With the ground being in good proximity to the centre, there are plenty of options for drink before the game. I believe the Wetherspoons is called the 'Moon Under Water' and that has proven popular in the past. There is also the option of 'Wigan Central' which is in between the two train stations.
The Red Robin close to the stadium is the official away pub. It's a big family restaurant type place.
Q&A with Wigan fan Alan of The Pie at Night podcast (@pieatnight_WAFC)
1. You lie in 19th place prior to the weekends games. How would you evaluate the season so far?
Personally, I'm not sure I expected anything different.  With new owners, we're in a period of flux at the club at the minute and we also lost some key players (Reece James and Nick Powell would leave a massive hole in any championship squad).  There's been some investment in the team, but the £9m spent is nothing in terms of transfer budgets at this level and has brought in potential rather than guaranteed performance.
I saw someone on Facebook the other day asking why we're always around the bottom of the championship or top of league one.  That probably because that's where the club sits naturally.
2. What would represent a good season for the Latics?
See above.  Every season spent outside the bottom two divisions is a success.  That can feel hard to stomach given we were in the premier league not that long back, but we do need to be realistic about these things.
3. You're looking for a third home win in a row. How key is your home form in achieving the goals set for this term?
It's massive.  We don't know where our next away result is coming from at the moment, so we need every home point we can get at the minute.  Ironically, up until a couple of seasons ago, we were the sort of team that played better away from home as we relied on teams trying to attack us.  These days, we're a bit too cautious, in my opinion, which doesn't lend itself to going away and picking up points.
4. Now something which I've discussed with fans of other clubs. Would you trade the 2013 FA Cup win to still be playing Premier League football, and why?
It's not even a question.
Look, you can't underestimate how much of an achievement it is for a club of our size.  A club from a small northern town.  A club whose natural level had been in the third division for nearly all of its life as a league team.  A club who, in top flight terms, didn't have two coppers to rub together to not just survive in the premier league, but to stay there for eight years.
But in 30 years time, no one will remember that.  However, in 30 years time, our name will still be on the bottom of the world's oldest trophy.  Clubs are, rightly, judged on the things they've won and if you look at the other names on the FA Cup, it's been nearly as closed a shop as the league has.    The winners nearly always come from the top four or five clubs of the day so as much as we'd take the prestige any day of the week, that win in May 2013 was probably as much of an achievement as the eight years in the Prem anyway.
(An excellent answer)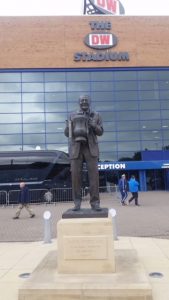 5. Who do you look out for in the Forest squad as being the danger man?
Did you deliberately ask that after asking about the FA Cup?
Ben Watson is a hero at Latics, but his abilities are sometimes downplayed.  The fact he's played every league game for you this season means something, and I notice he grabbed a late winner for you the other week.
So, I'll definitely be keeping an eye on Ben, but I suppose the one we'll really be expecting to test us is Lewis Grabban.
6. There is going to be 3,000+ Forest fans making the trip. Where do you suggest for drinking?
The Red Robin is generally seen as the away pub, and is handy for the ground.  Friendly sorts will be more than welcome in Wigan Central, which is near the train station and has a top range of craft and real ales if that's your thing. It's also one of our regular places for recording the podcast.
7. Average attendances at the DW have pretty much halved in the last decade. A very sad fact. Do you put this down to anything other than the quality of football on display?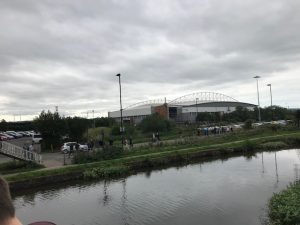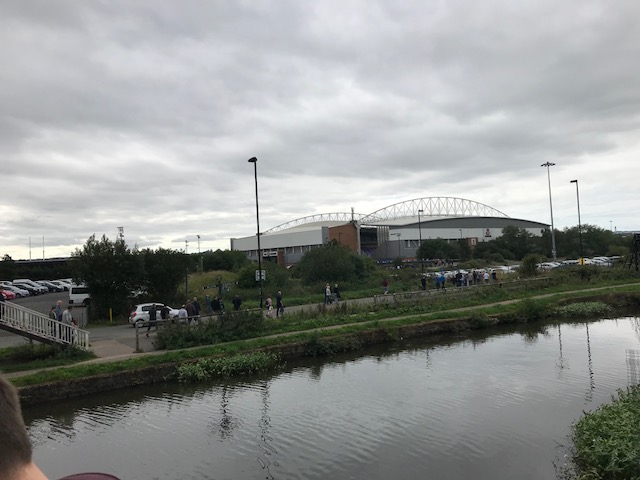 What's that saying about lies, damn lies and statistics?  You're right that you can find a couple of seasons where we averaged around 18k crowds.  But don't forget that was bolstered by the bigger away followings you get in the top flight and the three or four games where the big boys came to town and more people came out to see the circus.
The reality is that a season averaging around 10k is something that we could only have dreamt of 20-odd years ago and hopefully we can settle around that figure by consolidating in this division.
Like all things, the reasons for this are more complicated than they seem.  Latics are a club from a town of 90,000 people.  We have an unusual relationship with one of the most successful teams in Rugby League and there isn't much cross over between our fan base and theirs.  We're also surrounded by historically big clubs.
On top of that, like most northern towns, we aren't exactly prosperous, and even though our ticket prices are competitive, it's still a lot to ask someone to throw over what would be a big chunk of their disposable income just to watch 22 blokes kick a pigs bladder about.
8. And finally…… hit us with your score prediction.
The question is whether we can continue the momentum of our home form after the international break.  The answer for me is probably not, and I think your extra quality will show through.  2-0 to Forest.
(Don't think anyone has ever predicted a Forest win before – guaranteed home win now…)
Thanks to Alan for his answers. You can find more on the Pie at Night podcast here:
WEBSITE: www.PieAtNight.co.uk
SOUNDCLOUD: soundcloud.com/thepieatnight
Ben Wright