FOREST AWAY: Wolves, Saturday 15th October – Fan Guide
Pretty tough going this Premier League lark, isn't it? But hopefully Villa was the small steps forward we so badly needed.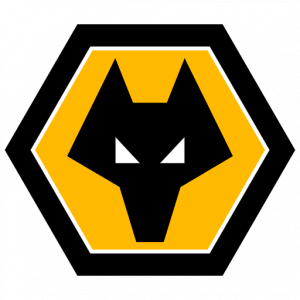 Just about every single possible opinion on our current situation has been offered but the current predicament, as usual, is probably somewhere firmly between the polar opposite war that blazes on Twitter.
It feels right now that we have plenty to be hopeful about, yet it also seems reasonable to have some concerns about what has unfolded recently and what will most likely continue to unfold. It doesn't mean that at the end of these concerns is some hugely troubling news, but we mustn't fall into the trap of constantly dismissing any notion that suggests there might be matters worthy of legitimate query.
And this topic, I believe, is a subject that needs to be on our radar. How are we as a fanbase communicating with our club, not just on the headline news but on any matter? How receptive are the hierarchy at Forest to bonafide fan engagement? It seems to have slipped since promotion. Could, for instance, another fan forum be worthwhile – with Cooper or even members of the board or, dare I say, the ownership? Could fans get the opportunity to raise their questions and possible ease any fears they have? Could we get some updates on where the new academy and stadium plans fit into our imminent future and on other subjects that matter to supporters like away tickets, safe standing and even raising ideas which could assist the club? Sometimes not knowing enough only deepens what may be mild concerns.
In recent days we have seen Manchester United fan organisations combat some unscrupulous tactics to cut their away allocation at Chelsea at late notice, the Spurs Trust have done some wonderful work in recent times where they have collaborated with but also challenged their club, and there are numerous examples of this across the country. We need more fan engagement at Forest, but we also need wider fan representation. Those of you who regularly digest the Forza Garibaldi comms will know we have raised this issue previously, but it seems a good opportunity, considering the last couple of weeks, to try and talk about this collectively.
Does a time come in the future when we will regret not working more collaboratively as supporters? Do we have anything to lose by considering what positive influence we can have at NFFC? There certainly seems to have been an abundance of that recently as we try and stabilise in the Premier League behind Steve Cooper and his team.
The point of fan mobilisation is that it does not need to only arrive at times of real jeopardy, and it does not mean that supporters are against anyone at the club or demanding answers. Fans mobilising themselves is not a negative thing. It's been a difficult start to the season, but we are still in a position of strength. Let's think about it.
*******
TRAVEL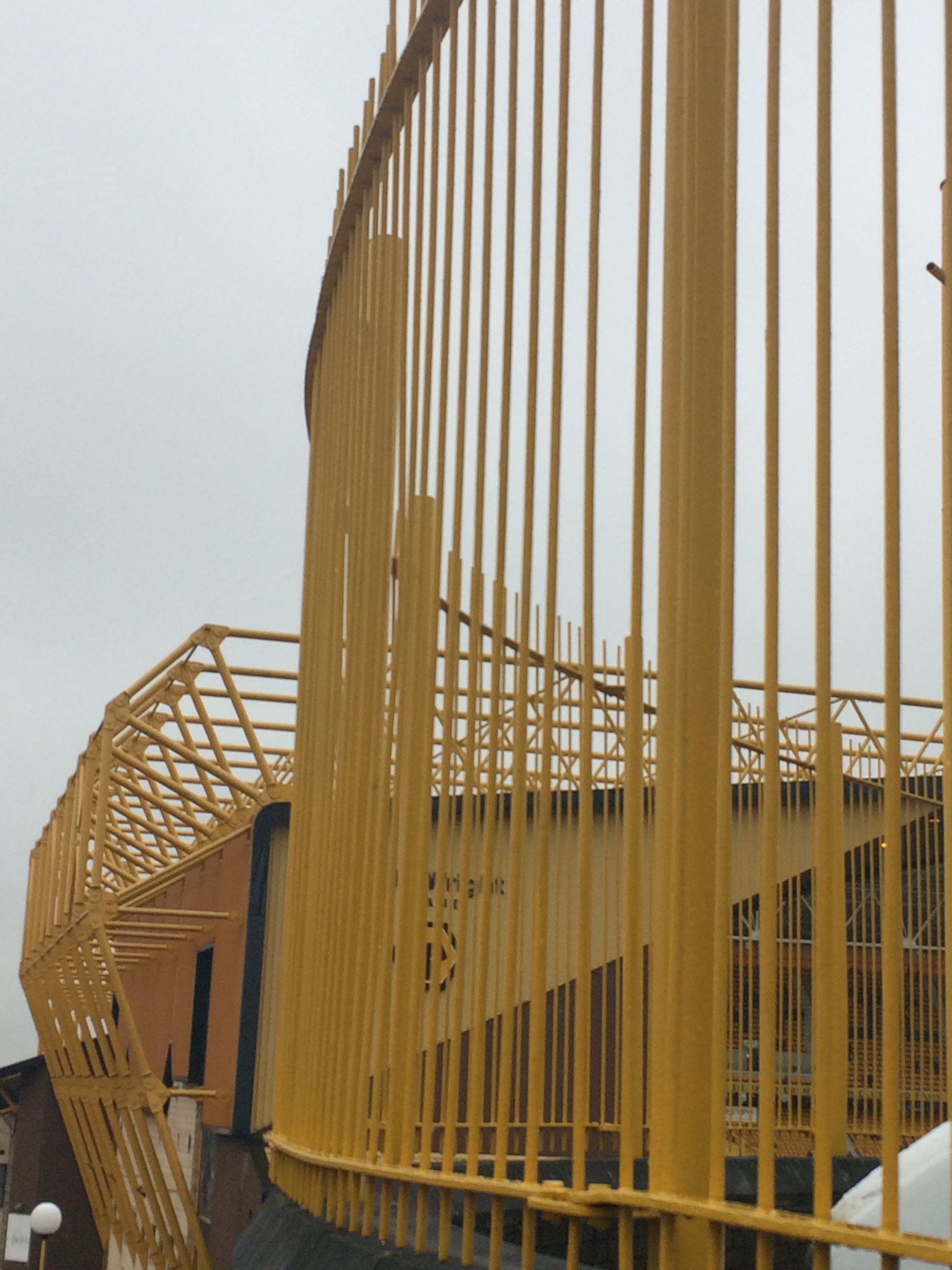 TRAINS: Saturday 3pm! Would you believe it? I have no doubt whatsoever that a sizeable bulk of the 3,000 Reds are relishing the opportunity for a full day out.
A cheap day return from Nottingham to Wolverhampton comes out at £31.80 but a small saving can be had by splitting your tickets. A return to Birmingham is currently showing at £22.40 and a return from there to Wolverhampton is only £4.90 making a total of £27.30, just about enough to save you the price of a pint.
Services from Nottingham to Birmingham New Street are regular with a frequency of four trains an hour but be advised two of them usually change at Leicester which adds about 10-15 mins onto the usual 75 minute journey.
Helpfully, the trains to Wolverhampton also leave from New Street meaning fans planning to stick around Birmingham for a while don't need to venture too far. Services are extremely regular and can be as quick as 16 minutes but note that occasionally extends to 35 minutes.
The 13:57 from Birmingham New Street which is planned to depart from Platform 6 is probably the last service you could make to reach the away turnstiles at a comfortable time, arriving into Wolverhampton at 14:13.
Allow 15-20 mins walk to reach the stadium heading out the station and veering right through the town.
Our Wolves fan below also has a little bit of information on the tram that connects Birmingham and Wolverhampton. It may work better for some but is a longer journey and therefore probably not a better option than the train.
ROAD: Unless you fancy using the toll road, you'll most likely approach Wolverhampton from the East Midlands by using the M6. Veer off west onto the M54 and then use the A449 which will take you virtually to the stadium. There are some specific car park options in the Q&A below, but I'm advised there some possible residential parking apparently available north of the stadium towards the racecourse. It's not something I've tried myself but should hopefully offer some options and potentially a quick getaway back onto the A449.
A quirkier option would be leaving the car on the outskirts of Birmingham – I've regularly used Gravelly Hill station near the M6 Jct 6 (Spaghetti Junction) to hop into Birmingham when driving as it's cheap, quick and there is plenty of free parking. It would involve a couple of short train journeys, into New Street and then onto Wolverhampton, but I know some might prefer to avoid driving too close towards the ground and this way offers more pre-match options around Birmingham.
PUBS
The aforementioned Birmingham stop offers plenty of sound drinking options. The Shakespeare and the Sun on the Hill but, as we've recommended in this guide before, give Bacchus Bar a go if you get chance. It's directly opposite the main New Street exit, tucked away inside the Burlington Arcade complex.
For those looking to get a drink in Wolverhampton, options seem to have shrunk since our last visit to Molineux. The only fan to welcome Forest fans on Saturday will be the Bluebrick which is a change from the old place in the middle of town. If I have my bearings correct it looks like you will need to go back on yourself a bit if coming out the main entrance of Wolverhampton Station. The enclosed map should help a little which shows the station, the pub and Molineux shown in the top left.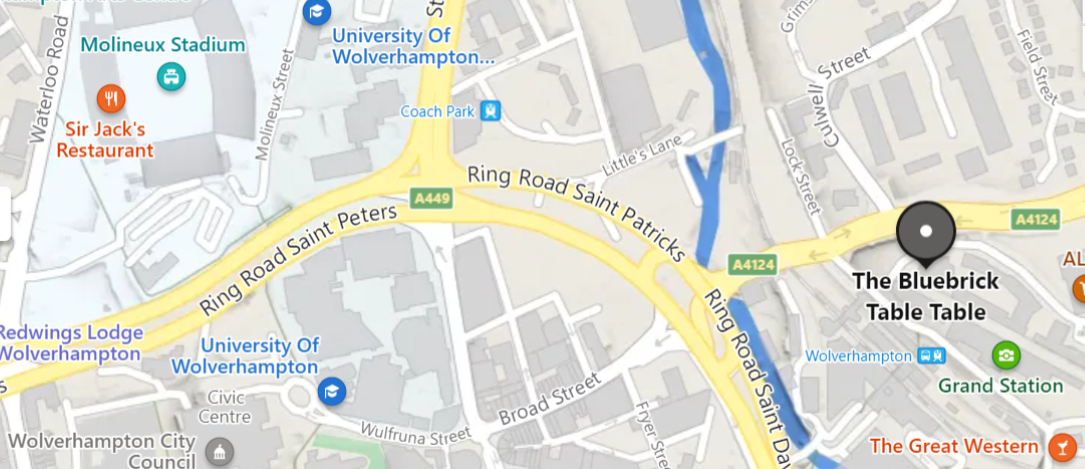 Regarding the away pub, we received the following comment from West Midlands Police:
Most if not all of the city centre pubs have door staff checking match tickets and only allow home supporters although you may find that the odd pub may let away fans in in 1s or 2s but that is down to each pub to decide and the usual stance is a flat no to away supporters I'm afraid
Q&A with Wolves fan Andy
At the time of writing, Wolves are without a manager after the Bruno Lage reign came to an end recently. By the time this goes out, it's feasible you might have a new man in charge but who are you favouring to take over?
When I started preparing my answer to this question, Julen Lopetegui was odds on favourite for the job. Since then, it has been confirmed that he has turned the job down for personal reasons – a big blow as was the number 1 choice and also my preferred candidate.
I'm not feeling massively inspired by the other names currently being linked (I would welcome back Nuno with open arms, but can't see that happening). Whoever it turns out to be, there is very little chance it will happen before Saturday's game now.
Is it likely that a new manager / coach will take you back up the table or are there wider issues to contend with?
Wolves have a talented squad (but still too small in my opinion) who I think should be doing better than they currently are.
Whether a new manager can get us moving in the right direction will depend on a few things: Restoring confidence in the players available, getting several key injured players back to fitness, and money available in January to flesh out the squad. I'd like to see at least 1 central defender and another striker come in.

Although we are only in October, there is some importance riding on Saturday's game for both Wolves and Forest. It's been a difficult return for us so far. Have you formed any opinions on Forest, whether it's seeing us on TV or just generally?
Having watched your last 2 matches against Leicester and Villa on TV I am under no illusions that our game with you will be easy.
Despite the heavy defeat to Leicester, it could have been very different but for the width of a post. Against Villa, I thought you dug in and came away with a hard-earned point.
Like many others I was surprised by the number of signings you made in the summer transfer window – no easy task to form a cohesive unit in the hardest league in the world!
I'll admit I can't stand the away end at Molineux. It's impossible to create any real atmosphere due to supporters being stretched down the length of the pitch, but I can see why from a home perspective that is a positive thing. What kind of atmosphere can we expect from the home fans on Saturday?
The location of the away fans in the lower tier of the Steve Bill stand is as much to do with the logistics of that being the only area available to hold a near 3,000 allocation as required by the Premier League. However, I do also agree with your observation that it benefits us to put away fans there.
For Wolves, it is critical to get the opening goal as our record when conceding first is dreadful. Having also started so badly there is no doubt that the atmosphere will probably be nervy and tense among our supporters early on.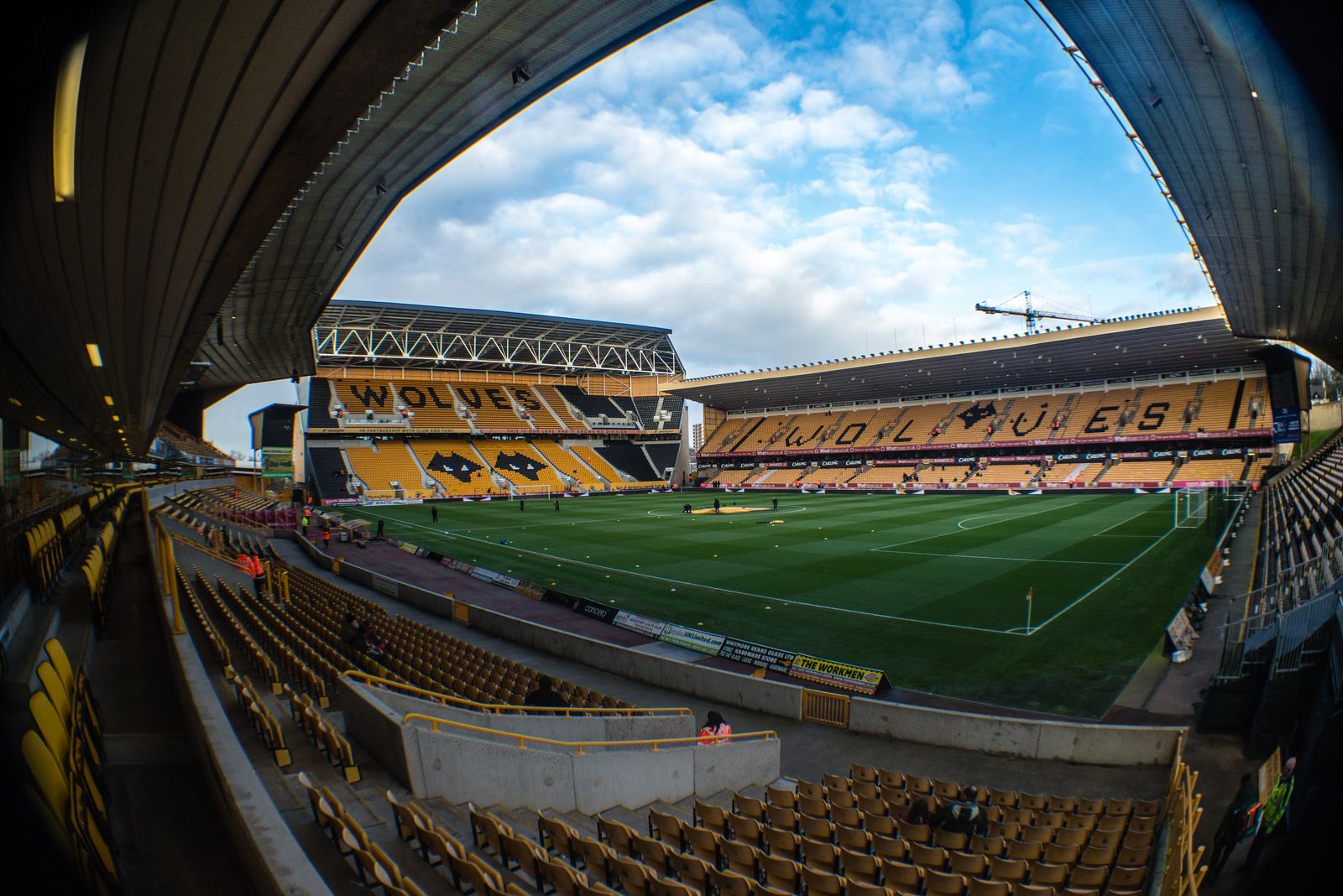 For those looking to drink in Wolverhampton before the game, where would you suggest?
The Bluebrick is the designated away pub these days and is located about 5 minutes' walk from the train station.
Unfortunately, the city centre itself is not great for away fans. Most of the pubs are strictly home fans only, although there are a couple that don't ask for proof of who you support to get in in my experience. These are the Dog & Doublet and the North Street Social. Only attempt to access these bars if not wearing colours (and don't blame me if you are still refused entry ha).
In terms of those coming in from Birmingham what is the best means of travel. There is the train line but is there still a tram service too?
The train from New Street takes around 20 minutes. The tram service runs every 10 minutes or so from various points in Birmingham city centre, but due to the large number of stops takes around 40 minutes to get to Wolverhampton. Both of these methods or transport are approximately 15-20 minutes' walk from the ground.
Any parking recommendations for those driving?
There are several available car parks – Whitmore Hill car park (WV1 4RU), the Civic Hall car park (WV1 1RD) and Birch Street car park (WV1 4HY) are probably the best choices – all located within half a mile of the ground.

Finally – as a club who has experienced time in the Premier League and Championship in recent years, how do you compare the two? I recall you once suggested that the Premier League can lose it's appeal after a little while, especially when there isn't much prospect of finishing in the top positions and the lack of Saturday games.
A good few years in now to your top flight stay, and given you've had some brilliant times recently, is the Premier League excitement still there for you as much as it was?
The two leagues are chalk and cheese really. While the Championship is undoubtedly the most exciting "2nd division" in the world, the Premier League really is the place to be in terms of prestige and global recognition.
The last time we were in the top flight (for 3 seasons from 2009-10 to 2011-12) it felt exhausting as we were constantly in a relegation battle and fighting for every single win.
This time around (the last 6 or 7 months excluded) has been amazing. I still think back to our gutting FA cup semi-final near miss and our European adventure the following season. For those first two Premier League seasons under Nuno I went to games with a confidence that we could beat absolutely anyone on our day. For some reason, since the Covid break things haven't seemed quite the same and it's difficult to put a finger on exactly why.
I can categorically say that I do still feel the excitement of watching Wolves in the Premier League. While there is fewer Saturday 3pm kick offs, this is something I have come to accept as the seasons have gone by. Nothing beats the feeling after an away win in the top flight – particularly against one of the big 6!
Wolves need to find a way to rediscover that winning mentality of a couple of seasons ago and Molineux will soon be bouncing again!
Thanks to Andy for his Wolves insight. See you all Saturday.
You Reds.