Forest Fans Football Tournament – Saturday 16th June
This coming Saturday (16th June) 20 teams of Forest fans will be competing to claim the Sam Widdowson Trophy, named in honour of the pioneering Forest hero. If you are playing or fancy coming along to watch then here is everything you need to know:
11:30 -11-45am – Arrival time. Please report to the Forest Zone building at the far end of the site (opposite end from tram lines).
Noon – All teams should be ready to start at noon but this could move forward if the pitch is available earlier. Not all teams will be playing immediately. Please see below for the Rules & Requirements for all participants.
Tournament Format
The 20 teams have been drawn into 4 groups of 5 as shown. Each team will play the other teams within their group once in games that will last 15 mins. We have 4 pitches available to us and each group will be assigned a pitch for this initial stage.
GROUP A = Pitch 1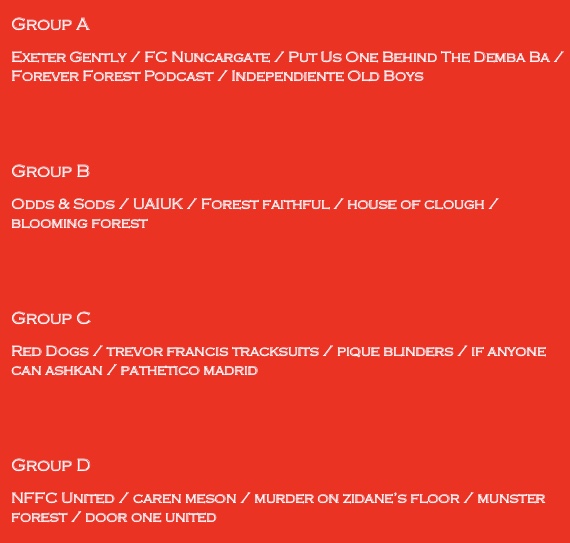 GROUP B = Pitch 2
GROUP C = Pitch 3
GROUP D = Pitch 4
The top two from each group will progress and will play the opposite position from their linked group ie Group A Winner v. Group B Runner-up. In the same way as the World Cup operates. Games in the knockout stage will be 20 mins.
Only teams that progress in the top two positions will have an opportunity to compete for the trophy but participation will not end there for ANY of the other teams.
In the same format as explained above teams will play another from their linked group ie Group C 3rd place will play Group D 4th place. They will then progress in a standard way through to a 'B' final.
All 4 fifth placed teams will face off against each other. The losers of each of the 5th place play-offs will be eliminated. The winners of the 5th place play-off will then compete against each other but their tournament will then end at this stage.
While sounding a little complicated we felt this was the best way to keep everyone involved as much as possible. There will also need to be rest periods for the main tournament so it makes sense to fill these gaps with the ongoing B tournament. Besides, you don't need to understand it too much; we'll point you in the right direction on the day!
Everyone will be guaranteed a minimum of 5 games with the finalists of the A & B tournament needing to play in 8 games – that's two hours of football so your squads will be utilised.
We expect the tournament to run through until around around 4:30pm.
Rules & Requirements
Standard football rules will apply rather than 5-a-side rules. 3 point for a win in the group stage and 1 point for a draw. Goal difference will be used where teams are on level points with goals scored used in the event the GD is identical. The head to head results will act as a secondary factor. Where teams are still tied then a sudden death penalty shoot-out will be be used to decide who progresses.
There is no head height and all players are allowed anywhere on the pitch. Throw-ins and corners will apply as will fouls and yellow / red cards. A referee will take charge of each game although we will be seeking volunteers from the participating teams to help with this.
Unlimited rolling subs are permitted.
In the knockout stage, tied games will head straight into a sudden death penalty shoot out.
Punctuality is vital to avoid overrunning. Any teams not ready to take the field by the designated kick-off time will automatically forfeit the game by a 0-3 scoreline.
We'll be playing on a  3G pitch and therefore studs are recommended.
There is a café on site which we expect will be open but players are advised to being ample food & drink to get them through the afternoon.
Parking is readily available on site. The nearby tram car park will be a nearby alternative if needed.
Full changing areas are provided for teams.
We also have use of the adjoined community room – we'll have some FG pin badges & stickers available. A photographer will be setting up in here too. We'll explain more about that on the day.
We will be trying to avoid kit clashes as best we can but it would be helpful if any teams that are able to provide a second shirt colour or bibs bring them along. The same applies for footballs for warming up / in between games.
Afterwards
We'll be heading to Southbank City on Friar Lane in town for a few drinks and to watch the evening World Cup fixtures. We have their new outside beer garden reserved for us in its entirety which includes screens to watch the football. All are welcome to join if they wish, players and non-players.