From Madrid to Heaven: A Spanish perspective of the Madrid final, 40 years on
'From Madrid to heaven' is a common saying in the Spanish capital. Its essence is that Madrid is the last stop before paradise. If you aren't from there, it might come across as a bit arrogant but for Nottingham Forest it rings true. Today marks forty years since the pinnacle of Forest's miracle, the second European Cup for Clough and Taylor's boys with a hard-fought victory over Kevin Keegan's conquering Hamburg. Whilst Trevor Francis was the hero in Munich a year before, the crowning glory was reserved for the little, fat lad, John Robertson. You could not write a better footballing story.
There are some treasured moments along the way; beating Liverpool in the first round in 1978 and grinding out results in Germany. Although this illustrious past often feels very distant, it remains one of the primary attractions to Forest. The more you learn about the unlikely feat that Brian Clough achieved with a team from a small industrial city in the midlands, the more drawn in you become. These stories have brought together a number of Spanish Forest fans on social media, united by a passion (perhaps madness after the Fawaz years) for Nottingham Forest.
For us, the #SpanishReds, the 1980 final means that bit more because it was played in Spain and connects us to those players who took us from the Second Division to the heights of Europe. The second European Cup feels a bit more like ours.
José Antonio explains that 'If you win the European Cup once, you might say you had a good year, you were lucky or you had blessings from Lourdes (as we say in Spain). Winning the European Cup for a second time, just a year after your first, puts you in a different category altogether. Robertson's goal in the Santiago Bernabéu that night cemented Forest's position as an outstanding team, as giants.  That Forest team showed us that with hard work and a belief in miracles, in just four years, you can go from playing away at Hereford to winning your second European Cup in one of Europe's most emblematic stadiums.'
Forest's second European final was played on the 28th of May 1980, at the height of the Movida Madrileña, a wave of hedonism that washed over the streets of Madrid and other parts of Spain after the end of the dictatorship. That creative fervour didn't spill over onto the Bernabéu pitch, however, as Forest and Hamburg played out a sluggish affair.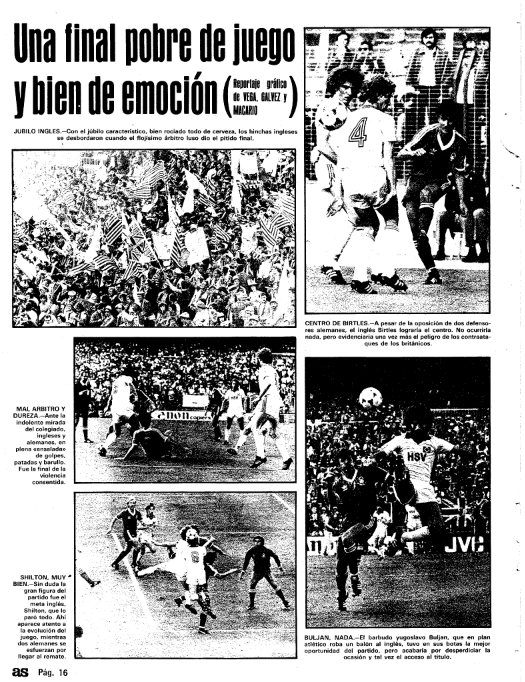 Whilst stars such as Alfredo Di Stéfano and Laurie Cunningham returned the verdict that the game had been a tactical affair, the Spanish press were less forgiving. La Vanguardia complained of the 'monotone rhythm' of the match, in which attacking intent was not rewarded. Diario AS ran the headline 'El Nottingham have done it again', the day after the match. 'A goal from Robertson and Shilton's saves proved decisive', they explained.
Undoubtedly, the match was settled by a moment of brilliance from John Robertson, a player Clough called his Picasso. Certainly too, there were times when Forest were pinned in their own box. But Forest won and that's enough for us.
Spain was a country on edge when it hosted Forest and their noisy followers. On the day of the final, the nation's politicians were debating a vote of no confidence in the Spanish parliament not far from the Bernabéu. Fortunately, however, the final took precedence over the politics on live television, giving a new generations of Spaniards a chance to watch the Miracle Men.
Although the 1980 European Cup final was intended to be a dress rehearsal for the 1982 World Cup (fondly remembered in Spain for the mascot, Naranjito), the match did not muster much enthusiasm in Madrid. The stands were only half-full, exposing the stadium's empty concrete terraces. The press report that the majority of the fans who attended that evening were either English of German as many of the local Madrilenians chose to watch the game from their own homes, perhaps because Real Madrid had been knocked out previously by Hamburg.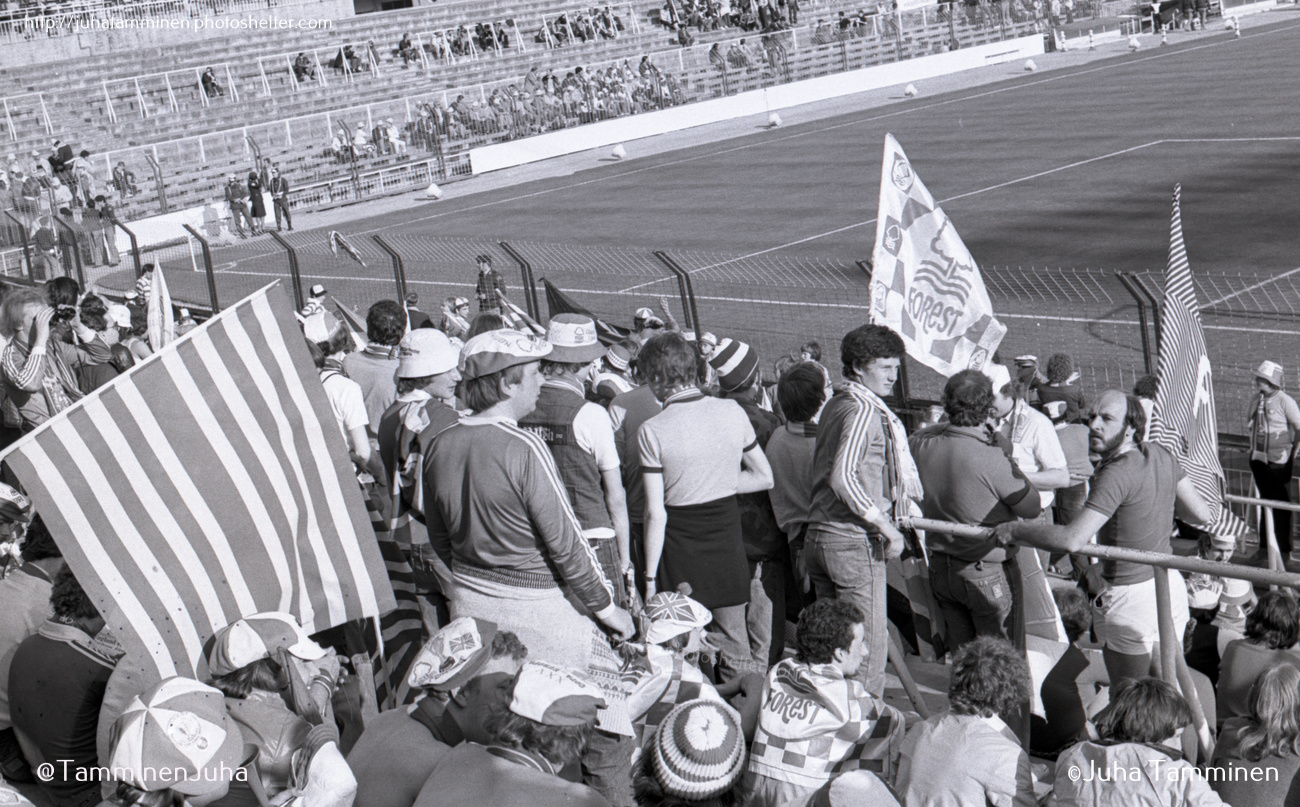 There were, of course, locals who followed the final with great interest. @tote_alkor, a member of the #SpanishReds, relayed what his grandad and dad saw on that day in 1980: "In those days, my grandad was a referee for the Madrid Footballing Federation. My dad, who was 15, accompanied him to referee a match in Canillejas that day. After a post-match meal, they started seeing people that 'spoke weirdly'. They were the Forest fans, dressed in red, carrying Union Jacks and banners with trees on them, as my dad recalls. They both decided to go to the Bernabéu to check out the atmosphere, where they watched the game in a bar, sharing glasses of Trinaranjus, Coke and wine with some of my grandad's friends and some 'guiris' (foreigners). It was an unrivalled, historic evening, not that they knew it at the time. The right team, the one with the Union Jacks and the trees, won that night and left their imprint on history." It was of course fate that made @tote_alkor a Forest fan. After all, it runs in the family.
In those days in 1980, there was no EasyJet or RyanAir and travelling from Nottingham to Madrid was not as simple as it is today. Those who could not travel by plane had to embark on long coach journeys through France to reach the Spanish capital. Forest fans starting arriving to Madrid on the Monday, two days before the match. Upon arrival, they flocked to Madrid's many plazas to try the local beers, most likely in abundance. As Diario AS note, many of the Forest fans did not have hotels and took to sleeping wherever they could around the Plaza de España. The newspaper also records that two wayward Forest fans were arrested for swimming in the Plaza's fountain in just their underwear.
In an excursion into their loft, Bryan and Bev Earl recently found their long-forgotten photos of their trip to Madrid. They were two of those lucky enough to fly to Madrid and were kind enough to share their stories with us. Bryan and Bev's initial flight was cancelled and they made it to Madrid just in time for the match. Their late arrival meant that they did not get to see as much of Madrid as they might have liked but they recall that nearly all of the locals got behind Forest. The beer and champagne kept flowing at their hotel after the final whistle had sounded and the celebrations begun, they recall, and the Madrid natives were more than happy to join the party.
Madrid also provides the backdrop for one of the most absurd anecdotes of Forest's rise under Clough and Taylor, which makes the Nottingham Forest miracle that bit more special. Before the game, the ever-professional Peter Shilton decided that he needed to warm up but was told that there was nowhere appropriate at the Forest hotel, in spite of promises that there would be a pitch available. Never one to miss a trick, Clough sent his coach and Shilton to the nearest-available grassy patch, a roundabout, to warm up his goalkeeper. A warm-up for the biggest game in European football on the Paseo de la Castellana roundabout, surrounded by honking cars and perplexed Madrilenians, must have seemed inconceivably ridiculous even then. The bizarre strategy paid dividends, however, as Shilton put in one of his finest Forest performances against Hamburg.
For us, the #SpanishReds, it is an honour that this famous episode took place so close to home and it has created a special bond between Nottingham Forest and Madrid and the rest of Spain. We are a group of Spanish Forest fans who have been following Forest together online on social media since 2008. We like to think of ourselves as an unofficial 'peña' (fan club) of Forest. If you want to join the conversation, we use the hashtag on Twitter of #SpanishReds. If you want to practise your Spanish, there's no better place to start than the City Ground blog: https://cityground.blogspot.com/
From Spain, we send our very best wishes to all the Forest fans who are remembering that final, the Miracle of Madrid. We hope to see you soon at the City Ground celebrating more triumphs. Saludos de @cityground74, @tomvvardle, @tote_alkor, @samutmb, @forestlive y @Jose_J95.
Then, Now, Forever. Forest. C'mon you Reds!