Home
We wouldn't possibly be able to count the number of times over the last few weeks where we audibly questioned what on earth we were doing. The end product we hoped would be worth the huge effort but it's been a good reminder why we restrict these big displays to a couple of times a season.
Around 4 weeks ago planning began in earnest; an initial plan was scrapped and we eventually settled on the 'wave' design and the 'Home on the River' theme. A couple of texts were sent out for a bit of feedback to friends showing the wave and banner encompassing the entirety of the Trent End. Sean of Bandy & Shinty soon replied: 'Might I suggest you take it into the BC Stand?'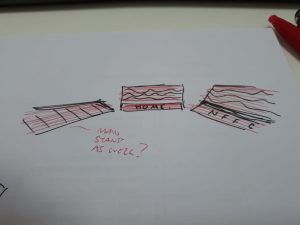 The suggestion was initially dismissed but within half an hour was actively being planned. As part of the survey we ran over the summer we were inundated with requests for a future display to allow other sections of the ground to be involved in it and that was a big part of our thinking.
Here is a good point to say thanks to our card supplier – Dave at Printforce has helped us out for each display so far and we owe him a huge debt. Thanks to him this display was not only able to happen but was affordable for us.
On Friday 17th (day before Wigan away) a small band of us met on the concourse of Lower Bridgford and began creating the huge banner that you saw hung from the upper tier of the Trent End. It stretched for 80m in total. The stencilling and painting would last until the Thursday before the Birmingham game. Richard at www.DecoratingWarehouse.co.uk in Stapleford brilliantly donated all the paint we needed (which was a lot) and we are incredibly grateful for his help. There is a very limited pot of self-funded money for these displays and having all the paint gifted to us was an amazing gesture. Three times we went back for more!
Financially we always face a struggle to fund this operation of ours but it remains of the utmost importance to us that we remain self-sufficient. Every aspect of what you saw in Saturday's display was brought together by money fans have helped us raise. We are humbled by the volume of orders via our website and how activities like the boats are supported by many of you. Should we decide to do another display then we'll need your help on this front again. Hopefully you, like us, can see how much stronger the overall message of these displays are when it is the fans that are behind them.
Of course we also have a debt of gratitude to our army of volunteers who were pivotal in creating the visual effect. You'd be forgiven for thinking that this was done by a group of people who know each other well but it isn't the case. Many answered the call from our recent newsletter and others had previously expressed an interest in getting involved. Together we toiled over several days and evenings, giving up free time after a long day at work. Whether it be painting or setting out card on Friday evening and Saturday morning. I hope that every single one of them are proud of what they helped to do. We wouldn't have managed it without them.
We also need to pass on our thanks to the boys and girls of the Trent End and the Brian Clough Stand who responded to our request to hold the red or white cards aloft as the drum roll kicked in for Mull of Kintyre. Despite us having managed it twice before there is always a bit of nerves about whether enough people will but we needn't have worried. A special mention for those on the front row of the Trent End upper tier who we badger about holding onto the fabric, unfurling the fabric and then collecting it all up at the end. Not to mention us constantly squeezing past them until the point of the banner drop. We realise that displays such as this one are not for everyone but we are always thrilled to see how excited the vast majority are to be a part of it.
It seems fitting to close with a tribute to our inspiration behind this latest project of ours. We all love that stadium. Sure it's rather rundown in places, some of it probably isn't fit for purpose as a sporting venue and it's never been the best at conducting a bit of noise for us. But all that aside there aren't many grounds in this country that can compete with its character. And there is certainly no better setting. Anywhere. Some of us are fortunate enough to cross Trent Bridge on a regular basis and even though it's such a common sight for us our hearts will rise just a little every time we glance over. If ways can be found to redevelop it and address some of it's shortcomings I for one hope we can remain on the bank of the Trent for a very long time.
Wherever I may go, wherever I may roam, you won't ever change the way I am, there's a place on the river called home.
See you soon.