Home. Home, where I wanted to go
I'm not actually a fan of 00s wristband rockers Coldplay, but this line – this one line – gets me every time. As the throbbing beat and repetitive riff of 'Clocks' builds to a crescendo, this single understated lyric soars with longing and regret. It speaks of the times your Mum called you in from the park for your tea, of the bittersweet bond you have with a football club, of the time you took cash covered in chicken blood to join Blackburn because you didn't feel loved anymore. Home a place of blessings and betrayals.
Last week I volunteered to help out with Forza Garibaldi's latest, and most ambitious, effort to improve the atmosphere at our home the City Ground. It was amazing to be involved and see the end result which, I'm sure you'll agree, did them great credit. It's worth reiterating at this point that Forza are an independent fan group. And so while you might see flags or cards at other football stadiums they are usually bland, corporate efforts to improve a club's image with little or no actual fan involvement. Although it's great that the club have allowed Forza access to the stadium and embraced its agenda, make no mistake that this is something special, something just for us.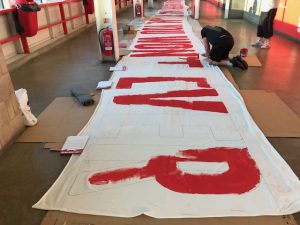 With paint tins and cardboard inserts in hand, there was a quiet dignity with which we went about our work – we knew it was for the greater good, for something bigger than ourselves. It was so inspiring to be surrounded by others, like me, tired from a day's work, but energised by this chance to make a contribution and, let's be honest, pad around the City Ground for a few hours as though we owned the place.
If you're reading this and you've seen Forza's appeals for your help before and thought 'nah it's not for me', I urge you to think again. They are, unquestionably, a force for good at our club and they should be cherished. If they can put a paint roller in my hand and make me feel comfortable, trust me, you'll be fine. There was no ego, no cliques, just genuine fans using their skills to try to improve the atmosphere and sense of belonging. WHEREVER I MAY GO, WHEREVER I MAY ROAM, YOU WON'T EVER CHANGE THE WAY I AM, THERE'S A PLACE ON THE RIVER CALLED…
Home. I wistfully mentioned earlier your Mum calling you in for tea. Yet in many British homes in 2018 there simply isn't enough money to cover three square meals. This site isn't a place for politics but it's probably wise for us all to contemplate that fact living, as we do, in the world's sixth largest economy. And although the Forza group could've been forgiven for spending Saturday afternoon sipping ale and patting themselves on the back, instead they teamed up with Hope Nottingham and staged a food bank collection point. The last I saw there were heaps of bulging carrier bags, tins and boxes dutifully dispatched in the afternoon sun. This is us, Forest fans, at our best. This is what a club, a community, truly is.
Which all makes what happened on the patch of grass I've been eyeing longingly all week somehow less relevant. No bad thing when you consider that for 75 minutes on Saturday the team were awful. To gauge how awful, trawl your Twitter timeline and find out what the angriest person said (flagged attack dogs in profile pictures is a good place to start). Believe every word. We couldn't get the ball. If we got the ball we gave it away, or, to be more precise, we kicked it high so that a tall Birmingham player could gratefully receive it. I knew I'd be spending some of my time this week watching paint dry, I just didn't think it would be at 5.30 on Saturday.
And even though this is the happy ending point in the story (oh how I love Joe Lolley, the birthday boy, the first-touch force of nature; oh how sweet an equaliser for our big number 9) it really isn't good enough. Surely professional players should be sent onto the pitch well-versed in plans A, B and C? Surely modern management involves more than just throwing on a tricky winger with 15 minutes to go and hoping for the best? Surely this season is about more than scraping a point at home?
Home. Home, where I wanted to go.
BANK HOLIDAY MONDAY UPDATE:
Feeling soothed by the sweet zero in the L column, slightly hungover and slightly less grumpy about Saturday's display, we heed the Forza call for help tidying up the stadium. Dozens of volunteers descended on the City Ground with a smile and a bin bag; climbing the steps of each stand and block, stuffing as much red and white card into the sacks as we could. Seeing my six-year-old do his first day's work (well, an hour's work) was payment enough, but the stickers and shiny Forza badge made it more than worth it. Perhaps you can only really call a place 'home' when you've given it a good tidy … the Forest fans have done us proud again.
Gareth Watts (@TokyoBeatbox)
Find out more about Hope Nottingham here: http://www.hope-nottingham.org.uk/