Sticking Plasters – One Year On
In the days before Christmas the plan was to write a piece that chartered the renaissance of NFFC throughout 2018. A few highs, plenty of stumbles but recognised progress. I was actually looking forward to it.
Sadly it wasn't to be. As the 73rd minute arrived at Carrow Road on Boxing Day the latest project was on track. No doubt at all. One minute later a very drastic unravelling began. It would quickly lead to the rather unexpected and disturbing news that the future of the manager was very much in doubt. It escalated to a seemingly inevitable end for Aitor Karanka, not helped by a pitiful showing at the New Den.
On the way back from London it struck me that I'd probably never been flatter when it comes to NFFC. This is certainly far from the worst moment but it's certainly, in my time, the most drastic plummet from where we were. Or at least where I thought we were. Naivety on my part? Ignorance? Possibly. But I believed in NFFC 2018, I really did.
The aforementioned end of year article I referred to in the opening paragraph was designed to build on a piece I wrote in the final hours of 2017. Mark Warburton had been dismissed on New Years Eve and I quickly drew some thoughts together into a response I called 'Sticking Plasters'. Now, one year on, rather than producing a sequel I'm revisiting it with a little bit too much of a familiar feeling.
It was clear that any 2018 equivalent would largely plagiarise my own 2017 words so, instead, I am going to attempt to merge them into a single mass of thoughts. Then and now. For the sake of clarity it will assume that the days (hours?) of Karanka are numbered; I think we all have come to accept this as an inevitability now.
2017 (original piece): How did we get here so soon? Alas, this is Forest and the latest implosion is normally only ever just around the corner. But I thought we were a little bit away from this sort of defining moment.
2018: A rather similar set of circumstances. Karanka's team have not progressed like some would have hoped and December has certainly been a poor month but I can't see past how early we are into yet another reign.
People have pointed to the money Karanka has been able to spend and in relation to his predecessors but spending money guarantees nothing in this league. Considering the Brereton / Grabban deals made us a £1m profit then the only major outlay has been on Joao Carvalho. And I maintain that represents a good investment for us.
Frees and loans are never actually 'free' I know but the big spending tag is, I think, unfair. Especially considering money we have received in recent seasons combined with the lack of activity due to the circus which was the previous regime and the sanction on transfers it lumbered us with.
The signings we have made, in my view, have merely allowed us to make up some ground after years of stagnation. Teams like Derby, Boro and Norwich have been building a side for longer than us and have spent large sums doing so. West Brom and Stoke have dropped down into the league and have the benefits of some heavy investment along with a core of top flight players. There are other examples too. Do we expect that one strong summer gives us the right to automatically compete? Those clutching the purse strings clearly must see this differently to me.
2017: It's not a time to panic, the new board have impressed in a very short space of time and will have their reasons behind this call but, sadly, I don't really care what they are. I don't want answers; I want to have faith that we are not going to suffocate ourselves again with short term plans. If the justification is not something meteoric then I will remain saddened that we once again find ourselves back here. Square one.
2018: That's the real crux of this debate right there – square one. We've not been shy in throwing our weight behind Karanka. The promotion on his CV plus the work early on this year when he was, with the support of the board, ruthless in ripping up a failing squad earned him credit.
Added to that has been the swashbuckling football we've witnessed at times this season. Admittedly more so away from home but as a long suffering supporter who has trekked all over the country with thousands of others it's been a huge breath of fresh air.
We can debate tactics and substitutions but, I'll be blunt, I don't give a damn about all that. Just my own personal opinion but the Clough quote about tactics is the definitive position on this subject for me:
'Players lose you games, not tactics. There's so much crap talked about tactics by people who barely know how to win at dominoes.'
This always makes me smile. Typical Clough – on point and relevant even today. I'd rather enjoy the ding dongs we've seen plenty of times since August and not worry about the rest. A ridiculous mix of naivety, errors and brilliance. I've thoroughly enjoyed and have found myself engrossed by it. And I've not been able to say that about a Forest side for a long time.
Yet, with the greatest possible respect, the fate of Aitor himself isn't the full story of why we have been banging the drum in support of him. It's been suggested by some quarters that the campaign to save Karanka has been some weird push which risks making him bigger than the club. Nonsense.
What it is is a genuine concern about another manager being given insufficient time to actually overcome a fundamental flaw at the heart of Nottingham Forest. We can't escape that our inability to give a reasonable amount of time to our managers is a prime reason why we never succeed. And in Karanka we have someone who has proven success at this level. Success which I might add was achieved after he was afforded the opportunity over 2.5 years.
You see, no-one believes Karanka is the messiah. No-one is certain he will get us promoted. And no-one puts their support for him before Nottingham Forest. But some of us see the good he has done aside from win ratios and comparisons against his predecessors. Some of us see the good in a bit of loyalty in a sport where it has largely been eroded. And we believe strongly that we should learn from the recent past and give this man sufficient time to develop a side with the full support of fans and owners and without fear of the rug being pulled when we lose a few games.
I will find no better way to sum up this flawed approach than my words from 2017:
2017: My football club is weak. It has been for a long, long time. It is stained with a fear of failure even though it has been failing for so, so long. It panics, it reacts and, when it really needs to be, it has a woeful inability to be brave. It cannot stick with a project and see it through. It caves at the first major hurdle. It does not solve problems; it merely avoids them and starts again. I long for the current ownership to remedy that.
Repeatedly we have found ourselves in a position where we can choose to be brave or we can crumble and we take the easy, quick fix solution. Some may prefer to describe the word brave as reckless. But is it not reckless to continue to take the same course of action time and time again knowing with certainty that it has not worked umpteen times previously?
2018: To repeat: 'I long for the current ownership to remedy that'.
I fear where this decision takes us. I really do.
Why do we keep forgetting the mistakes of the past? Why do we fail to understand that it's highly unlikely that any manager is going to transform us into a winning side in a single campaign or a calendar year? Why do we not try something different than repeating the same old tactic? Do we just hope and pray that eventually one of the gambles pays off?
Instead we look at the failings of the current manager in isolation – tactics, signings, a lack of steel – and forget about the last dozen before him and the fact that the problems were largely rooted in the same areas. Yes – some have been poor managers – but the point remains that the problem goes way beyond any single person at the helm. And it's ludicrous we think otherwise.
2017: This is a frustration that has stacked up over many years. The new ownership cannot be responsible for that but I really hope they can break free from it.
Now I am deflated. I will find that spirit again for sure but I become increasingly wary of this cyclical nature that churns me up all because I dare to follow a football team.
I don't demand results, I certainly don't insist upon perfection but I do want something to get on board with. A philosophy to get behind and a club to be immensely proud of.
2018: Once more I find myself at the sharp edge of the cycle I referred to in 2017. I am sick of it and I detest the fact that my greatest passion is at the mercy of a decision making process that I cannot comprehend. I don't ever expect to have a say but I'd like to be able to understand it.
This club post 2017 have made some wonderful steps out of the murky waters that clogged up our innards previously but these numerous thoughtful and conscientious initiatives which have restored pride in our club seem at odds with such a knee-jerk attitude to the football managers position.
2017: My absolute number one concern as of right now is where on earth does all this end. People have used statistics to argue a point one way or another. It's all largely bollocks, used without context or back story. The one fact I keep close to hand is that this is Groundhog Day. Oh so many times we've been through this. We have for several years been rotten at the core – the incoming Chairman described it last summer as akin to 'intensive care'. Top to bottom, left to right we are a mess and I can only expect that the new regime have been fighting fires since they arrived.
Everything at a football club is geared towards results on the pitch. A long term malaise like ours does not usually get fixed in a single season, or nine months and one transfer window to be more precise. If we appoint the right candidate and enjoy a high dose of good fortune we might charge to promotion and this episode will be brushed aside. Viewpoints like mine will be laughed at. But it will be in spite of these problems which have been eroding away at our edges for years.
We chase a dream.We try and reach the stars without the required levels of rocket fuel or without the necessary safety checks. Sometimes we don't even have the rocket.
2018: The same question needs to asked once more – where does this end? I pray that the next manager can break the trend and I really, really hope he does because the alternative looks like we will be here again within 12 months. Maybe even the summer.
We have the rocket and most of the rocket fuel. But are we meddling too much with the controls?
2017: The club is at the very beginning of what I hope is a total overhaul. There must be a shift in mentality and culture, not just in how we operate but how the supporters respond to months of slow and ambling progress if that is what it takes.
I worry that a precedent has been set. We are 14th. That's pretty much where I expected to be. We've been awful at times this season but I've also seen lots to keep me hopeful. What exactly is our stance if we are here again in a year's time? Do we rip up another latest project? Are we setting targets of top six or you're gone? And will the fans demand blood knowing that 14th wasn't good enough for the last guy?
Or do we acknowledge that sticking plasters are not the answer? That managerial reigns of months rather than years are not the solution and eventually, just maybe we will have to give someone a proper length of time to oversee a comprehensive, bonafide development on the pitch?
The inevitable response to this is it needs to be the right man. I will argue that, given everything I have raised above I'm not sure we provide the necessary period for that right man to emerge. We certainly can't expect to attract the right man and for him to deliver us promotion on a plate immediately.
2018: Undoubtedly that overhaul did start and a great deal of credit should be given to all concerned. A much needed structure to the club has begun to emerge but this will only go so far when the one of the key cornerstones is regularly chopped out and replaced.
And how do we ever progress and flourish considering that each new manager wants to impose his own style and, naturally, introduce new players? Highly paid individuals, disposed of by the new man, are stacked up and gather dust while money is splashed on the latest revolution. It's a maddening, expensive and unsustainable model but one that we freely sign up to annually.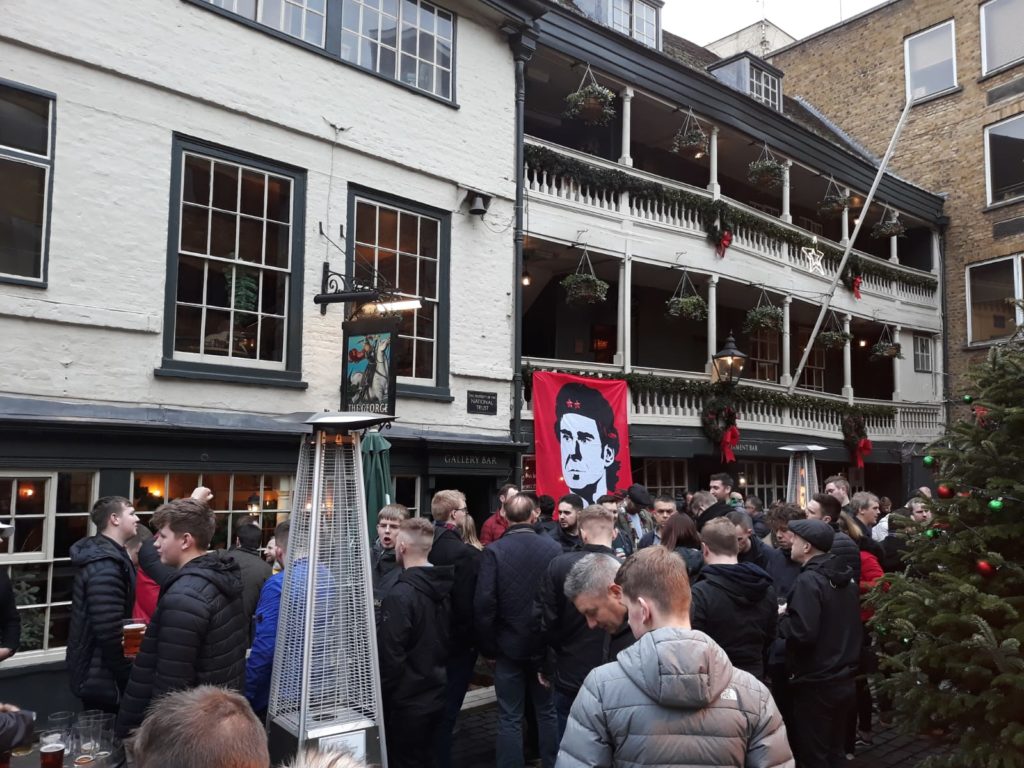 One almost overlooked sign of progress is how the supporters have reacted to Karanka and, in particular, the reaction to the news of his expected demise. I found it refreshing how the vast majority collectively voiced their frustration after the stories broke late on Boxing Day. Even in uncertain times it's nice at least that supporters can get on the same wavelength and find common ground to unite together. It can be a powerful thing and something I hope we can see more of.
We should here also at least explore the option that Karanka could stay in his post. The proverbial writing is on the wall it would seem but this period of purgatory is strange. If he is to go then it's odd that it is yet to happen. You have to question how much the dour performance at Millwall was affected by it and I fear Leeds could be the same. Alternatively beat Leeds and to then sack him is a strange move.
Aitor recovered from that bizarre episode at Boro where everyone thought he had gone only to return and lead them to promotion. In the last twenty barmy years of NFFC the resurrection of Aitor Karanka would not even make the top 10 shocking moments.
We have witnessed over the last few days how popular he is with NFFC supporters and I won't be alone in saying that it's a lesser gamble to let him see out his term rather than throw all our chips on another number on the roulette wheel.
They won't listen to what I have to say but I would urge the decision makers at Forest to consider keeping Karanka in place. Back him in January and let's see where he can take us. At the very least we might all benefit from a bit of calm, even if the goal of promotion is not secured. If it wasn't then I'd feel a lot better about our prospects in 2019/20 with a year and a half of progress and shaping our squad already in place.
2017: When you think about it it's madness being a football fan, especially when your team of choice just so happens to be the craziest football club in the land. I should probably have left it all behind a long time ago. It's not good for the mind or the heart but, every so often, it's ruddy good for the soul. And it's as close to religion as I will ever get. Now, someone pass me a bucketful of faith. I fucking need it.
To the owner, chairman and board you have my total support. As does the new manager whoever he may be (unless it's Paul Ince).
2018: Absolutely. Despite my whingeing there is still a very good chance this football club is on a sound footing. I disagree on this but I remain grateful for the fantastic work that has gone before. It would be wrong for us to sit on the fence on a subject like this one and hopefully the club will appreciate that.
Yet big tests lie ahead. I have never ever been one to call on the club for answers but, on this occasion, I think it would be wise of the club to give supporters an update as to what the powers that be are thinking. They have exceeded my wishes when it comes to staying in the shadows and speaking only when deemed necessary but this is a critical point.
Why is promotion so vital? At fantastic as it would be do we absolutely need to get promoted this season? Do FFP or other financial reasons have a negative impact if we don't? Does the owner's interest rapidly wane if we aren't a Premier League side next season or the season after that?
Upon his arrival the Chairman, Nicholas Randall, spoke of the 'precious commodity of time' being afforded and the importance of stability. We all readily consumed and believed these words. Is this still a feasible vision for our football club and its football manager or should we not bother getting attached to the next one?
It might save a lot of heartache if we don't.
Happy new year to you all. Whatever happens we'll see you in 2019.
Matt