The Rebel History of Nottingham
At the heart of Nottingham's history and culture is a rebellious streak. It is entwined with tales of heroism, innovation and achievement which all dominate the city's past and its present.
The stories of Nottingham as a 'Rebel City' are brought to life primarily by Robin Hood and his band of outlaws along with Nottingham Castle which still dominates the city skyline. The Castle was the focal point for the beginning of the English Civil War in 1642 and was soon commandeered by the Roundheads who opposed Charles I. It repeatedly came under attack from forces loyal to the King but it remained in rebel hands until the end of the war in 1646 when Charles surrendered at Southwell, Nottinghamshire.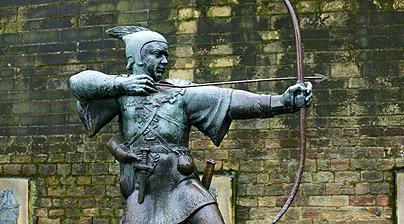 The city's rebel heritage runs deep; it has passed through the centuries and across various forms. While certainly not an exclusive trait of Nottingham it has developed a reputation for being a place where the locals will stand up for what they believe and support each other. It is that underdog spirit that has been a bedrock of Nottingham and one that has seeped into the consciousness of many of its residents.
The city boasts a fine collection of writers and traces of rebellious elements within their words are unmistakeable. DH Lawrence of Eastwood was, according to Leo Hamalian in his 1990 journal: ''… a rebel and unrelenting enemy of oppression and repression in whatever form he encountered them.'' Lawrence battled perceived injustices which stirred resentment amongst his peers while also notably speaking out on behalf black writers who could not get the opportunities they warranted.
The renowned poet Lord Byron is another; proclaiming himself ''born for opposition'' and he was true to his word via his poetry. He died aged 36 having gone to fight in the Greek War for Independence although his death was not linked to battle.
The writing of Alan Sillitoe transferred to the big screen in films such as Saturday Night and Sunday Morning (1958) and he purposely kept the setting for much of his work around his home city. In 2004 The Guardian described Sillitoe as ''inescapably tied to Nottingham.'' His words demonstrated his nature, best illustrated by a passage in Saturday Night and Sunday Morning:
''Once a rebel, always a rebel. You can't help being one. You can't deny that. And it's best to be a rebel so as to show 'em it don't pay to try you down.''
Industry has played a major part in Nottingham with the production of lace perhaps the product it is most closely associated with. A group emerged in 1812 known at The Luddites – they heralded their leader Ned Ludd, a weaver who damaged stocking frames in a factory where he worked. Inspired by Ludd (believed to be Edward Ludlam) The Luddites took exception to the rise of machinery in the workplace and the impact it had on their skills.
While Luddism has become associated with a fear or opposition to advanced technology it is argued that this is in an unfair generalisation on the Luddite movement. Their protest was not against the machines that replaced them but instead a fight for the livelihoods and for working people against the wealthy factory owners.
One hundred and thirty-three years after the Luddites came to force in Nottingham, Eric Irons first set foot in England. He was a Jamaican who served in the RAF during World War II. After the conflict he settled in Nottingham and married a local girl. Irons witnessed racial tensions within the city and would become an integral part of community relations during and after the 1958 race riots in the St Anns part of the city.
The passionate but balanced view of Irons in his quest for racial equality and in his fight for the prospects of black workers in Nottingham earned him the respect of many. In 1962 he became the first black magistrate in Britain which, while largely popular, did lead to threats against him. One such warning came from the notorious US based Klu Klux Clan group but this did not sway Irons' resolve. In 1977 he was awarded an OBE which recognised his work towards justice and racial equality.
Another Nottingham resident who championed equality was Helen Watts who found her move to Nottingham from Durham ignited a desire to speak up about the lack of a vote for women. Watts helped to form the Nottingham branch of the Women's Social and Political Union (WSPU) and was later arrested on numerous occasions for being part of demonstrations across the country. The first time being in London in 1909.
Despite Watts being a passionate lead in the campaign she disassociated herself from the WSPU when it's efforts turned increasingly violent, instead joining the Woman's Freedom League. After the First World War commenced in 1914 she served as a nurse and also worked in the War Office.
Watts died in 1972 having been a fundamental part of the ultimately successful campaign to allow women to vote which was fully introduced for all women in 1928. For this she was awarded the Suffragette 'For Valour' medal. In 2016 a tree was planted in her honour at the Arboretum on Waverley Street which was followed by a plaque telling her story in December 2018.
Like Watts, Nottingham would adopt another native of the north-east and call him one of their own. His name was Clough.
He is adored by Forest fans for the success he brought to the club and the city but also because of who he was. The managerial career of Brian Clough was defined by silverware but also his desire to do things his own way. After his death in 2004 the journalist Henry Winter did a fine job of describing Clough in an article for The Telegraph:
''…he was a rebel with a cause: good football, respect for officials and always, always marching to his own beat.''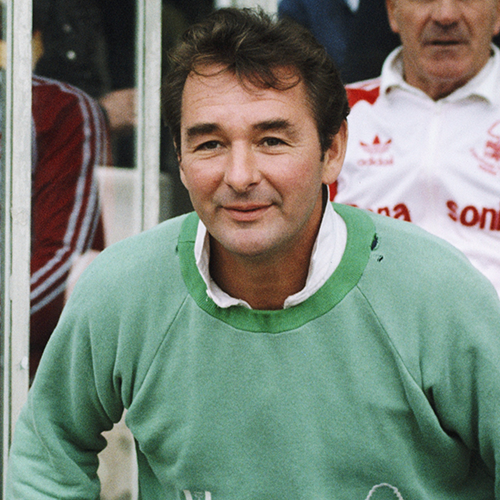 Clough epitomised the natural underdog theme that is so apparent in Nottingham's assortment of rebel icons. His achievements with both Derby County and latterly Forest rank amongst the finest moments the game has seen. Or ''in the top one'' as the man himself once said. Both clubs had no right to witness the things they did and it is a fitting tribute to Brian Clough that a shared bond of affection exists.
Clough irked many in the game – he challenged and dismissed those who sat above him as chairmen and on committees; and he recognised that the sport was not owned by clubs, associations or any individuals: ''Football belongs to everybody'' he remarked. He got himself into trouble with some of his comments and some of his actions such as running on to the pitch to dish out clips around the ear to pitch invaders but he always dug deep for those in need both inside and outside the footballing spectrum. One prime example of Clough's character was in 1984 when he handed out free match tickets to striking Nottinghamshire miners and stood with them on the picket line.
There will never be another like him. Our very own rebel who brought the established order to its knees to lift the little guys to the very top. Clough is the perfect rebel template and he shares much with the other names on the gallery of rebels that have been referred to previously.  Each of them has the same traits of standing up for what they believe in and being willing to place themselves at risk for the cause. And this cause was rarely self-preservation but the welfare of others which mattered most to them.
As Nottingham folk or those with links to the city through our football team we should be proud of the rebel heritage. The red shirts we still wear today were inspired by an Italian rebel named Garibaldi and the proud history of Nottingham Forest is interwoven with instances of a football club that borrows the same spirit from its city.
Long live the Red Rebels.