Athens AWAY – Part 4 – Beers and Travel
Welcome back to our final Athens blog. In this part we detail our plans for the trip, along with specific travel tips (helped by our Q&A contributors from Part 2 and Part 3)
Tickets / Admission
Ticket prices have now been announced and are as follows:
Atromitos – 10 Euro. Forest fans are directed to Gate 5.
Olympiacos – admission ranges from 10 Euro to 40 Euro. Not sure why there is such a range of prices, especially as it's a bowl stadium. No designated away section has been announced 'yet'. If we are not provided with a specific away section then we can help trying to pinpoint an area for Forest fans.
Presumably most of you travelling out there would be keen to congregate together inside the stadium.
We aren't sure at all how popular this fixture will be with the Olympiacos supporters – it might be a bare stadium and we might have a pick of seats. Hard to imagine it being anywhere close to full!
Pre-Match Bars
Saturday – Atromitos – There is little directly around the ground we are told but we have arranged the brilliant looking Arch Beer House to host us. They will be opening 2 hours earlier than normal, just for us, at 5.30pm. It looks a brilliant venue, and is only a 10-15 minute walk to the ground or we could arrange taxis when ready. They have over 120 beers, 20+ on draft. The game kicks off at 9pm so this gives more than enough time to get a good pre-match going, and will be brilliant to get everyone together.
Getting there: It is a 10-15 minute taxi from the middle of Athens, (the area needed is "Peristeri"), or alternatively take the M2 line metro north to Anthoupoli (final stop) where it is a 5 minute walk.
Tuesday – Olympiacos
For Tuesday we figured it would be a decent idea to sample the bars of Athens throughout the afternoon, a loose pub crawl towards the Olympiacos Stadium (21.30 Kick off). We have spoken numerous times to Vassilis who we featured in the Part 3 Q&A and will hopefully be meeting him and a group of a dozen or so Greek based Reds.
The "Flea Market Area" (Tube stop – Monastiraki) is, we are told, a hub of decent bars and is often where visiting foreign teams gather before a game at Olympiacos. We will aim to start around midday and will hopefully pick up a few other Forest fans along the way – anyone can get in touch over social media if you want to join. On the recommendation of Vassilis we will kick off for at the James Joyce Irish Pub. Beyond that there is no plan in place, we expect to stick around the Flea Market area for a while and then maybe head towards the stadium.
The Monastiraki Metro stop is, as shown on the map, a 24 minute ride to Phalero (other sources call it Faliro) which is a short walk to the Karaiskaki Stadium.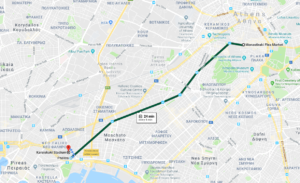 For anyone heading just for the game, we also have spoke with the owner of the "Rockin' Bulldog" (next to the Olympiacos Stadium) who has kindly said Forest fans will be welcome – it looks a great small place and literally next to the ground (we may head there ourselves but will see how the afternoon goes…..)
The Olymiacos supporters who took part in our Q&A also advised that Pireas had some decent places to drink and is close to the stadium.
Many have already been in touch about wanting to get together with other Forest supporters before each game – we aren't the definitive guide on this but will certainly welcome anyone who fancies meeting up with fellow Reds. Hopefully on the Saturday and the Tuesday we can get a few of us together before the games.
Other thoughts:
Some general thoughts to add to what has been covered in the previous Athens articles:
The sightseeing speaks for itself and was hopefully adequately addressed previously. Hopefully most Forest fans can find the right balance of drinking and taking the time to take in some fantastic sights around the city.
Various people have mentioned that Glyfada near the coast is worth a visit – not too far away from the city centre and a decent nightlife. A few of us have decided to switch accommodation after the Sunday and head down there for the last couple of nights.
Almost everyone we have spoken to with a knowledge of Athens has pointed out that the city is a mixture of passionate football fans – and some of them don't get on particularly well. It seems a little daft to not be able to wear certain colours but it is suggested that obvious green clothing is avoided, especially for the Olympiacos game. Being honest chances are you'll be absolutely fine but as multiple people have said exactly the same thing then we felt it was worth passing on.
Outside the Olympiacos Stadium there is a memorial to the twenty-one people who lost their lives in 1981 following a crush at the Gate 7 exit – it is clearly a big part of their history and you may wish to visit the memorial if you get the chance.
Travel in Athens:
Best method is to get the 9 euros travel for 5 days unlimited travel. It is for trams, buses, metro and trains. It does not include the airport bus or train though.
Public Transport: Athens has a rather good transport system, with the Metro, buses, trolleys and tram. The latter is good if you want to go to the seaside, but beware, it's kinda slow! The "Glyfada" line goes along the sea front, it's a good ride when you have time. The "SEF" line can take you to the "Karaiskakis" ground, but many do prefer the subway (Metro Line 1 – the green one, get off at Faliro, just outside the stadium). But, except for the beach areas, if you stay in the centre you can see almost everything on foot!
Getting from the airport: A taxi can set you back around 38 euros into Athens. (Follow the signs for taxis in the airport, and hop into one of the yellow taxis outside). Or, you can pre-book one for 40 euros here – where the taxi driver will meet you in the arrivals hall….. If taking public transport, the bus is much more advisable than the subway (complex and more expensive, then of course a change to your hotel too). The bus is 6 euros per person, and if staying central the X95 to Syntagma Square is recommended. This is also well recommended in the airport, and runs very frequently, and will drop you off very central in Athens.
Taxis: Standard logic applies for taxi's looking to exploit foreigners as in any city, so be careful!
Hopefully see many of you out in Greece. Should be a decent few days and maybe 1-2 new signings in the mix before we head out. We have a group flying out Friday afternoon and another early Saturday morning. Both from Luton. We all fly back Wednesday.  If anyone fancies a beer or two then drop us a line either on Twitter, Instagram or Facebook. We'll monitor occasionally although not too much!
Finally if you missed ir first time around or just want a bit of a refresh you can view Part 1 here .
To Athens!
Harry